The Direct Regular Bus From Lhasa to Nepal Is In Service
No pains, No gains
The carpool from Gyirong to Kathmandu overland is finally successfully upgraded to International shuttle bus by Nepal- Gyirong Port-Lhasa through great efforts. It is on trial operation from now on and promised to increase the number of daily shifts as soon as possible to promote the relationship of China and Nepal.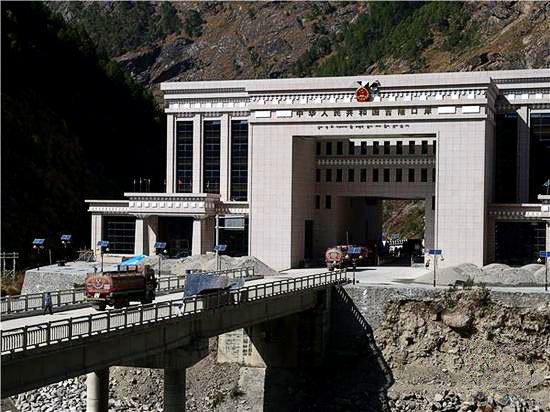 Vehicles moving through Gyirong Port
Important Notice
Please take note of different contacts of different sections.
Lhasa to Gyirong Port, please contact Cicheng
Gyirong to Kathmandu, please contact Mr. Pan (Kathmandu No.1)
Kathmandu to Gyirong, please go directly to Phoenix Hotel Tourism Station
Attentions
Tourists may be charged 3390 rupees for Langdang protected areas in Nepal en route, which is the entry fee charged by Nepal Tourism Administration for once with a formal invoice. It has been repeatedly complained and negotiated to the Nepal Tourism Administration whether the fee should be charged, but there is no result till now.If one think this charge is unreasonable, please keep the invoice and negotiate by yourself. This fee is unrelated to the fare and our department.
The vehicles are rental tourist vehicles and other vehicles, and they are all MAHINDRASCORPIO off-road vehicles, which is the most widely used in Nepal with excellent performance. These vehicles are purchased the insurance as required by relevant road laws and regulations in Nepal. The quota of accidental injury insurance is 250,000 Nepalese currency and the special quota is 500,000 Nepalese currency.
Our department is unable to purchase or provide various types of insurance and payment for Chinese people in Nepal above the quota. For those who didn't purchase overseas accident insurance and worried about the accident, please think twice. This is the current national conditions of Nepal and hope for understanding.
Any return or retention caused by road barriers, landslides, temporary port closure and other force majeure after the departure, the fares have been charged are not refundable. If the obstacle occurs before the departure, the scheduled date will be postponed or you may receive a refund.
On the one hand, travelers carrying goods must comply with the principle of personal use, moderate and reasonable. The accompanies are not allowed to carry goods over excess or smuggle the goods with restriction or prohibition of entry and exit according to regulations of Nepal and Chinese government. Otherwise, you have to bear all the consequences.
On the other hand, travelers must keep the corresponding invoice of tourist souvenirs, non-heritage certificate, forestry permit and other documents in case police may check on the way. If any personnel retention and goods seizure caused by this reason, there is nothing to do with our department. However, we retain the right of claim if there are other people's retention and vehicles seizure.