Plan to Propose to Her During Your Tibet Tour? Top Destinations to Propose in Tibet
So you've been together for a little while now. You really feel inside that she's the one. You've thought a lot about this decision, and you know that now is the time to pop the question. But where? That thought plagues the minds of men hoping to propose all over the world. You want to make sure that the spot is sufficiently romantic, and of course you'll need room to get down on one knee, along with other considerations.
Below, we've compiled a list of eight of the most stunning places in Tibet, and possibly some of the most beautiful spots on earth. Take a look and see if one of these sounds like your perfect proposal spot for you!
1. Potala Palace
This iconic and illustrious structure stands above the Tibetan city of Lhasa, as if watching over it peacefully. The palace was once the home of the Dalai Lamas, and has deep spiritual meaning for the people of Tibet. Its immense structure is surrounded by the cascading mountains tipped white with snow.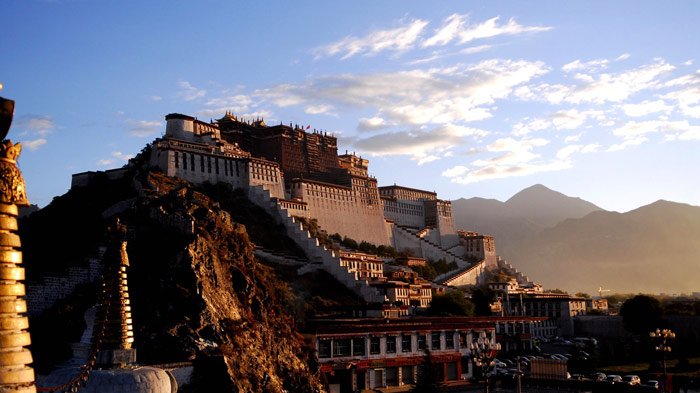 Potala Palace
Inside, you'll find beautiful Tibetan architecture, historic and beautiful artwork, and religious statues. From the roof of the Potala Palace, you can overlook the city of Lhasa and the plateau terrain beyond. Entrance to the palace is 200 yuan during the summer months and 100 in the off-season.
Another great spot would be on top of Chakpori Hill, just across the street. With the palace behind you, it truly is a stunning location. Also, you could walk to the square in front of the palace at night, letting the sparkling scene create the magical atmosphere for your proposal. Can you already imagine her saying yes to you in the midst of all this beauty?
Most Recommended Tour Itinerary: 4 Days Lhasa Impression Small Group Tour
2. Jokhang Temple
You will be surrounded by Tibetan culture and religion as you travel through the Jokhang Temple. This beautiful building is over 1400 years old, and adds to the rich history of Lhasa. You will be sharing the space with pilgrims from all over Tibet who have also come to see the grandiose Buddha Hall with beautiful wooden doorframes and intricate sculptures, and above, the shimmering Golden Roof. It is recommended to visit in the morning, as viewing is very limited in the afternoon. Entrance is about 85 yuan.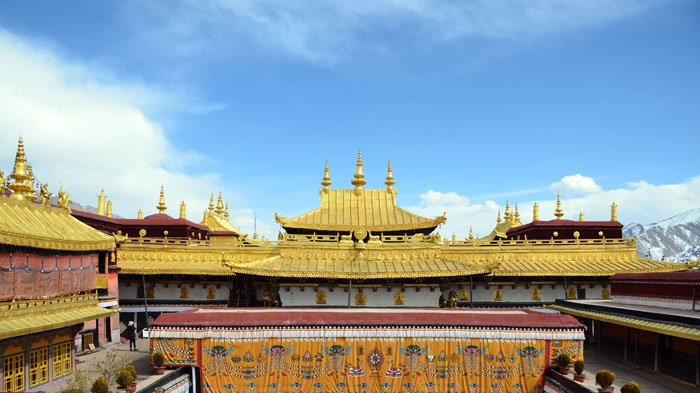 Jokhang Temple
For a truly romantic setting, head to Barkhor Street just outside the temple. The sun sets around 8:30, and if you arrive just before you'll have a chance to see the façade of the temple lit up red and gold by the sunset. As the pilgrims make their walk clockwise around the temple, you can profess your love to the girl you want to marry.
Most Recommended Tour Itinerary: 5 Days Lhasa Small Group Tour with Three Major Monasteries
3. Namtso Lake
Standing at over 4700 meters above sea level, Namtso Lake is one of the sacred lakes of Tibet. It has also been said that this divinely beautiful spot is one of the most incredible natural places in the world.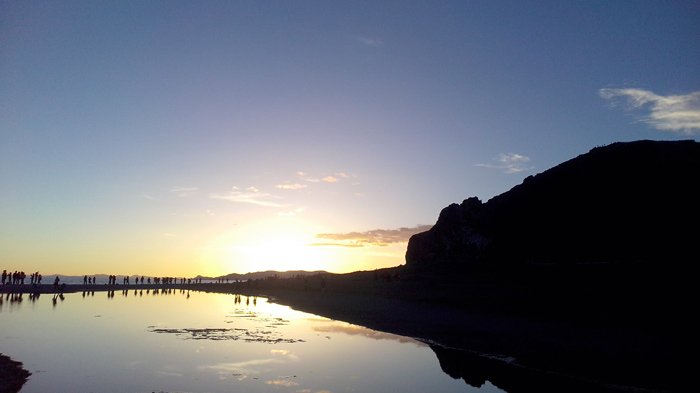 Namtso Lake
You'll breathe in crystal-clean air, and watch as the waters ripple placidly across this enormous lake. The mountains beyond are tipped with snow, and you'll be able to get a glimpse into the life of the nomadic peoples of the area. Since you're so high above sea level, we're almost sure that proposing in this place could literally take your girlfriend's breath away! Here you'll have the privacy and the romantic beauty of nature surrounding you, making for a perfect spot to propose!
Just one word of caution regarding the altitude: make sure that you and your girl are drinking plenty of water and that you have time to adjust to the altitude. Otherwise, your memorable day could turn into something you wish you didn't remember!
Most Recommended Tour Itinerary: 6 Days Travel to Sky Lake - Lhasa and Lake Namtso Small Group Tour
4. Yamdrok Lake
Another high-altitude lake, Yamdrok Lake is also considered holy in Tibetan Buddhism. For that reason, you will also find this to be a place rich with spiritual feeling and religious pilgrims serenely seeking peak in the midst of these surroundings. The pure turquoise-blue color of the lake is what makes Yamdrok so spectacular. Against the barren terrain of the plateau, which ranges in color from reds, yellows, and light greens, the blue of the lake is truly like a gem sparkling for 72 kilometers long.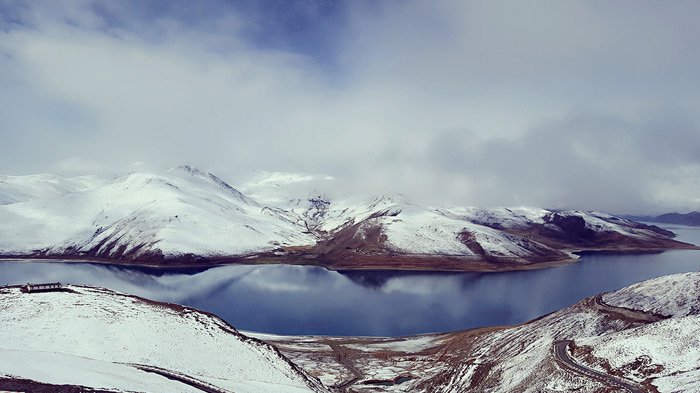 Yamdrok Lake
There is a trail that circles the lake where the pilgrims will normally walk. You can also visit the ancient and mysterious Samding Monastery, which features beautiful murals and tapestry. It is a mysterious place of legends, and is the only monastery in Tibet that houses both monks and nuns. Here in the middle of nature, your only company will be the yaks and the pilgrims. This could be the place where she agrees to be yours for life!
Most Recommended Tour Itinerary: 5 Days Lhasa and Yamdrok Lake Small Group Tour
5. Everest Base Camp
If you and your girl are adventurers, then the base camp of the famed Mount Everest could be a truly unique place to express your love to her. Hiking through the Himalayas is an incredible experience, and there are many different routes that you can take through this rugged terrain to arrive at the base camp. If you and your future wife are not keen hikers, the base camp on the Tibetan side can actually be reached by car.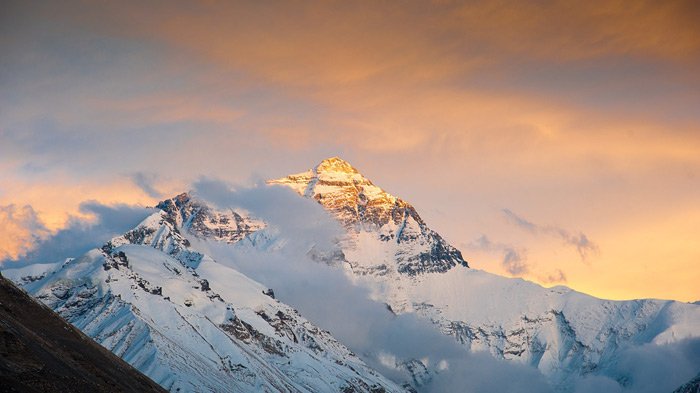 Everest Base Camp
If you do wish to hike, you can take the love of your life trekking through some of the most barren and beautiful terrain on earth. Hike to Old Tingri and other small towns in the mountains, always keeping that stunning view of Everest within sight. The hike takes about 3 to 4 days, and it is necessary to go with a guide. With the snow-capped peaks of the Himalayas surrounding you, this would be a perfect place to propose.
Most Recommended Tour Itinerary: 8 Days Lhasa to Everest Base Camp Small Group Tour
6. Mt. Kailash
Tibet's plateau is full of stunning natural beauty, and Mount Kailash is no exception. With its tip reaching into the sky at over 6700 meters, this incredible place is full of mystery and spiritual significance. The hike itself is beautiful, although very rugged, and you'll need to make sure that you and your significant other are well prepared for the trek.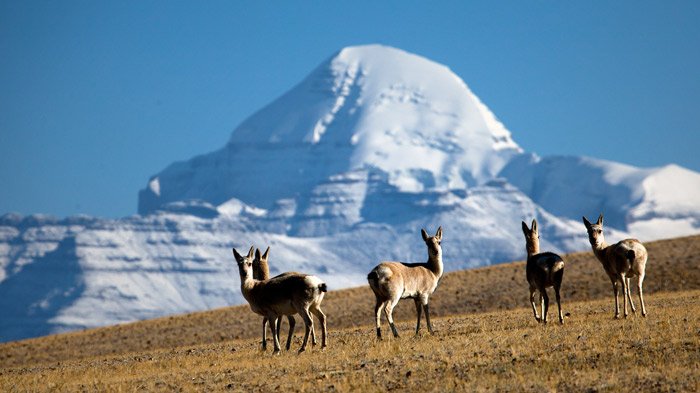 Mount Kailash
The pyramid-like mountain has been renowned as sacred for centuries, and there are many myths and legends regarding it. It is said that if you walk the circuit around Mount Kailash (as many pilgrims come to do) then you will be washed clean of your sins.
This could be a very romantic spot for a couple who are keen on adventure and rugged hiking. With the sweeping landscape of the snow-capped mountains all around you, are you ready to get down on one knee?
Most Recommended Tour Itinerary: 15 Days Kailash and Manasarova Small Group Tour
7. Nyenchen Tanglha
This mountain is the tallest in the range which also bears the same name. Its highest peak reaches over 7000 meters, so matter what time of year you visit, this beautiful creation will be covered with snow. It is renowned as one of the holiest mountains according to Tibetan Buddhism, and the area surrounding it has been called the Alps of Tibet. It is truly a stunning sight, and it is accessible by train at the Tangula Station. This station is actually the highest in the world, reaching over 5000 meters!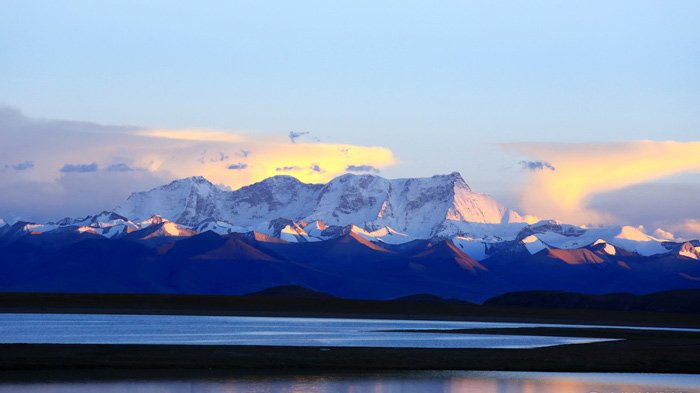 Nyenchen Tanglha
Nyenchen Tanglha is said to have a wife, the beautiful holy lake of Namtso that sits towards the north. This stunning couple make for a place of incredible natural beauty, and perhaps the perfect place for you to turn that sweet girl of yours into your future wife!
Most Recommended Tour Itinerary: 12 Days Trekking from Nyenchen Tanglha to Holy Lake-Namtso
8. Nyingchi Basum Lake
Rising amid the mist of the mountain range, this lake stands at an altitude of over 3000 meters, meaning that the landscape is very different from the sacred lakes mentioned above. Instead, this blue gem sits placidly in the middle of lush, green mountains, and is home to a range of beautiful and rare animals. If you're careful, you may see bears, panthers, deer, and more!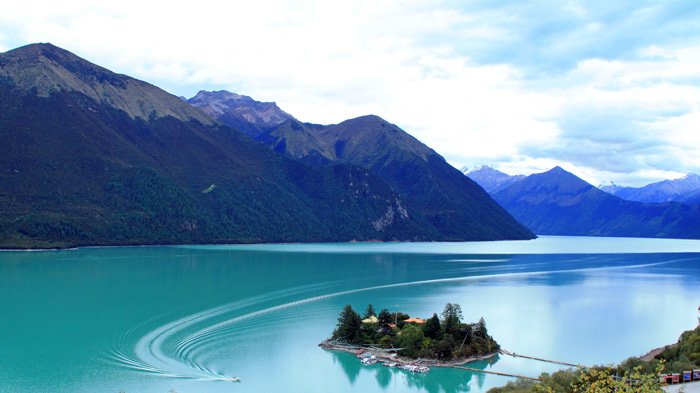 Nyingchi Basum Lake
Centuries ago, a sacred chapel was built on a small island in the lake called Tashi Island. It is an incredibly peaceful and spiritual place to visit. Nowadays, it is very easy to hire a boat to take you around the lake. While admiring the incredible scenery from the water, you might find the perfect moment to pull out that ring!
Most Recommended Tour Itinerary: 10 Days Eastern Tibet Tour to Explore the Natural Beauty
Propose in Tibet
Almost every girl dreams of her wedding, but one of the most important parts of the marriage is getting engaged! If you're planning to propose to your girl, you want to make sure that the setting and the atmosphere are just perfect. The sites above are some of the most beautiful places on earth, and if you're planning on making your proposal truly memorable, one of these settings will surely accomplish just that!
Have you ever visited the above sites? Or can you add to my list above for perfect places to propose? Let us know in the comments below!