The Most Pleasant Season to Visit Tibet
Every destination has its own tourism season, like that here in Tibet we also have our tourism season which is from April to November. During this time in Tibet lots of tourists are coming here to enjoy their holidays and try to relax themselves from the busy world. Both domestic and foreign tourists are available here in this time and recently the number of tourists is rising because of this beautiful place, pleasant weather, unique tradition, rich culture, mysterious religion and different kind of things.
Climatic Condition in Tibet
About summer over here it's quite hot and sometimes it goes to 28-30 degrees Celsius on maximum because of its altitude and you can feel much hotter than usual. But if you stay in shadow it's much cooler than you think and also if you are travelling outside Lhasa it's colder in northern and western part of Tibet. That's why you have to bring both summer and winter clothes to spend great time in Tibet.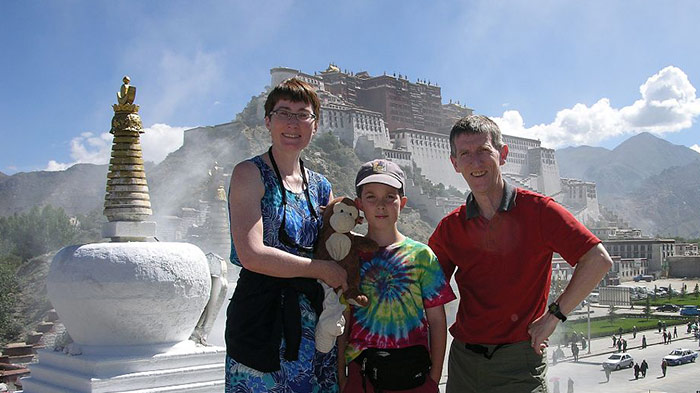 Tourists can enjoy brilliant sunshine in Lhasa
Also in summer most of hilly areas and passes are accessible, thus you can travel to anywhere that you like without any problem of climate condition. But in summer we have a short time of rainy season which is from June to August. During that time you may be able to see some snows on top of hills and passes, but landscape of Tibet is really beautiful during that time. But if you are going to visit Mt. Everest or other mountains during this rainy season then it's not a good time to visit. Because during rainy season, it's cloudy and foggy on mountain areas and you will not be able to see it well. And if you are still visiting it then you need to be prepared in your mind that you might be able to see it or might not be. But if you are visiting other places I can assure you that it's really a good season. So this is how summer is in Tibet.
And next is best time to visit mountains, which is from April to May in spring and September to October or November in autumn. During this time you will be able to see all the mountains without doubt. If you like to visit mountains only this is the best time and you can make your holiday schedules according to it. For those who love hiking, it is also the best time to do it.
About spring and autumn, it's cool in the city and cold during morning and evening. Outside the city it's pretty cold there. And it's dry and windy too.
If you are coming to Tibet in winter time it's cold over here. If you are planning to travel to mountain areas of Tibet, it's pretty cold and windy. But all the great mountains you can see very well. And lots of pilgrims from all over the Tibet are used to coming to Lhasa during that time. If you want to come to Tibet with fewer tourists then this is the great time and tour cost is also low during winter time. Anyway when you like to come to Tibet depends on you but all the seasons are great in Tibet.
So this is a small paragraph of Tibet's climatic condition and according to it you can select your favorite season and welcome to Tibet.
Tibet's Temperature Chart
Months/Places
Lhasa
(3658m/120001ft)
Shigatse
(3658m/120001ft)
Tsedang
(3658m/120001ft)
Nyingchi
(3658m/120001ft)
Mt. Everest
(3658m/120001ft)
January
-9°C—7°C
-16°C—11°C
-9°C—8°C
-5°C—8°C
-17°C—4°C
February
-6°C—9°C
-15°C—13°C
-6°C—10°C
-3°C—10°C
-15°C—-4°C
March
-2°C—12°C
-11°C—15°C
-2°C—13°C
0°C—13°C
-12°C—7°C
April
1°C—16°C
-1°C—18°C
1°C—17°C
3°C—16°C
-5°C—10°C
May
6°C—20°C
1°C—23°C
5°C—20°C
7°C—19°C
0°C—15°C
June
10°C—23°C
6°C—26°C
9°C—23°C
10°C—21°C
5°C—17°C
July
10°C—22°C
5°C—27°C
10°C—22°C
12°C—22°C
8°C—16°C
August
10°C—21°C
7°C—25°C
9°C—22°C
11°C—22°C
6°C—16°C
September
8°C—20°C
3°C—24°C
8°C—20°C
10°C—20°C
2°C—17°C
October
2°C—17°C
-4°C—23°C
2°C—17°C
5°C—17°C
-7°C—12°C
November
-4°C—12°C
-13°C—17°C
-4°C—12°C
-1°C—13°C
-12°C—7°C
December
-8°C—8°C
-15°C—13°C
-8°C—9°C
-4°C—10°C
-15°C—4°C
Average Temperature
0.6°C—14.2°C
-4.4°C—19.6°C
2°C—16°C
4.6°C—15.9°C
-5.2°C—10.1°C
The above is a chart of Tibet's temperature in a year, showing the elevation and monthly highest and lowest temperature of major tourist destinations in Tibet, including Lhasa, Shigatse, Tsedang, Nyingchi and Mt. Everest. From the chart, we could conclude that April to December are very pleasant months to visit Tibet when it is neither too hot or too cold.
Unique Tibet Weather Pattern
While Tibet has a very unique weather pattern due to its high altitude, it also has very wide-ranging variations from regions to region. With the Himalayas to the west and south, and the Tanggula Ranges to the north, the plateau experiences alpine conditions with a severe continental climate consisting of strong winds, low humidity, a rarified atmosphere, and a huge fluctuation in the annual temperatures across the region.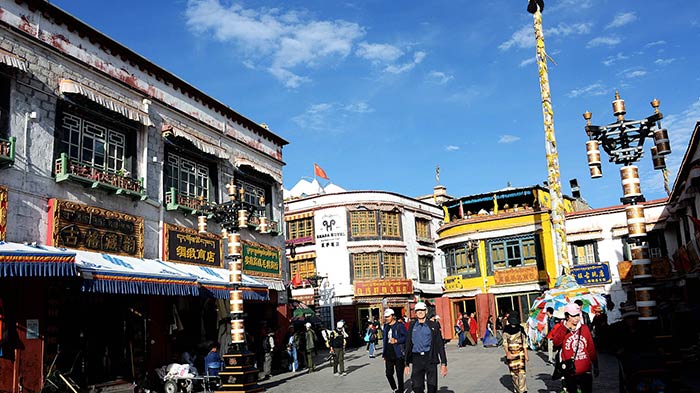 The unique Tibet weather pattern makes Lhasa warmer and more charming
The unhampered arctic air from the north has a major effect on the northern and northwestern areas of the region, while the warmer, southern tropical and equatorial air has very little impact due to the mountain barrier. This gives the plateau a very enclosed climate that is rarely affected by external variations from the rest of Central Asia. In the southeast of the region, the area around Lhasa and into Nyingchi experiences relatively mild weather patterns, with higher winter and summer temperatures, and more annual rainfall that anywhere else in Tibet.
With the prevailing high steppe climate, Lhasa and southeastern Tibet averages around 438mm of rain every year, with around 90 percent of that falling in the summer months from June and September. July and August are the peak months for rain, although in comparison with its neighboring countries, even Lhasa is considered to have very little rainfall. However, in the driest months of the year, from November to April, rainfall is virtually unheard of, and December to January often experiences no rain at all, while having an average temperature of around minus one degrees. The area has an average annual temperature of around 7.5 to 8.5 degrees Celsius, and can reach temperatures as high as 23 degrees in summer and as low as minus 10 in winter. However, even in winter, daytime temperatures can reach as much as 6-11 degrees, making it warm enough to be comfortable with just a warm jacket and gloves.
Further off to the west, Shigatse has a different climate altogether, with a semi-arid, plateau temperate, monsoon climate. With much less rainfall in summer, and several very dry months from November to March, Shigatse also experiences colder average temperatures, with lows of minus 13 degrees in January, and highs of just 22 degrees in June, the hottest month of the year, although the wettest month is August. However, even in the wettest period, there is very little rain during the day, with most showers only happening once or twice a week, and limited normally to afternoon or early evenings.
In the dry, arid area in the northwest of the region, Ngari prefecture is one of the driest parts of the plateau, with all of its 425mm of rain falling in July, August, and September. From October to April, rain is unheard of, although there is more of a propensity for heavy snow in these higher altitudes during winter months from November to early April. Temperatures in summer can reach as much as 20 degrees while winter temperatures in the daytime normally reach just below freezing, and can get as low as minus 20 degrees at night.
High Season of Tibet Tour
April in Tibet sees the temperatures beginning to rise, and the tourist season in the region officially starts. the high season for tourism in Tibet runs from April to November, with the peak months being from June to October, through the summer season. For many people, spring and summer are the best times to visit Tibet, as the temperatures are mild and pleasant, and there is little rain, even in the monsoon period. The air has a higher oxygen content in summer as well, making it easier for foreign visitors, and less chance of altitude sickness.
If you are looking for the best views of the mountains, and clear skies to visit the great lakes of the region, then spring is the best time to visit, since the summer monsoon can cause the sky to be cloudy and many of the mountain peaks are covered. Travel to the west of the region is easier once spring begins, and in the east of Tibet, the peach blossoms are in full bloom in Nyingchi prefecture.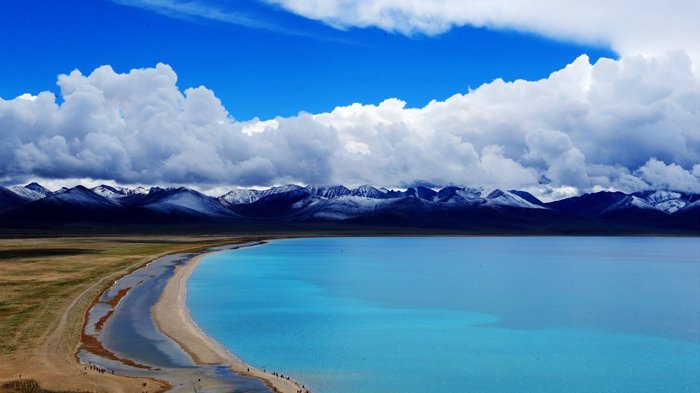 Namtso Lake is displaying its magic blue water in summer.
Spring and summer are also better times to visit the various lakes around the region, such as the three holy lakes, Namtso, Yamdrok, and Manasarovar, when the weather is best and the shimmering waters reflect the clear skies and magnificent mountains.
While the Tibetan summer may not be as hot as the rest of China, the sun is strong, and the thinner atmosphere means more UV rays. Winds can also still be quite strong, and blowing in from the north can have a chill to them. Sunglasses, sun cream, moisturizer, and lip balm are essential packing items for the high season in the region, to avoid damage to eyes, skin, and lips.
Off Season of Tibet Tour
From November, the weather starts to cool down, and the tourist season starts to slow, with fewer visitors to the region in the off season from December to February. While it does not really get that cold in Tibet in winter, despite many myths to the contrary, it is no longer as warm as the summer, and there are some limitations to travel in the far western and northwestern areas of Tibet. For foreign tourists, the ability to travel to Tibet only runs from November to the end of January, as the region is closed to outsiders through February and March.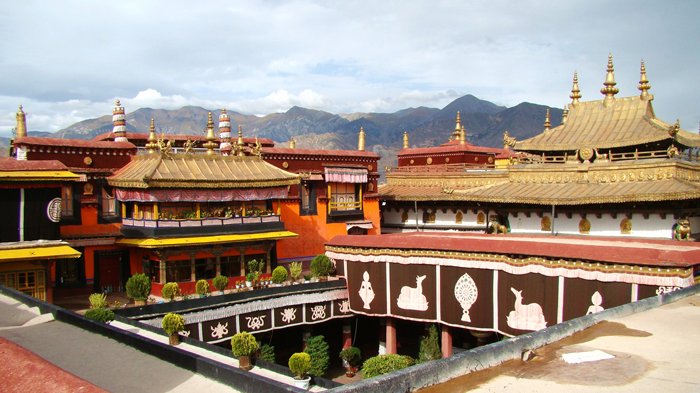 The magnificant Jokhang Temple in off season will leave you a deep impression.
The start of the off season, from November to December, is relatively mild, and tours to Tibet are still possible, even up to January when it is coldest. One of the best times for travel for those who are on a budget, or who do not like the crowds of tourists, the off season has many advantages for the wise traveler. Prices on a wide variety of things is greatly reduced in the off season, as fewer visitors are expected, and many hotels and guesthouses reduce their rates by as much as 50 percent. Many of the attractions are cheaper for entry fees as well, making it a great time to visit the temples and monasteries, and giving a better experience of the Tibetan culture and religion. Moreover, for those traveling by train to Tibet, the prices are lower and with less crowds, there are more seats available.
Areas such as Ngari and Nagqu are often out of reach in the winter months, due to the snow, but travel around Lhasa and the surrounding areas, and out to Shigatse is still easily possible, allowing for some of the best sights in the region, such as Jokhang Temple, Potala Palace, Tashi Lhunpo Monastery, etc. It is also possible to visit the world famous Everest Base Camp (EBC) in the winter months, as the area does not get so much snow that it becomes impassible. The Friendship Highway from Lhasa to the west of Tibet is still drivable, and at the base camp itself, while there may be snow on the ground, is not so heavy as to cause problems for visitors. And the mountain looks even more stunning than ever in this snowy landscape.
Best Trekking Season
For those who love to trek in Tibet, the high-altitude regions of the world, spring and autumn are the best times to come to Tibet. These two "shoulder" seasons are when the weather is at its best; neither too hot nor too cold, and with clear skies that allow for the best of all views of the amazing panorama of the mighty Himalayas.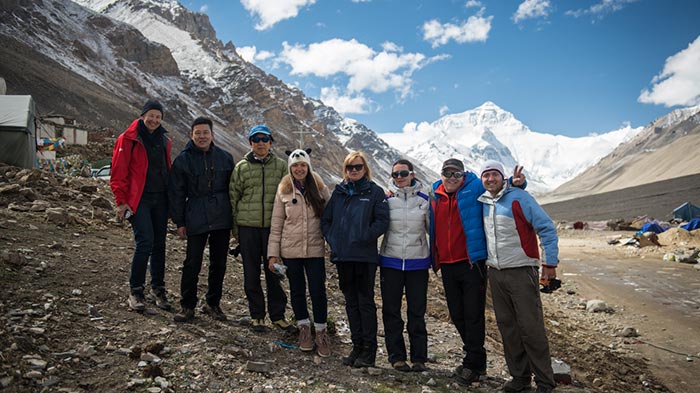 Everest Base Camp Trek
While spring is a great time for trekking, with the new buds on the trees and a lighter, warmer fell to the air with the rebirth of the land, there is also a lot to be said for trekking in autumn. It is the time when the leaves turn red and gold, and start to cover the forest floors with a colorful carpet, making for some of the best photography in the world.
There are many treks that you can take in Tibet, but the two most popular treks are from Ganden to Samye and the famous EBC trek from Tingri to Everest Base Camp. Both treks take around four or five days to complete, and cover between 70 and 80 kilometers. They are arduous treks that can be demanding on your stamina, and test your endurance, and the views from the passes that you will cross are spectacular at any time of year.
However, the landscapes in these treks are very different from each other. The trek from Ganden to Samye passes through stunning alpine forests and grassy meadows, passing by some of the most beautiful lakes in the region. The trek to EBC crosses a more arid, and dry part of the region, in clear view of some of the highest mountains in the world, and passes through the scrubland plains that are home to the nomads and their herds.
Best Mountaineering Season
The mountaineering season in Tibet is a set period in spring, when the weather and climate conditions are perfect for climbing the high peaks of the Himalayas. The season normally begins around mid-April, and lasts for about 60 days, with the best week to climb normally being around the last week of May. At this time there are the most favorable weather conditions, and hundreds of budding and experienced mountaineers descend on the western region of Tibet.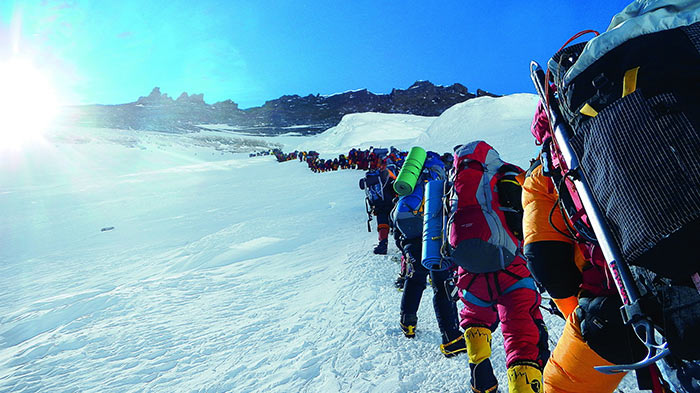 The mountaineering season in Tibet is a set period in spring
Surrounded by snow-capped mountains and icy glaciers, Tibet has many advantages for mountaineers, not the least of which are the five mountains that are above 8,000 meters (including Everest), and more than 70 mountains above 7,000 meters. And for those who are just starting out, there are more than 1,000 mountains above 6,000 meters for them to train and practice on. Mountaineers even come from Nepal, on the other side of the Himalayas to climb the mountains in Tibet.
Tibet Monsoon Season
Being part of the sub-tropical region of Asia, even Tibet experiences a monsoon season. The monsoon affects Tibet during the months from mid-July to the end of September, with majority of the rainfall occurring in July and August. As these are the summer months, it is also the peak season for Tibetan tourism, although the monsoon on the plateau rarely has much of an effect on tourism in the region. There is very little actual rainfall on the plateau, with the mighty Himalayas blocking most of the monsoon weather from the south and west, and majority of the southwest monsoon rain falling over the highlands of Nepal, India, and Bhutan before crossing into Tibet.
However, while it may only rain a few days a week in majority of the region, and even then is normally only in the late afternoon and early evening, the downpours can cause mudslides and landslides, so a certain amount of care must still be taken. High peaks in wet areas should be avoided, and rain gear is advisable, in case you get caught in a downpour. Water purification tablets should be avoided, as they do not sterilize against water-borne diseases, and bottled water is best. Rivers and some lakes may also get fuller during monsoon, so it is best to avoid camping near the river or lake shores. Trekking is still possible in summer monsoon, although it is not the ideal time to do it.