Photographic Guide to Guge Kingdom in Ngari
Capturing moments through photographs is like an default part of any travel. Be a tourist or a traveler, photography is one of the most fun and beautiful ways to document your experiences. Tibet is in no short for peaceful experiences and mind-blowing views. One such site that will leave you spellbound is the Guge Kingdom in Ngari.
Brief History of Guge Kingdom; Why Is It so Important, Culturally?
One of the original important cultural relic sites under protection, Guge Kingdom, the grand palace ruins stand on a 300-meter tall yellow earth hill on the banks of the Xiangquang River in the Zaborang District at about 18 km away from the Zada County. The Guge Kingdom was established in about the tenth century by a descendant of King Glang Darma, who fled from Lhasa after the fall of the Tupo Kingdom. The kingdom assumed a vital part in the second renascence in Tibet and was due for around 700 years before disappearing bafflingly in the seventeenth century. Even today, the magnificence of the Guge Palace strikes will wonder in the beholder's heart.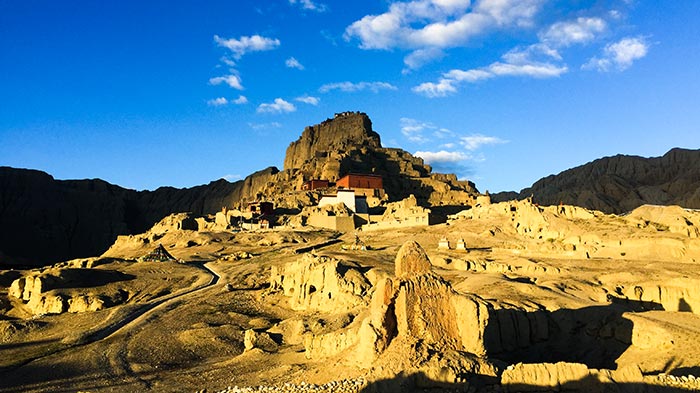 Guge Kingdom
The castle-like palace was built along the mountain and instructs a strategic point. Inside, there are underground tunnels leading to various directions with the strong and thick unconquerable walls outside. The ruins take up an area of 720,000 square meters, consisting of 445 rooms, 879 caves, 58 pillboxes, 4 secret tunnels and 28 Buddhist pagodas. The hundreds of rooms were piled up one after another till the top of the mountain. This is truthfully a unique majestic palace. Most of the cave palaces have grand domes and are differentiated for summer and winter functions. Hence, it tells a beautiful story about the culture and traditions of early Tibet.
Tourists ought to pay a road toll when entering the Zhabran Village. Travelers can purchase tickets for the ruins at the Culture Bureau. The cost is RMB 90 yuan for every individual, except that it is RMB 200-400 yuan for a foreign visitor.
What Can You Capture with the Camera?
If you are wondering what are the most beautiful things that you can capture with your third eye, here are a few information for you. The Guge Kingdom has pulled in numerous visitors, tourists, explorers, photographers and more from everywhere throughout the world. Englishman Michael Young was the first individual who examined the ruins of this kingdom. In 1912, he went along the Xiangquanhe River from India and reached the place. The genuine logical examination occurred in 1985 when the Tibetan Cultural Committee composed a group to explore the place. Their fieldwork demonstrated that there is an aggregate of 1,416 surviving pieces of design and architecture, including 879 caves, 58 blockhouses, 445 houses, 28 pagodas, and four passages or tunnels. You will not run out of subjects in Tibet Guge Kingdom Photography tour.
Best Time to Visit and Photograph Guge Kingdom
The Zanda county is renowned for its earth forest, Guge Kingdom relics and ancient Zhangzhung civilization. As the core of photo taking in Ngari Prefecture, you'd better arrange 3 or 4 days for photos. You could obtain the overall view of earth forest and Himalaya snow mountains at 22 kilometers away from the county; the time choice would be at dusk.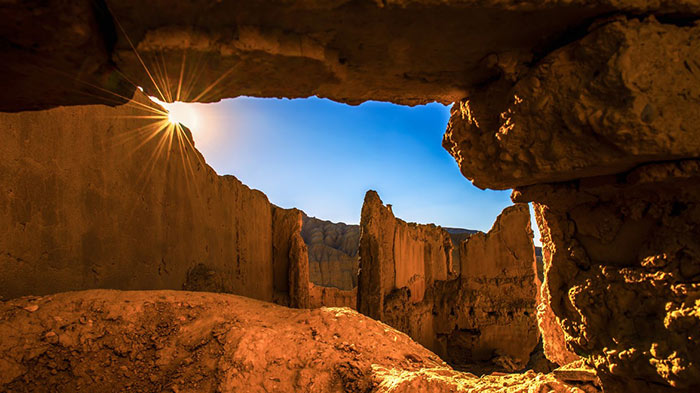 Setting sun of Guge Kingdom is so glorious in autumn
For pictures on Guge relics you might get into the relics and take photos there. The best time and position would be at the clearing in front of the relics in setting sun, you will get many exciting pictures from every angle.
By now you know what you can see in the Guge Kingdom and you must be excited to capture it all in your camera. Wondering about the ideal time to do so? The best time would be late April to late October when the sky is bright, the water is clear and the reflections of the clouds are simply marvelous in the nearby holy water bodies.
Winters are really cold and sometimes make the roads and areas inaccessible. Most photographers regard this period of the year as the perfect time to commit the marvelous kingdom to their third eye.
Accommodation in Ngari, Tibet
Now, with all the gadgets and camera, you need a proper place to stay. Not to forget, a secured area is a must to ensure all the expensive filming or photography things you carry are not lost or stolen. It is conceivable to discover hotels in the county town of Zhada. The restaurants principally offer Sichuan food and Chinese food. Since the town is close to Shiquanhe River, new and fresh vegetables are accessible here, and they are not all that costly. Some of the other options for the guest accommodations in Ngari are:
Wujing Guest House
The normal cost is RMB 25 yuan for each individual. The guesthouse might be out of power for the evening or night time, yet the inn is perfect for night stay.
Zhada Hotel
This is another hotel located there for the tourists. The minimum cost is RMB 25 yuan for every individual.
Dining in Kailash Guge Kingdom Tour
However, if you are going with a group of friends or family through a travel agency, then the most important thing will incorporate a cook, especially if you are going to stay outside hotels, in camps or tents. In lodgings, you will have the decision amongst Chinese and Tibetan foods for the most part. It is constantly encouraged to eat healthy and fresh for Tibet trekking tours.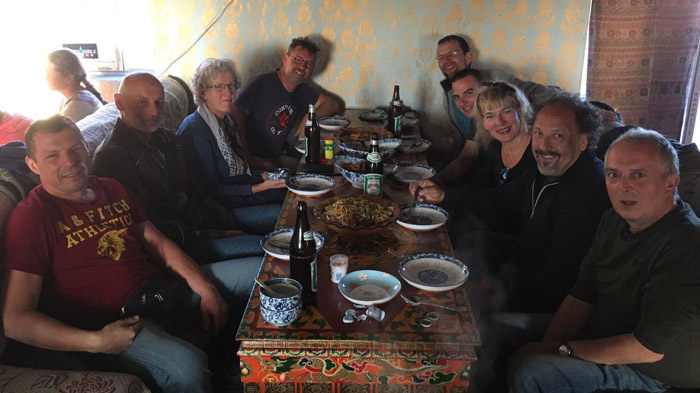 You can choose abundant and nutritious dinner
A top notch, abundant and nutritious dinner with an assortment of local Tibetan and western dishes is the thing that most that the tour package includes. Just imagine when you get up in morning porridge with scrambled eggs and a cup of hot coffee is ready for you. Sounds delicious right, so keep this point in mind before you plan your Kailash Guge Kingdom trip. If you will eat healthy throughout the trip you will feel energetic and can see and explore more things and can have fun. If the meals are not delicious or healthier than you will feel tired and boring because of the lack of energy in the body.
Useful Tips for Tibet Guge Kingdom Photography Tours
Camera Gears
The basic equipment and necessities that you should not forget to include a DSLR, lenses, bag or kit, camera strap, tripod & ball head, hoodman loupe, lens filters, reflector kit, remote shutter release, camera and lens cleaning equipment, lens hood, protective weather gear, graduated neutral-density filter, shutter release, etc.
Some special things to remember are as follows. In cases of high altitude landscape photography in Tibet, it is preferable to carry z. Keep enough memory cards with you. You do not want to miss any of the wonders. Extra fully charged batteries should not be forgotten as batteries seem to drain out soon in low temperatures. A UV lens should be used to protect from the UV rays.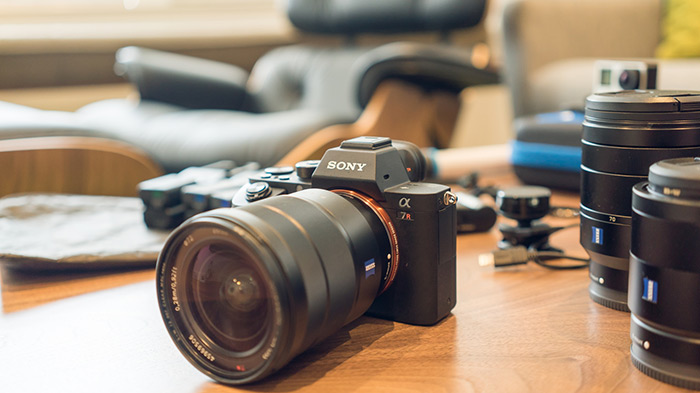 Preparing camera gears is absolutely vital
Travelers should take electric lamps along in light of the fact that it is extremely dim in the lobbies of the ruins. You can also use the flashlight, but make sure it is fully charged before going there. A small tripod and photoflash lamp serves better for a steadier and better photography.
You are advised to keep your gear as light as possible, as most of the places require trekking and a lot of walking. And remember to ask for permission before taking pictures of the locals and the shrines. You should know that it might be somewhat difficult to find points to recharge your battery.
First Aid Kit
It is a "must" the kit that every tourist should keep in the traveling bag. Medicines that are in your most common use should be in your kit because it would be really a daunting task to find a doctor or a clinic there. Make sure you keep all your regular medicines with you in your first aid kit. You can find on the Internet which basic medicines you should bring with you.
Tent
If you are planning to stay a night and watch the nightscape of this mysterious place, then you have to prepare the tent for your night stay there. And yes, to save your Camera from the turbulent Mother nature.
Clothes
The roads are dusty and rough here. So try to take more clothes and always carry a jacket with you. Black or heavy dress will be perfect for your trip to these ruins.
How to Avoid Altitude Sickness in Tibet Photography Trip
Amidst all the prospects of fun and adventure, don't forget to pay special attention to some important issues. What happens if you develop the sickness in the middle of Tibet photography tour? And how do you know it?
The early symptoms of altitude sickness includes losing appetite, nausea, vomiting, insomnia, dizziness, confusion, persistent headache, weakness, fatigue, heavy legs, breathlessness and breathing irregularity, etc. When you suffer from altitude sickness, please consider stopping ascending, otherwise, consequences can be as serious as death within hours. The only remedy for the Altitude Sickness is to walk to a lower altitude.
Water is going to be one of your best friends in the journey. Drink at least 4 litres of water every day because travellers fall prey to Acute Mountain Sickness for not staying enough hydrated in such high altitudes and cold temperatures. You will not realize if your body needs more water than you took until the symptoms start to appear. So, be careful!
You should also try to eat more raw food such as fruits and fresh vegetables. To save your skin from sunburn you should always keep a sun block lotion or cream with you. You do not want to fall sick and lose out all the moments. Your camera cannot sit idle!