People Who Can Not Travel to Tibet
Having a Tibet tour may have been a dream for many people. However, as Tibet is located on the highest plateau in the world, traveling there can be as fantastic as challenging. And what you should know is that certain people cannot travel to Tibet for a physical reason. Also, there are some true or false questions about who cannot travel to Tibet.
Here we provide detailed answers to those questions to help you figure out what is really stopping you from going to Tibet.
Travelers with Following Illnesses Cannot Travel to Tibet
For all travelers going to Tibet, the first thing to concern about is the altitude sickness, which occurs when going to the high altitude places from a lower place.
As the average altitude in Tibet is over 3,000 meters, it is very easy for most first-time visitors to get altitude sickness.
People with milder symptoms may experience headaches, nausea, dizziness, shortness of breath, loss of appetite, or disturbed sleep. Generally, the symptoms of altitude sickness will gradually decrease and eventually disappear within one or two days in Lhasa when you acclimatize to the high altitude.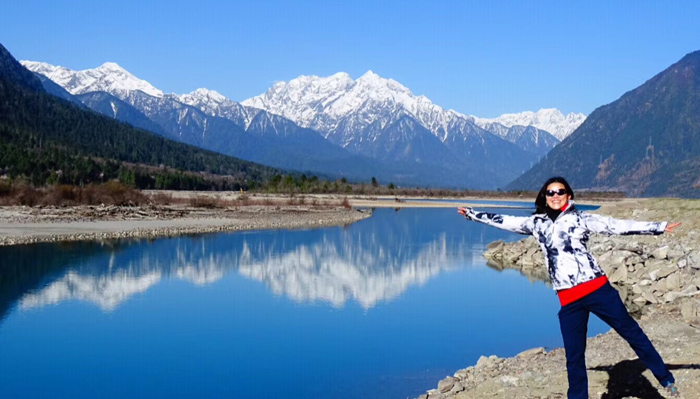 To decrease the risk of altitude sickness, travelers can visit Lhasa from Nyingchi (3,000m).
But severe cases of altitude sickness in Tibet can be life-threatening, especially when traveling to places that are too high in altitude in a short period. For those who are going to visit Everest Base Camp or Mount Kailash, it is suggested to make a looser itinerary, allowing enough time to acclimate yourself to the increasing altitude from Lhasa (3650 meters) to the mountain areas over 5000 meters above sea level.
High-risk Diseases for Travel to Tibet
Travelers with the following illnesses may not be able to travel to Tibet. Please consult your doctor for professional medical advice.
Organic heart diseases, including severe arrhythmia or resting heart rate over 100per minute, high blood pressure II or above, all kinds of blood diseases, and cranial vascular diseases can increase your risk of traveling to Tibet.
Chronic respiratory system diseases, including a medium degree of obstructive pulmonary diseases or above, such as bronchus expansion, emphysema, and so on, are also dangerous for travelers who are planning to go to Tibet.
Travelers with Diabetes Mellitus, Hysteria, Epilepsia, and Schizophrenia are also not suggested to travel to Tibet.
Travelers with Bad cold, upper respiratory tract infections, and body temperature above 38℃ or below 38℃ are not recommended to travel to Tibet until they're ok.
High altitude pulmonary edema includes high altitude cerebral edema, high altitude hypertension with an obvious increase of blood pressure, high altitude heart diseases, and high altitude polycythemia.
Pregnant women are not suggested to visit Tibet.
International Tourists without Tibet Travel Permit cannot travel to Tibet
Besides the physical reason, not having the Tibet Travel Permit will also prevent you from traveling to Tibet.
Tibet Travel Permit , issued by Tibet Tourism Bureau, is a must for all international tourists visiting Tibet. Without this permit, you cannot board the train or flight to Tibet, and you cannot pass the land border.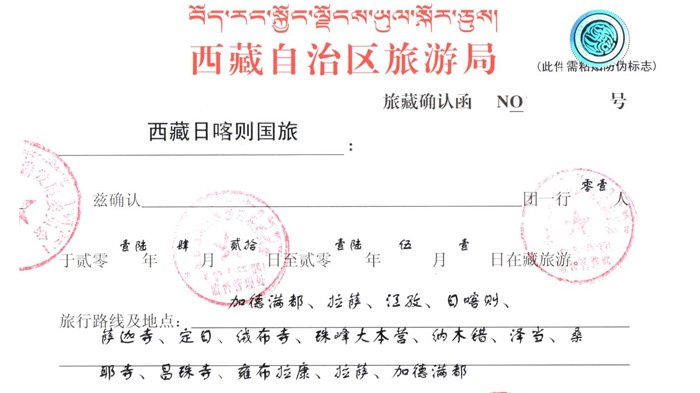 Tibet Travel Permit, an essential travel document for your Tibet tour.
Since individual applications are not accepted by Tibet Tourism Bureau, you need to arrange your Tibet tour and book the tour service with a licensed local travel agency to get the travel permit.
The travel agency will apply for the permit on your behalf after you confirm the travel itinerary and provide a clear copy of your Chinese Visa and passport.
You travel information, such as the travel date, the entry city, destinations to visit in Tibet, and the number of your group people will be listed in the permit and cannot be changed once it is issued.
So you need to make a detailed travel itinerary with your travel agent and follow the plan. You cannot change your itinerary at will. For any emergency changes, please contact your agency first.
It is suggested to apply for your Tibet travel permit at least 30 days before you go since it takes time to be issued and deliver to your address in mainland China.
Please notice that since the travel permit is quite important for your trip to Tibet, we don't offer the delivery service to places outside mainland China. We will deliver the permit by express to your hotel in mainland China as soon as we received it from the Bureau, or give it to you in person at your departure railway station or airport.
Frequently Asked Questions about who cannot travel to Tibet?
Generally, anyone can travel to Tibet as long as they are in good health and have got the Tibet Travel Permit as required.
However, some different issues can arise in specific situations. Here we will answer some of the common questions you may have.
1. Can journalists and diplomats travel to Tibet?
Foreign journalists and diplomats can travel to Tibet. But they cannot get the Tibet travel permit through an ordinary travel agency. The application of their Tibet permit can be only handled by the Tibet Foreign Affairs Office.
2. Can Indian tourists travel to Mount Kailash?
Indian tourists can certainly travel to Tibet. It is just a matter of how to get Tibet Visa for Indian citizens that is handled differently.
If you are planning to travel to Tibet, including a trip to Mount Kailash, Lake Manasarovar or any other places in Ali prefecture, with the Indian passport, you need to contact the Foreign Affairs Office of TAR, or the Tibet-India Pilgrim Reception (shortly Pilgrim Center) to arrange the trip for you.
If Mount Kailash is not your destination, you can just contact us and we can handle the trip for you with Tibet travel permit application included.
3. Can foreign tourists travel to Tibet with Chinese companions?
Yes, you can travel to Tibet with your Chinese friends or family members. However, you still need to apply for the travel permit. You and your Chinese companion can take our Tibet small group tour with guaranteed Tibet permit application at the best local service or customize your private trip in Tibet.
4. Can elderly travelers over the age of 80 travel to Tibet?
Traveling to Tibet is risky for senior travelers, but it's not easy to say they can't go there at all.
The oldest tourist we've had was a Germany traveler who completed the Everest Base Camp tour at the age of 82.
Of course, it doesn't mean anyone over the age of 80 can travel to Tibet without hesitation. It still depends on your health. Be sure to consult a medical professional before planning your trip.
Conclusion
Whether you can get to Tibet or not depends on your physical condition and whether you can get the permit or not.
There is no age limitation for Tibet tours . Just make sure you don't have those diseases we list above and get permission from your doctor.
Tibet travel permit is the most important travel document for you to enter Tibet. Without that, you cannot even get on the train, the plane, or get in the car to Tibet.
There are some restrictions for foreign tourists applying for Tibet permit. For example, Indian tourists to Mount Kailash and journalists to Tibet need to contact the Foreign Affairs Office rather than ordinary travel agencies to apply for the permit.
Your Tibet tour is not far away as long as you follow the requirements to apply.