Top 3 Most Peaceful Nunneries in Tibet
Visiting Tibet would not be complete without a trip to one of the many monasteries in the country. Tibetan Buddhism is an important aspect of Tibetan society. Yet whilst the country's monasteries tend to get a lot of attention, nunneries in Tibet are, more often than not, forgotten about.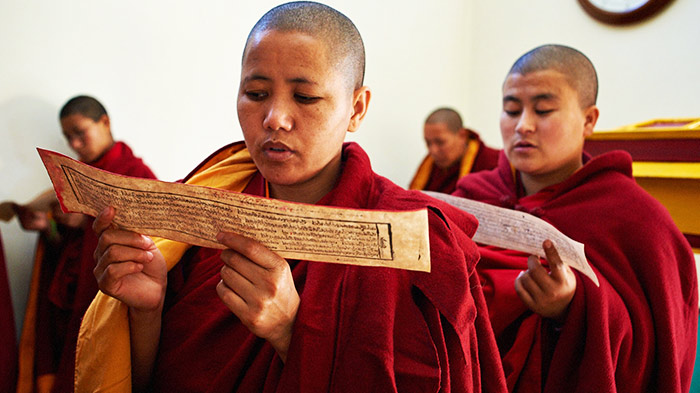 Tibetan nuns
Tibetan nuns and monks both support the same ideas, yet there are differences between where they live. Whilst nunneries tend to be smaller, they can also be incredibly beautiful (and much homelier). Yet becoming a part of these communities properly, always begins once someone decides they want to become either a nun or a monk.
Becoming a Nun in Tibet
Becoming a nun in Tibet is a process which will last your entire life. It is not something you can do one day and change your mind the next. In Tibetan tradition, becoming a nun or a monk is a significant choice, and one which should be respected. To turn your back on your commitment is seen as irresponsible and disrespectful.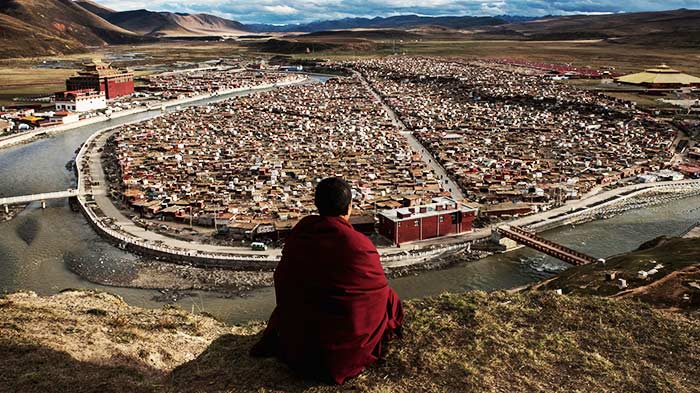 Becoming a nun in Tibet is a process which will last your entire life.
However, if a person believes that they can foster this lifelong commitment, they can then start the process of finding a nunnery to start learning the Buddhist teachings. They will then spend their time trying to remove themselves from daily life and the attachments they have formed to it. According to Buddhists, this is just one of our lives, and to reach full enlightenment you must first shed your desire for the physical objects within it.
Unfortunately, becoming a nun is not as simple as just joining up, or signing your name on a piece of paper. If you are serious about becoming a nun, you must first become a part of a nunnery's community. This can take months, or even years. Once you've done that, you will then be able to find a spiritual guide and teacher to help you.
Living and Learning in Nunneries in Tibet
Nuns will spend their time meditating and learning. Each day, they will have to make sure that they engage with the teachings they have been given, or any services which are taking place. For some nunneries, such as the Chupzang Nunnery, there are exceptions to this.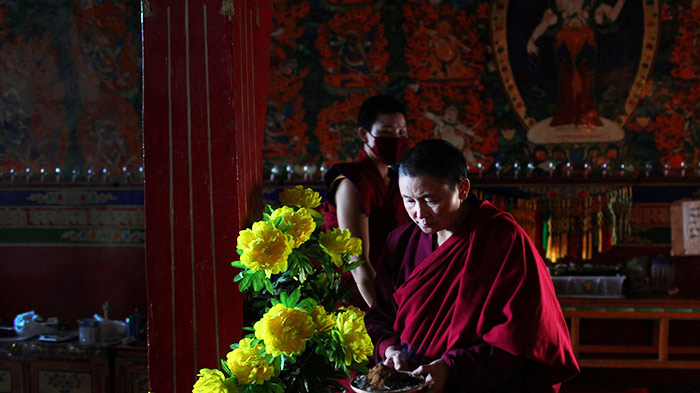 Nuns will spend their time meditating and learning.
Both monks and nuns must give up their personal possessions. That means no iPhone, no wallet, and no savings. In fact, if you decide to become a Buddhist nun, you are not allowed to hold down a normal job in order to support yourself. Instead, you must be prepared to live a frugal life based on donations and support from the community around you. They do receive some nice social benefits though.
3 Typical Tibetan Nunneries in Tibet
Of course, in order to become a Buddhist nun, you'll need to find a nunnery. If you're looking for an example of typical nunneries in Tibet, then here are three of them. Each offering its own unique perspective of Buddhism. Whilst on the outside they may be largely similar, there are unique things to each of them. You'll have to explore them yourself to find them all.
Canggu Nunnery (A.K.A. the Ani Tsankhung Nunnery)
Canggu Nunnery is the only nunnery actually located in Lhasa proper. It has, for a long time, been the perfect location for female Buddhists to retreat so as to increase their own spiritualism and connection with Buddhism. Usually, there are around 100 nuns here. However, as with all Nunneries in Tibet, that does sometimes fluctuate.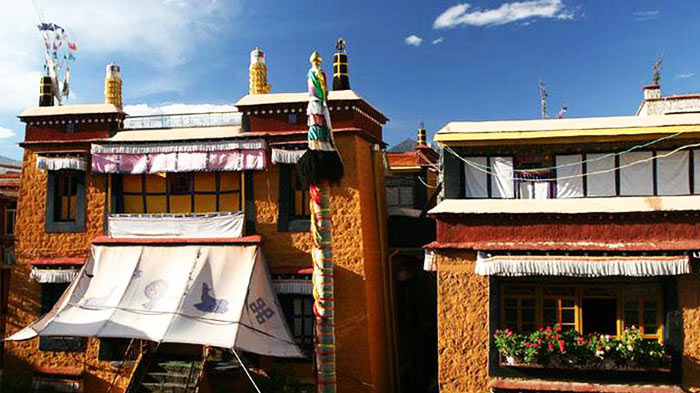 Canggu Nunnery
The temple itself is not that large, yet because this is a public nunnery, you'll be able to enter and look around. The nuns will be more than welcoming and are known to always have a smile on their face. Make sure to include this destination on your Tibet tour, it's the most famous and historically significant nunnery in Lhasa.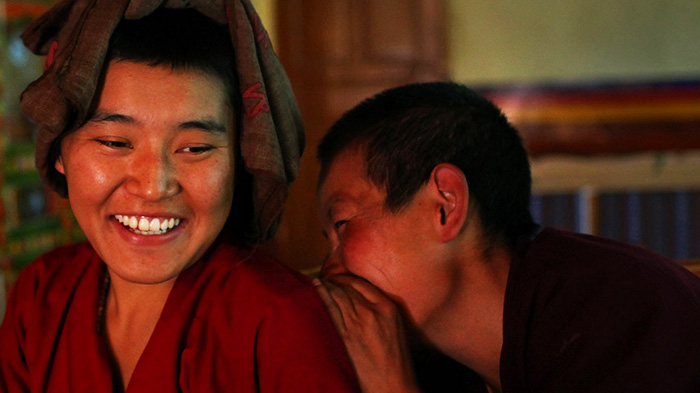 The nuns always have a smile on their face.
The best time to head here is probably during the Summer months of July and August as it will remain warm. During the summer, this nunnery in Tibet is also home to a collection of flowers and plants tended to by the nuns, which come to bloom. However, if summer doesn't work for you, all year round you'll be able to take in the sights and sounds of the religious activities which take place here.
Chupzang Nunnery
The Chupzang Nunnery (somewhat loosely) belongs to the larger Sera Monastery, and is located on a hillside to the North of Lhasa. It is surrounded by canyons which are covered with shrubs, providing the Chupzang Nunnery with the perfect location for escaping from the hustle and bustle of the real world. As one of the most peaceful nunneries in Tibet, you can expect a relaxing stay here; one where you can slowly walk between its many stupas in the north, and the monasteries and courtyards elsewhere.
As said, whilst very much autonomous, the Chupzang Nunnery isn't exactly an independent nunnery, and is connected to the Sera Monastery complex. Because of this, it's reasonably close to Sera, which is a leisurely 40 minutes' walk through the area's natural beauty. The Sera Monastery is one of the three largest monasteries in Tibet, so if you haven't had enough of Tibet's rich religious culture once you've finished looking around the Nunnery, then Sera will be more than welcoming.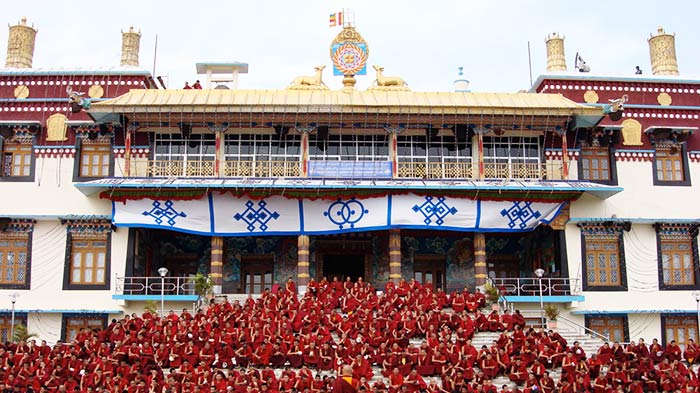 Sera Monastery
The Nuns at the Chupzang Nunnery are also not as strict as those in other areas of Tibet. They tend to only come together during holidays and special occasions for prayer and services. If you want to be witness to one of the religious festivals here, make sure you visit the Chupzang Nunnery during a special holy day (the full moon, and the 8th, 10th, and 25th of each lunar month).
>> Join-in the most classic Lhasa City Tours to explore the peaceful nunneries
Rongbuk Monastery
The Rongbuk Monastery is unique in that it accepts both monks and nuns. Other monasteries and nunneries in Tibet will not (as a rule) do this. The reason for the Rongbuk Monastery making an exception is probably due to the environment surrounding it. Rongbuk Monastery(5154m) is the highest monastery in the world. It's also within viewing distance of Mount Everest, and many Mount Everest expeditions have been known to start here.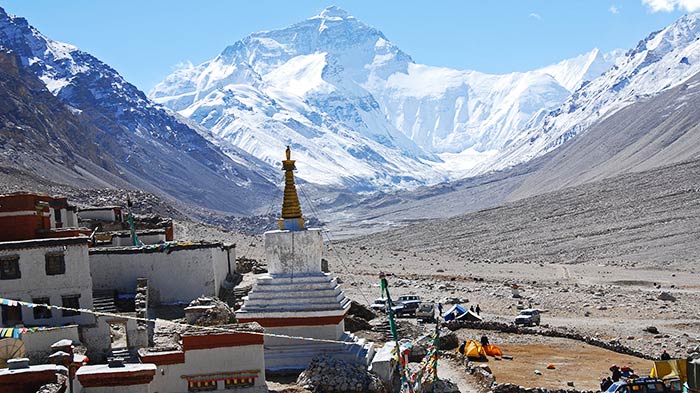 Rongbuk Monastery's Appearance
The most interesting time to visit Rongbuk Monastery is around the 15th of April. This is when the annual celebration of the Saka Dawa Festival takes place. Whilst the festival is generally celebrated for the whole month throughout the rest of Tibet, the Rongbuk monastery festival lasts for just 3 days. During the time, monks will dress up as different characters and dance in celebration of the birth of Sakyamuni.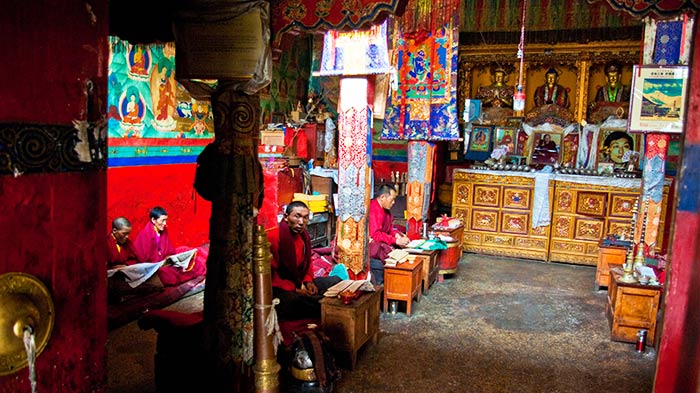 Rongbuk Monastery
Another interesting point is that the area is also home to the highest guesthouse in the world, the Rongbuk Monastery Guesthouse. This guesthouse is just 82 meters from the monastery, and 6.4 km from Everest Base Camp (EBC). It's a very simple guesthouse, without a shower, but it does provide a good place to rest and eat for those who are about to give Mount Everest a try. From the guesthouse, you're also able to see the famous Rongbuk Glacier; the largest of Everest's glaciers.
>> Check More Tibet Everest Base Camp Tour Packages
Which One Should I Visit?
The three nunneries and monastery's above are all unique in different ways. The differences stem largely from their locations. The Rongbuk Monastery is obviously the hardest to get to, but the view of Everest might just help you to feel the awesomeness of the place.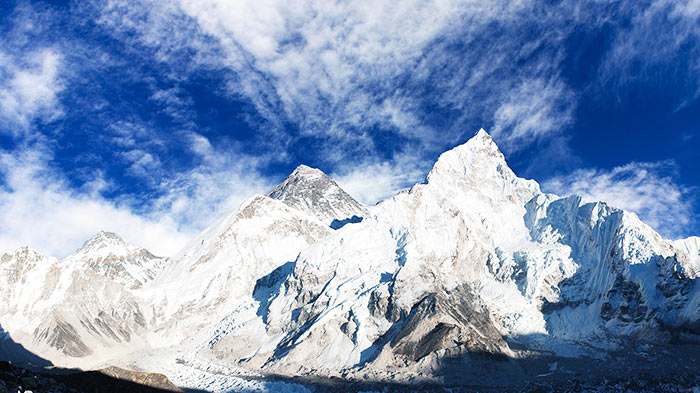 Everest
The Chupzang Nunnery, on the other hand, holds a unique relationship with the nearby Sera Monastery. It's a unique place to visit if you're looking to see both sides of the gender coin when it comes to Tibetan Buddhism.
The Canggu Nunnery is great if you're going to be staying in Lhasa anyway. It's one of the quaintest and most beautiful nunneries in Tibet, with its garden tended to by the nuns who live there. Also, since it's located in Lhasa, you'll be able to explore the city as well. Whichever one you choose, it will be a religious experience you won't forget.
Do you know of any other Nunneries in Tibet?