What to Pack for Tibet Travel: the ultimate packing list you should follow
Tibet is one of the most unique places on the planet, sitting on the high-altitude plateau at the roof of the world. And now that you have booked your tour to Tibet with us, you need to work out what to pack for the trip. It is important to make sure that you have all the gear necessary for a Tibet trip relevant to the time of year you are traveling, as well as not having too many things that are not essential. Over-packing is the most common concern with travelers to Tibet, and many people pack things they are never going to use in the belief that the plateau is constantly frozen.
Yes, temperatures can get to well below freezing in places, especially in the winter months. Average temperatures in winter can range from -20°C at night to as high as 12-14°C in the daytime. Rain also only comes in the summer months, with most of the rainfall occurring in the southeast of the region. Travelers also tend to go to the other extreme, and not pack enough of the right things for the trip. The last thing you need is to find that it is getting colder and you do not have enough warm clothing. Here we are providing you with a definitive guide on what to pack for a Tibet tour at any time of year.
What to Pack for Tibet Travel: Basic Packing Items
The first thing to consider when packing is the basic necessities, those things that you cannot travel without. Obviously, we do not mean hair straighteners and curling tongs, but the main items you will need for Tibet at any time of year.
Travel Documents Needed
Chinese Visa
The Chinese Entry Visa is the first thing you need to obtain, even before you have booked your trip. Used for getting into China once you arrive at the airport, this visa stamp is also required to get your Tibet Travel Permit, which you will need to get into Tibet.
If you are entering Tibet from mainland China, the visa is applied for from the Embassy of the People's Republic of China in your home country, and you need to make this application yourself. Some countries do have postal applications, while others need to use the Chinese Visa Application Service Center (CVASC) in their home country. Either way, you need to make the application using your original passport, two passport-sized photos, completed application form, proof of onward or return travel from China, proof of hotel booking in China, and the relevant fee for your home country. Processing normally takes around three days, and the visa is normally valid for three months from the date of issue.
For those entering through Nepal, the visa is different, and known as the Chinese Group Visa. This is applied for by our agent on your behalf, and the application process has a different set of requirements, though we handle most of those for you. Processing takes three working days, and once approved, we will collect the visa papers, which are separate from your passport, and deliver them to your hotel in Kathmandu.
Tibet Travel Permit (TTP)
All international travelers to Tibet are required to have a Tibet Travel Permit for entry into the Tibet Autonomous Region, whether from China or Nepal. The permit cannot be applied for personally, and can only be obtained through a registered tour operator once you have booked a pre-arranged tour. After you book your tour with us, we will make the application on your behalf using scanned copies of your passport and visa.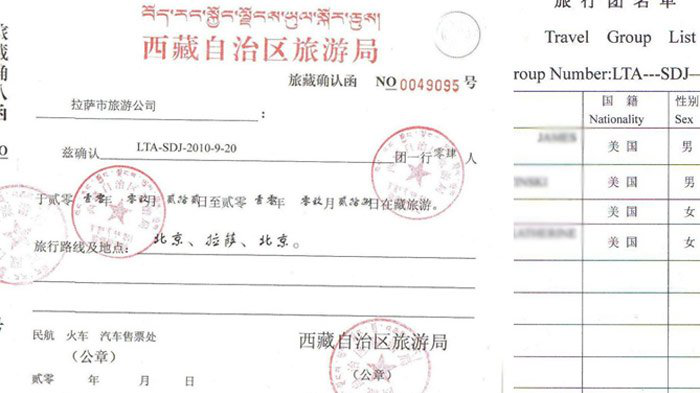 Tibet Travel Permit, a necessary travel document for your Tibet travel
The application process takes up to 15-20 days, and once it has been received, we will forward it to your hotel in China or bring it to your hotel in Kathmandu. The permit is also required for all travelers in order to board the trains or flights to Lhasa, as well as being required at the various checkpoints around Tibet.
Clothes, Shoes and Bags for Tibet Travel
Tibet has a very unique climate, and the weather can be anything from freezing cold to warm and balmy, depending on when you are traveling. Daytimes are often pleasant, even in the winter, although they can be a little cold. The nights see a huge drop in temperatures, and what can be a warm and pleasant day can turn into a freezing cold night, especially in the winter months. Summer is also the time of rains, and the monsoon can bring heavy rain in most of the plateau. However, it is common for the rains to fall in the evenings and overnight, so they rarely disrupt tours of the plateau. Find out what Tibet weather is like all year round here.
Clothing for the upper body should be layered, like an onion, as several thin layers can keep you warmer than one or two thick layers. Clothing should also be quick-drying, in case of excessive sweating or rain, so choose thinner tops with long sleeves over multiple sweaters. Lighter tops (even sleeveless) are best for during the day, with some long sleeve tops and a coat at night for the best effect. A light rain coat could also come in handy during the summer wet season. If you are traveling outside of Lhasa it's bound to be a lot cooler and you'll need thick coats and comfortable boots. In northern Tibet the highest temperature is 4 or 5 degrees. At Everest Base Camp you'll need extra warm clothing for camping in very cold, dry conditions. It is also important to be aware that Tibetans dress conservatively, so try to dress appropriately. During your Tibet trip you will also visit a number of Buddhist temples so it's considerate to cover your shoulders and remove your hat.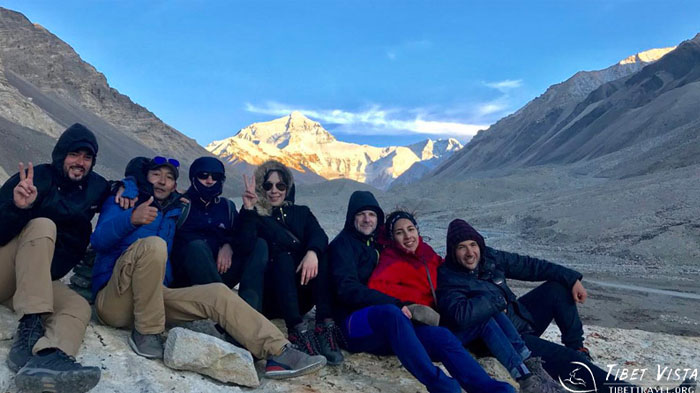 Our guests enjoying the imposing Mt.Everest at Everest Base Camp.
For the lower body, it is best to pack light pants with long underwear to keep warm, following the idea of layers again. Trekking pants and cargo pants are ideal for traveling on the plateau, but try to use cotton instead of denim, as it dries quicker and is much lighter. Long underwear is a useful addition, as it can help to keep your legs warm. Women should refrain from wearing shorter skirts, and if you want to wear a skirt, make sure that it is long enough to cover your legs, especially when entering temples. Most Tibetan women wear very long skirts that reach their ankles, as showing the legs is not done in Tibet.
Your feet are the most likely part of the body to get cold, and when the feet are cold, it is hard to stay warm. Thick woolen socks are ideal on the plateau, and hiking boots or shoes that are waterproof are the best thing to wear when traveling around, as the ground around the plateau is often rough and uneven. Casual shoes can be used for walking around the cities and urban areas of the plateau, such as Lhasa and Shigatse, but for most of the monasteries, you may find that the terrain around the temple is rough and rocky, so these are not useful there.
Suitcases are not ideal for travel on the plateau. It is better to use a duffel bag, backpack, or hold-all for your main packing, and have additional smaller bags for outings to monasteries and other attractions. The larger bag can be left in the vehicle when visiting attractions, and should be no more than around 50-liters. The smaller bags can be used for carrying cameras, devices, etc, as well as snacks and essential items such as the permits and your passport, which you need to keep on your person at all times.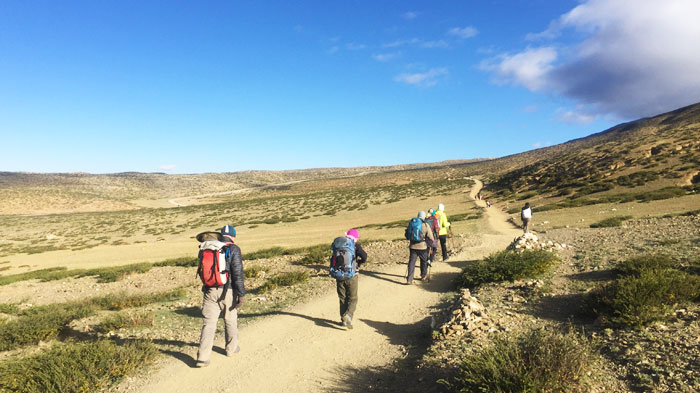 Our clients were trekking around the holy Mt.Kailash.
Personal Hygiene
Obviously, you will need to bring toiletries with you, such as shampoo, toothpaste, toothbrush, etc., and include anything you will need with your daily ablutions. Hair gel is not advisable, though, as it can freeze in your hair in the colder temperatures. You should also include hand sanitizers, as there are places where you may not be able to wash your hands, wet wipes, toilet paper, alcohol, etc., to help with personal hygiene in places that are more basic than the hotels in the larger cities.
Electronic Gears
If you are planning on taking photos, then you will need to bring a good camera, a tripod for those perfect shots, plenty of spare batteries, and enough memory card space to cover the whole trip. You may not be able to upload your images to the internet in some places around the plateau. Adaptors for your electronic devices are essential, and a power bank for your cellphone can be very useful when there is nowhere to charge. Tibet uses three types of plugs, so you need an adaptor that can handle all three, just in case. Type A is the twin flat pin plug, mainly used in North and Central America and parts of Asia, while Type B is the twin round pin plug, also known as the standard "Euro" plug. Type C is a three-pin plug with flat blades and the bottom two are angled, as in Australia. You can have a look at all our photographic tours.
What to Pack for Tibet Travel: Recommended Packing Items
There are also some additional items that you can pack to help with your needs while in Tibet.
Medical Kit
Getting medications in Tibet is possible but given the language barrier and probable lack of area knowledge, it is best to bring a broad spectrum antibiotic like Ciprofloxacin. Bring the usual Panadol/Tylenol (ibuprofen) for headaches, colds, and flu and Loperamide or equivalent for diarrhea, as well as medicine for stings and insect bites. If you suffer from asthma, be sure to pack enough inhalers.
You can also get altitude tablets from your doctor which may help with sickness. These are called Diamox and are to be started before you arrive in Tibet. Check with your doctor to make sure you are able to take Diamox before leaving, and make sure you are up to date with all the necessary vaccinations for Tibet. Find out more here about how to have a healthy journey in Tibet.
Personal Well-Being Items
At the high altitudes of the Tibetan plateau, the sun can be stronger and more damaging than at sea level in tropical countries. Sunburn is a common problem, and with string bitter winds, your skin and lips can also get dry and chapped. Bring along a good SPF 30 sun block, as well as some moisturizers and lip balm to protect your skin and lips. A wide-brimmed hat is good for keeping the sun off your head, and you will need to have sunglasses for the bright days, as well as a scarf to keep your neck warm.
Food and Drinks
It can be hard to come by what is normal snack food and drink to you, so be sure to bring snacks out with you for the day. The best snacks for the plateau are those that give high energy boosts quickly, such as dried fruit, nuts, chips, biscuits and cookies, and chocolate. If you like a morning coffee, you might want to bring some three-in-one packet coffee, as there are many places where you cannot get coffee, since Tibetans mostly drink tea. Drinking water from a tap is not recommended at all in Tibet, but bottled water is available everywhere, including in the tour vehicle. - Check the food available in Tibet.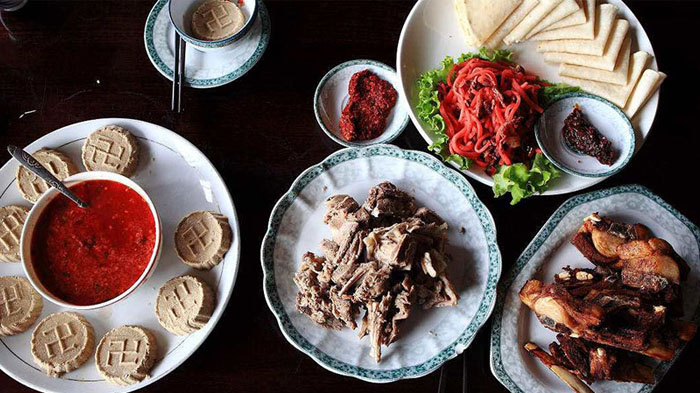 Different food choices in Lhasa
Flashlight
In the more remote regions of Tibet, you will be staying in basic accommodation, which often means no inside toilet and limited lighting outside. You will need to have a small flashlight for going to use the toilet at night.
Swim Wear
If you are planning a trip that includes a visit to one of the many hot springs in Tibet, then bring your swimsuit with you. However, since bathing in the holy lakes in Tibet is not permitted, this is the only time you will need it. Have a look at the hot springs you can enjoy in our winter tour.
Yangpachen Hot Spring, one of the famous hot springs in Tibet
Digital Version of Lonely Planet Tibet
Certain books are not permitted to be brought into China, and the controls on written books on sensitive political issues are banned in Tibet. While the Lonely Planet guide for China is sometimes allowed, the one for Tibet may be confiscated by customs when you reach China. If you want to bring it with you, download the digital copy to your device for use later on.
Bank Cards and Cash
There are actually more ATMs in Tibet now, though only usually in Lhasa, with a few more in Shigatse. However, you may not be able to use the banks in China, unless you have a Chinese bank account. Cards are also rarely used in Tibet, so cash is the best option for traveling around the region. Make sure you bring enough cash in Chinese Yuan for the trip in Tibet, as you may not be able to get dollars or other currencies changed, even in Lhasa. Do all your currency exchanges in China or Nepal before you travel. Find out how to pay in Tibet here.
What to Pack for Tibet Travel: NOT Recommended Packing Items
There are also a few things that you do not need to bring to Tibet with you, as they are often provided or more freely available in the region, which makes your packing a little lighter. Oxygen bottles are provided by us as part of the tour package, and if you want a personal oxygen bottle, they can be bought relatively cheaply in Lhasa. You may also find that the airline will not allow it to be carried on the plane, due to its explosive capabilities. Tents, sleeping bags, and camping mats can be bought or rented from us or from shops in Lhasa if you are planning a trip that includes camping.
What to Pack for Tibet Travel: Recommended Packing Items for Trekking
For those that are trekking in Tibet, a few items can be brought with you for ease of use, such as a good first aid kit with bandages, eye drops, cotton wool, gauze, etc. This can be useful for those small injuries such as scrapes and minor cuts that can happen in the wilderness. A pair of binoculars is also useful for spotting wild animals in the distance, as you are unlikely to be able to get too close.
Some additional items that can be useful when trekking are: flasks, hand-warmer, gloves, quick-dry towels, etc, as these can be hard to find in Tibet, and can be useful to stay warm and dry when out on the trails. You should also bring plastic bags with you, for holding any trash that you have, as there are few places in the remote areas where you can dispose of it. Sealable Ziploc bags are also handy for keeping spare clothes dry while trekking.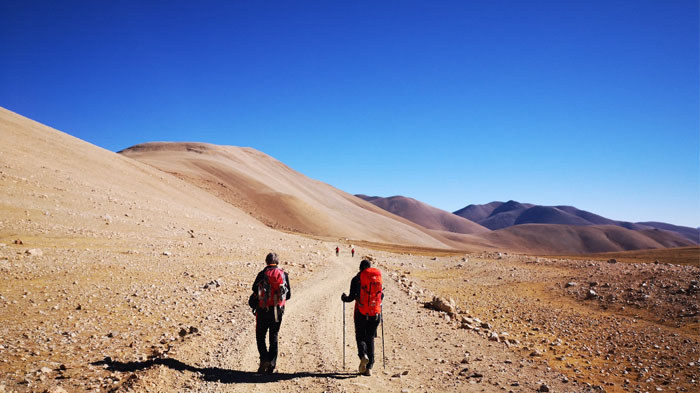 Our clients trekking from Old Tingri to EBC.
Snacks and high-protein foods are essential when trekking, as you will use up more energy faster in the high altitude atmosphere. There is a wide range of camping foods available from most camping and trekking shops that are dried or vacuum sealed for freshness, and which can be useful for trekking, as they reduce the weight you are carrying, making it easier to carry enough food for the trip.
Walking poles are useful for trekkers, especially in the more rough terrains that you may encounter, and can be helpful when climbing steep slopes to the high passes. While sleeping bags can be bought in Lhasa, you may have a preference, so you can always bring your own. - Check more trekking tours we have.
Conclusions
With so many things to remember, a guide on what to pack is essential, and you should write a list of the things you are going to take that you need and stick to it. Bringing too much stuff will weigh you down, and you will find many things are not really necessary. However, do not under-pack, as you may find that there is something you need that you forgot. Stick to a defined list of essentials, and you are ready for the trip to Tibet.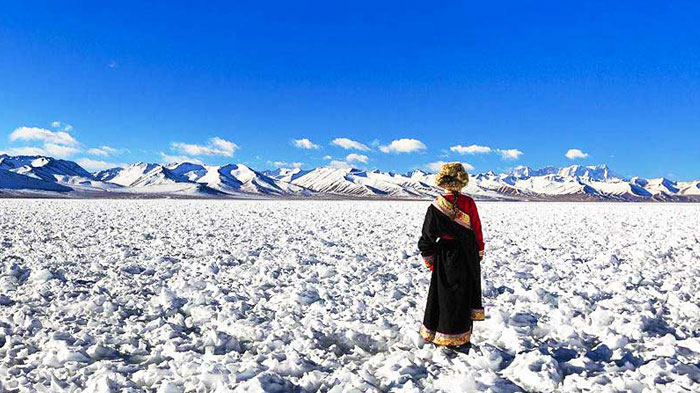 Paying a visit to Tibet in winter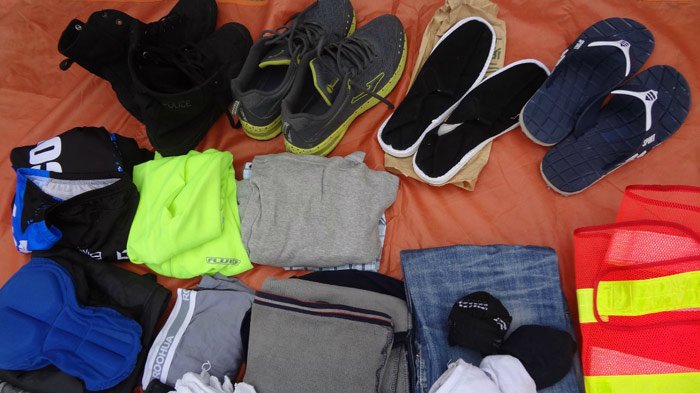 Sneakers or good hiking boots will be a must, with lots of walking required and some steep mountainsides to climb.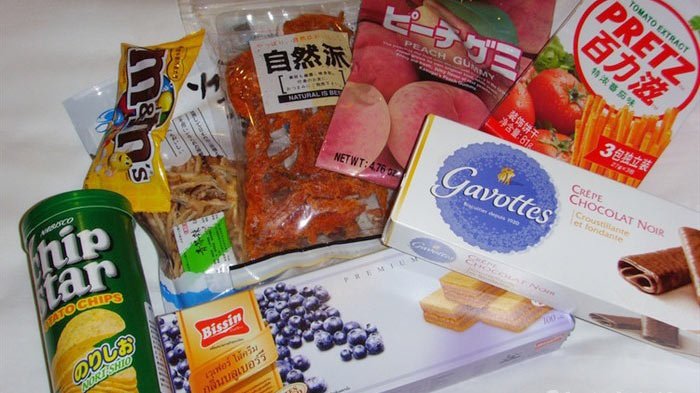 Foods and drinks for Tibet tour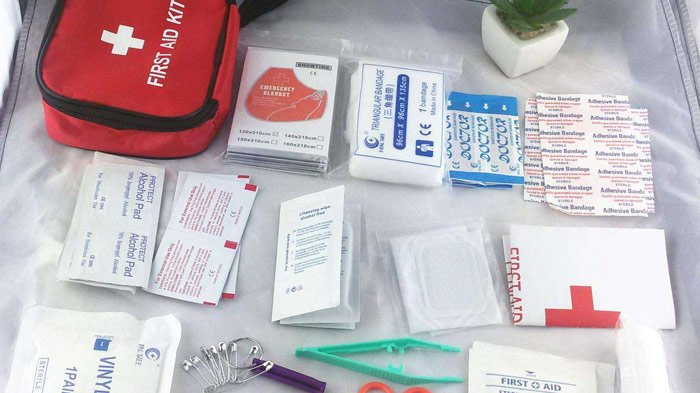 First aid kit for visiting Tibet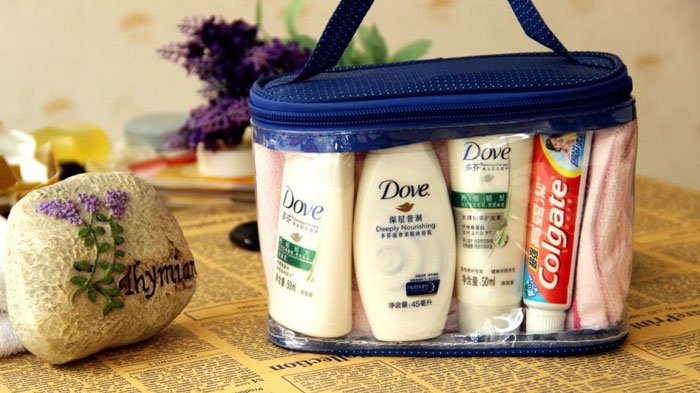 You'd better bring your own toiletries to Tibet.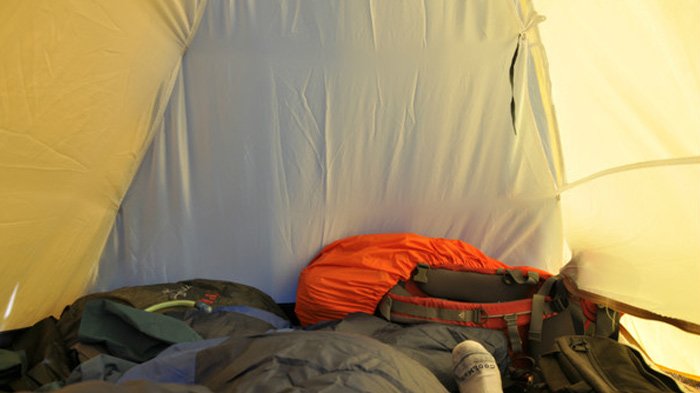 A cozy tent plays an important part in Tibet trekking.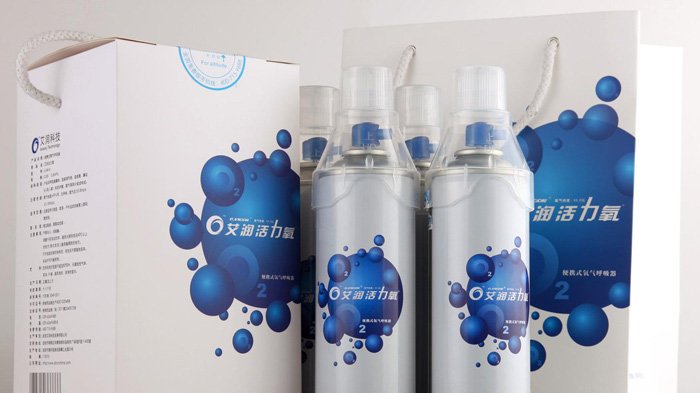 Portable oxygen bottles in Tibet trip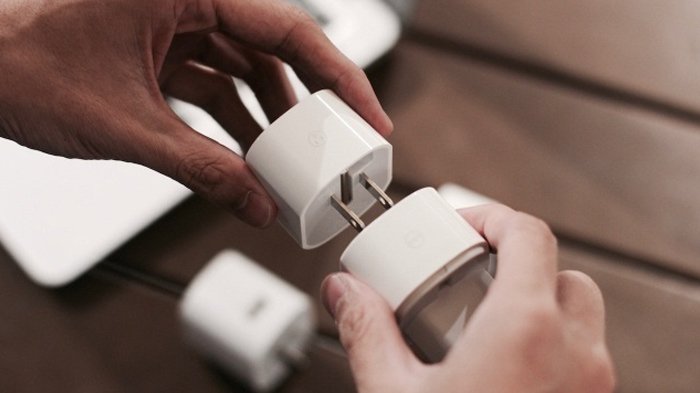 Electrical adapter for Tibet journey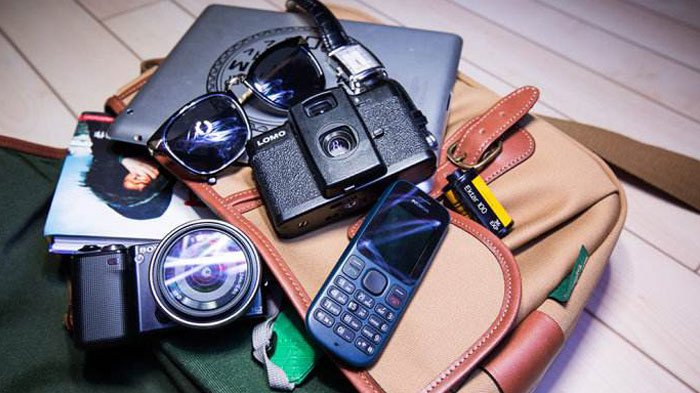 Gears for Tibet photography tour