Medicine for High Altitude Sickness in Tibet
With an average altitude of more than 4,000 meters, travelers to the Tibet are often beset with altitude sickness once they arrive in the Tibetan capital of Lhasa. Altitude sickness can hit different people in different ways, and while some may only feel a mild headache akin to a hangover, others can feel more severe effects, such as nausea, dizziness, dehydration, etc.
However, acclimatization will still come to both after the body has had chance to adjust to the thinner atmosphere, and the symptoms will go away allowing you to enjoy your time on the world's highest plateau. There are some medications available, both prescription medication and Chinese traditional Medicine, that can help alleviate the symptoms of altitude sickness, and in some cases, prevent it from happening altogether. However, whether you opt for prescribed medication or herbal remedies, you should always consult your own doctor or pharmacist before taking them.
Top Recommended Western Medicine for Altitude Sickness Relief for Tibet Travel
If you are thinking about taking some of the prescribed medicines to help reduce the time it takes to acclimatize, alleviate the symptoms already felt, or to prevent feeling the effects of altitude sickness altogether, then you should first consult your own doctor to make sure it is safe for you to take them.
1. Acetazolamide - Acetazolamide , commonly known by the brand name of Diamox, is a prescription drug that acts as a diuretic that reduce blood pressure by helping the body get rid of excess fluids. The drug is commonly used to both reduce and prevent the effects of altitude sickness, and can help to increase the metabolic acidosis so that respiratory rates are increased and blood is oxygenated faster, to reduce the overall effects of altitude sickness. This allows the body to adjust faster to the increased altitude and thinner atmosphere, and can be useful in preventing altitude sickness in some people altogether. Acetazolamide should be taken around 2-3 days prior to reaching higher altitudes, and in doses of two 125mg tablets twice a day. Compared to dexamethasone, the drug has few side effects on normally healthy people, though there are certain instances where it should be avoided. However, while the drug is known to help prevent regular altitude sickness, there is no evidence to show it can help in acute cases.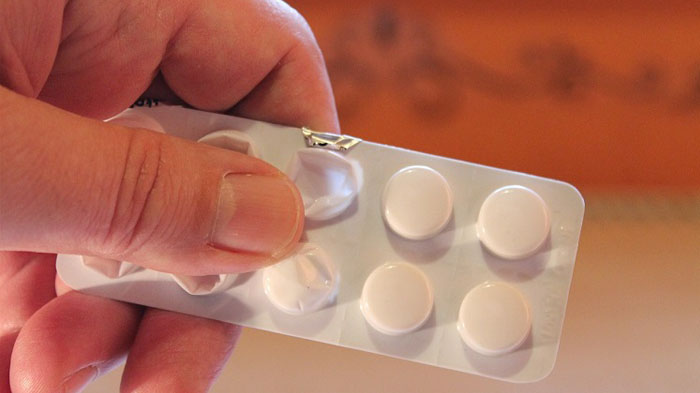 Acetazolamide can help to increase the metabolic acidosis.
2. Dexamethasone - Dexamethasone is another prescription drug that is often used as a suppressant to prevent the symptoms of altitude sickness when traveling to the high Tibetan plateau. However, it is more effective in treating the symptoms of altitude sickness once they occur than Acetazolamide, and is best used in conjunction with a descent to lower altitudes for more severe cases. Taking two-four doses per day whilst traveling will normally prevent altitude sickness from returning once treated, although stopping the medication while still at high altitudes can result in the symptoms returning. A potent steroidal hormone that suppresses inflammation and immune activity, it should only be used when recommended by a doctor.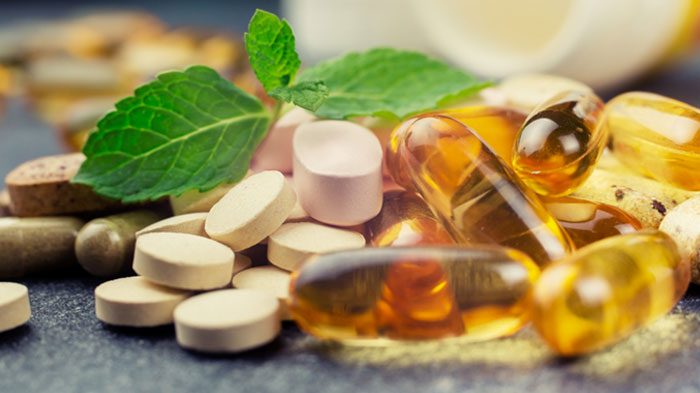 Vitamin is also good for you to avoid High Altitude Sickness.
3. Vitamin and Nutrient Supplements - While you can take some of the above medications for altitude sickness relief and prevention, it is not always necessary. Vitamin supplements and added nutrients are essential for a strong and healthy immune system. Taking added vitamins, minerals, and nutrients on top of your normal diet on a daily basis can help to increase the body's immunity, allowing it to be able to produce more red blood cells quicker when you get to the higher altitudes of the plateau. Vitamin and nutrient supplements are often recommended for those traveling to high altitudes, and if you are not already taking them, you should start at least 3 months before you travel to Tibet to allow them to get into your system and start working properly. If you are planning on using vitamins and nutrients, then it is advisable to consult your doctor as to what you may need to take as a supplement to your normal diet, and what can help you best. Vitamin and nutrient supplements are normally safe for both kids and adults to take.
Top Recommended Chinese Medicine for Altitude Sickness Relief for Tibet Travel
There are several Chinese Traditional Medicines that can be used to help prevent and relieve the symptoms of altitude sickness while traveling in Tibet, though you may not be able to get them before you leave home. However, these herbal medications are easily available in China before you travel to Tibet, and are relatively cheap when compared with western prescription drugs. While the medicines are available without a prescription, even in China, it is still advisable to discuss the use with your doctor before taking them.
1. Rhodiola Rosea - Known in Traditional Chinese Medicine as Hong Jing Tian (written as 红景天 in Chinese), Rhodiola Rosea, also called golden root and roseroot, is a plant that grows naturally in arctic environments and high altitudes and has been used as an herbal medicine for centuries. The plant root acts as an energy booster and adaptogen that can increase the body's resistance to physical stress. Preparations of Rhodiola root have also shown to have an effect to reinforce physical strength, enhance body endurance, compensate for low oxygen, relieve tiredness and weakness, and treat cardiac and pulmonary diseases. It is these benefits that allow the root preparation to be used as a preventative and treatment for altitude sickness.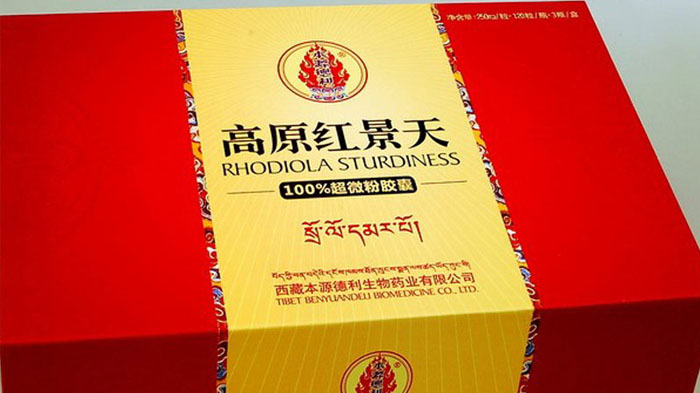 Rhodiola Rosea (written as 红景天 in Chinese)
2. Lucid Ganoderma - Known more popularly as the Reishi Mushroom, of which there are more than a dozen varieties, this natural fungus has long been used as a traditional medicine in China. Primarily used for boosting the immune system and treating high blood pressure, it can also reduce stress and fatigue, and has been shown to reduce the symptoms of altitude sickness in some people. Available in almost all traditional medicine stores in China, the medication comes in tablet form, and should be taken for at least a week before travel and throughout the trip.
3. Codonopsis pilosula - Commonly known as Dang Shen or "poor man's ginseng", this perennial flowering plant is native to Asia, and grows in forests and meadows across China. In Traditional Chinese Medicine, the roots are used as a part of several types of herbal medicine, it has been used to treat weakness, loss of appetite, diarrhea, hypoxia, and boost the immune system. Effects also include an increase in endurance as well as in both red and white blood cells, and it can help promote better circulation. In terms of treating altitude sickness, Dang Shen works on stimulating the body to combat the symptoms itself by boosting the natural immunity and helping to reduce the chance of getting altitude sickness. Dang Shen can be found in numerous compounds in Chinese medicine, and is available in most traditional medicine pharmacies across Asia. You should start taking the medicine at least 2-3 days before travel, and continue it until back at lower altitudes.
Suggested Tour Destinations to Take Altitude Sickness Medicine in Tibet
While not everyone feels the effects of altitude sickness when they reach the plateau, almost everyone would normally have some effects when traveling to the higher altitudes of some of Tibet's most popular attractions.
Newly-arrived Tourists in Lhasa by Flight
When arriving by flight into Lhasa Gonggar International Airport, visitors are often coming from very low altitudes, and are more susceptible to altitude sickness at the elevation of the Tibetan capital. This is a good time to take medicines for altitude sickness, to help prevent and combat the symptoms, though it is always best to start a few days before traveling.
Lhasa to Namtso Tour
Lake Namtso lies at an altitude of 4,718 meters above sea level, and is more than 1,000 meters higher than Lhasa. Ascending this much in one day can induce a repeat of the symptoms of altitude sickness, as you have ascended to high too quickly. If you are going to take medication for this trip, you should start taking it before you depart from Lhasa.
Lhasa to EBC Tour
While the trip to Mount Everest Base Camp (EBC) does take two days after acclimatizing in Lhasa, and ascends somewhat gradually, it is still common to feel some effects of altitude sickness when you reach the base camp at an altitude of 5,200 meters. The first stop is at Shigatse, at 3,900 meters, which is not too high an ascent from Lhasa. However, the next leg ascends by 1,300 meters in one day, which is a huge increase in altitude, hence the potential for altitude sickness again. Taking medication before traveling this route, as well as while traveling at higher altitudes, can help reduce the risk of altitude sickness when you reach EBC.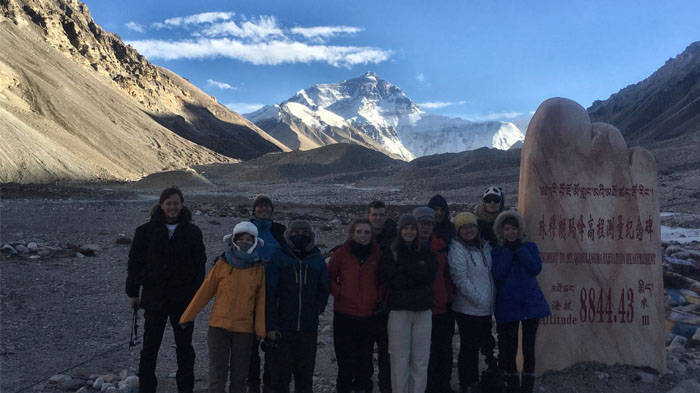 You'd better take medication before traveling to EBC.
Lhasa to Mt. Kailash Tour
Traveling to the famous Mount Kailash for the plateau's hardest trekking route, the Kailash Kora is done over a period of several days, and you can acclimatize slowly to the altitude increase. However, you will stop at EBC after leaving Shigatse, so there is a risk thereof altitude sickness again. Also, once you reach Darchen, the start of the trek at 4,575 meters above sea level, you should have been able to acclimatize somewhat, as the ascent to the small village is gradual. What is not gradual is the ascent on the trek around the world's most sacred mountain.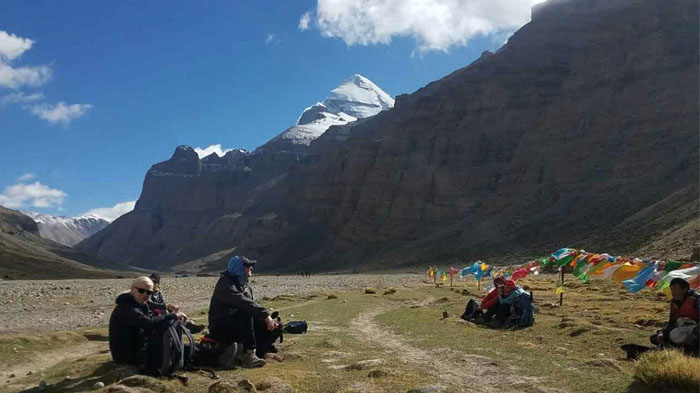 To prepare before you visit Mt.Kailash can help you avoid the High Altitude Sickness.
From Darchen the first day of the trek takes you to Drirapuk Monastery, 5,210 meters above sea level. An ascent of 635 meters, this is not too high for most people, but you may find the effects of altitude sickness coming on when you get to the monastery. There is also a climb up to the famous Dolma La Pass, at 5,630 meters, which is one of the highest passes in Tibet for tourists. Medications can help with reducing the risk of altitude sickness whilst on the trek, and should be taken a day or two before starting, and throughout the trek, until you are back at a lower altitude, such as Shigatse or Lhasa.
Conclusion
Altitude sickness is normal for almost everyone that travels to the high-altitude Tibetan plateau. Whereas the Tibetan people are already genetically adapted to high altitudes and have no problems, most people from lower altitudes will find they feel some or all of the effects of altitude sickness. Western medications do work for treating and preventing altitude sickness, but are obviously not available for everyone, due to medical conditions or other circumstances. Traditional Chinese Medicines, however, are much more freely available, and do not require a prescription for purchase, unlike western drugs. However, while they are mostly safe to take, it is advisable to consult a doctor or a local Traditional Chinese Medicines pharmacist for recommended doses and whether there may be any side effects based on other conditions you may or may not have.