Why One Should Enjoy Lhasa to Kathmandu Overland Tour Via Gyirong Port?
Lhasa to Kathmandu overland tour is truly one of the most exciting and exotic tour packages on earth. Starting with Lhasa the great Friendship Highway stretches around 943 kilometers as it ends in Kathmandu. Along the way it crosses Gyantse, Shigatse, Everest Base Camp, Gyirong and Rasuwa Bridge before it finally reaches Kathmandu. And throughout the way you get to witness many outstanding scenes and natural beauties which are really incomparable so as to say.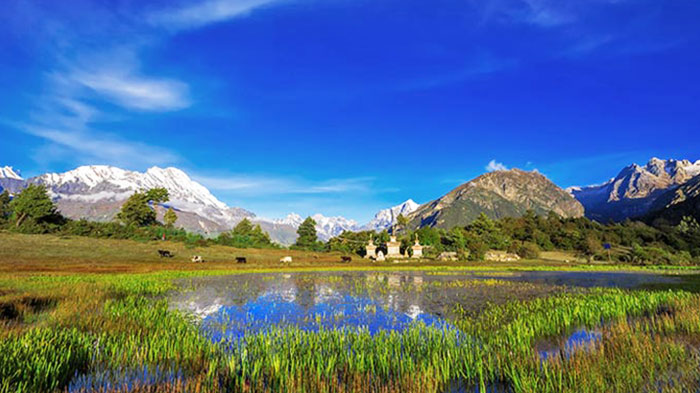 Travel overland from Lhasa to Kathmandu via Gyirong Port
A. Cultural and Religious Significance of Lhasa to Kathmandu Overland Tour
Lhasa to Kathmandu overland trip uses the China-Nepal friendship Highway which is the only road that connects Tibet to Nepal as well as other countries at the same time. And joining the two holy and famous cities namely Lhasa and Kathmandu the road as well the trip works as a cultural bridge which brings countless travelers in close contact with the Himalayas as well as its exclusive cultures.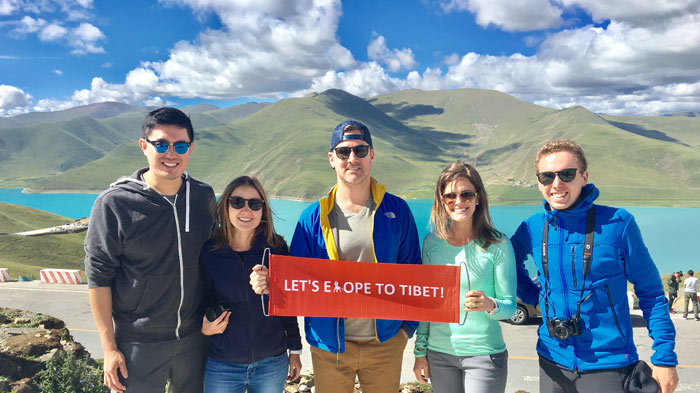 Roaming along turquoise Yamdrok Lake while travelling to Kathmandu
You will witness the most amazing and diverse landscapes as you pass through the holy lakes, awesome glaciers and lush farming valleys. This tour besides offering excellent natural beauties also allows you to explore some mystical and religious places such as Dalai Lama's Potala, Norbulingka Palace, Yamdrok Tso Lake,Gyantse Dzong as well as others. You also visit the highest monastery in the world – Rongbuk along with many other beautiful monasteries in this tour. You will encounter the most dedicated pilgrims of the world as you visit these influential monasteries.
B. Top Attractions along Lhasa to Kathmandu Overland Trip Via Gyirong Port
Day 1 – Lhasa
After arriving in Tibet you can relax for the day in the hotel as you will acclimate yourself to the new weather and the high altitude. You can also explore through the local area if you feel like but don't engage in strenuous activities.
Day 2 - Lhasa
Next day first visit Potala Palace which is considered to be the symbol of Tibet. Built in 641 AD it used to be the winter palace of the great Dalai Lama. With its enormous golden statue of Buddha and excellent Tibetan architecture it is really quite an impressive place.
In the afternoon go to Jokhang Temple, the greatest and the most secret Buddhist temple in Tibet. While coming back enter Barkhor Street where you can buy various Tibetan traditional and religious items to be kept as memory or for gifting purposes.
Day 3 – Lhasa
The next day's visit is to the Drepung Monastery which is one of the biggest monasteries in the world. Many precious sculptures, paintings and stupas are on display in the numerous chapels inside the monastery. On the same day also visit the Sera Monastery where you can enlighten yourself with quality debates on Buddhist scriptures.
Day 4 – Gyantse to Shigatse
Now it's time to move to Gyantse from Lhasa. The exquisite and tranquil Yamdrok Lake will fall on the way. Stop over and enjoy the brilliant view. The water is crystal clear and free from pollution. Next on your way you will see the Karo-la- Glacier across the highway after which you will enter Gyantse. In Gyantse witness Palchor Monastery famous for its Kubum Stupa. After that set out for Shigatse, the second biggest city in Tibet.
Day 5 – Shigatse and Mount Everest
Today's journey is to the highest mountain of the world – Mount Everest. As you leave Shigatse on the way you will see the spectacular view of the high plateau which is quite unique in nature. You will also enjoy the wonderful deep blue sky, attractive sailing clouds, lush grasslands and far stretching snow-capped mountains. Finally you will find the magnificent Everest. Halt at the foot of the world's highest monastery - Rongbuk to enjoy the matchless view of the Everest. Also visit the monastery afterwards. You can spend the night in this monastery or any other local tents as well.
Day 6 – Mount Everest to Gyirong Town
Wake up early on the next day to witness the incomparable sunrise from the greatest peak of the world. Then you'll reach the Everest camping sites which is more or less 4km from the Rongpuk Monastery. Here from you will have the best view of the Everest. The zenith of the mountain remains covered up with snow all through the year and when sunbeams falls on it, it looks just like a beautiful white pyramid.
Finally get back to Rongpuk and start for Gyirong which is around 8 hours drive there from. On the way enjoy the splendid view of the Shishapangma Peak and Pekutso Lake.
Day 7 – Gyirong to Kathmandu
Next day move to the Gyirong Port. You will be required to cross the border bridge to enter Nepal from where head straight to Kanthmandu.
>> Join-in 7 Days Lhasa to Kathmandu Overland Small Group Tour
C. Access from Tibet to Kathmandu: Gyirong Port vs. Zhangmu Border
The massive earthquake that took place in 2015 in Nepal made the journey from Lhasa to Kathmandu via Zhangmu totally impossible. As a replacement of former Zhangmu border, Gyirong Port was made the new official gateway for the tourists traveling between Tibet (China) and Nepal after the massive earthquake.
Now tourists can easily drive from Nepal to Tibet or vice versa through Gyirong Port which is situated on the borderline of Nepal and Tibet. Ideally it is around 3 hours drive from Gyirong Port to Kathmandu which is a distance of 160 km in total. Hence this route is highly recommended for you to enjoy stunning Lhasa to Kathmandu overland tour, either by tour vehicle or cycling, etc.
D. Best Time to Do Lhasa to Kathmandu Overland tour Via Gyirong Port
Spring, summer and autumn i.e. April to early June and Sept. to Oct. are the best seasons to undertake this tour.
E. Travel Document Needed
Foreigners traveling to Tibet require the following documents -
1. Tibet Group Visa/ China Visa
2. Tibet Travel Permit
Permits required in Nepal -
Nepal government accepts visa on arrival and you can collect it from the Nepal Immigration office situated near Rasuwa which is less than 3 km from Nepal-China border.
F. Other Travel Tips
Altitude Acclimation
To cope with high altitude sickness it is important to properly acclimatize your body with the changing altitude. And the most effective way to do this is to maintain a moderately slow pace while moving to higher altitudes. Medicines like Acetazolamide, Dexamethasone, Ibuprophen, Nifedipine etc. should be kept in the medicine box to deal with symptoms of high altitude sickness.
Packing List
Don't forget to take along these essential stuffs in this tour -
1. Clothing Items
Hiking Pants
Winter Coat
Woolen Socks
Warm Gloves and Hat
Extra Brim Sun Hat
2. Essential Accessories
First Aid Kit
Heavy duty Flashlight
Anti-UV Sunglass
Small Thermos
Small Backpack
3. Toiletry Items
Powerful Sunscreen
Dense Moisturizer
Sunscreen added Lip Balm
Wet Wipes
Hand Sanitizer
Toilet Paper
Dos and Don'ts
Despite the presence of some outstanding beauties and attractions the tour is also having some risks and hazards associated to it. To avoid all these and ensure a nice and peaceful journey you must abide by some dos and don'ts. These are small but highly useful things sticking to which you can really stay clear of the harm's way.
Dos
1. Prior to Tibet tour do some physical exercises to stay prepared for the approaching excursion.
2. Always avoid climbing directly to a higher elevation from a lower one in a faster pace.
3. Avail on-road or train journeys (instead of flight) to move to higher altitudes to get adequate scope for acclimatization.
4. Take adequate halts in-between one destination to the other as you go up.
5. Once you attain 9000 feet move up 1500 feet per night at most and not above that.
6. Always keep the medicine handy so that they can be quickly accessed whenever needed.
7. Try to descend to lower altitudes if any symptom of altitude sickness is detected.
8. Carry a small bag all the time with you for keeping highly essential objects.
9. Stay informed of the local rules, customs and laws to avoid unnecessary disputes while traveling.
10. If you fly from Kathmandu to Lhasa directly, do spend a couple of days in Lhasa for acclimatization.
Do Nots
1. Refrain from exhausting activities (skiing, hiking etc.) at least for 24 hours or more as you reach high altitudes.
2. Abstain from alcohol in high altitude areas since it can result dehydration and exacerbate altitude sickness.
3. Avoid consuming sleeping pills because they work as respiratory depressants and impede the acclimatization process.
4. Do not climb up any higher if the symptoms of altitude sickness start to arise.