Laundry Services in Tibet: how do I wash clothes in Lhasa?
Packing clothes for Tibet is hard to decide which you should bring, and by following a good packing guide, you can easily work out what you need to bring with you to stay warm and comfortable. However, something to take into consideration when you pack your clothes is whether you will be able to launder them while you are touring across the vast Tibetan plateau. Washing clothes while on vacation is something that many people do not even consider when packing, but for Tibet, it is a major concern.
Laundry services in China are generally cheaper than in most western countries, and can be found all across the nation, including in Lhasa. In Lhasa, you can find both internal hotel laundry services and local laundry services that will charge a small fee for your washing.
Laundry Services in Tibet: How Do I Wash Clothes in Starred Hotels in Lhasa?
Most of the major hotels from three to five stars in Lhasa have internal laundry services, and the kind of services they provide varies from hotel to hotel, depending on their available services. Most of the major hotels have a service whereby the maids will collect the laundry from the room, and it will be bagged with your room number and laundered, dried, and often ironed before being returned to your room.
Costs for laundry services vary in the different hotels, and while some charge by weight or time taken, others charge by the number of items or just a standard rate for one bag of clothes. And on occasion, you may even find a hotel that has a complimentary laundry service, such as the Lhasa Brahmaputra Grand Hotel.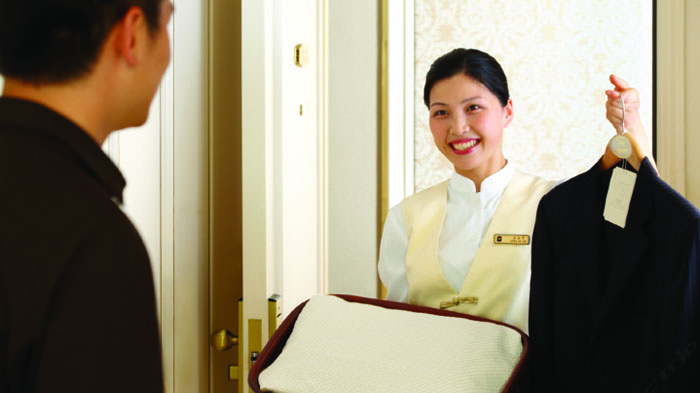 Maids in starred hotels delivered dried and ironed clothes to guests
The Shangri-La hotel in Lhasa has a laundry service that is additional to the cost of your stay in the hotel. This service is charged by the weight of the laundry, and is added to your bill when you check out. The laundry service is internal, and the returned clothing is ironed and folded before being placed back in your room.
One of the concerns for travellers to Lhasa is the cost of internal laundry services in the hotels, and it is a good idea to ask about this from your tour advisor or guide, or even at the desk when you check in. If the cost of laundry is an important factor for your hotel choice, then mention this to our expert advisors when you book your tour, to ensure that they find you a hotel that can meet your needs.
Laundry Services in Tibet: How Do I Wash Clothes in Normal Hotels in Lhasa?
Laundry services are not available in all of the hotels in Lhasa, and many of the mid-range hotels do not have laundry facilities on site. While this may be standard for 4-star and 5-star hotel, 3-star and below rarely have a service for this. For those that do have a good laundry service, whether internal or outsourced to a local laundry service, you will be paying a lot more than you might expect, so it is a good idea to explore other options.
There are a number of laundry shops in Lhasa, and you can find them in most areas of the city. You have the opportunity to shop around to find the best value for money in laundry services, and it is better to find one that charges by the kilo, as this normally works out cheaper.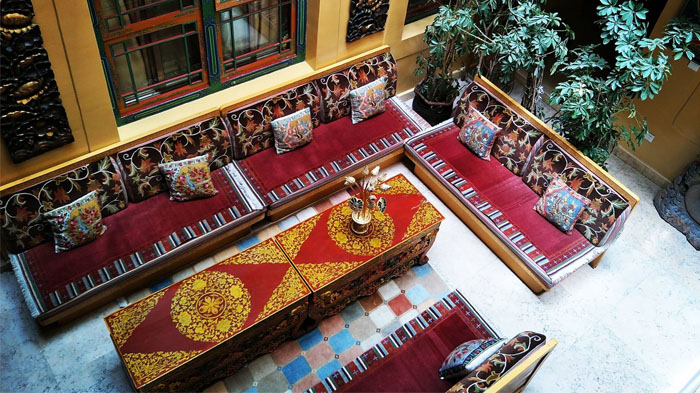 The laundry service is not listed in Tashi Takge Hotel
Laundry services are available at the Tashi Takge Hotel in Lhasa, a three-star hotel in Chengguan District. The services are not listed anywhere as having a set price, and the amount you will pay is based on the amount of laundry you have to wash, and whether it is coloured, white, or mixed.
If you are looking for a laundry service in a mid-range hotel in Lhasa, you may have a hard time finding them, though our expert advisors can give you a better idea of what hotels have laundry services and the room rates for those hotels. As few mid-range hotels have laundry services in Tibet, it may pay you to find out where the nearest external laundry service is in relation to your chosen hotel.
Laundry Services in Tibet: How Do I Wash Clothes in Hostels in Lhasa?
Hostels usually have laundry services available, but are not the best services in Tibet by far. Some hostels even have machines for guest use, so that you can wash your own clothes, though these are normally coin-operated and extortionately expensive in comparison with external laundry services.
If you are planning on staying in a hostel in Lhasa, then your best option would be to find local laundry service, or if you are on a budget, wash the clothes yourself by hand and hang them to dry. Many of the hostels have rooms to dry clothes in and those that have air-con in the rooms are ideal for drying clothes in the warm air of the heaters. Handwashing is different from machine washing, and you do need to soak the clothes for a little before scrubbing them to soften any ground in dirt and stains. It is also best to do this in warm water rather than cold water, as it will soften the dirt better. And if you are not sure of the detergents available in Lhasa, you can always bring a small sachet or two from home.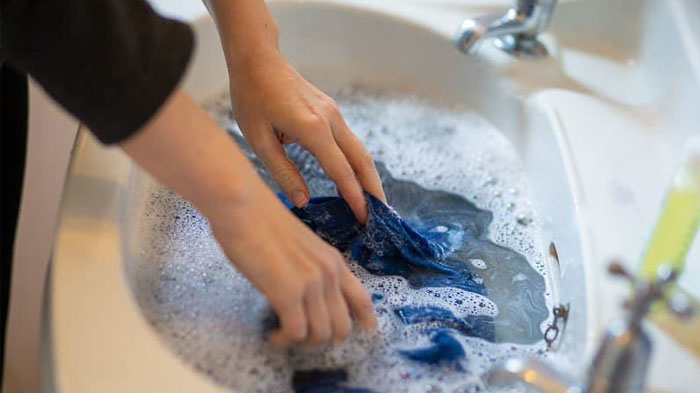 Washing clothes by hand in the water sink in a hostel
Laundry Services in Tibet: Are There Any Laundry Shops in Lhasa?
Laundry shops are available all across Lhasa, and the cost of the laundering depends on where you go. Some charge up to 20 yuan per piece for big items, or 5 yuan for small, while others charge by the kilo, which is normally around 20-30 yuan per kilo. Dry cleaning usually costs around 50 yuan for a large jacket or suit, which is about on a par with anywhere else in the world.
Finding a laundry service in Lhasa is easy, and a quick Google search can produce dozens of results, with mapped locations for many of them as well. You can choose from such laundry services as the Saiwei Dry-cleaning and Laundry Service on Luobulinka Road, the Hong'er Wash Clothes Center not far from the Potala Palace on Deji North Road, and many other places.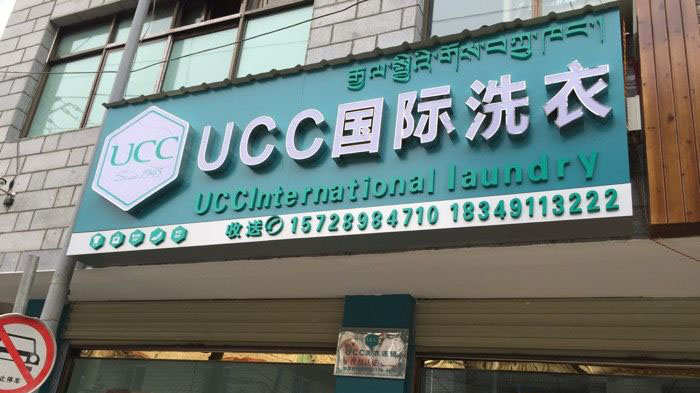 Laundry shops are readily available in Lhasa
Most laundry services in Lhasa can be completed in one day, and if you drop off the laundry in the morning, you can normally collect it later the same day, as long as you do not have a lot of laundries. Others do take 2-3 days to launder the clothes, so it is a good idea to shop around or ask your local guide.
It is important when asking for laundry services in Lhasa to ensure that they understand your needs. Some laundry services will just wash everything together, no matter what color it is. It is a good idea not to bring clothes with colors that bleed, and you may want to wash light and white clothes yourself.
Laundry Services in Tibet: Are There Any Laundromats in Lhasa?
Laundromats are not as common in China as they may be in the United States, though you may find one or two. In Lhasa, there is one Laundromat, which is located at the end of Barkhor Plaza, not far from the Lhasa Snowland Restaurant.
Payment in the Laundromat is all done in cash, or if you have them, Alipay or WeChat Payment. Bank cards, credit cards, checks, etc., are not accepted, so cash is the most likely option for you to pay for the services. Some laundry and drying machines take banknotes in China, so coins are not usually necessary, but take plenty just in case. Check here for more information about how to pay in Tibet.
Laundry Services in Tibet: Other Tips about Washing Clothes in Lhasa
If you are planning your packing list for Tibet, then you can think about what kind of clothes to bring. Ideally, you want clothes that are good for travelling in, such as cotton and nylon, which are more comfortable when traveling long distances. If you have silks and linens, take care when washing them and follow the handwash instructions on the labels.
Ideally, bring clothes that have already been washed enough times not to bleed out into your other laundry, especially if you are using red clothes, or you may have dyed clothes when you finish. And it is advisable to bring your own washing detergent, especially if you are sensitive to detergents. While you can get good detergent in Lhasa and the rest of Tibet, it may not be a brand that you are familiar with.
When travelling, it is a good idea to have a couple of waterproof laundry bags to store dirty and wet clothes in to keep them away from your clean dry clothes. And for hygiene reasons, it is best to wash your own underwear, especially for women. And thick jackets are not a good idea to wash when in Tibet, as they will take too long to dry before you need them. As most tours are not longer than a week or so, you should be able to get away without washing your heavy jackets.
If you want to clean your shoes, then a damp cloth and good shoe or boot polish is the best way to go. You can bring this with you, but just do not keep it in your hand luggage when flying.
Sun drying your clothes is always better, except when in Tibet. Because of the higher altitude, the sun is much stronger here, and while it will dry your clothes nicely, you do not want to leave them out too long, or the hot dry sunlight will damage them, leaving them very faded, and sometimes brittle.
The ultimate hack for travelling in Tibet is to bring a Scrubba Bag with you. These unique bags can be used to wash your clothes anywhere, and the flexible internal scrubbing board makes them as versatile as carrying a washing machine with you. After filling with your clothes, water, and detergent, you seal the bag, expel any excess air, and simply press down and rub the clothes against the washboard. A 3-minute scrub is as good as any machine wash you will find, and for light dirt, 30 seconds is all it takes.
Conclusions
Whether you are relying on the four- and five-star services for laundry in your hotels, or washing your own laundry in the sink of your local hostel, washing in Tibet is actually very important. Not only can it mean you can wear your favorite or most comfortable clothes more than once, but you do not need to carry as much luggage with you if you wash things out daily and hang them to dry. Laundry facilities in Lhasa are good, and even if your hotel does not have them, you can usually find them nearby.