Ten Must-try Restaurants during your Tour in Kathmandu, Nepal
When the tourists start a journey in Nepal, not only will they be stunned by the beautiful natural landscapes there but they will also find the local food unforgettable because of its unique flavor and taste. On the whole, Nepal food has typical south Asian style and is able to find its origin from Indian regional cuisine. Due to its geographic connection to Tibet, some foods in Kathmandu are even variants from Tibetan diets. Here are ten favorite places for Nepal food a tourist is suggested to have a try during your tour around Kathmandu.
Bhojan Griha
Location: Dilli Bazar, Kathmandu, Nepal
Mains: 997 Rupees per person (about 9.2USD)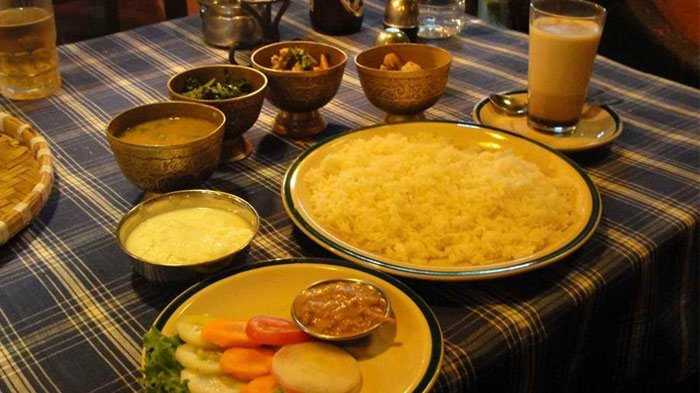 Traditional food in Bhojan Griha in original shape and taste
It is the most renowned traditional Newari restaurant in Kathmandu. Bhojan Griha is located in a more-than-one-hundred-year-old mansion in Dilli Bazaar, the east of the city. Tourists could enjoy eating traditional Nepalese food here while appreciating this beautiful old building. The food served here include Momocha, a sort of meat-filled steamed dumplings, choyila, some buff cubes fried with spices and greens, palula, spicy buff with ginger sauce and kachila , a paté of minced raw buff, mixed with ginger and mustard oil. These are typical Nepalese food and they also would provide other small deserts. This restaurant is the first place to be visited for the foodies.
Yangling Tibetan Restaurant
Location: Saath Ghumti, Thamel, Kathmandu, 0.02 miles from Northfield Cafe
Noodle soup price: Rupees 150-190 per person (about 1.75 USD)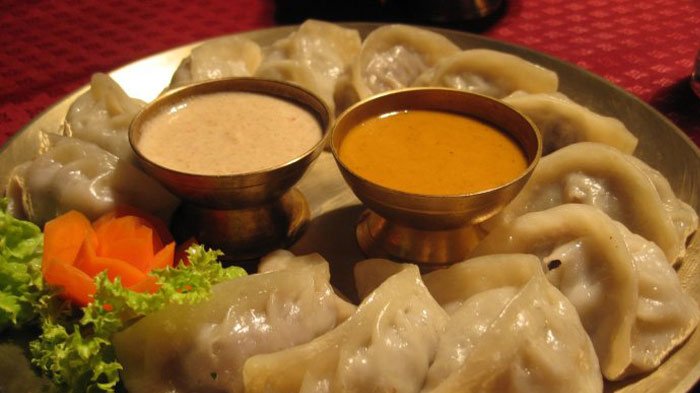 Dumpling in Yangling Tibetan restaurant, a demonstration of Tibetan way of life
Yangling Tibetan restaurant is run by a Tibetan family. It provides delicious momos in Kathmandu with its Tibetan flavor and taste. Momos to Nepal are what burgers to the Americans in their daily life. Along with momos, traditional Nepalese dumplings stuffed with meat, cheese or vegetables, hot noodle soup with pieces of meat and vegetables in it and tasty Tibetan butter tea could also be found in this small family-run restaurant.
Rosemary Kitchen and Coffee Shop
Location: Thamel Marga, Kathmandu
Bruschetta price: Rupees 250-375 per person (about 3.5USD)
Fresh and simple Italian bruschetta, reminiscent of Italian way of life
Rosemary Kitchen and Coffee Shop is a newly opened kitchen and coffee shop in Thamel district, Kathmandu. It has been about six years that Rosemary Kitchen was open to the public. Since then, it has been serving food for internal and external tourists who come to visit the Himalayan Kingdom of Nepal. The restaurant offers an exciting mix of European and Asian food, using only organic agriculture products from the local farms. The food offered here is able to cater for a wide range of tastes. Some international dishes include Mexican breakfast, fresh and simple Italian bruschetta, spicy Thai curry and traditional Nepali thali. The tavern has a lovely open courtyard, perfect for a coffee break or a glass of wine.
Le Sherpa
Location: Maharajgunj, opposite of President House, Kathmandu
Mains: 1440 Rupees per person (about 13USD)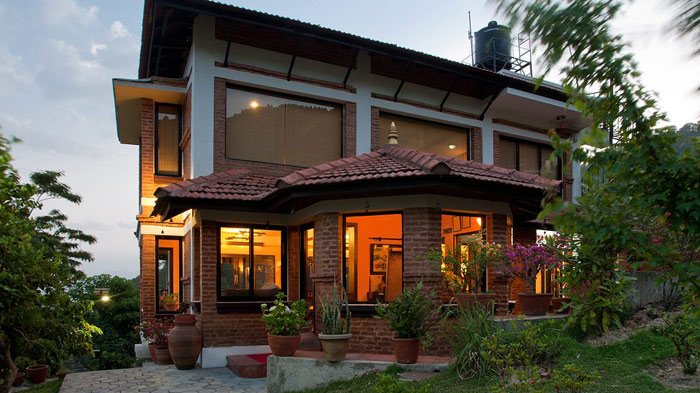 The whole dining area is surrounded by beautiful greenery
The name of this restaurant came after an ethnic group in eastern Nepal whose members are masters of mountain climbing skills. Located near the Japanese embassy, the tavern offers western food in a delicate way in a simple and leisurely environment. Except for the conventional food, the tavern also provides some specialty dishes such as delicious Sherpa soup made from beans, radish, potato, and beef, and braised rabbit tortellini and red or white wine from its wine cellar. The whole dining area is surrounded by beautiful greenery, both in summer and winter. When in winter, the outdoor heaters and fireplace keeps the guests warm and comfortable.
OR2K
Location: Mandala Street, Kathmandu
Zucchini pie price: Rupees 180-400 per person (about 3.7USD)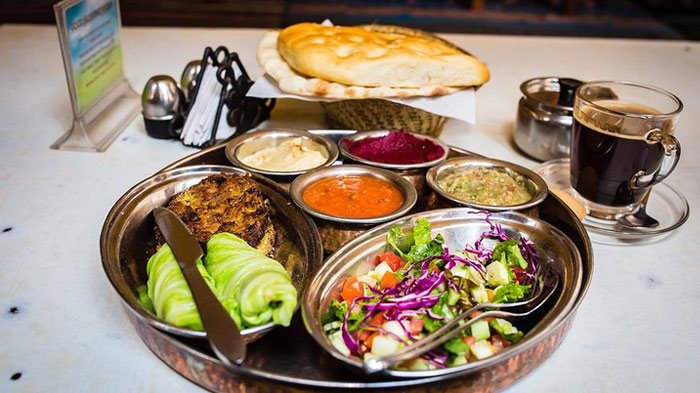 Middle Eastern food in OR2K in the original taste and beautiful color
A very special restaurant in the heart of lively Thamel district, the tavern is run by a Israelite and serves only vegetarian and vegan dishes. It offers fresh and light Middle Eastern food. The restaurant is a good choice for vegetarians who refuse to eat meat. The menu include crêpes, zucchini pie and ziva (pastry fingers filled with cheese), and a great meze sampler of hummus, felafel and labane (sour cream cheese). They are all offered in neat little brass bowls. The atmosphere of the tavern is easy-going and cozy always frequented by tourists from Islamic states. After the food visitors could go and watch the small rooftop terrace, a lovely place for stake a cup of tea and small snacks such as hummus and the local specialty offered in platter.
Saigon Pho
Location: Lazimpat, Kathmandu, across from Hotel Shangrila
Papaya salad price: Rupees 320-500 per person (about 4.6USD)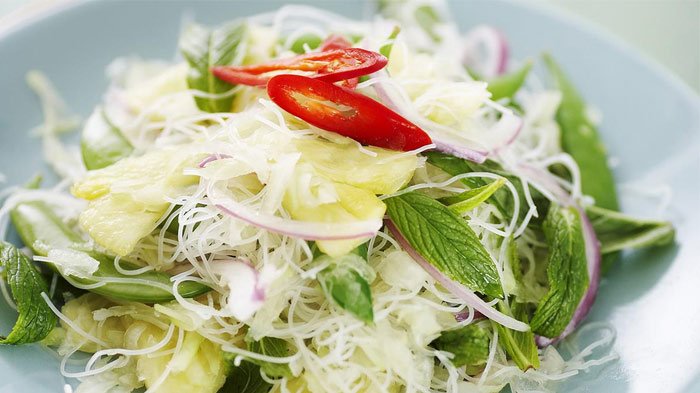 Fresh and green papaya salad made with exotic ingredients from Vietnam
It is the only Vietnamese restaurant in Kathmandu. Located at the opposite of the Shangri-La hotel, the tavern provides a variety of traditional Vietnamese and South Asian dishes, and is renowned for its Vietnam-style noodles. These include a hearty pho, a Vietnamese noodle soup made from broth, rice noodles, herbs and meat and fresh green papaya salad. The tavern also provides a variety of Vietnamese barbeque, including lemongrass pork and juicy prawns. The restaurant, decorated in a traditional Vietnamese style of dark wooden floors and bamboo mats, is a two-storey building, and has a lovely open-air terrace, offering a view of the surrounding areas. The cost of food in this tavern is not high and has a sound performance price ratio. Tourists could eat full at a relatively sound price.
Utse restaurant
Location: Jyatha Thamel, Kathmandu
Mushroom stew price: Rupees 490 per person (about 4.5USD)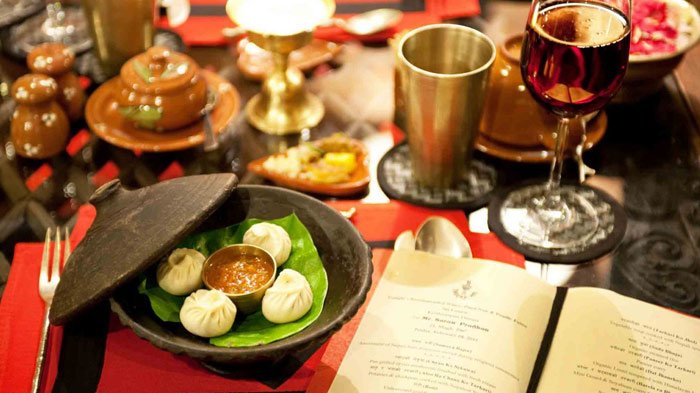 Tibetan food with unique Tibetan cooking method and flavor
Utse is said to be one of the oldest restaurants in Kathmandu and was built in 1979. The tavern is popular for its mouth-watering and affordable Tibetan and traditional Nepali dishes. It specializes in traditional Tibetan cuisine and is one of the rare places to try a hefty gacok, a traditional Tibetan stew made from a mix of meat, vegetables, mushrooms and noodles, and steamed for several hours in a charcoal-heated hot pot. The restaurant does get busy especially during hot seasons, so advance booking is recommended.
Fire and Ice Pizzeria
Location: 219 Sanchaya Kosh Bhawan, Kathmandu, next to Himalayan Bank
Pizza price: Rupees 490 per person (about 4.5USD)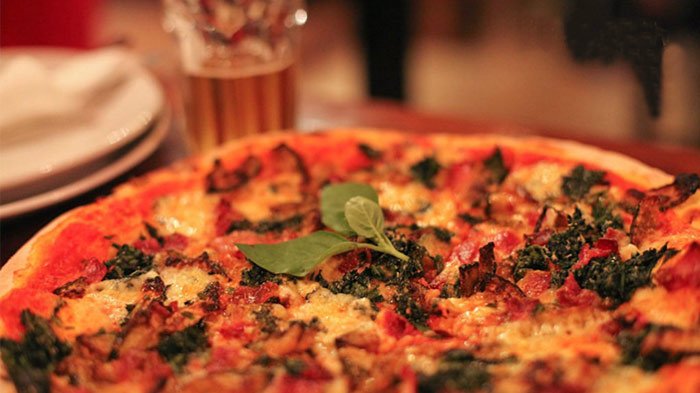 Pizza in Fire and Ice Pizzeria, eye-catching and tasty
Situated at a bustling shopping street, the Fire and Ice Pizzeria offers a fantastic range of Italian food. The Pizzeria is opened in 1995, and quickly became a dining staple in Kathmandu, especially for the small expatriate community and well-off Nepali families. The dishes available here are a mix of imported ingredients and many local foods. These are often used to create idiomatic Italian flavors, like home-made mozzarella cheese, pasta and risotto, creamy and delicious gelato. Tourists could also have some other choices like the freshly baked pizzas with varied toppings.
The Roadhouse Café
Location: Chaksibari Road, Thamel, Kathmandu
Baked bruschetta price: Rupees 490 per person (about 4.5USD)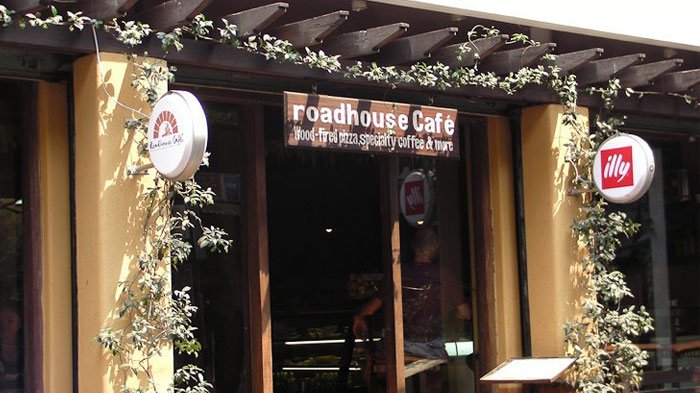 The Roadhouse Cafe is a fantastic place for dinning in Kathmandu
The Roadhouse Cafe is a fantastic place for dinning in Kathmandu. Located just down the street from the Kathmandu Guest House on JP School, it has a relaxed atmosphere. It provides the best pizza in Nepal, serving Italian Illy Coffee and fresh Woodoven Pizza with olive oil and hot chilies on the side. It also offers pastas and fresh bruschetta as well as delicious deserts. A quiet courtyard at the back of the restaurant gives tourists a temporary escape from the chaos of Kathmandu. The Roadhouse Cafe is definitely a top place on our list to recommend in Kathmandu. Freshly baked bruschetta in The Roadhouse Café, nutritious and delicious
The Northfield Café
Location: Chaksibari Marg, Thamel, 0.02 miles from Yangling Tibetan Restaurant
Waffles price: Rupees 360-470per person (about 4.3USD)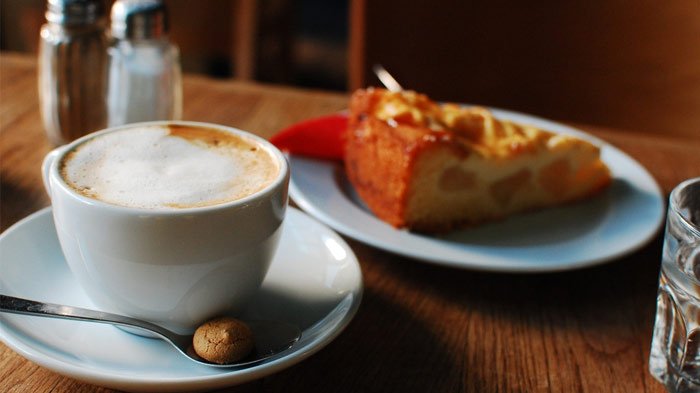 Freshly baked bruschetta in The Roadhouse Café, nutritious and delicious
This place is packed with locals and tourists every night. The Northfield Cafe's Chimichangas and enchiladas were delicious. The tourists should have a try and we suggest you choose the bean and grilled chicken mix when ordering your burrito or any wrap. The plates always have a big filling so tourists could always eat full. This pleasant open-air spot is a good place for breakfast such as waffles and huevos rancheros. Here you can also find Mexican and Indian tandoori dishes (though some Indian dishes can be bland) and American food such as burgers, nachos and even chilli fries. The cafe provides free wifi so the tourists could enjoy an internet connection while waiting for your meal.
The above mentioned are ten must-try restaurants during your tour in Kathmandu. They are among the most favored restaurants in Kathmandu not only for the local residents but also for tourists from abroad. They get the highest performance-cost ratio, so make sure that you will not miss them during your stay in Kathmandu.