Are Indian dishes available in Lhasa?
Tibet is a region that is mostly dominated by local Tibetan and Chinese cuisine. However, for the discerning traveler who likes a little spice in their food, there are some great places where you can get a decent Indian-style meal, at very affordable prices. India has long been an influence on the cuisines of both Nepal and Tibet, though it is more dominant in Nepal due to the shared borders and the similar climates and available ingredients.
While India had some influence on the Tibetan dishes of the past, much of that influence has long faded, and the modern Tibetan foods are more influenced by both Chinese cuisine and the plateau environment. However, the single exception to that is the continued use of yogurt in Tibet, a dish that originated in ancient Mesopotamia in Western Asia and came to the plateau via India thousands of years ago.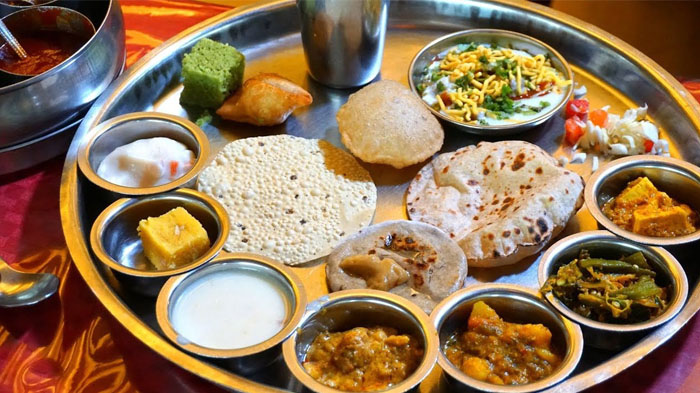 Indian dishes in Lhasa, Tibet
Insider tips:
Besides the Indian dishes, some authentic Tibetan foods including the Chinese traditional cuisine and local snacks are also popular among most of foreign visitors.
What are the most favored Indian restaurants in Lhasa and where are they?
You may feel quite disappointed if you are longing for an authentic Indian dish in Tibet. However, we still find quite a lot of restaurants and hotels serving Indian dishes in Tibet, and among them, some tastes of Indian dishes are surprisingly good and definitely worth recommending.
Mandala Restaurant - located on Barkhor Street, the Mandala offers a wide range of dishes, from Indian curries to pizza, plus a few special-occasion Tibetan dishes and a decent breakfast. The Indian dishes can be a bit bland compared to authentic Indian cuisine, so ask for the 'real' spices if that is how you like it. In summer, you can grab a seat on the rooftop for some awesome views of the Jokhang Temple. The menu is in English, for the convenience of international customers.
Snowland Restaurant - a mid-range restaurant located on Zangyiyuan Road, near the famed Barkhor Square and Jokhang Temple, the Snowland features a mix of Western, Nepali, Indian and Tibetan food. Good service and good food go hand in hand here, and the restaurant has become very popular with international visitors. This ground-floor restaurant usually opens from 7:30am to 10:30pm and offers an English menu for tourists' convenience.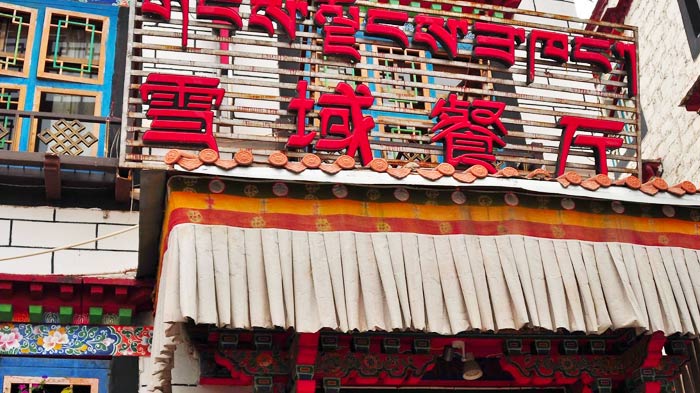 Snowland Restaurant is a mid-range restaurant located on Zangyiyuan Road, Lhasa.
House of Shambhala Restaurant - located in the House of Shambhala Hotel, this delightful restaurant serves a wide range of Tibetan, Indian, and Nepali cuisines, as well as some western favorites. A stunning Tibetan décor adds to the comfortable environment and relaxing atmosphere when dining, and the waiters are very helpful and speak good English.
Lhasa Namaste Restaurant - located close to the Jokhang Temple Square, the Namaste is renowned for is great location and delicious food. The owner is Nepali, but has a good range of Tibetan, Nepali, and Indian dishes on his menu, which is written in both English and Chinese. The restaurant is well-known for its Chicken Tikka Masala, a dish most western travelers will recognize from their local Indian restaurants back home. If you can get a window seat, you are guaranteed great views of the Jokhang Temple, though the restaurant is known to be busy, as it has become very popular with tourists and locals alike.
Lhasa Kitchen - this delightful restaurant offers a wide range of Nepali and Indian dishes, with plenty of local Tibetan dishes to choose from as well. The decent prices, pleasant atmosphere, and great location make it a popular dining experience for tourists as well as locals. The restaurant is also extremely popular with larger tour groups, as they have a lot of room for large parties. From their vegetable dopiaza to the delicious Chicken Tikka Sizzlers, there are dishes for every taste on their extensive menu.
Insider tips:
1. There are actually no wholly Indian restaurants in Lhasa, and the closest to Indian cuisine restaurants is the Mandala, which is run by a Nepali chef who specializes in Nepalese and Indian cuisine.
2. The Snowland does a good line of Indian dishes, though they mainly cook Continental and Nepalese cuisine.
What are the most served Indian dishes in Lhasa?
While India may be far from the streets of Lhasa, the cuisine is a popular alternative to local Tibetan and Chinese food, and can be found in a large number of local restaurants, in different forms. Few are actually authentic Indian cuisine, since the vast blends of spices used are hard to come by in Tibet, rather they are more of the western versions of the Indian cuisine, well-known dishes that have all the classic trademarks of good Indian food abroad.
Characters and features of Indian dishes
India is a country that has a wide range of cooking styles, and the type of dish varies depending on where it is from. However, there are the classic dishes that are found all around the world, that are always the same, and share similar characteristics in their ingredients. Indian food can be classed as spicy, sour, sweet, and hot all at the same time, and usually consists of around 20-30 basic spices, many of which can be found in almost every meal. Cumin, coriander, turmeric, and ginger make up just a few of them.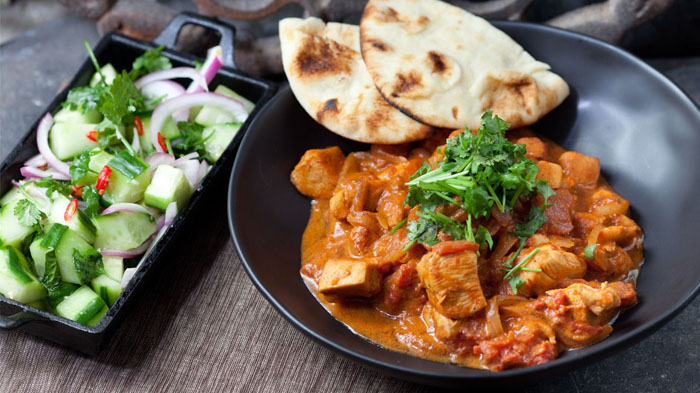 Chicken tikka masala with minted cucumber salad and naan bread
Curry is not actually an Indian dish, contrary to popular opinion, and is more of a western "catch-all" name for anything Indian that has spices and comes in a sauce. Curries can come in varying styles, from watery and spicy to dry, hot, red, green, or extremely hot, depending on the chef cooking it. Most dishes outside India tend to stick to chicken, and the basic Chicken Tikka Masala is one of the most popular, served with a side dish of dal (a stew made from lentils or beans) and roti (a flat wheat bread a little like tortillas).
The most popular Indian dishes served in Lhasa
Chicken Tikka Masala is one of the most popular dishes in Lhasa, and can be found in almost all of the restaurants that provide Indian dishes. An easy and quick meal to crate, it contains several spices and has an orange color caused by the annatto/atsuete that is used in the cooking of the base sauce. A tasty dish, especially when served with basmati rice and Indian naan bread, it has been the favorite Indian dish of westerners in Nepal and Tibet for a long time, as it is the most recognized.
Biryani dishes, which originate in the Muslim areas of India and Kurdistan have become popular as they are easy and quick to prepare, and are not a complicated in the blend of spices as most Indian dishes. Mostly containing meat, vegetables, egg, and yogurt, this mixed rice dish is a delicious alternative to the other Indian dishes in Lhasa.
Samosas are a fried or baked pastry dish filled with a variety of meats and/or vegetables, with a spicy flavor. Often coming in triangular form, though they have been known to be other shapes as well, samosas are a popular snack and starter in restaurants that serve Indian cuisine.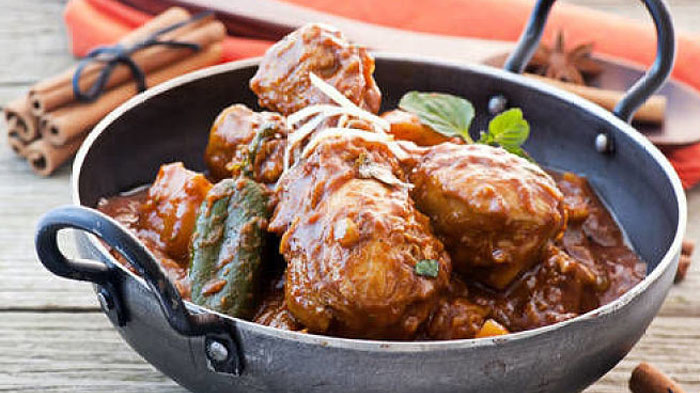 The popular vindaloo served in most of the Tibet restaurant
Vindaloo is a beef dish that has come from the various areas of India where beef is eaten, and is a popular dish in the region of Goa, as well as in Tibet. One of the best "curries" to use yak meat for, this spicy and hot dish is well complemented by plain boiled rice and roti.
How about the environment and service of the Indian restaurant in Lhasa?
Most restaurants in Lhasa that serve Indian cuisine are not solely Indian restaurants, and also serve Tibetan, Chinese, and Nepali foods as well. In Tibet, especially in Lhasa, there are few restaurants that serve just one of the many international cuisines that can be found on the plateau, and most international cuisine is a major part of the service industry in Lhasa.
Service in Lhasa is well known to be good, with the staff being pleasant and friendly, a major trait of the Tibetan people anyway. And with good service comes the good food, which is served in a delightful restaurant with amazing décor and a rich local atmosphere. This is the typical dining experience in Lhasa, and is something that you can only understand by finding out for yourself.
Insider tips:
1. If you have any individual demand or requirement, or some diet taboos, you can tell the restaurant server directly in any Indian restaurant in Lhasa.
2. Take a peak-shifting journey to these Indian restaurants if you are not adapted to a crowded environment. One hour before or after the dinning time will be perfect.
Are there any recommendations for Indian restaurant in term of reception capacity?
Indian restaurants for large tourist groups
If you are looking for somewhere that serves Indian food that can cater to larger groups, then there are only a few places available. The Tashi I and II are two of the local restaurants that serve a few Indian dishes, which also have a larger restaurant for dining. They can normally cater to groups of up to 50 people.
The Lhasa Kitchen does have a good sized restaurant, which can hold up to 30 people, while the Snowland Restaurant near Barkhor Square also has enough room to seat more than 35 in one sitting. However, for both of these, you will need to pre-book, as parties of that size will take up the whole restaurant.
For larger parties, you will be hard-pushed to find anywhere, as there are few restaurants that have large dining rooms.
Indian cook shops for individual tourists or small families
The other restaurants in Lhasa are ideal for small parties or families, as they can easily accommodate you. Seating in most restaurants is on longer tables, which can hold up to eight people, which is ideal for the average tour group or large family touring in Lhasa.
Are there any Dos or Don'ts in an Indian restaurant in Lhasa?
While these are not Indian restaurants, per se, there are certain taboos within the restaurants in Lhasa that have little to do with their Indian-styled cuisines. In India, it is considered disrespectful to leave food on the plate, or even to eat too quickly or too slowly. It is also rude and considered unclean to eat with your left hand when there is no cutlery available for the specific dish.
In Tibet in General, fish and pork is not eaten, so you will likely not find these even in the Indian cuisine served in Tibet. And the only bird that is eaten is Chicken. Other than that, there are few taboos or restrictions on eating in Tibet.
Conclusion
If you are looking for truly authentic Indian dishes during your Lhasa tour, then you are going to be sorely disappointed. The Indian dishes served in the various restaurants there are variations on the classic Indian dishes that have been developed for the tastes of people from other countries, mainly for the western world and eastern Asia, and while tasty, are not really "classic" or "traditional" Indian cuisine. That said, the dishes are normally very tasty, and have all the spices that you can expect from Indian dishes, so can make your stay in Lhasa even more delightful.