How to Travel from India to Tibet by Train?
Getting to Tibet from India is an exciting journey of discovery, traveling along the railways and bus routes to get from India to Nepal, and then on into Tibet from Nepal. With no direct route by train from India to Tibet, you will need to make various stops and transfers to get into Tibet. The railways in Tibet do not yet extend as far as the border with Nepal, although this is planned for the future. Similarly, there are very few railways in Nepal, with actually only two railway lines in operation, both of which are near the border with India.
Getting into Nepal from India can be done relatively easily, using the massive Indian railway network as well as some local buses. Traveling through Nepal is normally done by bus, as the railways do not extend to the Nepali capital of Kathmandu. Once in Kathmandu, you can travel overland to Tibet or take a flight to Lhasa. With three main routes through which to enter Nepal from India, the choice is yours, and often depends on the starting location of the travelers.
So, there are basically two ways of getting from India to Tibet by train. Both of them include combining railway and some other means of transport, such as an airplane or car. You can travel from India to Nepal by train and there catch some other connection or take a flight to China and board a train to Tibet from there. Given the alternatives, there are two standard routes for getting between India and Tibet. One includes traveling from major Indian cities (Delhi, Kolkata, and others) by train to the Nepali border crossings of Sunauli, Raxaul or Panitanki. From Kathmandu, you can proceed the journey by plane, car or bus. The other option involves flying to major cities of China (Beijing, Guangzhou, and Shanghai among others) and boarding a Tibet train there.
Option One: India to Nepal by Train and then Travel to Tibet
Step 1: Take Train from India to Nepal
Taking the train from India to Nepal can be done with relative ease, thanks to the huge rail network within India. Train travel in India is one of the main ways to get around this massive country and is well maintained with regular trains in service that can take you to almost any place in the country. For travelers to Nepal from India, there are three main routes to take, which end at one of the major border crossing points between India and Nepal.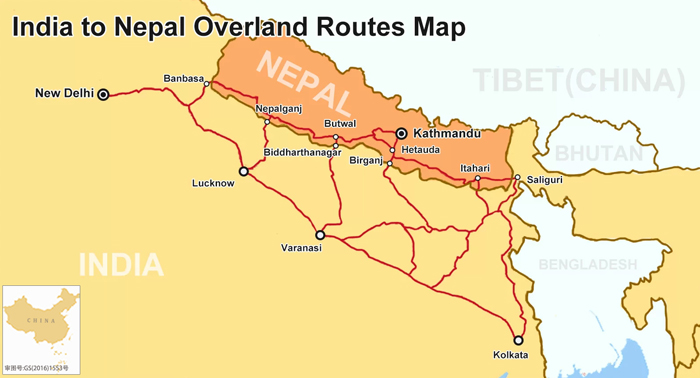 (Simple click to enlarge the map)
India to Nepal Overland Route Map
Delhi in the west and Kolkata in the east are main railway hubs where you can catch a train traveling to Nepal. Whatever your outbound destination is, you are likely to travel between 10 and 15 hours to arrive in Sunauli (from Delhi), Raxaul or Panitanki (from Kolkata). The journey from Varanasi to Sunauli is significantly shorter.
Enter Nepal via Sunauli
The main route from India to Nepal, the border crossing at Sunauli is the most important border crossing point for both commercial transport and travelers. Getting to Sunauli from New Delhi can be done by train direct to Gorakhpur, and there is a choice of trains that run this route, including one Superfast Express.
The journey covers a total of around 800 kilometers and can take from 11-14 hours to travel by train. The route has ten stops at local stations along the way, as well as a major stop at Lucknow, where you will change trains for Gorakhpur. There are more than 30 trains that run to Gorakhpur from New Delhi or Varanasi every day, and some can be found for under two dollars if you are prepared to travel with transit waiting times.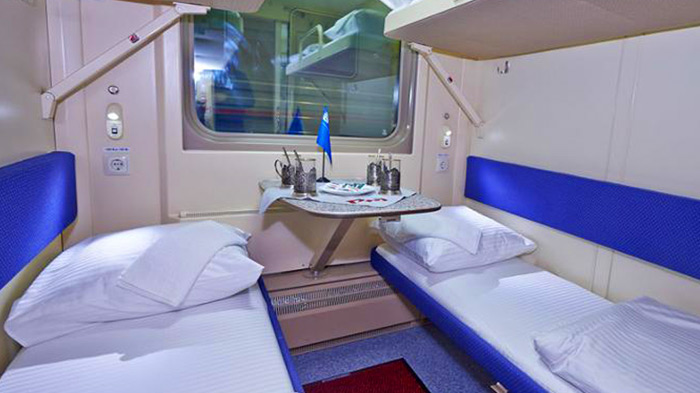 Sleeper berths in air-conditioned cabins
Trains in India have as many as seven classes of seats or sleeper berths, with the "2S" code being the cheapest, as they are simple padded seats. "SL" or sleeper cars are the most popular and are normally open berths in three layers, or you can opt for the higher-class options of "1A", "2A", and "3A", which are air-conditioned cabins and carriages.
If you can manage the padded seats, then the cost of the trip to Gorakhpur is just US$ 3.61, but if you want the sleeper, it is as high as US$ 6.34. The most expensive seats on the route are the "1A" first-class air-conditioned cabins, which will set you back around 40 dollars per person.
Traveling from Varanasi is a little cheaper than from New Delhi, costing just US$ 2.95 for the sleeper berth, or as much as US$ 16.95 for the first class 1A cabin. The trip from Varanasi takes around 4-5 hours and is much easier to get tickets. Most people travel from Delhi to Nepal, so it is the busiest route.
From Gorakhpur, there are buses that run 13 times a day, with only one bus being non-AC. There is a sleeper bus that runs through the night, leaving around 1:30am and getting into Sunauli at around 3:30am. This route is much faster due to the low volume of traffic experienced at night, but is not worth waiting around all day for, since the fare for the buses starts at just US$ 1.67 per ticket.
While you are on the Indian side, people selling bus tickets may approach you. Note that purchasing tickets are more reasonable on the other side of the border, in Nepal. Journey by bus from Sunauli to Kathmandu takes around 7 hours and costs around $6 on average.
Enter Nepal via Panitanki
Traveling to Nepal via the Kakarbhitta border crossing is easy for those traveling from Kolkata, as it is the shortest route to Nepal. Trains leave several times a day for the border town of Siliguri in West Bengal, with a travel time of around 9-11 hours, depending on the train. The Shatabdi Express is the fastest option, at less than nine hours, which leaves every 90 minutes throughout the day and night. Prices for sleepers are around five dollars, and are the cheapest tickets for these trains, as there are no padded seat tickets on most of the services.
However, the trains are not direct, and you need to change at Howrah to continue the journey to New Jalpaiguri. You will also need to change at New Jalpaiguri, as the train does not go direct to Siliguri. From New Jalpaiguri, the connecting trains take around 20 minutes to get to Siliguri, at a cost of around two dollars.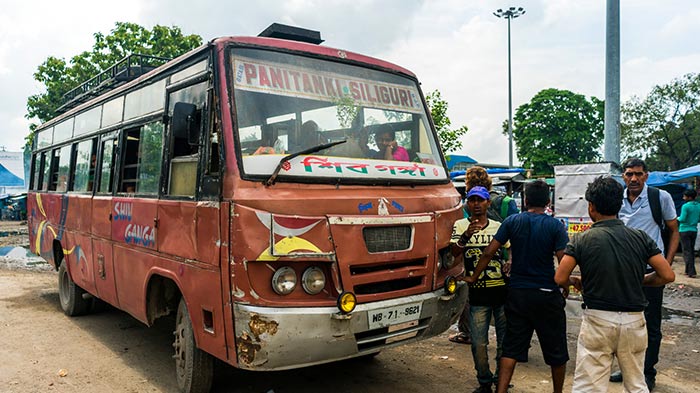 Regular bus from Siliguri to Kakarbhitta
From Siliguri to Kakarbhitta on the Nepali side of the border, there are regular buses that leave from the Tenzing Norgay bus station to the small town of Panitanki, on the border. These cost around 40 cents and take around an hour to get to the border town. However, if you do not want to walk the 1.5 kilometers across the Mechi River from Panitanki to the Immigration Office in Kakarbhitta, then you can get one of the jeeps that run all the way to Nepali immigration. The jeeps leave from outside the bus station, and only leave when full, so you may have to wait. However, they are faster than the public bus, and take just 35 minutes to get to Kakarbhitta at a cost of just US$ 1.84.
If you are unsure in which direction the border lies when in Panitanki, all you need to do is approach a local and say "Nepal" to find out where to go. In case you don't take a bus to cross the border, you can go to the crossing on foot or by a rickshaw. Since you probably travel with baggage and a zone for pedestrians isn't available along the road, taking a rickshaw is a more favorable option. Opening hours of the border on both sides are from 6 am to 10 pm.
Traveling onwards to Kathmandu from Kakarbhitta is the longest leg of the journey, taking around 17 hours by public bus. The buses leave several times a day, once full, and cost around 19 dollars per ticket. And this is where it shows that travel in Nepal, while still relatively cheap, is much costlier than in India. If bus travel is not your idea of fun, then you can get the flights from Bhadrapur Airport to Nepal, around 20 kilometers south of Kakarbhitta, which leave regularly for Kathmandu at a cost of around US$ 185.
Enter Nepal via Raxaul
One of the other popular entry points to Nepal from India is at Raxaul, which crosses over to Birgunj in Nepal. Trains from Kolkata leave every 45 minutes both day and night and cost from around US$ 5.37 for a single ticket. The trains leave from Sealdah Railway Station in Kolkata, and arrive in Raxaul Junction Station, taking around 15-19 hours to travel the 729 kilometers of the trip.
From Kolkata, travelers rely on three express trains to take them to Raxaul. Of these, Purvanchal Express has the best ratings regarding the service and speed (12:30 hours), but departs only on Friday afternoons and travels to Sagauli Junction, around 30km from Raxaul. It arrives at 3 am. Mithila Express departs daily at mid-afternoon and arrives in Raxaul around 9 am. Finally, Howrah-Raxaul Express leaves Kolkata around 11 pm on Wednesday and Thursday and arrives in Raxaul around 4 pm on the next day. All three lines dispose of II, SL, 3A and 2A classes.
However, Raxaul is not the border crossing point for Nepal, although many sites say that it is. The customs office and border crossing point are actually in Haraiya, around 4 kilometers from Raxaul Junction Station. There is no bus that runs from the station to the Indian customs office, and a taxi, of which there are plenty around, will set you back around a dollar fifty. However, there are many cycle rickshaws that will take you to the border crossing point for around ten rupees, which is about 15 cents.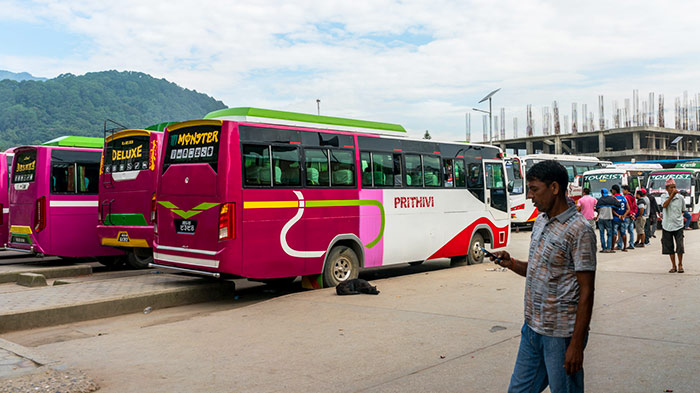 Taking the bus from Birgunj to Kathmandu
Crossing the border is normally done on foot here, as it is just around 30 yards. Processing takes around 15-20 minutes if you are applying for your visa on arrival, and just a few minutes if you already have it. From the immigration office, it is around three kilometers to the town of Birgunj, where you can get the bus for Kathmandu. Rickshaws and thangas, small horse-drawn carriages, run the route for around 100 rupees, or about a dollar fifty.
You should be at the border between 7:00am and 6:00pm, despite the signs saying the border is open from 06:00 to 22:00 daily. Visas are only issued up to 6:00pm daily, and the staff do not normally open for transit until seven in the morning.
Tickets to Kathmandu from Birgunj Central Bus Station cost around 8 dollars for a normal bus and around 12 dollars for the deluxe air-conditioned bus. It is advisable to get the deluxe bus, as the regular bus takes much longer and is always overcrowded. Buses run throughout the day, though it is best to leave as early as possible. While the trip should take around 8-9 hours, delays on the roads can make it a lot longer.
Step 2: Travel from Nepal to Tibet
From Kathmandu, getting to Tibet requires all tourists to be traveling on a pre-booked tour with reliable Tibet tour operator like us, Tibet Vista. Independent travel in Tibet is not permitted, and all tourists must be on organized tours, whether private or group tours. Your visa and permits to enter and travel in Tibet are all organized by the tour operator, so you do not need to get the Chinese Entry Visa when entering from Nepal.
Travel Documents You Need
The Tibet Travel Permit, which is required for all tourists traveling in Tibet, is obtained on your behalf by us, using scanned copies of your passport, and takes around 20 days to process. You should book your Tibet tour well in advance to accommodate this, and once your tour is booked, we will make the application for you.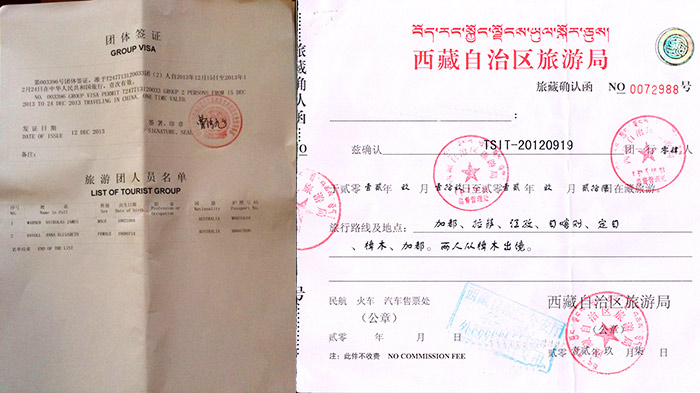 Tibet Travel Permit and China Group Visa
The China Group Visa, for entering China from Nepal, is obtained once you arrive in Kathmandu by our representative, using your original passport and the Tibet Travel Permit. Processing can only be done by a representative of our travel agency, and personal applications are not entertained by the Embassy. Processing takes around 3 working days, so you should be in Kathmandu at least five working days before your expected departure date.
Enjoy the Kathmandu to Lhasa Overland Tour to Tibet
One of the more popular tours now is to travel overland to Lhasa from Kathmandu, crossing the Sino-Nepal border at the newly-opened border crossing point at Gyirong Port. The route from Kathmandu runs west then north to the border crossing checkpoint and takes around six hours by public bus.
Once across the border, your tour guide will meet you and transfer you to Gyirong Town, where you will be able to acclimatize to the increasing elevation. After a day of acclimatizing, you will then start the tour to Lhasa, traveling along the famous Sino-Nepal Friendship Highway. For those taking in Everest Base Camp (EBC), a detour will be taken to get to Rongbuk Monastery, from where you can take the short trip to the world's highest mountain. On average, the tour takes around eight days, including acclimatization to the higher altitude in Gyirong Town, and ends with the delights of the Tibetan capital of Lhasa.
Fly from Kathmandu to Lhasa
If flying is your preferred method of travel to Lhasa, then you are in luck, as Kathmandu Tribhuvan International Airport is the only airport in the world with international flights to Lhasa. Flights leave daily for the Tibetan capital and take around 90 minutes to cover the 1,000-kilometer distance between the two capitals. - Check the flight schedule from Kathmandu to Lhasa
While this can be a little costly for some, with flights starting from around 300 dollars, it is one of the most amazing flights you will ever take. Not only do you get to see some of Tibet's awesome scenery and landscapes from the air, but the standard flight path takes you directly over the summit of Mount Everest, and on clear, right days you get a great view of the mountain as the plane passes above it just a few hundred feet from the peak.
Option Two: India to Mainland China by Flight and then Take Train to Tibet
The second option of traveling from India to Tibet is via China. The most efficient way of getting to Lhasa from India this way is flying to one of China's major cities and taking Tibet train there.
Step 1: Travel from India to Mainland China by Flight
For the most convenient connection to Lhasa, Tibet, fly to Beijing, Shanghai or Guangzhou. Direct flights to the three metropolises are available from Delhi year-round, while there is also a direct connection to Beijing from Mumbai. Flights to Beijing or Shanghai place you closer to Lhasa, and you will spend less than 50 hours traveling there by train. In addition, flight fares to Shanghai are usually lower than to Guangzhou. If getting sooner to Tibet is your objective, book a flight ticket to Beijing.
Average flight fares from Delhi to Beijing or Shanghai cost around $440, but the exact price largely depends on the season and how far in advance you book the ticket. One-way flight deals from Delhi to Guangzhou are around $500 and over most often. Flight times from Delhi to Beijing are around 5:45 hours, while the duration of the flight to Shanghai and Guangzhou is 5:20 and 4:40 hours respectively.
Step 2: Travel from Mainland China to Tibet by Train
Travel Documents You Need
To be eligible to enter Tibet, you need to possess the Tibet Travel Permit and the China Visa. You need to obtain the visa on your own while for acquiring the permit you need to hire a Tibet travel agency. Only by booking a group or individual tour through Tibetan agency you are eligible for obtaining the travel permit. Once the Tibet Tourism Bureau approves you the permit, it is the agency's responsibility to deliver the document to you once you arrive in China.
Enjoy the Tibet Train Journey to Lhasa from Mainland China
Journey by Tibet train to Lhasa takes you through scenic landscapes and untamed wilderness abounding with wildlife. As you draw near to Lhasa, Tibet, mountains replace deserts, forests, and lakes along one of the most picturesque routes in the world. If you make stops along the way, in Xining in particular, you will be able to accommodate yourself to the altitude difference. The distance between Beijing and Lhasa is nearly 3760 km, while trains need to cover 4370 km when traveling from Shanghai.
A train journey from Beijing gives you a chance to admire Tibetan plateau for half a day. The train departs the capital of China at 8 pm and arrives in Lhasa at 12:40 pm on the third day. As for the train journey from Shanghai, it typically departs at 8:10 pm and arrives in Lhasa at 7:30 pm on the third day, allowing you even more time to admire the plateau.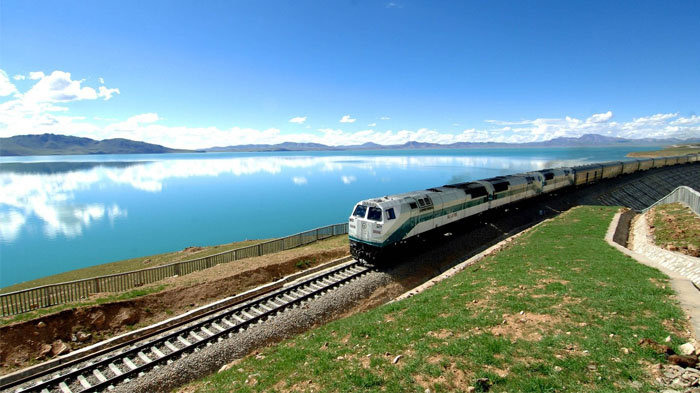 Tibet Train Journey to Lhasa from Mainland China
The price of train tickets fluctuates depending on the season and the type of compartment. Soft-sleepers usually cost between $200 and $250, while the price of hard-sleepers ranges from $120 to $175. July and August are the months when Tibet train fares increase significantly, rising up to around $300 for hard- and $380 for soft-sleepers. Fares are similar for traveling to Lhasa from Beijing and Shanghai.
Join an India Nepal Tibet Bhutan Tour
For an even more spectacular experience, consider booking a grand Himalaya tour of India, Nepal, Tibet, and Bhutan. Tibet Vista is an experienced tour operator that offers tailor-made tours suitable for travelers with different interests and available time. Besides applying for the Tibet Travel Permit for you, we specialize in planning cost-effective transportation, accommodation, dining, and other necessary arrangements on your behalf.
As for the India Nepal Tibet Bhutan tours, you can rely upon Tibet Vista's professional and friendly guides to help you have the time of your life as you explore the Taj Mahal in Agra, Mount Everest in Nepal, fortress-like temples of Bhutan, and the Potala Palace in Tibet among other attractions.
Conclusion
Traveling to Tibet from India via Nepal or China is sure to be one of the most adventurous experiences you ever had. To make the most of your trip, plan at least a few weeks to allow yourself enough time to adapt to the high altitude and tour places of invaluable cultural importance. Also, make sure to hire Tibet Vista or some other reputable Tibetan travel agency to organize your Tibet tour for the premium experience.