Insider Tips on How to Find the Best Tibet Travel Agency to Run Your Tibet Tour?
Travel to Tibet, however, is not as simple as getting a visa and going there. As a part of the People's Republic of China, travel to Tibet is more restrictive than any other destinations in the world, though that does not mean that it is impossible to visit. Independent travel is not permitted in the region, and all tourists planning a tour to Tibet must book their tour through one of the many Tibet travel operators, such as our company, in order to get all the permits required for the visit. Only through the tour operator, can you obtain the Tibet Travel Permit, and the other permits for getting into and around Tibet.
Not only do you need the tour operator to obtain all your permits, but they are also able to make all the arrangements for you, including the required guide, driver, and private vehicle for your use while in Tibet. The tour operator will make all the arrangements for you tour, from the accommodation around the region to the tickets and fees for the attractions you intend to visit. They can even arrange all your train or flight tickets from mainland China to the Tibetan capital of Lhasa. Which means all you need to do is decide where and when you wish to go, and obtain your Chinese Entry Visa.
Top Things to Consider When Choosing a Tibet Travel Company
However, choosing which of the many Tibet tour operators to use can be a little tricky. With hundreds of websites offering what they call the "Best Deals" for Tibet tours, how can you know which is the best one to use?
Find a Well-established Local Tibet Travel Agency
Obviously, you want to use the best possible Tibet travel agency for your Tibet tour, and with over ten years of expertise and experience in delivering excellent and quality service to our clients, we can offer you the best in tour experiences. We offer the most authentic tour experience, showing you the best of the Tibetan religion and culture, and ensuring that you can interact with the local Tibetan people at all times during your tour.
Our manager of customer service will offer you considerate help in Lhasa
As well as having a huge network of hotels and restaurants in Tibet, we can provide you with all the things you need to make your tour great, and we work with the local Tibetan businesses in the region to ensure that your money is going to the Tibetan people that work hard to make your tour excellent in every aspect. Our connections with these local businesses mean that you get to see the real Tibet, without any sugar-coating, to make your tour the most authentic Tibetan experience possible.
We offer seasoned and experienced local Tibetan guides for your tour, who are raised in the region and have an extensive knowledge of both the people and the culture, and can easily answer your questions on any subject about Tibet. Our guides are all registered as professional tour guides in the region, and ensure that they provide you with everything you need to make your tour as exciting and enjoyable as possible. Our guides are also well versed in the symptoms of altitude sickness, and can help with any problems you may encounter whilst in Tibet. We also have a dedicated Tibet tour advisor that can be reached 24/7 to help with any issues you may have while on tour.
Check the Latest Review of Tour Service on TA
Many people look at the bigger travel websites to find out about their tour operator before deciding on whom to travel with, and we have a great rating on TripAdvisor, the largest of all the travel rating websites. Websites such as TripAdvisor offer many ways in which to evaluate the tour company you are thinking of using, including reviews based on previous client's trips to Tibet. we are listed as a top tour operator with TripAdvisor, with a five-star rating on the website.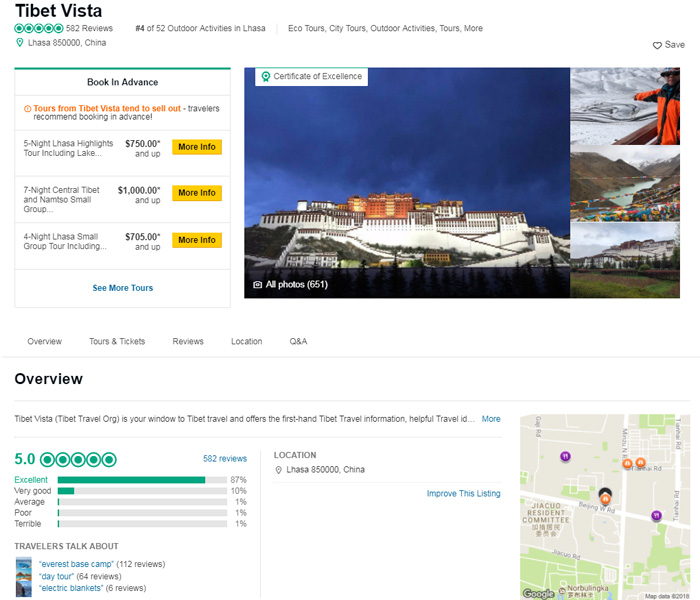 Excellent reviews on TripAdvisor
You can also look at the various other tour operators available on the review websites, and compare them to find the best option for you. Alternatively, you can always email the different tour operators and ask for the details of their various tours that are in line with the tour you are looking for, and compare their services and details.
Guarantee Tibet Travel Permit and Other Indispensable Travel Documents
Before traveling to Tibet, you will need your tour operator to acquire your Tibet Travel Permit, the main permit required for getting into and around Tibet. The permits for Tibet are not obtainable without the use of a tour operator, and without them, you cannot enter Tibet. With our decade of experience in applying for the Tibet Travel Permit on behalf of our clients, we can guarantee your permit will be approved in time for your tour, as long as you have booked it early enough. The Tibet Travel Permit does require around 15-20 days to process, but here at Tibet Vista, we are registered with the Tibet Tourism Bureau, and have an allocation for permits that means we can always get your permit for you.
We can also guarantee to arrange the other permits you will need for traveling to the other places around Tibet, which work in conjunction with the Tibet Travel Permit to enable you to travel outside Lhasa. The Alien's Travel permit, which your tour guide will obtain in just a few hours once you are in Lhasa, gives you access to opened areas of Tibet, such as Mount Everest, Shigatse, and the road to the Nepal border. For the unopened areas of Tibet, such as Mount Kailash, Ngari Prefecture, Nyingchi Prefecture for the stunning Peach Blossom Festival, and other places, the Tibet Military Permit can be easily obtained for you by us whilst you are in the region. Your tour guide will also be able to obtain this by applying for it on your behalf.
With our experience and connections with the Tibetan authorities, we can guarantee that all of your permit needs can be met, without any problems, allowing you to relax and enjoy your tour of the Tibetan plateau.
Secure Your Tibet Train Ticket or Other Bookings Such as Flight, Hotel
As well as arranging your tour of the region, we can also secure your tickets for other things, such as your flights or train tickets to Tibet, your hotel accommodation, and your entrance tickets to all the best attractions and sites in Tibet. Ensuring that your travel and accommodation is booked in advance is an important part of arranging a tour of Tibet, and if you leave it all up to us, we can guarantee your travel and hotel bookings for the dates you require.
we can also secure your tickets for flight, train and other things
We can make the arrangements for your flight to Tibet from major gateway cities in China, or from the Tribhuvan International Airport in Kathmandu, Nepal, on your behalf. We will make the bookings for your flights on your behalf, through our network of approved flight operators, and can provide you with the e-tickets for your flights well in advance of your actual flight date.
We can also make the arrangements for your Tibet train tour, as we have a higher allocation of reserved train tickets than any other tour operator to Tibet. Our connection with the railway services in China mean that we can guarantee your Tibet train ticket from any of the seven gateway cities to Tibet, even in the busiest months of summer.
You can book your own accommodation in Tibet before you travel, and it is important to ensure that you book well in advance, especially in the peak tourist season. However, we can also ensure that your hotel and guesthouse accommodation in Tibet is booked in advance to the specifications you require to meet your needs. We have connections with all of the best hotels in Lhasa, and majority of the guesthouses and hotels across the region, and can provide you with any style of accommodation, from five-star hotels to budget accommodation to best suit your budget.
Hassle-free and One-stop Tour Service
Arranging a holiday anywhere in the world can be complicated, ensuring that all your connections are correct, your accommodation is booked in advance, and all your travel plans are complete. Here at Tibet Vista, we can take care of all the requirements for your tour within our ability, from the arrangement of the permits and hotels, to ensuring your flight or train bookings are completed to coincide with your travel plans.
As a reliable travel and tour operator, we can guarantee that all of the arrangements for your tour are completed on your behalf, and our professional and reliable operators will take all the hassle out of arranging the trip, from the complex flight and accommodation plans to the smallest detail, such as ensuring that you have enough bottled water available during your tour. This leaves you free to sit back and enjoy the holiday, secure in the knowledge that the best tour operator in Tibet is handling all of your needs and requirements.
Ensure Your Safe Travel in Tibet
While on a tour of Tibet, many tourists choose to travel to some of the more remote areas of the region, areas which are often higher in altitude than Lhasa, and which require specialist guides to ensure your safety and security. When visiting to Mount Everest Base Camp, at 5,200 meters above sea level, or taking the trek around Mount Kailash in Ngari Prefecture, which takes you to elevations above 5,000 meters, altitude sickness is a major concern. Proper acclimatization is required to travel to the higher altitudes of Tibet, and you will spend a few days in Lhasa getting acclimatized to high altitudes to allow you to travel around Tibet. And, whether you are taking a high-altitude trek, or traveling from Tibet to Nepal, our guides are experienced in handling all aspects of the tour, including ensuring that you are well looked after and safe from altitude sickness problems.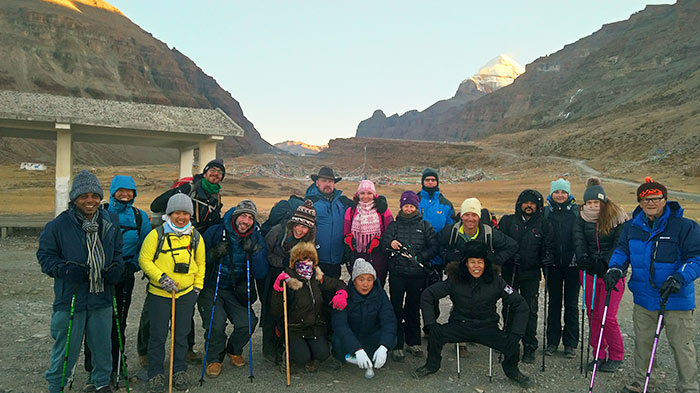 The experienced tour guide will ensure your safe travel in Tibet
All of our guides are fully trained in the symptoms and timely treatment of altitude sickness from the best training schools in China, and can guarantee your safety while you are touring in Tibet. The vehicles that you will travel in are all equipped with oxygen and first aid kits, for treating the symptoms of altitude sickness and ensuring your continued enjoyment of your tour. They are also trained to recognize the symptoms of altitude sickness in their guests, and can ensure that you get the best treatment for this as early as possible. And with basic first-aid training for other minor ailments and injuries, you are guaranteed to be well looked after whilst you tour Tibet.
>> Learn more about Tibet Altitude Sickness Symptoms, Prevention and Treatment
Diverse Tibet Tour Products
Any tour operator running tours to Tibet must have a wide variety of tours available, from the pre-arranged tours that have a set itinerary and the group tours you can join as a single traveler to custom-made tours designed around your specific requirements. So whether you want to take a set tour to Tibet that has a defined itinerary or a cycling tour across the region taking in the places you specifically want to see, all of these should be included in the tours available from the tour operator.
Here at Tibet Vista, we can provide you with a huge number of pre-set tours with defined itineraries as well as any kind of custom tour you can think of. Not only do we cover Tibet, but we can also provide you with tours to other areas of mainland China, as well as Nepal and Bhutan tours. We offer classic tours to all the popular sites in Tibet, Nepal, and Bhutan as well as cycling, motorcycle, and overland tours of Tibet and China.
We can also offer you high-altitude trekking tours in Tibet, China, Nepal, and Bhutan, which will take you to the very best trekking trails in Southeast Asia, and can provide you with guides for the treks, and arrange all the formalities of trekking in any of the three countries. We also have combination tours of all the areas we cover, so that you can combine your tour of Tibet with tours of China, Nepal, and Bhutan to make your adventure in the Himalayas and Southeast Asia as amazing as you can imagine.