How to Plan a Budget Tibet Tour
As a major tourist destination, Tibet receives thousands of tourists from all over the world. But it is a remote area with high altitude, harsh climate, and limited transportation, and the cost of a tour might be higher than expected. Planning a low-cost tour is important for those on a tight budget, and there are several ways to cut down the cost.
Visit Tibet in Winter (Nov.-Mar.)
Winter in Tibet is the low season for tourism, and as a general rule, this makes things cheaper for tourists that are hardier towards the colder weather. Tibet is actually not as cold as many people think from November to March, which makes it a good time to come to the plateau region and enjoy a less costly tour of Tibet.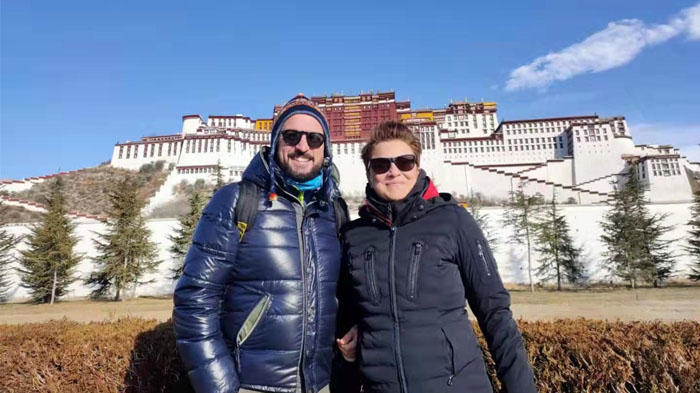 Winter is one of the best seasons to take a trip to Tibet since the air is dry and clear.
For those considering a winter tour in Tibet, there are many advantages in terms of cost of the trip. As this is the low season for tourism, discounts are often given for the major expense, such as hotels, flights, and train fares, and you can benefit from this to make the trip cheaper.
To try and get the customers in the winter, many of the hotels that are open throughout the year reduce the cost of the rooms in the months from November to March. This can mean that you can pay as much as half of the cost of the hotel in the peak season of summer. The same discounts often apply to flights, since fewer tourists are traveling to the plateau in winter, and you can make good savings on winter flights to Lhasa. The trains are also cheaper in the winter, having reduced the cost of train tickets from the more expensive summer rates.
Enter Tibet by Train in Low Season
If you really want to save money on getting to Tibet, you can go to Tibet by train rather than by flight. Trains are always cheaper than the flights to Tibet from the same departure location, and you can further cut down the cost if you choose the hard sleeper berth instead of soft sleeper. The hard sleeper berth is not actually hard, and is not bad as you may think, though it is not the most private option for travelers.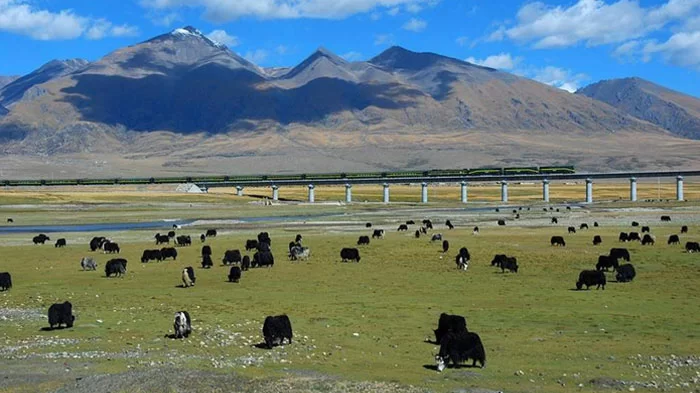 Taking a Tibet train to visit Tibet in the low season is also a good way to reduce costs.
The biggest difference of the hard sleeper to the soft sleeper is that there are 6 berths in one hard sleeper compartment and just 4 berths in the soft sleeper compartment. And the soft sleeper cabins have a lockable door for more privacy. In some rare instances, if you were to take a soft sleeper on certain routes to Tibet, it can sometimes be almost the same price as a flight. However, this is not often the case, and in general, even the soft sleeper is lower than the cost of a flight to Tibet from the same departure city. However, the cost of a hard sleeper berth is usually only around 65% of the cost of the soft sleeper, making a saving of around 35% on transportation to Tibet.
At present, there are many trains heading to Lhasa along the world's highest railway from mainland China. There are trains from Beijing to Lhasa or Shanghai to Lhasa or Guangzhou to Lhasa that leave the stations every day, while the trains to Lhasa from Chengdu, Chongqing and Lanzhou depart every other day. The trains from Xining, the closest and cheapest of the seven gateway cities to Tibet, run every other day in the low season, and daily in the peak season.
And in the low season for Tibetan tourism, the cost of the trains are at their lowest for the additional service fee caused by the huge entry demand is avoided.
Join-in Group Tour Rather than Private Tour
Another way to save is to share the cost of other travelers by joining in a tour group. By joining a Tibet Small Group Tour, you can cut down the cost of your Tibet tour on the tourist vehicle, driver, tour guide, and even the single room supplement.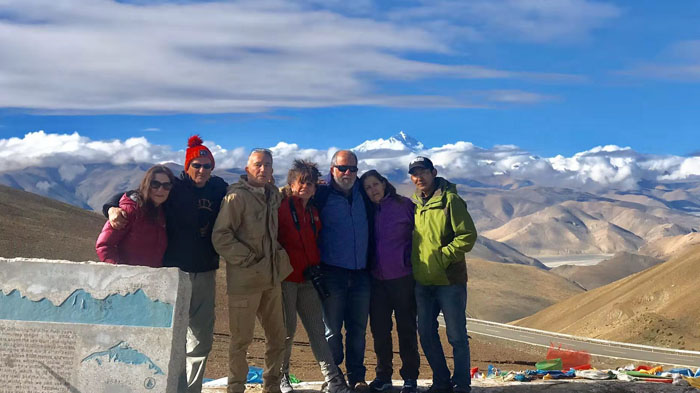 Join in our Tibet small group tour to enjoy the panorama of Himalaya at Gawula Pass.
Small Group Tours allow solo and small groups of travelers to join in on tours that are pre-set with set departure dates and itineraries. You join other travelers from around the world that are interested in booking the same trip that you are. You can choose from a range of different tours with different departure dates and itineraries, so you have a wide range to choose from.
For example, if you are just 2 travelers traveling together, you need at least one local tour guide, a driver and a tourist vehicle. Of course, the cost is only shared by two. However, if you join in on a tour group of 4 travelers, the cost is shared by 4. This saving increases exponentially with higher numbers on the tour, and most Small Group Tours only have a maximum of 12 travelers, so the group is not too large for the personal service you can expect from the guide. In this way, the cost of the trip can be cut down by as much as 50%.
Stay Overnight in the Guest House and Hostel
When it comes to accommodation in Tibet, you can find a wide range of hotels, hostels, and guesthouses to suit all kinds of budgets. For those that are looking at traveling on a budget, you can choose cheap guesthouses and hostels which only cost you around 8-10 US dollars per night. There are also economic hotels with clean standard rooms, costing from around 15-25 US dollars per night, including a simple breakfast.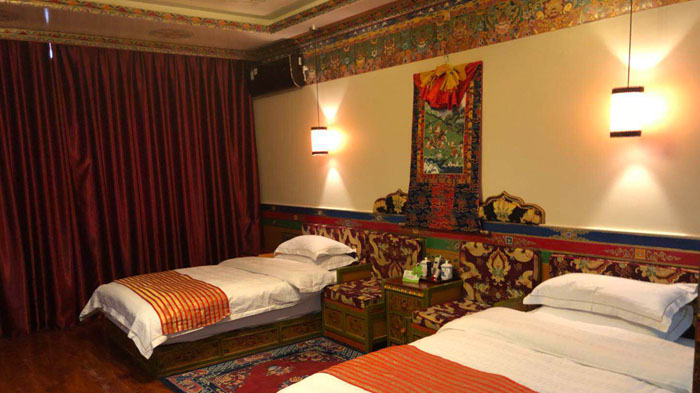 Accommodation can be very cheap in Tibet during the low season
Choosing the cheaper options on accommodation is another way to cut the cost of your trip to Tibet, and while the rooms may be cheaper, they are usually of good quality, clean, and comfortable. This reduced cost can sometimes be reduced even further by discounts that may be available for touring in the winter, when there are fewer travelers on the plateau.
Prepare Enough Personal Items
Buying certain personal items that you will need for the trip can often be expensive when you reach Lhasa, as the items have to be shipped in from mainland China. This cost gets higher as you travel further across the plateau, so it is a good idea to save money by bringing everything you need with you before you travel to Tibet. Things like your toothpaste, soap, shower gel, toilet paper, etc. can be bought for lower prices before you take the trip to Tibet, and can help you save money.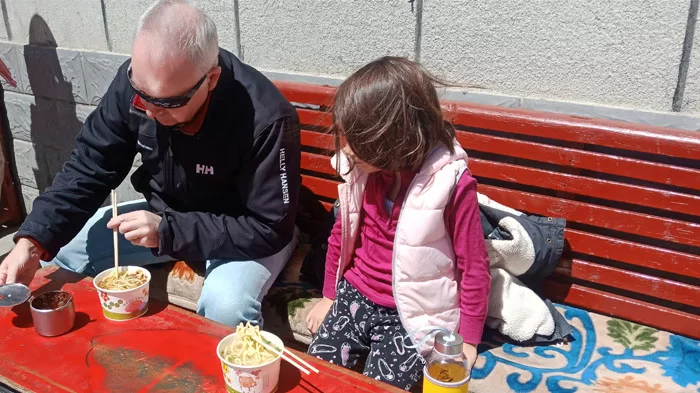 A father showing his daughter how to eat Tibetan noodles.
When it comes to eating, Tibet is not overly expensive. However, you can arrange food in Tibet by yourself to further reduce the cost. Generally, the daily cost of lunch and dinner is around 80-100 RMB (13-16 US dollars) per person, due to the limited food supply in this remote area, and the high price of local food. However, you can arrange very simple food that can cost around 50-60 RMB per day, helping you save money. You should bear in mind the climate in which you are traveling, though. It is not advisable to eat too simple food in Tibet, which will not provide you with adequate sustenance, as you need more energy to travel in Tibet than most other places.
Book Tibet Tour with Tibet Vista Earlier for Great Discount
If you already know what you want to do and where you want to go in Tibet, you can always book your Tibet tour with us well in advance of your expected travel dates. For those booking well in advance, we can offer some great discounts on the cost of the tour. Simply come and speak to one of our professional tour consultants to find out more.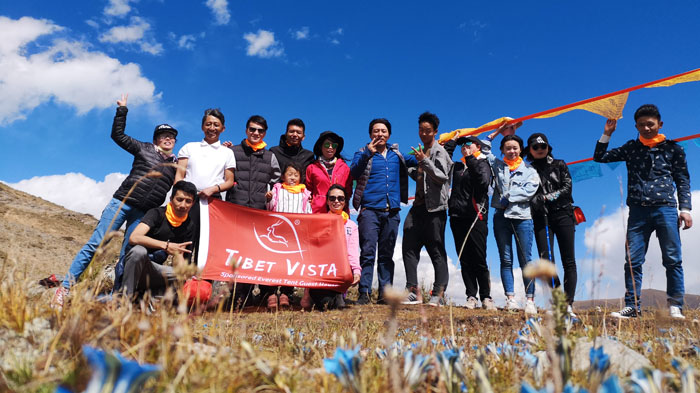 Travel in Tibet with Tibet Vista, you'll have a memorable journey in the roof of the world.
Conclusion
Planning a budget tour of Tibet is not as hard as you might think. While Tibet can be an expensive place to visit, it does not have to be too expensive for budget travelers to reach, and you can make some great savings on the overall cost of your trip by being a little frugal and choosing the right options. Traveling in winter, taking the train, and joining Small Group Tours can help make that dream of traveling on the Roof of the World come true.