Top 10 Featured Himalayan Mountains in Tibet & More Himalayan Mountain Facts
Rising from an ancient ocean, the Himalayan mountains are now a magnificent and awe-inspiring symbol. Just their presence evokes strong feelings. In this amazing world, Tibet is unique. The Tibetan Plateau is home to many famous peaks, especially in the Himalayas.
Where are the Himalayan Mountains Located?
Stretching from Nepal to Tibet, the Himalayas sport an average height of 6,000 meters, spanning 2,400 km, featuring over 50 peaks soaring above 7,000 meters, with 11 surpassing 8,000 meters, including Mount Everest.
Adorned with glaciers, verdant slopes, and breathtaking altitudes, the Himalayas call out every explorer to experience nature's grandeur like never before.
Mt Everest (8848m): The Highest Mountain and Main Peak of the Himalayan Mountain Range
Reaching a breathtaking height of 8,848 meters, Mount Everest is Earth's tallest mountain. It sits where the Tibet Autonomous Region in China and Nepal's Sagarmatha National Park meet.
Revered in both Tibetan and Nepali cultures, it is called Qomolangma in Tibetan (meaning 'Goddess Mother of the World'), Sagarmatha in Nepali, and Sanskrit (meaning 'Peak of Heaven').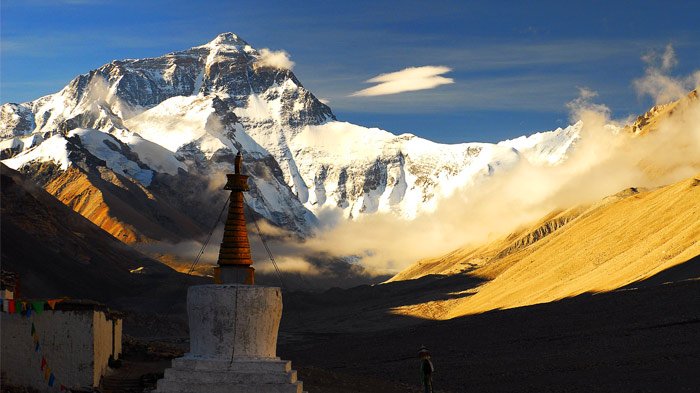 Grand Summit View of Mount Everest from Rongbuk Monastery
Everest's greatness evokes wonder and respect. Officially, it became the world's highest point in 1852 after the Survey of India. It was renamed to honor Sir George Everest, the British Surveyor-General of India, from 1830 to 1843.
The Tibetan side of Mount Everest offers an unmatched view of its greatness. Whether traveling overland, trekking, or climbing the summit, this area is perfect for launching an exploration of a lifetime.
Lhasa to EBC Overland Journey:
The most convenient way to get to Everest Base Camp from Lhasa is the overland route on the Friendship Highway. It is about 618 kilometers and suits all ages. The gradual increase in elevation helps with acclimatization, and the picturesque landscapes like Yamdrok Lake and cultural hotspots like Gyantse's Palcho Monastery contribute to the immersive experience.
Stop at Gawula Pass to savor a panoramic Himalayan vista and admire a seamless blend of proximity and splendor from Rongbuk Monastery. At EBC (5200m), unobstructed views of Everest await, particularly spectacular during sunrise and sunset.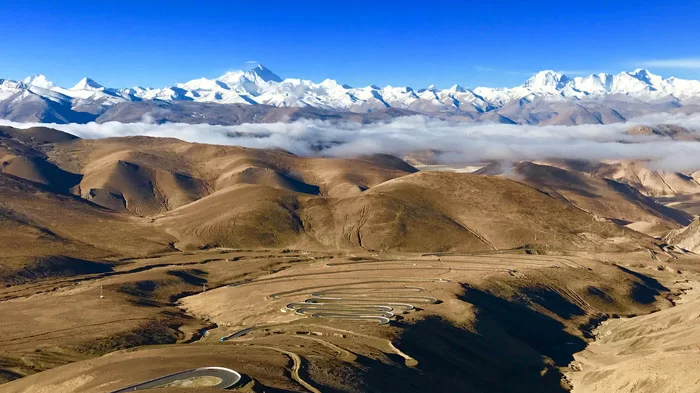 Panorama of the Himalayan Range from Gawula Pass
Trekking from Old Tingri to EBC:
For adventurous souls, embarking on a 4 to 5-day trek from Old Tingri to EBC is a captivating experience. Covering 70 kilometers, this trail exposes trekkers to valleys, glaciers, and an array of landscapes, culminating in the dramatic beauty of Everest.
Climbing Everest from the Tibetan Side:
Summiting Everest from the North Route in Tibet is the ultimate mountaineering adventure. The trip from Lhasa to the base camp is quicker and can be done via road, train, or air. The Tibetan route to Everest is less tough, the slopes are gentler, and the climb is not as tricky. Plus, there aren't as many climbers, so it's quieter and more peaceful. The Tibetan route is studded with Tibet's sacred mountains and beautiful lakes, making it a unique adventure.
Lhotse (8516m): Guardian of Mt. Everest and World's 4th Highest Peak
Better known as "south peak", Lhotse is the 4th highest peak in the world. It is also the 2nd highest mountain in Tibet (the highest one is Mt. Everest) and only 3 km to Mt. Everest. Because of this height and adjacency, Lhotse has been seen as the Guardian of Mt. Everest.
Apart from the usual tours to EBC, the 15 Days Gama Valley Trekking in the Eastern Slope of Mt. Everest will also render a great chance to see Lhotse, together with Mt. Everest. Especially, you can enjoy the panoramic view of the Himalayas at Gawula Pass and take some very nice photos that you will cherish for the rest of your life.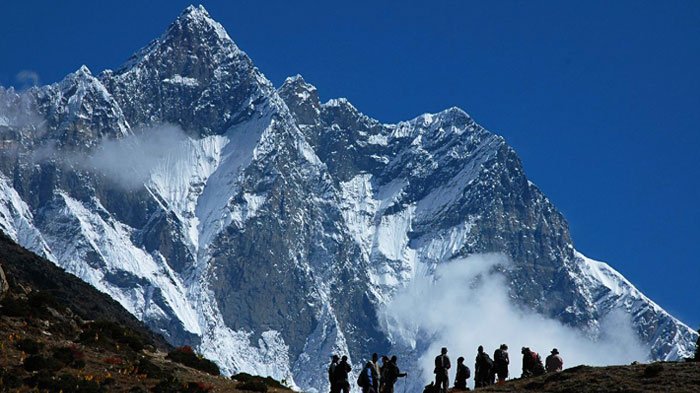 Tourists are appreciating the Lhotse while trekking.
As to climbing, although it's lower than Mt. Everest, the expedition to Lhotse summit is designed for experienced climbers who have previously climbed Everest, and due to the fact the couloir is very narrow and has rockfall danger, which can only hold max. 8 climbers on the route.
Makalu (8485m): World's 5th Highest Peak in the Eastern Himalayas
Lying at 8,485m above sea level, Mt. Makalu is the world's 5th highest mountain, located on the border of Nepal and China. It resides in the eastern Himalayas range just 19 km southeast of the giant Mt. Everest. The structure, resembling a perfect pyramid with four sharp ridges, makes this mountain all the more spectacular.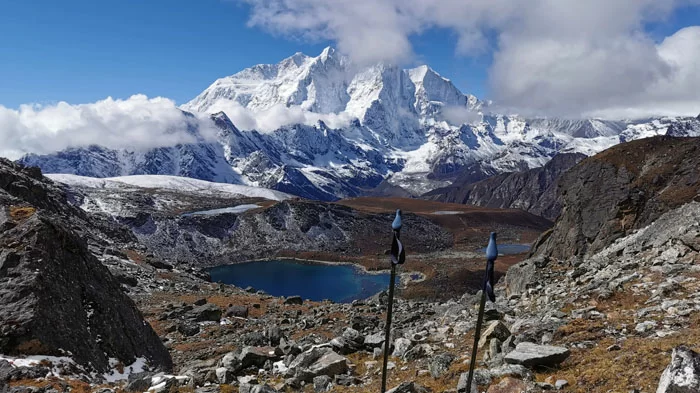 Mt.Makalu is located in the eastern Himalayas.
Mt. Makalu is difficult to climb due to its notorious steep pitches and knife-edged ridges. The final ascent of the summit pyramid actually involves technical rock climbing. While you can climb the mountain from Nepal, for a stunning view from Tibet, you can visit Gawula Pass during our 8-Day Lhasa to Everest Base Camp Small Group Tour.
Cho Oyu (8201m): The Easiest 8000er for Mountaineers and World's 6th Highest Peak
Cho Oyu is the 6th highest mountain on Earth. With an altitude of around 8,201m, Cho Oyu is a familiar landmark to climbers ascending Everest's north face. Due to moderate slopes instead of the rugged route, Cho Oyu is considered the easiest to climb among the 14 eight-thousanders.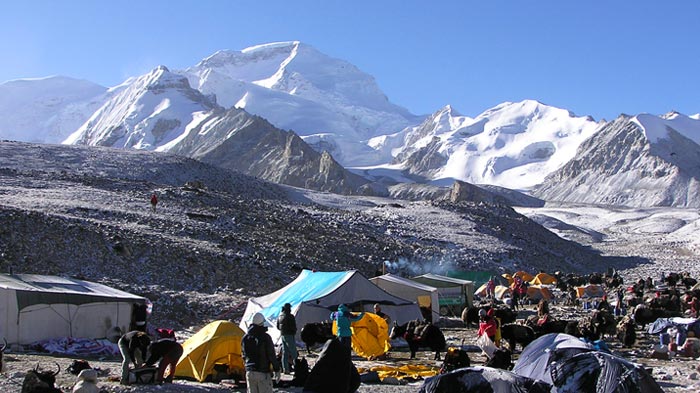 Mountaineers are camping around Cho Oyu.
You can enjoy this gorgeous mountain from afar in all of the tours above as well. But the best points lie around Saga County on the way to the holy mountain, Mt.Kailash. The epic 15 Days Kailash and Manasarovar Small Group Tour will give you a great chance of admiring this entry-level mountain for mountaineers.
Shishapangma (8027m): The Only 8000er Totally Located in Tibet and the World's 14th Peak
Well, yes, height-wise it ranks last in the 14 eight-thousanders, but keep this in mind: Mt. Shishpangma is the ONLY 8000-meter-high mountain that is entirely situated in Tibet, China, not shared by any other country at all!
The 7-day Lhasa to Kathmandu overland tour will allow you to have a closer look at this beautiful mountain. Tourists can view the beautiful peak at Peikutso Lake, which is 60 meters north of the Shishapangma. You can also choose to have a Lhasa to Kathmandu bike tour to enjoy the joint beauty of Shishapangma and Peikutso Lake on wheels.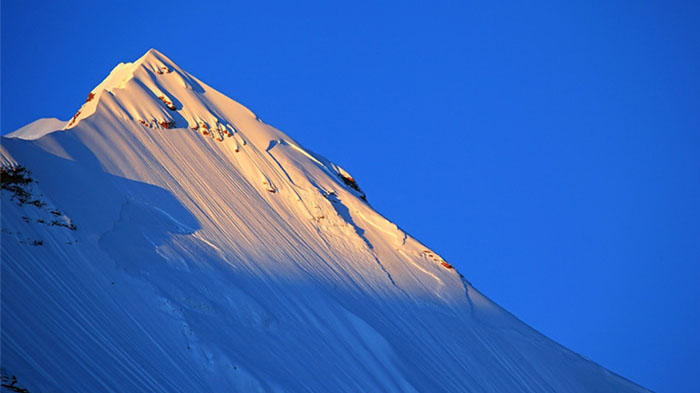 Mt.Shishapangma, the only 8000er wholly situated in Tibet
Shishapangma was the last of the 8000m peaks to be climbed. However, it is now considered by many to be one of the most approachable 8,000m peaks to climb because of its direct route and relatively short approach to Base Camp.
Gyachung Kang (7952m): World's 15th Highest Mountain Less Known to Many
Just a few meters short, it almost joined the League of Eight Thousanders! But Gyachung Kang still is distinctive because it is the highest peak below 8000 meters. Claiming the 15th spot on the global ranking, it sits nestled between Cho Oyu and Everest and stands out for being shorter.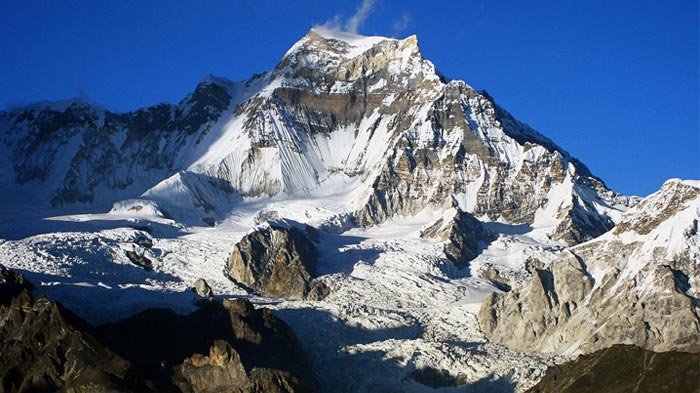 Lofty Gyachung Kang is the highest peak below 8000 meters.
Although it's less known to us, it is joined by Cho Oyu at its ridges. The best place to have a panoramic view of Gyachung Kang is around Saga county, Shigatse prefecture or on the mount Gokyo Ri (5360m) in Nepal. Cho Oyu together with Gyachung Kang forms the source of the largest glacier - Ngozumpa Glacier.
Climbing Gyachung Kang is doable for those with basic skills, attracting adventurers. At stage three of our Tingri to Everest Base Camp Trek, while trekkers descend to Zommug village, they are met with the spectacular sights of Everest and Gyachung Kang.
Jomolhari (7326m): The Bride of Kangchenjunga on the China-Bhutan Border
Jomolhari, also known as Chomolhari, is a mountain located on the border of Yadong County, China, and Thimphu, Bhutan. It might be less known to tourists, but that only makes it perfect for an off-the-beaten-path trek. The Jomolhari trek is one of the premier Bhutan tours that is not only popular among tourists but also among locals.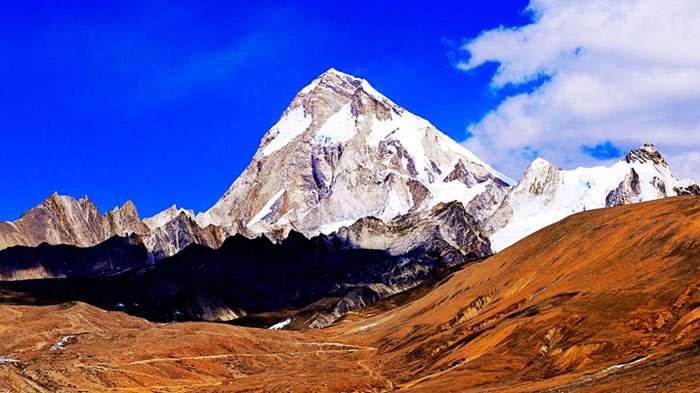 Jomolhari is also known as Chomolhari.
You can join our Bhutan trek tour to enjoy the natural beauty of Jomolhari, along with immersing yourself in the pristine landscape and culture of the last Shangri-la.
As the second-highest peak in Bhutan, Jomolhari climbing on the Bhutan side was permitted for a brief period between 1983-1996. Currently, tourists can only trek to the base camp in Jangothang, where they pitch tents and spend days and weeks observing and admiring the unspoiled mountain.
Insider Tips: Traveling alone in Bhutan is not allowed. Instead, you need to apply for a Bhutan visa along with a tour package through a local Bhutan tour agent or their international partners. As a tour agent, we have years of experience with the Tourism Council of Bhutan. With our offices in Thimphu, Kathmandu, Lhasa, and Chengdu, we can ensure a smooth and hassle-free transfer service between these destinations.
Mt Pumori (7161m): Mount Everest's Daughter Located on the China-Nepal Border
This picturesque pyramid-shaped mountain is found on the border between China and Nepal, standing tall behind Kala Patthar (5555m). Mt. Pumori is only 8 km west of Mt. Everest, and this proximity has lovingly earned its nickname, "Everest's Daughter." In the Sherpa language, "Pumo" means "Daughter/young girl," and "Ri" means "mountain."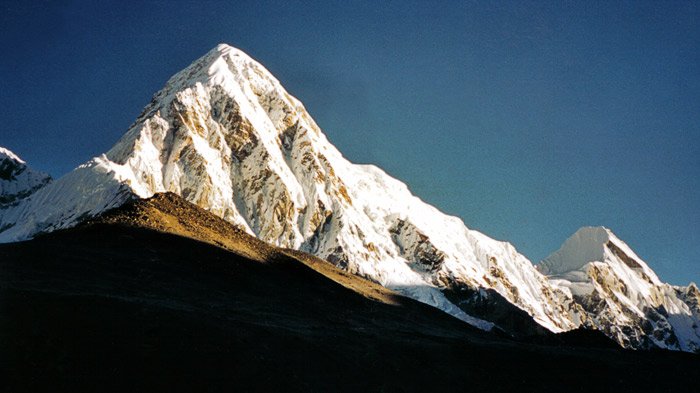 Pumori is known for its pyramid-shaped peak.
While Tibet's Tingri offers only a partial view, the best place to see Pumori is from Nepal's Sagarmatha National Park. Join our Everest Base Camp Trek in Nepal to witness Pumori's beauty.
This summit was used for training by previous Everest teams and is now open to guided climbers from different companies, with up to 20 expeditions each climbing season. From Pumori's peak, you'll see a stunning panorama featuring Mt. Everest, Mt. Lhotse, other Himalayan wonders, and a glimpse of the Tibetan Plateau.
Gurla Mandhata (7694m): World's 34th Highest Peak Located near Lake Manasarovar
Gurla Mandhata, also known as Naimona'nyi or Namu Nani, is the highest peak of the Nalakankar Himal, a small subrange of the Himalayas. Revered as the "Goddess Mountain" by local Tibetans, this glorious peak is cradled in the western part of the Himalayas, gracing Purang County in Ngari Prefecture, Tibet. Gurla Mandhata proudly gazes upon the sacred Lake Manasarovar and is a neighbor to the revered Mount Kailash.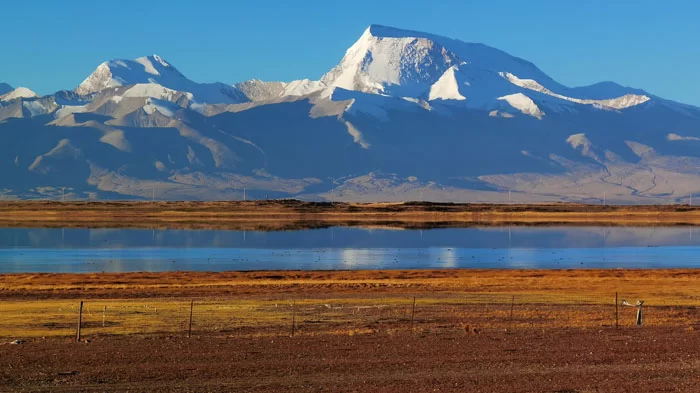 Mount Gurla Mandhata is cradled in the western part of the Himalayas.
Considered the 34th highest peak globally, you can embark on a Mount Namo Nanyi climbing expedition after securing all the necessary permits. For a complete sight from a distance, join our Lhasa to Mt. Kailash trip, where you can photograph Gurla Mandhata as you journey from Darchen to Saga along the Mayomla Pass.
Changtse (7543m): World's 44th Highest Mountain to the North of Mount Everest
Snuggled between the storied Main Rongbuk and East Rongbuk Glaciers, Changtse's elegant form graces the landscape. Positioned just north of the iconic Mount Everest, this mountain stands as a profound testament to the grandeur of the Himalayas.
To encounter Changtse in all its glory, consider undertaking our Lhasa to Tingri trip. An opportunity to experience it personally awaits as you trek from Everest Base Camp (EBC) to the Advanced Base Camp (ABC), a journey that leads you to Changtse Base Camp, also known as Camp 2.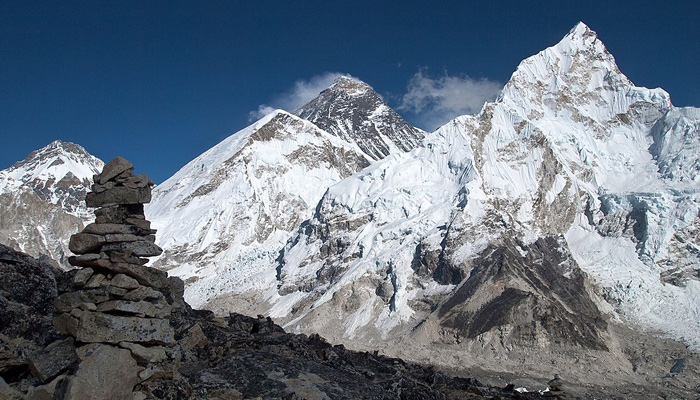 Changtse is located to the north of Mount Everest.
At an elevation of 5,970 meters, it offers a unique blend of impressive landscapes and challenging terrain. As your expedition enters day four, you will find yourself drawing even closer to the essence of Changtse, as the journey continues.
There are More Than 70 Himalayan Mountains
The Himalayan Mountain Regions comprise the Greater Himalaya, Lesser Himalaya, and Outer Himalaya. These regions collectively host more than 70 peaks, reaching elevations of 24,000 feet (7,300 meters) or more above sea level, offering remarkable scenery of natural wonder.
These peaks have 10 of the world's 14 summits that soar beyond 8,000 meters, including the planet's highest, Mt. Everest, forming a landscape of unparalleled grandness and exploration.
Among the 10 Himalayan Mountains, 8 are Located in Shigatse
Shigatse is located where China, Nepal, Bhutan, Pakistan, and India meet along the Himalayan range. It showcases eight famous peaks, whose beauty can be enjoyed in various forms, from up-close encounters to wide views.
Whether you prefer a relaxed road trip from Lhasa to Kathmandu for scenic sights or a thrilling adventure like trekking or cycling, Shigatse has something for everyone.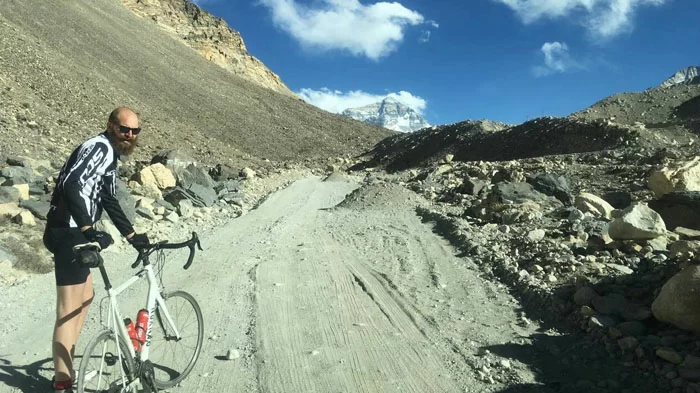 One can cycle from Shigatse to EBC in Tibetan side.
What's truly remarkable is that eight of the world's tallest peaks over 8000m are found here, including the iconic Mt. Everest. But Shigatse's beauty goes beyond Everest. It also features stunning peaks like Lhotse, Makalu, Cho Oyu, and more. You can enjoy the peaceful landscapes of Mt. Pumori and the sacred presence of Mt. Shishapangma.
There are Several Ideal Places to See Himalayan Mountains in Tibet
Catch the captivating Himalayan vistas from different spots of Tibet, each offering its unique charm. Witness the sensational sight of Mt. Everest's northeast ridge from Shigatse Prefecture.
Trek the enchanting Gama Valley, an expedition into the heart of Himalayan beauty east of Mt. Everest. For an up-close encounter with the grandeur of the world's highest peak, Mount Everest, venture to Rongbuk Monastery and Everest Base Camp.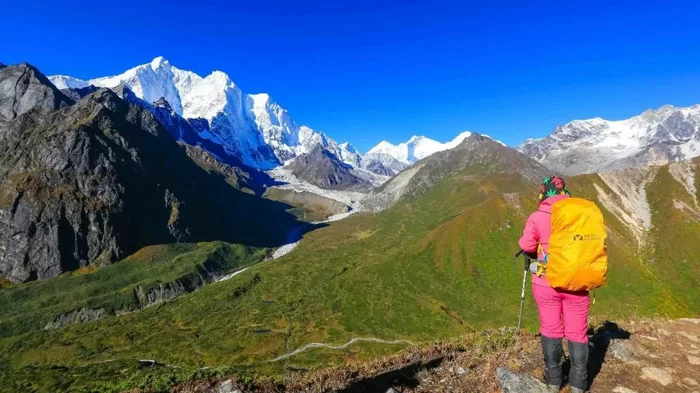 Treking the enchanting Gama Valley is a good way to see the Himalayas.
However, the epitome of Himalayan splendor awaits at the Gawula Pass, a must-visit on the classic Lhasa to Everest Base Camp route. From this vantage point at 5,198 meters, embrace the majesty of Everest, sitting sparkling with its companion peaks like the breathtaking Lhotse, Shishapama, Makalu, and Cho Oyu.
Some Lower Himalayan Mountains are Inaccessible for Climbing, while the Highest Peak is Climbable
Within the lower reaches of the Himalayas, certain mountains present formidable challenges that render them inaccessible to climbers. Gurla Mandhata, characterized by rugged terrain and harsh conditions, remains unconquered.
In stark contrast, the highest pinnacle, Mount Everest, offers a climbable opportunity despite its towering elevation and intricate technical demands. This divergence in accessibility and difficulty underscores the diverse spectrum of challenges within the Himalayan expanse.
The Most Accessible Peaks to Visit in the Himalayas include Mount Everest, Cho Oyu, and Namjag Barwa
The Himalayas boast some of the most accessible peaks, including Mount Everest, Cho Oyu, and Namjag Barwa. Experience Mount Everest through a road journey in Tibet that takes you to the EBC on the Tibetan side. In Nepal, a flight brings you to Lukla, from where you can trek the EBC.
Reaching Cho Oyu is conveniently achieved by covering a distance of 718 km through a drive from Lhasa to Tingri via Shigatse and Lhatse. From there, a southward journey leads to Jiabula Glacier Base Camp (4,959 m). And Cho Oyu has always been a favorite with climbers because of its manageable slopes that demand fewer technicalities.
To admire Mount Namjag Barwa in Nyingchi Prefecture up close, you just need to cross the Sejila Mountain Pass and drive along the Nyang River, which is about 80 kilometers away from its confluence with the Yarlung Tsangpo River. This will lead you to the perfect vantage point of Namjag Barwa, which is the Sosong Village located by the Yarlung Tsangpo River, at the foot of the Namjag Barwa peak.
Conclusion
As we finish our journey through Tibet's Himalayan mountains, remember that these peaks are not just rocks—they hold the Earth's history and changes. They amaze us, push our limits, and show the beauty of nature.
Each peak we conquer, every valley we explore, and all the sights we see make us feel small in front of the majestic Himalayas. They leave a mark on time. For an unforgettable Himalayan journey through Tibet, contact us.
Most Popular Tibet Tour Packages