Top 8 Tibet Mountains of the Himalayan Mountain Range in Shigatse
To many tourists, Tibet is all about lofty mountains and alpine lakes. To enjoy the snowy peaks, no other places can be more perfect than Shigatse Prefecture.
With a location at the border of China, Nepal, Bhutan, Pakistan and India along the Himalayan mountain range, Shigatse has some of the most famous, beautiful and highest peaks in the world.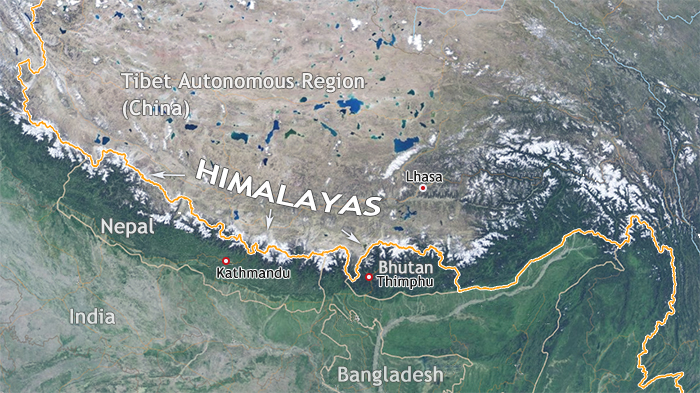 Himalayas comes into existence as a result of the collision between two plates.
And it's quite flexible in ways for you to enjoy - either a close-up view or panoramic view, either by overland or in more adventurous ways like trekking or cycling. Plus, to make a simple worry-free trip, you can take a flight from Lhasa to Kathmandu to enjoy a bird's-eye view of them all.
Tibet Mountains in Shitagse: Basic information
The Altitude of Shigatse and Shigatse mountains
Shigatse has an average height of just 3,840m but the average height of mountains here reaches up to 7,000m.
The Altitude of Tibet and Tibet Mountains
By comparison, Tibet in general has an average altitude of 4,000m, and the mountains in Tibet averages in 5,000m above sea level.
Why the Difference?
This is due to one of the amazing fact: of the 14 world's highest mountains in the world above 8000m, 5 of them are situated in Shigatse Prefecture! The abundant towering snow-capped mountains truly make Shigatse one of the prime attractions in Tibet. And because it is bordered several countries along the Himalayan mountain range, it also makes a good stopover for overland tours to Kathmandu (Nepal) and Bhutan.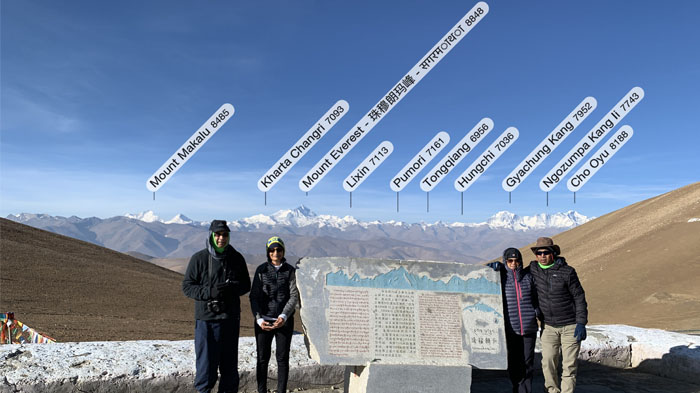 Our guests at Gawula Pass, with the panorama of Himalayan Range the background.
In addition, over one-fifth of world's top 100 independent summits are scattered in several different counties of Shigatse, such as Tingri county, Nyalam county and Gyirong county which borders Nepal. Follow me and check a list of the top 8 famous summits in Shigatse.
Mt. Everest (8844.43m): World's Highest Mountain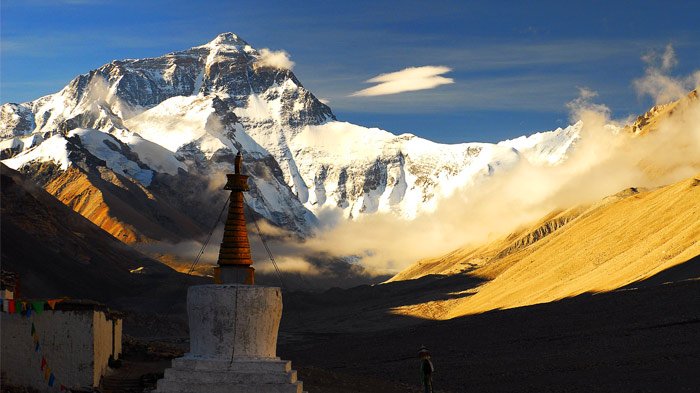 A panoramic view of Mount Everest from Rongbuk Monastery
Also known as Mt. Qomolangma, Mt.Everest prides in being the highest mountain in the world.
Basic Facts of Mt. Everest
Height of Mt. Everest: 8844.43m
Oxygen level of Mt. Everest: approx. 33% of that at sea level at the top, approx. 50% at base camp
Location of Mt. Everest: at the border of China (Tingri County, Tibet) and Nepal (Sagarmatha National Park, Solukhumbu district).
Other names of Mt. Everest: Qomolangma/Chomolungma in Tibetan language, meaning "Goddess Mother of the World"; Sagarmatha in Sanskrit and Nepali, meaning literally "Peak of Heaven."
Its identity as the highest point on the earth's surface was not recognized, however, until 1852, when the governmental Survey of India established that fact. In 1865 the mountain - previously referred to as Peak XV - was renamed for Sir George Everest, British surveyor-general of India from 1830 to 1843.
Other Mountains Near Mt. Everest
Surrounding Mt. Everest, 4 (Mt. Makalu, Mt. Lhotse, Mt. Cho Oyu and Mt. Shishapangma) of the world's 14 peaks above 8,000 meters stand guard within a sphere of 200 square kilometres.
Because of this, it has been hailed as the Third Pole and visiting Mt.Everest at the Everest Base Camp site has been many people's dream trip in life.
How to Get to and Enjoy Mt. Everest
There are many ways to go to Everest Base Camp, and everyone with different budget and requirements can find their own one.
Take a Tibet Train to EBC: The Most Cost-Efficient Way
Also, you can take a Tibet train to Lhasa and book our small group tour to EBC. As an alternative, you can transfer to Shigatse from Lhasa, and head for EBC from there. Many international choose this way because of the lower cost, world's highest railway - Qinghai-Tibet railway, and the natural beauty of the grassland, snow peaks and natural reserve, etc.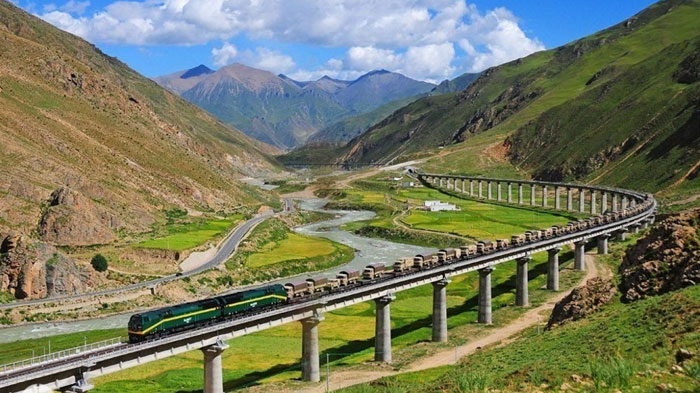 Landscape on the Qinghai-Tibet Railway
The most classic Tibet train tours to EBC are the 10 Days Xining and Tibet Natural Scenery Tour by Train and 12 Days Chengdu and Tibet Train Tour. There are also Tibet trains from gateway cities like Beijing and Shanghai. You can use our online Tibet train booking system to book your tickets.
When you get on board at Xining station and head for Golmud, you will be able to enjoy the beautiful rapeseed field around Qinghai Lake. During the most classic part from Golmud to Xining, there are more stunning views to see: the wild animals in Hol Xil, the harvest field with an overview of the Tibetan villages on Nagqu Grassland and Yangbajing Valley... you gotta come and explore more by yourselves!
When you arrive in Lhasa, you can take the Lhasa to Shigatse train to get to Shigatse, the prefecture where EBC is located. There two trains running daily each way, and it's a journey of about less than three hours. This is a one-of-a-kind train journey - take a train to EBC! Cool, isn't it?
Insider Tips: Tibet train tickets can be very hard to get because of huge demands but limited supplies. Especially, if you want to travel in peak tourism time like Jul, Aug. and Oct., you need to book Tibet train ticket months in advance.
As part of our service, when you book a Tibet train tour from us, we will help book ticket for you and deliver to your address in China as soon as we get it. But, again, do book in advance. Simply go to our Tibet train tour page above, or leave a message here.
Take a Vehicle to EBC: The Most Popular Way
Of all the ways travelling to EBC, an overland tour by vehicle is the most popular one. You can immerse yourself into the local culture and natural beauty in a slow-paced way.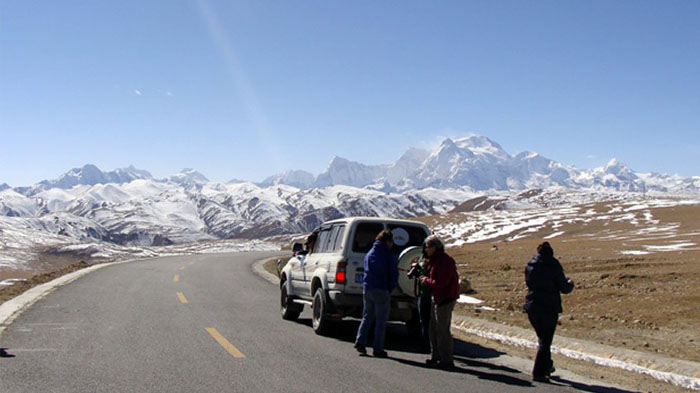 Friendship Highway to Mt. Everest
The most classic EBC small group tour is our 8 Days Lhasa to Everest Base Camp Small Group Tour. By joining a group like this, you will be able to acclimatize to the altitude in Lhasa (3,656m) for a bit, and do some sightseeing nearby, like the Potala Palace, Jokhang Temple, Sera and Drepung monasteries. Then you will gradually ascend to higher altitudes. You will go through many loft mountains and alpine lakes, as well as historical Tibetan monasteries, such as Yamdrok Lake (4400m), Gyantse Kumbum, Tashilhunpo Monastery and Gyatsola Pass(5248M). When you arrive at Gawula Pass (5198m), you can take a panoramic view of the Himalayans. After that, you will reach EBC (5,200m).
Insider Tips: We designed our itinerary in a way that our guests have ample time to acclimatize in Lhasa before heading out. But traveling on a land with 4000m the average elevation isn't as easy as in sea level. Thus we provide our guests with bottled oxygen to use. Also, following our experienced guides will help a lot – they have coped with a lot of altitude sickness situation.
A good sleep every night is always important for a good Tibet tour. So we provided sleeping bags, electric blankets and handwarmer, etc. for our guests to use as well, just to make your Tibet trip as satisfying as possible.
Cycling or Trekking to EBC: The Most In-Depth Way
For those hardy travellers, many go for cycling or trekking to unveil the beauty of Everest. A Tibet biking tour is more expensive than the usual overland tour because usually it's more of a customized tour with supporting vehicle, two guides and a cook, if needed, etc. You have to do some physical training before you start the tour. But be mentally prepared: the feeling of freedom!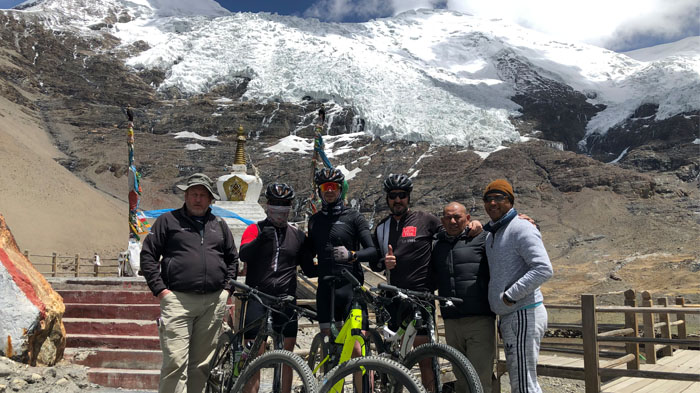 Halfway at Karola Glaciers riding towards EBC
If you are this kind of travellers, and are more fond of exploring the might peak in an adventurous way, you can join our 22 Days Lhasa to Kathmandu Bike Tour or 12 Days Classic Trek from Tingri to EBC via Ra-chu Valley.
For the bike tour, you will start with a few days acclimatization and sightseeing in Lhasa. Before you head for EBC, we will hold a test cycling in Lhasa outskirts to see if you can be fully adapted to the altitude. Then we will follow the same route of overland EBC tours until we reach Rongbuk Monastery, the highest Tibetan monastery perfect for viewing Everest. After that, we will ride all the way to Gyirong border (2,800m) where we enter Nepal. On the way, you will be able to see the 8000-meter-high Shishpangma and the picturesque Peikutso Lake (4,591m).
Insider tips: As a Lhasa-based Tibet tour operator, we also have offices in Kathmandu, Thimpu (Bhutan) and Chengdu (China). We provide 7*24 service and are the only Tibet tour operator that has a customer service manager in Lhasa. We do all these just to provide a smooth and satisfying travel experience for you.
Especially for this bike tour, apart from the usual service, we also provide bike rental and bike transportation service as well as hassle-free transfer service between Lhasa and Kathmandu. Yaks, supporting trucks, a cook, etc. can also be available if needed. Usually we do the bike tour in "4+2" mode, i.e. you ride with minimum daily quota while a supporting truck carries everything else for the whole trip, with two tour guides accompanied. One would give support during your riding while the other goes ahead to look for food and camping site.
Climbing to the Everest Summit: The Most Rewarding Way
Undoubtedly, climbing to the top of the world is a trip everyone has dreamt of. Although currently we don't have expedition tours to climb Everest, we are happy to tailor make one if you are interested. With our decades' experience of Tibet tour arrangement and all the resources we've developed, we can assure you an unforgettable journey to the highest summit of the world.
Recently, there was a news report about climbers queuing as they battle past crowds to reach the summit of Mount Everest, and several have been reported dead because of exhaustion and tiredness in a crowded route to and from the summit has led to delays.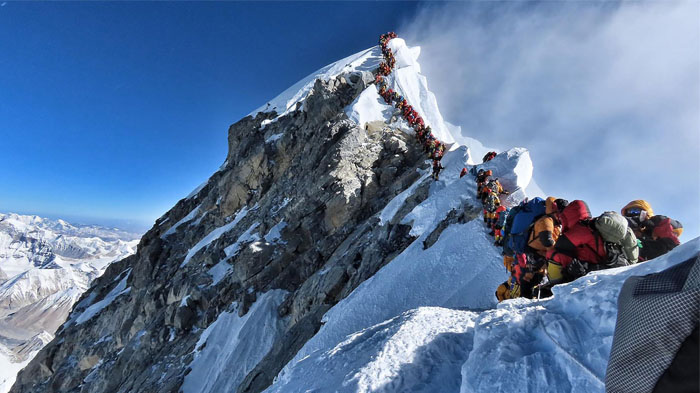 Climbers queuing at Mt.Everest
It was quite sad, and what we should learn from this is to know your physical situation well enough and keep yourselves updated on the tourism situation in Tibet. Luckily, as a responsible tour operator, we have been running Tibet tour since 1984 and thus have all kinds of resources to provide timely news about travelling in Tibet.
Lhotse (8516m): The Guardian of Mt. Everest
Better known as 'south peak', Lhotse is the 4th highest peak in the world. It is also the 2nd highest mountain in Tibet (the highest one is Mt. Everest) and only 3 km to Mt. Everest. Because of this height and adjacency, Lhotse has been seen as the Guardian of Mt. Everest.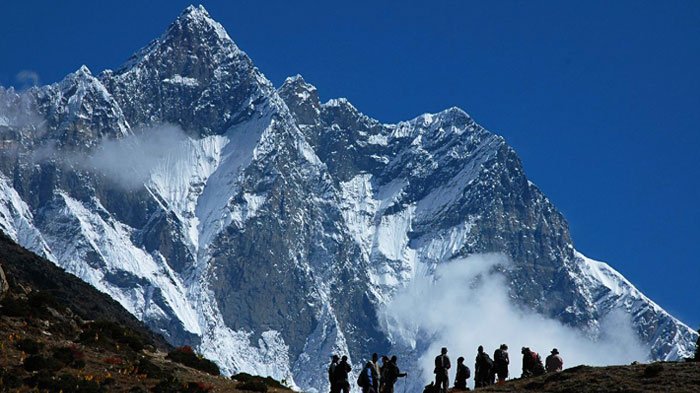 Tourists are enjoying the flank of Lhotse in Nepal
Apart from the usual tours to EBC, the 16 Days Gama Valley Trekking in the Eastern Slope of Mt. Everest will also render a great chance to see Lhotse, together with Mt. Everest. Especially, you can enjoy the panoramic view of the Himalayans at Gawula Pass and take some very nice photos that you will cherish for the rest of your life.
As to climbing, although it's lower than Mt. Everest, the expedition to Lhotse summit is designed for experienced climbers who have previously climbed Everest, and due to the fact the couloir is very narrow and has rockfall danger, which can only hold max. 8 climbers on the route.
Makalu (8485m): World's 5th Highest Mountain
Lying at 8,485m above sea level, Mt.Makalu is the world's 5th highest mountain, located in the border of Nepal and China. It resides in the eastern Himalayas range just 19Km southeast of the giant Mt. Everest. The structure as a perfect pyramid with four sharp ridges makes this mountain all the more spectacular.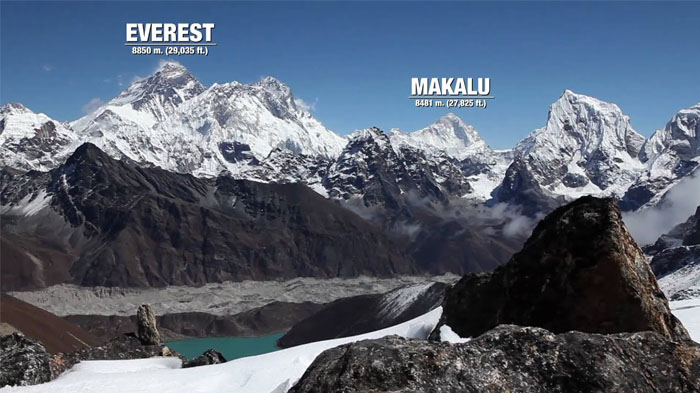 Mt.Makalu and Mt.Everest (Everest's most updated height is 8844.43m)
You can have a long distance view of this amazing mountain at Gawula Pass in our classic 8 Days Lhasa to Everest Base Camp Small Group Tour.
Mt. Makalu is difficult to climb because of its notorious steep pitches and knife-edged ridges. The final ascent of the summit pyramid actually involves technical rock climbing.
Cho Oyu (8201m): The Easiest 8000er for Mountaineers
Yeah, you guessed it. Cho Oyu is the 6th highest mountain on earth. With an altitude of around 8,201m, Cho Oyu is a familiar landmark to climbers ascending Everest's north face. Due to moderate slopes instead of the ridged route, Cho Oyu is considered the easiest to climb among the 14 eight-thousanders.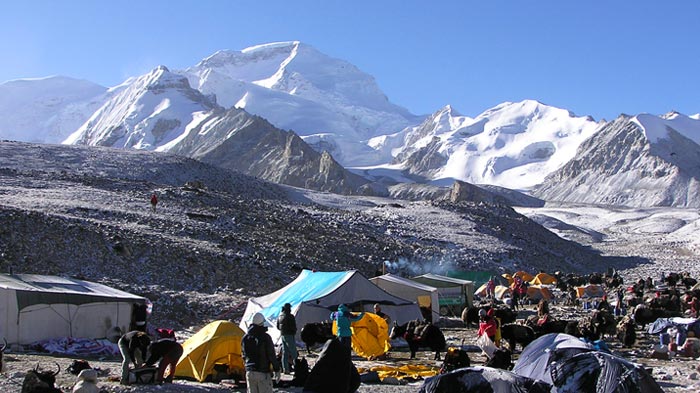 Mountaineers are camping around Cho Oyu and get ready for mountaineering training
You can enjoy this gorgeous mountain from afar in all of the tours above as well. But the best points lies around Saga County on the way to the holy mountain, Mt.Kailash. The epic 15 Days Kailash and Manasarovar Small Group Tour will give you a great chance of admiring this entry-level mountain for mountaineers.
We share the same route as the usual EBC tours until arrival at the base camp. But when we leave EBC after enjoying the amazing sunrise of Mt. Everest, we headed for Saga, and you can enjoy a golden desert on the way, view the worlds' 14th highest peak Mt. Shishapangma (8012m), and the turquoise Lake Peiku tso (4590m). If lucky enough, you are going to have a look of Tibetan wild horses. We then will go to Darchen and start a three-day trek around the holy Mt. Kailash (6638m) Kora.
Shishapangma(8,027m): The Place of Saint
Well, yes, height-wise it ranks last in the 14 eight-thousanders, but keep this in mind: Mt.Shishpangma is the ONLY 8000-meter-high mountain that is wholly situated in Tibet, China, not shared by any other country at all!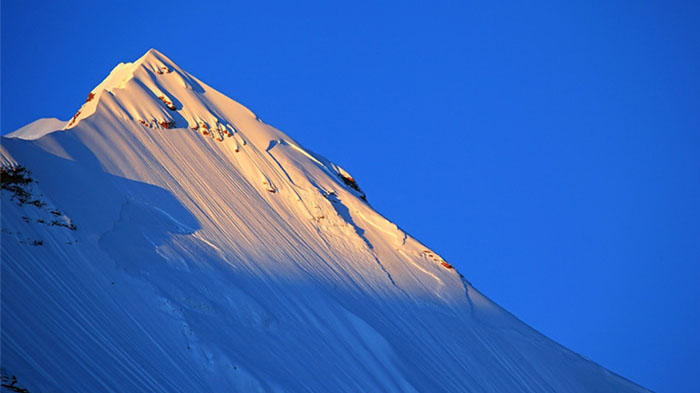 Mt.Shishapangma, the only 8000er wholly situated in Tibet
The 7-day Lhasa to Kathmandu overland tour will enable you to get a closer look at this beautiful mountain. Tourists can view the beautiful peak at Peikutso Lake which is 60 meters north of the Shishapangma. You can also choose to have a Lhasa to Kathmandu bike tour to enjoy the joint beauty of Shishapangma and Peikutso Lake on wheels.
Shishapangma was the last of the 8000m peaks to be climbed. However, it is now considered by many to be one of the most approachable 8,000m peaks to climb because of its direct route and relatively short approach to Base Camp.
Gyachung Kang (7952m): World's 15th Highest Mountain
Just no more than 100m lower than the lowest eight-thousander, Gyachung Kang at 7952m is the highest peak between Cho Oyu (8201m) and Mt.Everest (8844.43m). It is also the 15th highest mountain on earth and the highest peak that is not 8000-meter high.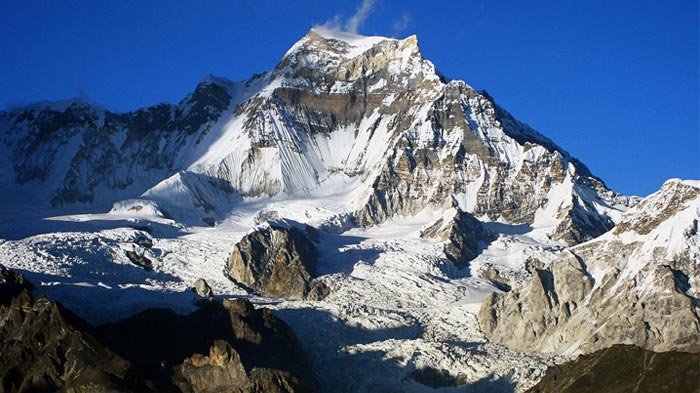 Lofty Gyachung Kang
Although it's less known to us, it is joined by Cho Oyu at its ridges. The best place to have a panoramic view of it is around Saga county, Shigatse prefecture or on the mount Gokyo Ri (5360m) in Nepal. Cho Oyu together with Gyachung Kang forms the source of the largest glacier - Ngozumpa Glacier.
To reach the summit of Gyachung Kang, only simple minor technical skills are required. The summit consists of twin peaks separated by a narrow saddle. It is relatively unpopular because of its height and prominence (700 meters).
Jomolhari (7326m): The Bride of Kangchenjunga
Jomolhari, also known as Chomolhari, is a mountain located at the border of Yadong County, China and Thimphu, Bhutan. It may be less well-known to tourists but that just makes it perfect for an off-the-beaten-path trek. Jomolhari trek is one of the premier Bhutan tours that are popular among not only tourists but also locals.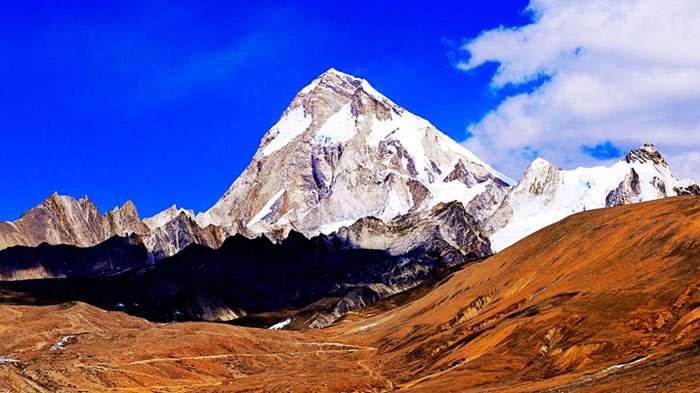 Jomolhari, also known as Chomolhari
You can join our Bhutan trek tour to enjoy the natural beauty of Jomolhari, together with the pristine landscape and cultural immerse of the last Shangri-la.
As the second highest peak in Bhutan, Jomolhari climbing on the Bhutan side was allowed for a short period between 1983-1996. Right now, tourists can only trek to the base camp in Jangothang, tourists pitch tents and spend days and weeks observing and admiring the pristine mountain.
Insider Tips: You are not allowed to travel in Bhutan alone. Rather, you have to apply for a Bhutan visa, together with a tour package, with a local Bhutan tour agent or their international partners. You have to travel in a group and there's a daily minimum tariff. Check here to see how to plan your Bhutan travel cost. (Exceptions are Indian, Bangladeshi and Maldivian nationals. Find more about how to get Bhutan permit.)
As a tour agent, we have had years' experience with the Tourism Council of Bhutan. And since we have offices in Thimphu, Kathmandu, Lhasa and Chengdu, we can assure a smooth and hassle-free transfer service between these destinations.
Mt. Pumori (7161m): Everest's Daughter
Just 8 km west of Mt. Everest, the pyramid-shaped Pumori is referred to 'Everest's Daughter' by some climbers. It lies on the Sino-Nepal border in the Mahalangur section of the Himalayas but you're not able to see Pumori fully from Tingri, Tibet. Hence the best place for viewing is the Sagarmatha National Park in Nepal. Used as a training peak for past Everest teams, this peak now is offered as a guided climb by many different companies. There may be as many as 20 expeditions per climbing season.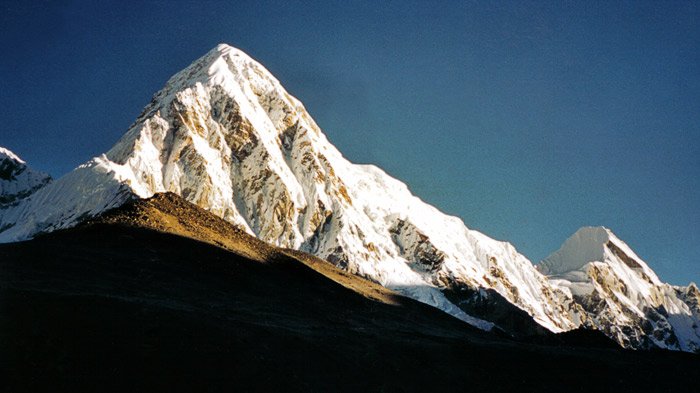 Pumori is known for its pyramid-shaped peak
For our guests, you can join our Everest Base Camp Trek in Nepal to enjoy the view of Pumori along with that of Everest.
Pumori expedition from the South East Ridge presents climbers with some of the best views of Lhotse and Mount Everest. Mt. Pumori (7161m) is the most popular 7000m+ mountain in Nepal and the starting point to other high altitude mountains. Plus, you are able to use the Everest basecamp facilities.
Conclusions
Shigatse is known for Mt. Everest, but actually it means more than that. 5 of the 14 eight-thousanders are located in Shigatse, and there are also some famous 7000-meter-high mountains here. You can travel by vehicle and have a glimpse of these natural beauties from afar, or you can trek or cycle to get a more close-up view. Tibet trains have also made the journey easier and faster, though you have to look out of the altitude sickness. In the end, you can take a flight from Kathmandu to Lhasa and have a bird's-eye view of these highest mountains in the Himalayan Range.