How to Avoid Altitude Sickness in Tibet
Traveling to Tibet is unlike almost everywhere else on the planet, as it is one of the most unique destinations in the world. Not only is this amazing destination a unique place to travel, but it is also set on the world's highest plateau, the Qinghai Tibet Plateau in western China. At an average altitude of around 4,000 meters (13,123 ft.), the Tibet Autonomous Region is one of the few places for travelers where even the simplest trip, without climbing any mountains, can be subject to the symptoms of altitude sickness.
Anyone traveling to Tibet should understand what altitude sickness actually is, what causes it, and how to alleviate the effects of this potentially fatal illness. Normally, it is only fatal in extreme circumstances at altitudes above 6,000 meters, and for normal tourists to Tibet, you will experience only the minor symptoms of altitude sickness in one way or another. Here, we have a definitive guide to altitude sickness and how to deal with it and even avoid it if possible.
What is Altitude Sickness?
Altitude sickness is considered as the biggest health risk for travelling to Tibet. An altitude over 3,000 meters (9,843 feet) is usually defined as high altitude. Tibet is a land with average elevation above 4,000m. Most areas where people can travel and trek are more than 3,000m, so tourists need to know how to avoid altitude sickness.
People with serious heart diseases should not visit Tibet.
Those with less serious heart problems need to consult a doctor before starting your trip.
People with high or low blood pressure need to consult a doctor before traveling.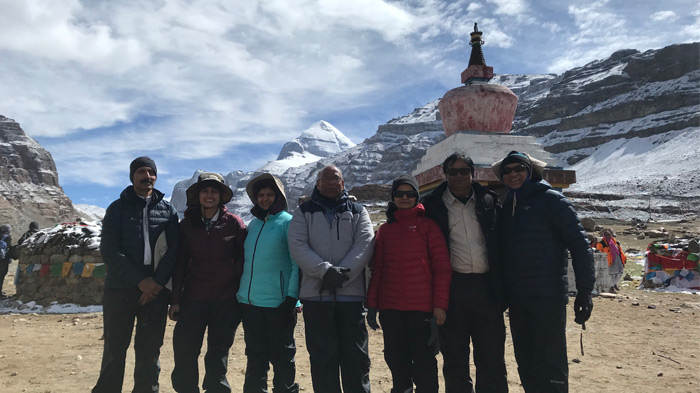 We need to tell tourists how to avoid altitude sickness.
Symptoms of Altitude Sickness
Acute mountain sickness is common at high altitudes due to the decreasing availability of oxygen. Most people will appear different degrees of symptoms at high elevation, such as Headache, Nausea, Dizziness, Fatigue, Shortness of breath, Loss of appetite, Disturbed sleep, Feeling unsteady, etc.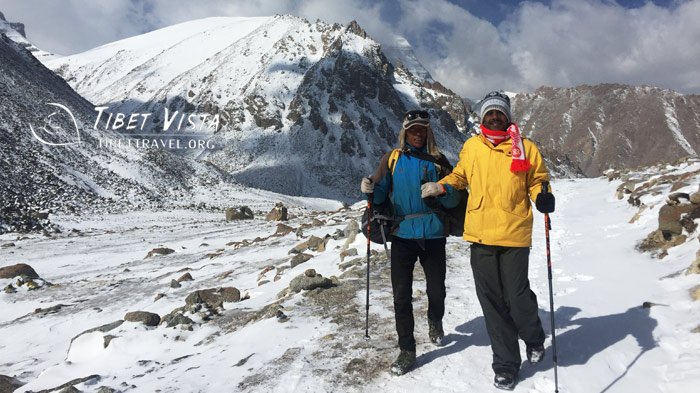 Our assistant helps clients finish kora in Mt. Kailash.
The occurrence of altitude sickness depends on the altitude. The higher altitude, the serious symptoms appear. If a tourist suffers from altitude sickness, the best remedy is to take him to a lower altitude. It is extremely dangerous to let him traveling to a higher place that may cause more serious symptoms even death within few minutes.
Though altitude sickness can be very serious, there are only a handful of tourists really suffering from that. Most people will experience one kind or another altitude sickness symptom upon their arrival in Tibet. And they can soon acclimatize to high altitude within one or two days in Lhasa. The symptoms will usually gradually decrease and eventually disappear.
How to Avoid Altitude Sickness in Tibet
There are some things you can do both before you travel and while you are already in Tibet that can help to reduce the risk of getting altitude sickness as well as alleviate the symptoms if and when they do occur.
Before Visiting Tibet
Prepare Physically and Mentally
Traveling across the plateau at higher altitudes puts more stress on your lungs and blood to provide enough oxygen to the major organs, and while the how and when of altitude sickness can be different for everyone, there are some preparations you can make before you travel that can help to potentially reduce the risk of getting altitude sickness when you arrive.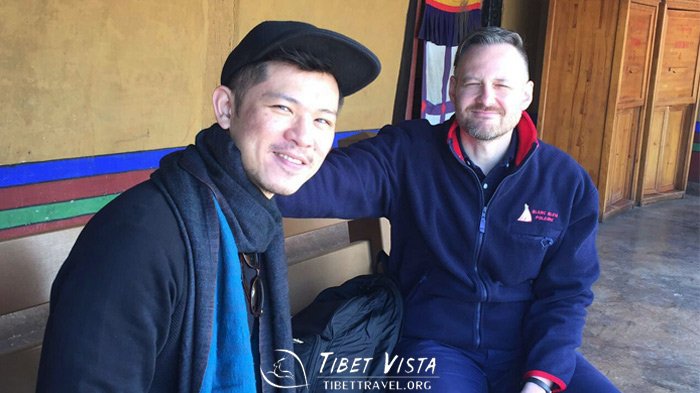 Have a rest while touring Potala Palace
Physical fitness is not always a guarantee that you will not get altitude sickness, and it is really the internal condition of the body and its ability to adapt that decides whether you will get altitude sickness or not. Being physically fit can sometimes help to reduce the risk of altitude sickness, so by preparing for the trip with regular exercise, such as jogging, cycling, and swimming, there is a potential for reducing the chance of altitude sickness in Tibet.
Prefer Tibet Train to Lhasa
Firstly, the myth that the trains to Tibet allow you to acclimatize to the heights of the plateau before you arrive is nothing more than a perpetuated urban legend. While it is true that traveling by train from Xining, after spending a day or two there acclimatizing to the intermediate altitude of the town, can help to make acclimatizing to the height of Lhasa a little easier, being fully acclimatized by the time you reach Lhasa by train is not actually possible.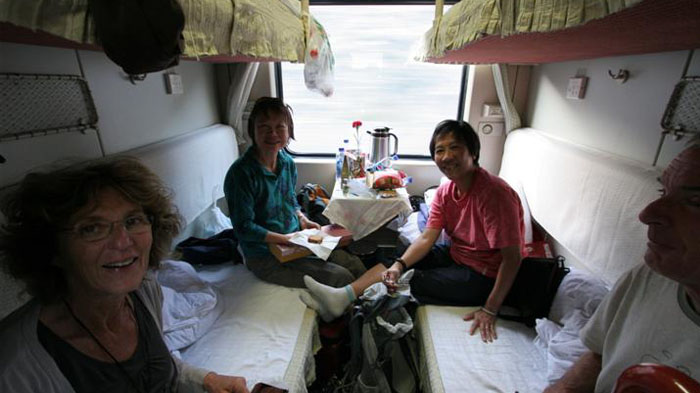 Taking the famous Tibet Train to Lhasa
The trains to Tibet are pumped with oxygen after passing Golmud, so actually have a higher oxygen content in the air than that of sea level. The main reason to travel by train is to enjoy the stunning landscapes of the northern area of the plateau and the beautiful Kunlun and Tanggula Mountains. That said, there are some people that have claimed to not have felt altitude sickness after traveling by train, so there may be some very slight benefits to the more gradual climb itself.
Prepare Proper Medicine for AMS relief
There are some medications, both chemical and natural, that can help to relieve the symptoms of altitude sickness, and in some cases, even prevent it altogether. Medications from pharmacies are not recommended for anyone traveling to Tibet's higher altitudes, and before considering taking medications of any kind, you should consult your own personal physician at length to ensure that there will be no detrimental side effects of the drugs.
The main drugs to combat altitude sickness are:
Acetazolamide (Brand Name: Diamox) - A prescription drug that acts as a diuretic and should only be taken under direction from a doctor. The drug increases the person's rate of breathing so that a higher amount of oxygen is inhaled over a set time period, allowing the body to adjust to higher altitudes faster. Acetazolamide can only reduce the more minor symptoms of altitude sickness.
Dexamethasone - A prescription drug that is sometimes used to prevent the symptoms of altitude sickness. When used as a prophylaxis, , frequent treatment of high doses of Dexamethasone have been shown to prevent Acute Mountain Sickness, and for most people, two doses a day while on the plateau can prevent altitude sickness from occurring. However, Dexamethasone should not be taken without a prescription and when not under the supervision of a medical practitioner.
Other drugs used for combating the symptoms of altitude sickness are ibuprofen or paracetamol for the headaches and anti-nausea tablets for those feeling sick. While these can be bought over the counter, you should check if there could be any possible side effects for you with your own doctor when used at higher altitudes.
Traditional Chinese Medicine (TCM) has been around for thousands of years, and there are many remedies used in TCM that most westerners are not even aware of. In China, there is a little known remedy in TCM that is available from traditional pharmacies that has been known to reduce the risk and symptoms of altitude sickness. Known as Hong Jing Tian (written as 红景天 in Chinese), the remedy is taken in pill form, and the recommended dose is 2 pills twice a day. Made from the root of the Rhodiola plant, which is actually found at high altitudes all around the world, the medicine is actually said to work, and has been tried and tested by travel writers and bloggers from around the world. While it has to be said that it may not work for everyone, the remedy is so cheap to buy in China that there is almost no financial risk if it does not work, so it is always worth trying rather than taking serious prescription drugs. - Learn more about healthy travel in Tibet.
Don't Catch a Cold before Departure to Tibet
Catching a cold before you travel to Tibet can reduce the body's ability to properly acclimatize to the higher altitude by reducing the number of red blood cells carrying oxygen around the body in order to redirect them to aid in the fight against the illness. If you have a cold, or have recently recovered from one, you should leave it at least two weeks after full recovery before traveling, to ensure your body is back to full strength.
During Your Stay in Tibet
Get Enough Rest before Travelling, esp. to Newly-arrived tourists
Once you arrive in Tibet, normally in Lhasa, you really need to rest properly to ensure that your body is ready for the days of acclimatizing ahead. Plenty of good rest can reduce the risk of altitude sickness as the body is at full strength and can adjust faster and more easily. Avoid strenuous exercise, smoking, and taking additional oxygen if you can, to reduce the risk of altitude sickness. Every time you use oxygen to help relieve the symptoms, you reduce the body's adjustment and it can sometimes have to start producing more red blood cells again from the start. Oxygen should only be used if absolutely necessary for life-threatening conditions.
Always Follow the Gradual Ascent
The "gradual ascent" rule is an important rule when traveling at higher altitudes, especially if you are intending to travel even higher. When traveling at altitudes above 2,500-3,000 meters, it is recommended to ascend no more than 500 meters per day, and when ascending, to have regular rest days after every 1,000 meters.
When you arrive in Lhasa, you will have a few days of light sightseeing in the city before heading off into the vast open wilderness of the plateau. This time is best spent resting and acclimatizing when not touring the sights, to better ready yourself for higher altitudes, such as Gyantse, Shigatse, Lake Namtso, and the sacred Mount Kailash. It is also recommended to sleep at a lower altitude than the highest altitude you reached during the day. - Check the popular tours in Lhasa.
Keep Proper Dining
Dining in Tibet can be tempting, but for at least the first couple of days you should try and avoid the delicious street foods of Lhasa, and stick to a more protein-rich diet. Plenty of red meat (including good solid yak meat!), vegetables, and other high protein foods such as local yogurt, are good for the digestion and replacing lost energy from the body's adjustment to the higher altitude.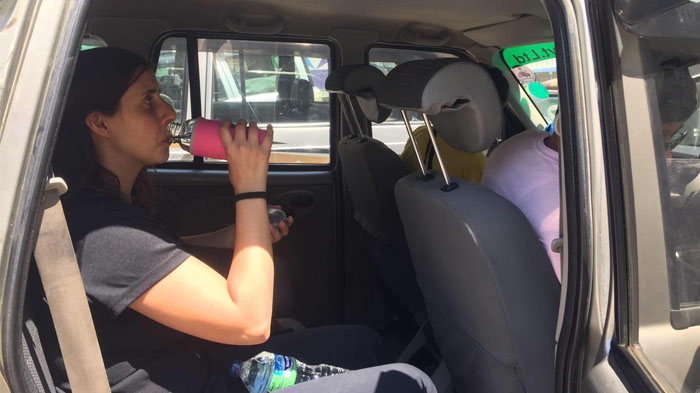 You should drink plenty of water during your Tibet travel
And try to avoid coffee and strong western-style tea, as these are both diuretics, and can leave you dehydrated and more susceptible to altitude sickness. You should also drink plenty of water to stay as hydrated as possible, as this helps with a faster adjustment to the altitude.
Suggestions for Traveling to Namtso, EBC, and Kailash
If you are traveling to any of the most popular areas of Tibet outside Lhasa, such as Lake Namtso, Mount Everest, and Mount Kailash, you will be traveling over a long distance and ascending relatively high. You will also be traveling over three of the highest passes in the world, all of which lie at altitudes above 5,000 meters. These high passes can bring on bouts of altitude sickness if you spend too long at the crest, so after reaching the top, take the photos you need quickly, so that you can start to descend and remove the chance of altitude sickness.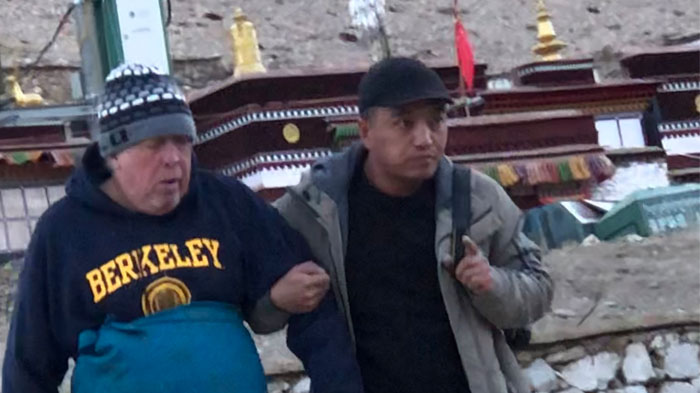 Our guides can help you if you are feeling the effects of altitude sickness
Our expert tour guides are also well trained in recognizing and treating the symptoms of altitude sickness, and are all trained to international standards in first aid and Acute Mountain Sickness. Our guides can help you if you are feeling the effects of altitude sickness, you just need to let them know. All our vehicles contain oxygen tanks for your use if necessary, and have cellphones with 24/7 contact to your personal trip advisor, who can help with any medical emergencies.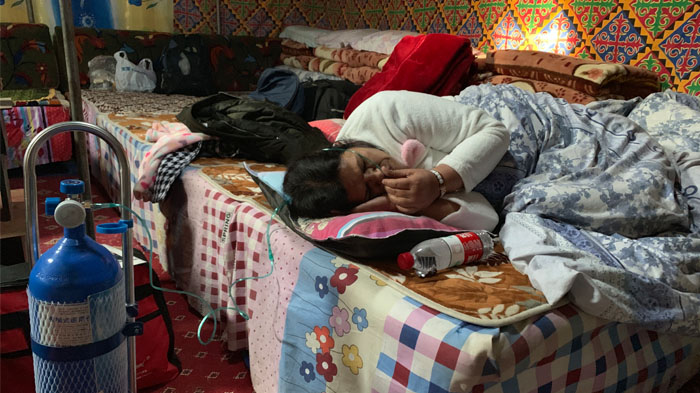 Hyperbaric oxygen chambers are available in the local hospital
Both Everest Base Camp and the small hospital in Darchen have hyperbaric oxygen chambers for travelers with the more severe symptoms of altitude sickness, where treatment can be given.
What to do When You Have Altitude Sickness in Tibet?
If you are feeling the symptoms of altitude sickness, whether still in Lhasa or out on the road, then you should inform your guide and other party members, and seek help to alleviate the symptoms. Always carry the medicines you need and can take, and ask for oxygen if you feel you need it. If the symptoms persist or do get worse, then you should move to a location at least 1,000 meters lower immediately to ensure the symptoms do not get any more severe. Remember, severe altitude sickness can be potentially fatal.
Conclusion
Altitude sickness does not affect everyone traveling to Tibet, and you may be lucky to not have to experience the symptoms once you arrive in Lhasa. However, you should still be prepared for it and know what the symptoms are, how to recognize them, and how to treat them. Ignorance in terms of altitude sickness can cost you more than just the ruined holiday.