Health Concerns of Tibet Tour
Having an average elevation of around 13123 feet (4000 meters), Tibet is the highest region in the world with some of the tallest mountains on earth. No wonder therefore that it is referred to as the "Roof of the World". Tourism is one of the major industries of Tibet as the place is adorned with some stunning natural beauties as well as several structures of historic and religious importance.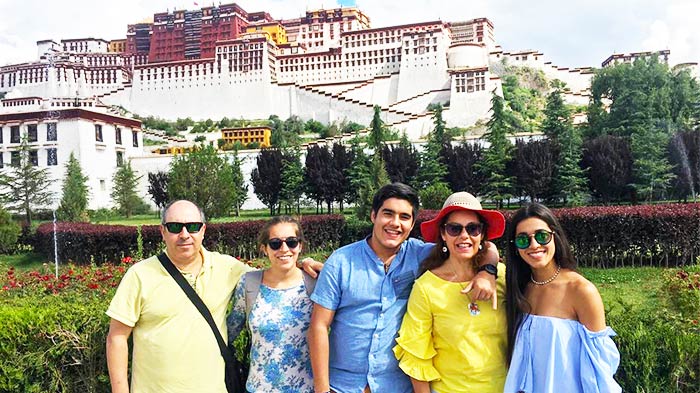 Enjoying a once-in-a-lifetime tip to Tibet
Following are the some notable places in Tibet along with their average altitude: Lhasa – 3600m, Tsedang – 3500m, Nyingchi – 3000m, Shigatse – 3800m, Gyantse – 4000m, Zhangmu – 2300m, Nagchu – 4500m. Hence the weather and climate in Tibet is highly changeable all the time. The atmosphere in Tibet is quite dry for a large part of the year with average snowfall of 18 inches on an annual basis. Northern Tibet experiences soaring temperature during summer and extreme cold in winter. But western region is dominated by lower temperature almost throughout the year. The Indian monsoon also has some effect on eastern Tibet.
Before Travelling to Tibet
Physical Preparation
Prior to your Tibet tour it is better to engage in some physical exercises and activities to make your body fit for the upcoming excursion. This will also increase your immunity and help you fight against different health hazards in a more efficient way.
Perfect Travel Routes to Tibet
By Plane
Presently only one international flight goes to Lhasa (Tibet) and that is from Kathmandu, Nepal. This Air China flight runs three days a week. It is a 55km way from Lhasa airport to Lhasa town. You may fly to Lhasa or Nyingchi if you want. But moving those high altitudes places directly from a lower altitude might put you at extreme risk of high altitude sickness due to the rapid transition.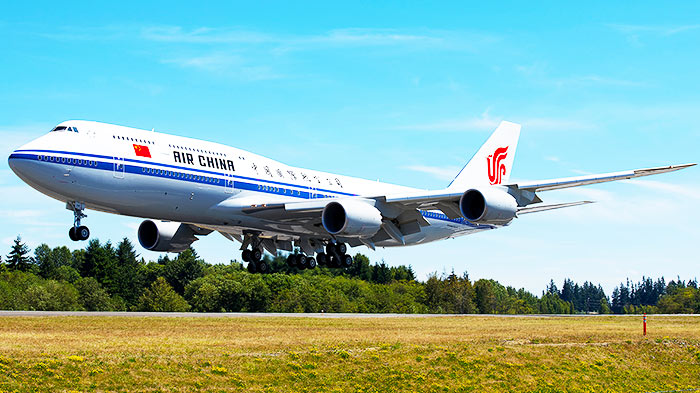 Air China Flight
So it is not quite a good option so as to say. In fact, to avoid acute altitude sickness, many elderly people would choose to fly from Chengdu, Chongqing to Ningchi (3000m), the lowest part of Tibetan plateau and latter travel from Nyingchi to Lhasa. This is because all these halts will offer you enough opportunity to acclimatize in a gradual pace. Of course, there is no saying one would definitely get acute mountain sickness if he flys from a city with much lower altitude. It depends on individual's health and acclimatization ability. Having a good rest shortly after you land in Lhasa and spending a couple of days in Lhasa are highly recommended before moving to higher places in western and northern Tibet.
By Train
The Qinghai-Tibet Railway or also known as Tibet train is the greatest option if you plan to travel to Tibet with both alpine view and better acclimatization. It takes around 20:55 hour from Xining to Lhasa. The cost of travel largely varies depending on the degree of comfort you choose. The prime advantage of this transport mode i.e. railways is that through this journey you can slowly adjust to the atmospheric conditions as you gradually reach higher altitudes. And thus you save yourself to a great extent from the threats of altitude sickness which is much higher in case of journeying through flights.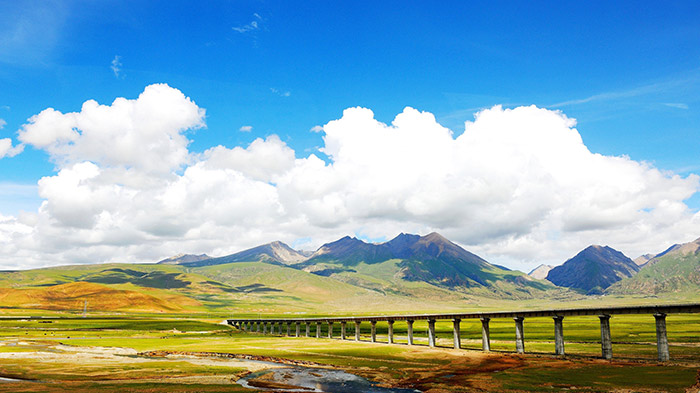 Qinghai-Tibet Railway
Moreover the journey is very exciting and adventurous and offers many scenic beauties on the way. It is interesting to note that these trains are equipped with their own oxygen supply systems as scarcity of oxygen could be an issue in these areas. The windows are also made with anti-radiation glasses to ward off the harsh weathering effect which is predominant out there.
Packing List
As already mentioned the weather and climate in Tibet greatly vary as you move from one place to other. Moreover the weather in a particular place also changes in different times a day. Even you are just stay at one place, the temperature variation between day and night is obvious, so change clothes accordingly. If your Tibet tour covers different places of Tibet, do prepare clothing for different weather, even different seasons. It is said that you can experience four seasons in a day in Tibet. For this reason you must be very careful regarding your packing while travelling to Tibet.
Unless you plan to trek avoid a large backpack and take along a medium-sized wheeled duffel. Actually almost all the journeys in and around Tibet are basically overland trips through vehicles and most of the times your luggage will be borne either by driver and his assistants. So you can pack all the things you require without worrying about the difficulties of carrying them yourself.
Here you must remember that during the overland journeys your bags will be shifted to the rear part of the vehicle and therefore it will not be possible for you to access them in an easy way. Therefore you should carry in your hand a small backpack (20 or 30 liter) for keeping useful things like camera, water bottle, sunscreen, small toiletries etc. which you might require at any point.
Clothing Items
Hiking Pants - 3 to 4 pairs
Cotton Socks – 2 to 3 pairs
Woolen Socks – 3 to 4 pairs
Heavy weight winter coat – 1set
Light weight wind cheater – 1 set
Warm hat and gloves
Wide brim sun hat
Thermal Underwear – 2 sets
Essential Accessories
Small Flashlight with additional batteries
First-Aid Kit
UV protection Sunglass
Small Thermos (for hot water/ tea)
Small backpack (for keeping small accessories)
Small bag (for storing dirty clothes)
Items of Toiletry and Personal Hygiene
Sun-screen with 35 SPF or higher
Thick Moisturizer
Lip Balm containing sunscreen
Travel size shampoo and soap
Tooth paste and brush
Wet Wipes
Hand Sanitizer
Toilet Papers
Health Concerns When Travelling In Tibet
You can face a number of health related issues while travelling in Tibet. So it is strongly recommended to take all available precautions beforehand. Although there is no guarantee that you can avoid all issues through taking all precautions still prevention is always better than cure. Following are some of the health issues you are likely to encounter.
1. Acute Altitude Sickness
This is the most common health issues faced by a large number of people during their trip to Tibet. It is caused by the decreased level of oxygen in high altitudes and results in symptoms such as breathlessness, nausea, headache, diarrhea, increased flatulence and swelling of different body parts specially hands, feet and face. Severe symptoms like High Altitude Pulomonary Edema or HAPE and High Altitude Cerebral Edema or HACE is noticed at excessively higher altitudes. To avoid this hazard the most effective way is to retain a slow pace as you go upward. Several medicines such as Acetazolamide, Ibuprofen, Dexamethasone and Nifedipine are available to treat the symptoms of altitude sickness.
2. Hypothermia
It is the condition in which the body temperature is reduced as the body disperses more heat compared to what it absorbs. Its main cause is exposure to chilling temperature as in high altitude regions. Mild hypothermia is characterized by shivering and confusion while severe cases involve higher risks of heart blockage. However, to majority of ordinary tourists, there is no need to worry about that. The all our Tibet tour itineraries are safe enough for our clients to handle, not like those what professionals adventurers do such as climbing Mt. Everest, etc. Making sure the safety of our clients is one of our top priorities.
3. Sunburn
The high altitude in Tibet makes the sun strikes with increased intensity resulting in the higher possibility of sunburns which is not only uncomfortable but also having more serious consequences. The most effective way to avoid it is to use a powerful sunscreen with ultra violet protection and SPF not less than 30. You should also use sunhat and sunglasses in addition to that.
4. Dog bite
Beware of stray dogs in Tibet as the place is full of them. You'd better stay away from them to the best of your abilities. Also wear thick pants and boots to keep yourself out of the harm's way because these dogs are generally bigger, mightier and more aggressive than the stray dogs you find in your areas. If they chase you for any reason pick up a stone and try to scare it away instead of running in fear which might prove more harmful in consequence.
5. Diarrhea
It is also one of the common problems while traveling in Tibet. It is basically caused by loss of increased water vapor from the body which is due to the atmospheric effect of high altitude. When attacked with it, consume plenty of fluids except for milk which worsen the symptoms. The soft drinks also would not help much, instead choose plain water or ORS if available. And as preventive measure avoid greasy and rich food as they are prone to cause diarrhea. Use plain and healthy foods while you are traveling to keep a number of health problems at bay.
For travelers travelling to Tibet for the first time, pay attention to the health concerns of Tibet tour. Many travellers would face lots of challenges to their health. Make sure you have good sleep before going to Lhasa. When you are in Tibet, stay away from strenuous activities, alcohol and smoking, and make sure to have enough rest. Besides, the medical service in remote areas of Tibet is limited, so it is important to prepare some medicine in common use. A first-aid kit is important for you to travelling in remote places of Tibet, especially trekking in Tibet.