Tibet Food and Dining: Best Dishes, Food Options, and Dinning Taboos
Affected by the alpine altitude and harsh environment, Tibetans have their featured food species and unique dining habits. They eat barley as staple food because it's one of the few crops that grow well here. Their daily diet includes more meat and less vegetable as the latter is hard to adapt to the climate here. For more info about Tibetan food and dining, like what to eat during a festival, where to find authentic local cuisine, where to get more food options, what dining Etiquette and Taboos to pay attention, please keep reading.
Tibetan Food Features
High in Proteins and Nutrients
The harsh natural environment in Tibet shapes strong bodies of plateau animals including yak, mutton, and goat. Their meat tastes delicious and is rich in proteins and energies, which is the main source for Tibetan people to take in nutrients.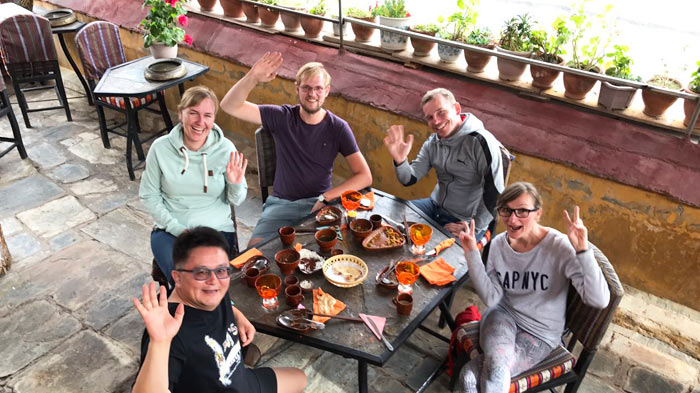 Enjoying authentic Tibetan food in a local restaurant of Lhasa.
Traditional Tibetan food also contains a large number of dairy products, a supplement to gain protein and heat. The popular dairy products including yak butter tea, yogurt, yak butter, yak cheese, etc., also come from the animals adapted to the Tibetan climate.
Influenced by Chinese, Nepalese, and Indian Cuisine
Tibetan food is influenced by the cuisine of its neighbor areas like mainland China, Nepal, and India. Tibetan Noodles and dumplings may remind you of traditional Chinese cuisine, while the habit of eating cheese and butter are adopted from Nepal or India.
Top 6 Tibetan Food and Drink for Tourists to Try
The top 6 popular Tibetan food and drink that are not to be missed by every visitor to Tibet are introduced here.
Tsampa
Tsampa is the staple food in Tibet. Made of flour milled from roasted barley, tsampa tastes hearty and nutty. While eating tsampa, hold a bowl in your left hand and use your right hand to mix the flour with yak butter tea. Put the mixture in the bowl and roll it into small lumps. Then you can enjoy this unique Tibetan flavor.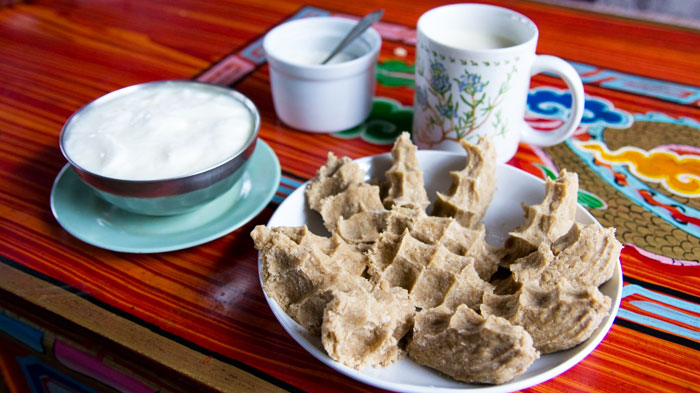 Tsampa, the staple food in Tibet.
Yak Butter Tea
The best match to tsampa - yak butter tea is the most popular beverage for Tibetans. Made of brick tea/Pu'er tea, yak butter, yak milk, and salt, it has a thick flavor of tea and milk, tasting salty and delicious. For foreigners traveling in Tibet, if you can't get used to the taste of yak butter tea, try Tibetan sweet tea.
Tibetan Sweet Tea
Tibetan sweet tea is a blend of black tea, powdered milk/fresh milk, and sugar. It's another popular tea in Tibetan people's daily life. As the name shows, Tibetan sweet tea tastes sweet, instead of salty, which is more acceptable to foreign tourists.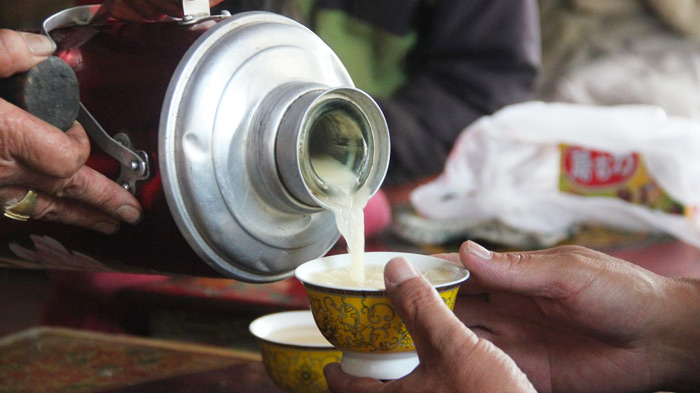 Tibetan sweet tea, the most popular beverage for Tibetans.
Tibetan Noodles
Surprisingly, Tibetan noodles are not made of barley, but wheat flour. Wheat can only be planted in areas below the elevation of 3,000 meters, including Shannan, Qamdo, and Nyingchi. The soup of Tibetan noodles is made from yak bones, very tasty and delicious.
Tibetan Yogurt
Yak milk is the only ingredient used to make Tibetan yogurt, which is unique to Tibet. Tibetan yogurt tastes sour. You can add some sugar, sesame, or preserved fruit to make it more delicious. Tibetan yogurt is the traditional treat during the Shoton Festival. You can involve yourself in the festival if you plan to visit Tibet in August.
Chang
Chang, also known as Tibetan barley wine, is a traditional Tibetan beverage. Made of Tibetan barley, Chang features a thick white color, with very low alcohol content. Local people preferably drink this wine and love to offer it to their guests.
More Local Tibetan Food and Cuisines
Except for the 6 most popular Tibetan food and drink mentioned above, adventurous food lovers can have a further exploration. The followings offer more choices of local cuisines.
Gyurma - a blood sausage made of yak or sheep's blood. Tibetans sometimes add rice or roasted barley flour as filler as well. It tastes tender and delicious.
Lucky Head - the head of a sheep, traditional cuisine to eat in the western region of Tibet to celebrate the New Year. The local elders believe the sheep head symbolizes luck.
Chebureki - a fried dish made of dough, shaping like a crescent and filling with minced meat and onions.
Drokpa Katsu - a traditional dish of stewed tripe that includes curry, salt, and monosodium glutamate.
Gyabrag - a pancake made of barley, yak butter, dry cheese curds, and sugar.
Gyaho - a hot pot contains the ingredients like vermicelli, kombu, mushrooms, meatballs, bamboo sprouts, etc.
Acid Turnip Beef - a mix of beef and acid turnip. Acid turnip tastes sour, crispy, and refreshing, and beef tastes soft and delicious.
Stewed Ribs - the most common cuisine in Tibet that uses the ribs of yak to stew with carrots. This dish is high in protein and vitamins.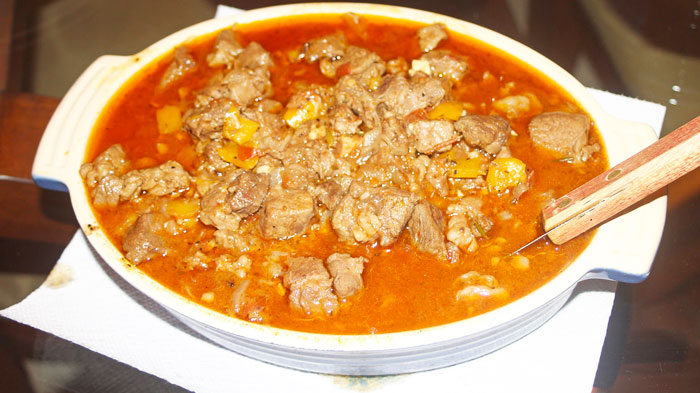 Stewed ribs, the most common cuisine in Tibet.
Featured Tibetan New Year Food
Tibetan New Year, also known as Losar, is the most important festival for Tibetan people, marking the end of the past year and coming of the new year. There are some featured Tibetan New Year food, you can have a try if you have the plan to take a Tibetan Losar festival tour.
Gundain - a variety of Tibetan pastry served as a starter of Tibetan Losar. This pastry is made of barley, mixed with dry curd, wild ginseng, yak cheese, and brown sugar.
Guthuk - a soup prepared for the eve of Losar. Losar is a festival celebrated to welcome the new year. The soup is made with 9 ingredients, including meat, flour, crushed barley, radish, dry or fresh peas, a dash of dry fenugreek leaves, salt, pepper, and a dash of coarse dry Tibetan cheese flakes.
Khapse - a deep-fried pastry that is prepared during the Losar. It is made from flour, eggs, butter, and sugar, featured in different shapes and sizes.
More Food Options in Tibet
In addition to the traditional Tibet cuisine, you can expect more food options.
Western Food
Usually, in hotels and large restaurants in Lhasa, you can find western food. Pizza, pie, pancake, burger, hotdog, salad, soup, etc., are easy to get.
Sichuan Cuisine
Sichuan cuisine is prevalent in Tibet. For those who love the spicy taste, Sichuan food can be found in almost every corner.
Vegetarian Dish
Most Tibetans are Buddhist and they tend to eat vegetarian dishes during religious holidays, so you can always find several delicious vegetarian options in Tibet.
Where to Eat in Tibet?
Daily Diet in Teahouse, Restaurant, Café or Hotel
A Tibetan teahouse is where you can find traditional yak butter tea and sweet tea, and snacks like tsampa, yak yogurt, etc. Local restaurants and some guest houses are the best options to try authentic Tibetan food, for example the Crazy Yak Saloon, Tashi I, Tashi II, Kagui Nongmo Sakhang, etc.
There are restaurants that offer western dishes, for example, the Namaste Restaurant, Snowland Restaurant, Dunya Restaurant, etc. Café of some hotels are also good places to eat western cuisine, such as the Hard Yak Café of Lhasa Hotel.
Dining Tips for Camping and Trekking in Tibet
Along most trekking routes in Tibet, you can find guesthouses in monasteries or Tibetan-run tented camps, where instant noodle, fried rice, soup, sweet tea, hot water, etc., available.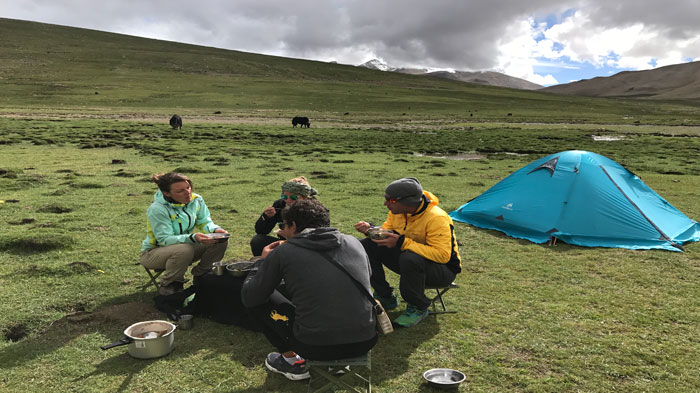 Enjoying the food cooked by yourself during the trekking tour.
If you go to further areas to trek, you can cook by yourself. It's recommended to bring some easily cooked food in advance, such as bread, milk, dried beef, canned beef or pork. When there are more than 5 companions in your group, you can hire a cook to prepare for meals.
Tibetan Dining Etiquette and Taboos
Tibetan Dining Etiquette
1. If you are invited into a Tibetan home, remember that it is rude to ask for tea or food directly. Just wait to be offered food.
2. If you are in a Sherpa home, you must decline the first offer of food, regardless of how hungry you are.
3. Use only the fingers of your right hand to touch food.
4. When you are offered wine, take over the wine bowl with both hands, then use the left hand to hold up the bowl, dip the wine with your right-hand ring finger, and flick your finger.
5. While having meals, avoid filling your whole mouth and produce any noises of eating or drinking.
Tibetan Dining Taboos
1. Fish is considered to be holy, so it is tabooed to eat fish in Tibet.
2. The meat of animals that have round hoofs like a horse, donkey, mule, etc., is tabooed to eat in Tibet.
3. It's tabooed to eat garlic before any religious activities or on any festival occasions.
Health Tips for Dining in Tibet
1. Drink plenty of water, and bottled water is the best option. Bring a water filter or purifying tablets just in case bottled water isn't available.
2. Try your best to eat more fruits and vegetables for an extra nutrition lack in traditional Tibetan food.
3. Long rides are inevitable in Tibet and it's useful to pack some snacks like energy bars or biscuits.
Conclusion
Now you have an idea about the food and dining in Tibet. For authentic Tibetan food, the local restaurants and some guest houses are great places to go. If Tibetan-style cuisines are not your favorite, don't worry and you can find plenty of restaurants offering western food. Even vegetarians can also find many delicious dishes to try during the Tibet tour!