Food and Dining in Tibet
Tibet is extremely beautiful in terms of its climate and the heavenly scenic beauty. Tibet has high-altitude topography, which have significantly influenced its culture and Tibetan cuisine and gave its unique character. The high elevation prohibits the cultivation of fruits and vegetables. Due to the alpine and harsh environment there is no significant rice cultivation, that's why rice is not included in the staple Tibetan cuisine and also vegetables acquire less place in cuisines.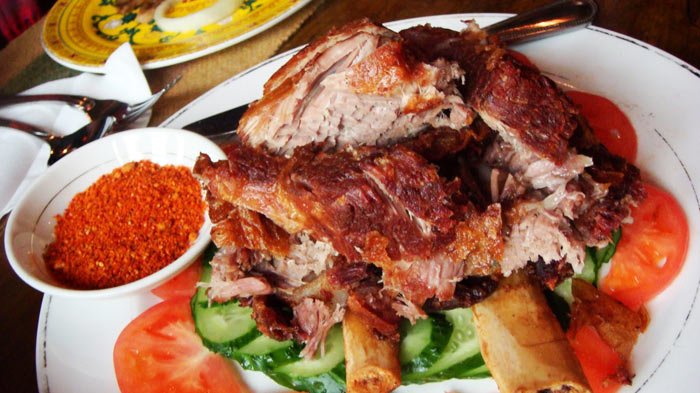 Yak Steak
Barley is the dominating crop here and is notably cultivated all over the Tibet whereas the environment is difficult for common farm animals like sheep, cow, pigs and chicken and is suitable for goat and yak. Tibetan ancestors were nomads so food and beverages are dominated by meat and dairy.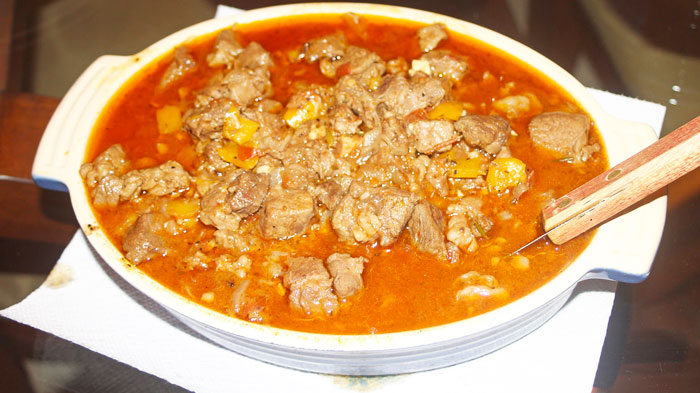 Stewed ribs
Tibetan cuisine are peculiar, if you are adventurous ,these are must try recipes as this magical land offers the most authentic dishes to experience, though it may take sometime for you to get used to the local cuisine but it will be a lifetime experience. Its cuisine has one common feature which is found in most of dishes and beverages is the high energy content, At first sight it may look high in calories , but given the harsh climate, these staples are highly appreciated as such foods keep the body warm and help in fighting cold. Some staple food and beverages in Tibetan cuisine are unique and to try them will be a whole new experience for the tourists.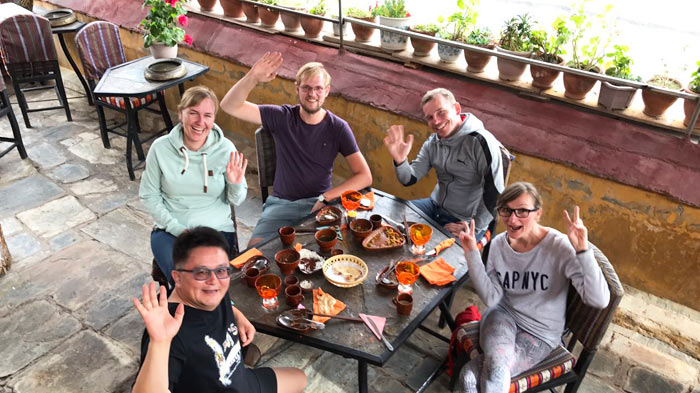 Enjoying aunthentic Tibetan food in local Lhasa restaurant
Tibetan cuisine is greatly influenced by the cuisine of its neighbour areas like Chinese, Nepalese and Indian cuisine, it consists some blend of these cuisine but still holds up its unique taste and significant character. Cheese is prepared often from the meat of yak and goat. Tibetan cuisine has the dominance of butter and noodles mostly and although noodles and dumplings remind you of Chinese cuisine, but the flavour is significantly different and is heavily influenced by Nepal and Bhutan. Despite of its unique flavours and different tastes, the influence of Chinese, Nepalese and Indian cuisine are heavily felt in the Tibetan cuisine.
Staple Diet of Tibetans
Tsampa is considered as the national dish while butter tea is the national beverage of Tibetan people. They are most consumed food and beverage with the most unique flavour on the plateau. This makes tsampa and butter tea easily available there, These are found mostly everywhere whether a big restaurant or say it a small tea stall. Its popularity includes it to the list of must try Tibetan food and beverage.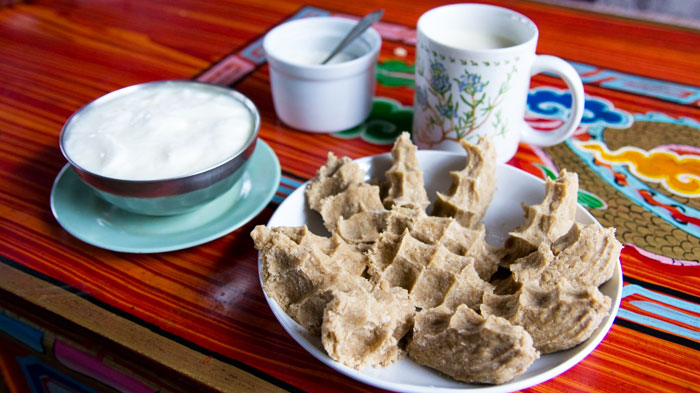 Tsampa
Barley is the most important crop of Tibet and tsampa is prepared with flour milled from roasted barley, has hearty and nutty taste. Tibetan people are collectively referred as po mi tsamsey, this is how Tibetan people are collectively referred because this means tsampa eaters as Tibetan people from different regions and sections always eat and appreciate tsampa. The mixture prepared with the national beverage called butter tea and roasted barley flour, its then rolled in to small balls with hands and often eaten with the butter tea itself. To eat tsampa, hold the the bowl provided in your left hand and use your right hand to mix the flour with a little tea, rolling the mixture into small lumps. Use only the fingers of your RIGHT hand when touching food. Eat the lump of tsampa/tea with your fingers.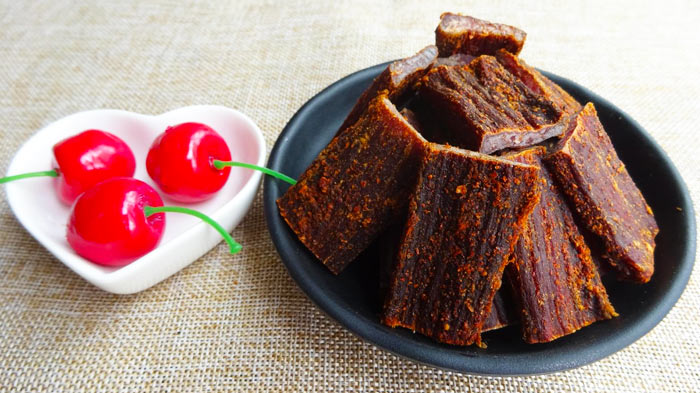 Meat of Yak
The other major food includes wheat flour, meat of yak, goat and pork. The popular dairy products such as butter, milk and cheese produced especially from yak and goats meat. The people in Tibet generally consume more meat due to the higher altitudes. And the other big reason is the scarcity of vegetables as due to the alpine environment only a few vegetables and fruits grow. If you are a vegan then it will be bit costlier for you to dine there as the scarcity of veggies and fruits make them expensive there. Rice is not included in Tibetan cuisine as rice is not cultivated there, weather conditions doesn't support its cultivation so its consumption is restricted in Tibet. Rice is included in the list of imported crops.
Main Cuisine
Cuisine includes traditional Tibetan, Chinese, and Western cuisines, as well as Indian, Nepaleses, Himalayan, and other cuisines. All Tibetan foods are worthy of experiencing at least once while you are there, even yak butter tea. We highly recommend the Tibetan restaurants in Lhasa with their excellent traditional meals. You will notice of a lack of fish, this is for both cultural and religious reasons. In general, strict vegetarians will find food choices very limited.
Sausages of blood: It is a very popular cuisine in Tibet. Each time when sheep is butchered, cooking of blood of the sheep is not preferred but to convert it into the blood sausage is the method, which tastes delicious and is tender in texture to eat.
Acid turnip beef: It is highly popular amongst the people of Tibet and famous among visitors too. It is an ancient cuisine and had appeared since early times. The flavour of this dish is refreshing, soft and crispy.
Stewed ribs: It's a kind of most common cuisine in Tibet, the ribs of yak are stewed in carrots.
Lucky Head: Local old people believe the Sheep Head is lucky. In the western region of Tibet is it is believed that, one must eat it in order to get lucky and to celebrate the New Year as per them its consumption brings luck.
Chebureki: It is a fried dish, in which the meat is deeply fried and minced then cooked with good amount of onions.
Cheser Mog: It is a preparation of rice, whose authentic recipe is prepared with melted butter made from yak meat, for sweetness brown sugar is used, little salt and then its mixed and garnished with some raisins.
Chexo: It is a preparation of rice. Cooked rice and yogurt are the main ingredients of this dish.
Drokpa katsu: It is a traditional dish of stewed tripe which contains curry with funnel, little salt and monosodium glutamate.
Gundain: It is a variety of a Tibetan pastry which is made and served during special occasions. This pastry is made up of barley as the basic ingredient, in its preparation firstly the barley is mixed with some activated yeast and water then made to ferment into barley beer later tsampa, dry curd, wild ginseng and some yak cheese are used as the main ingredients, and some brown sugar is also added for taste. This pastry is often served during Tibetan New Year and Losar festival as a starter.
Gyabrag: It looks like pancake. For its preparation certain ingredients which are being used are barley flour, butter and cheese made from the yak milk, freshly prepared yoghurt and sugar is added to attain its sweet taste.
Gyaho: This Tibetan recipe is prepared using Chinese style of preparation method. To prepare this kombu certain ingredients are used predominantly like a hot pot of vermicelli, meat balls, mushrooms and also the sprouted bamboos. This dish is of higher significance and is eaten by dignified monks during special occasions and ceremonies.
Gyatog: The preparation method of this involves the han variety of cooking. This is a noodle dish. The noodles are basically made with the eggs, flour and bone soup.
The methods of preparing Tibetan Cuisine includes many cooking techniques such as boiling, roasting, steaming, frying both shallow and deep, and stewing methods are predominantly used. Other popular foods you will find in a Tibetan restaurant include dried meat, roast sheep intestines, sheep blood soup, yak meat, ox tongue, rice fried with yak butter, yogurt, and cheese. You will also frequently see momos, Tibetan dumplings, and thenthuk, Tibetan noodles.
Beverages
Two beverages which top the popularity in Tibet amongst local Tibetans and various visitors are tea and barley beer which is popularly known as chang.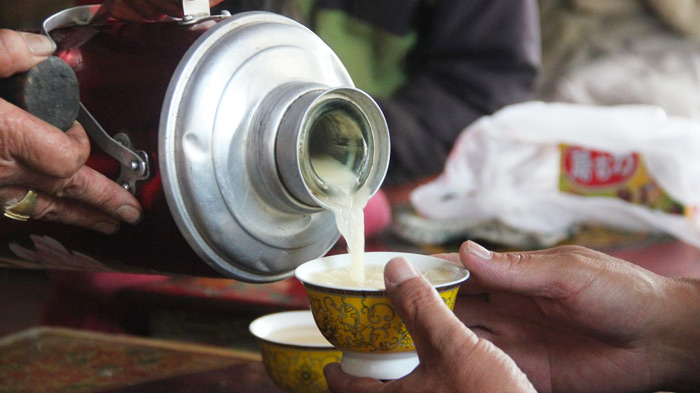 Buttered Tea
Tea preparation method: Chinese brick tea leaves and local tea leaves from Tibet are boiled in soda water. Then the strained tea is then poured into a churn with taste maker salt and butter before the mixture is churned. The resulting tea is light reddish whitening colour and has a thick buttery foamy surface.
Buttered Tea: It is a specific kind of beverage for Tibetans. It is the choice of drink of the resident people and is popular amongst local Tibetans. The buttered tea's typical flavour is unique and is significantly different from Chinese teas. It has a typical salty taste and preparation method. It is one of the foods in day to day life. Bring the taste of Tibet into your own home with this quick recipe. Boil 1 TB loose black tea leaves for 10 minutes. Strain. Add 1/4 cup heavy cream, 1 TB butter, and salt. Tibetans drink their tea very salty.
Tibetan Sweet tea: This is another most popular beverage in the plateau other than the Tibetan Buttered Tea, predominantly and especially in Lhasa and some places like Shannan and Shigatse. The custom of drinking sweetened milk tea is popular and gradually spreading.
Qinke wine: It's a local Tibetan favorite, is another "acquired" taste that many travelers can't swallow without a grimace. An alternative is Tibetan barley beer, known as chang. Quality varies but mostly you can expect a mild beer that is slightly sweet served out of a can.
Barley Beer: Known as Chang with thick and white in colour, the homemade wine has a peculiar sweet and pungent taste and is mildly intoxicating. Locally it is called "Qiang" in Tibetan language. It is made from the highest growing grain barley. Local people preferably drink and love to offer this wine to their guests.
Food during Tibetan Festivals
Guthuk: This delicacy is a famous soup which is especially prepared for the eve of the eve of Losar. The one cuisine in Tibetan food is completely unique to Losar is guthuk, this specific type of noodle soup is made from the nine particular ingredients that can include meat as the main ingredient, dried cheese and labu which is a kind of late white coloured radish.
Khabtse: A traditional homemade Losar bread, sold on street corners. While they look like loaves of bread, the deep-fried cookies are eaten as sweets and also served at Tibetan celebrations.
Often heard about throwing tsampa up in the sky in order to greet and as a offering to god so that the Almighty accepts the gesture of respect and keep blessing the Tibetan people with the good health and prosperity.
Chinese Eateriers
A great choice for variety is to visit the many Chinese eateries, which serve a variety of meat and vegetable dishes. Sichuan and Guangdong cuisine are the most prevalent, although purist connoisseurs of either cuisine will notice the less spicy nature. Fresh vegetables are difficult to obtain so many of the dishes include more meat than vegetable.
Western-style Guest Houses
Western-style guest houses in Lhasa serve up a variety of Western food including pancakes, apple pies, and yak burgers. You can also find soda and other snacks for those junk food fixes.
Dinning Etiquettes
If you are invited into a home, remember that it is considered rude to ask for tea or food directly. You must wait to be offered food. Additionally, you will be considered rude for requesting seconds. If there is additional food, you will be offered food. If you are in a Sherpa home, you must decline the first offer of food, regardless of how hungry you are. To do otherwise is to insult your hosts. Informal social rules denote that is appropriate to refuse three times and accept on the fourth time. Use only the fingers of your RIGHT hand when touching food. If you are served the tail of a white sheep, it means that they are honoring you as the guest of honor.
When you ever will be offered wine by any Tibetan host, then first of all you should dip your fingers in the wine and flick it up into the sky and ground, in order to express your respects to the heaven, to the planet in which we live in and to the ancestors before having the first sip of wine.
When having meals one should not fill his whole mouth and should also avoid producing any noises while eating or drinking. To stride over else's kitchenware and foods is highly tabooed. One should avoid spitting in front and back of the other person.
Dining Taboos
It is tabooed to eat fish in Tibet, as people of the plateau consider fish as incarnation of the water deity. The other reason behind is that in Tibet one of the funeral practice in Tibet is water burial and the duty of disposing the corpse is performed by fishes only.
It is tabooed to eat meat of various animals like horse, donkey, mule and the animals having round hoof. In addition the meat of cat, dog and animals having sharp claws are discarded for consumption. The meat of certain is birds are also taboo. The meat of dead cattle, dead sheep, etc. is discarded to eat.
Tibetan people are quite careful about eating garlic as there is a taboo there related to eating it.they avoid taking it before any religious activity or in any auspicious occasions such as circumbulation.Though people there take garlic as a condiment in their daily life, but on particular days avoid it as some of them believes that it holds pungent smell that that can stain their Holy places and some of them completely prevent eating darling as per then it takes at least of seven days to get rid of the specific smell of garlic.
Last, it is necessary to have the experience of peculiar cuisine when you visit Tibet as foods and delicacies complete the full pleasure of the trip. Certain Chinese and western dishes are available for the visitors easily but the traditional, authentic recipes of the plateau stands out. When doing that do not forget to respect its culture, traditions, etiquettes and taboos.
Health Tips
As anywhere in the world, eating away from home runs some risk of gastrointestinal problems. If you want to make sure that you don't spend more time in the bathroom than on the trail, do not eat raw fruits, vegetables, and salads that you haven't peeled yourself. Make sure your meat is cooked and hot when you receive it. Avoid foods made with dairy. Don't drink beverages with ice. At high altitude, make sure you drink plenty of water. Bring a water filter or purifying tablets for times when bottled water isn't available. Do not brush your teeth or rinse your toothbrush in tap water.
All that said, don't avoid an establishment in Tibet just because of the shabby decor. Many times, they have the best food in town! If you are a vegetarian and plan to travel to Tibet, you don't need to worry about what to eat during your trip in Tibet. Tibet Vita has made a collection of vegetarian restaurants in Tibet offering you a wide range of options.