Tips on Everest Base Camp Trekking in Nepal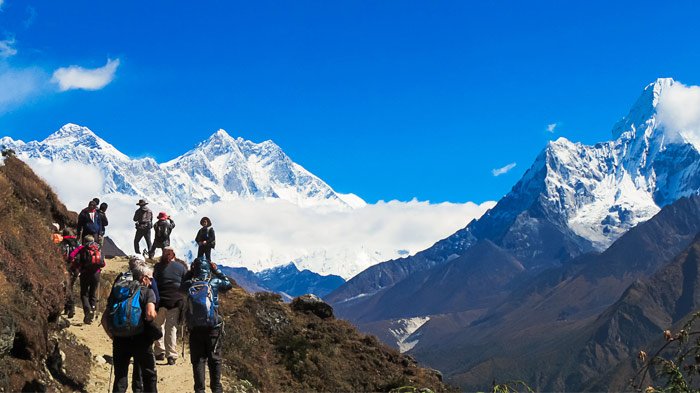 Tourists are trekking in Nepal.
Universally recognized as a trekking paradise, Nepal is blessed with unparalleled trekking resources scattered around the country. Amid the diverse Nepal trekking regions, two of which are most well-known, i.e. in Annapurna Region (Annapurna Base Camp) and Everest Region (Everest Base Camp). Compared with rather elementary-level trekking in ABC, trekking towards EBC(on the Nepal side) is much more challenging with dramatic altitude change.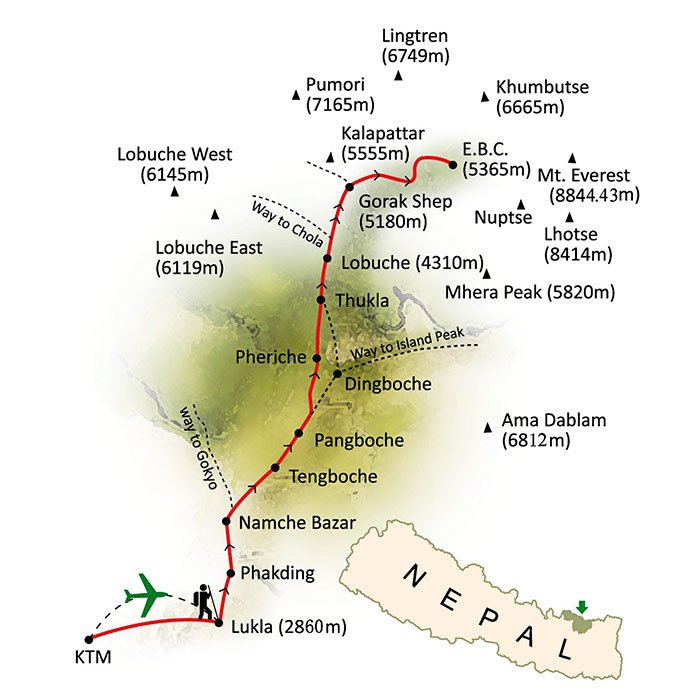 Classic Trekking Route from Lukla(2860m) to Everest Base Camp(5365m)
About Everest Base Camp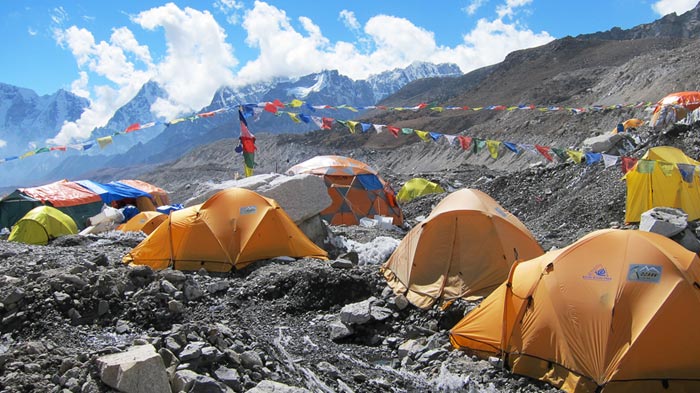 A snapshot of Everest Base Camp in Nepal
As we know Mt. Everest, also known as mount Qomolangma in Tibet, China, is situated on Sino-Nepal border with its south ridge in Nepal and north ridge in Tingri, Tibet. Therefore, traditionally the term Everest Base Camp refers to two base camps on opposite of sides of Mount Everest. South Base Camp is based in Nepal with an altitude of 5365m(17,597ft) (28°0′26″N 86°51′34″E), while North Base Camp in Tibet is at 5,200m(17,056ft) (28°8′29″N 86°51′5″E). Both two camps are used by mountaineers and explorers as the starting point to summit Mount Everest.
Everest Base Camp Trekking Highlights(around 17 Days)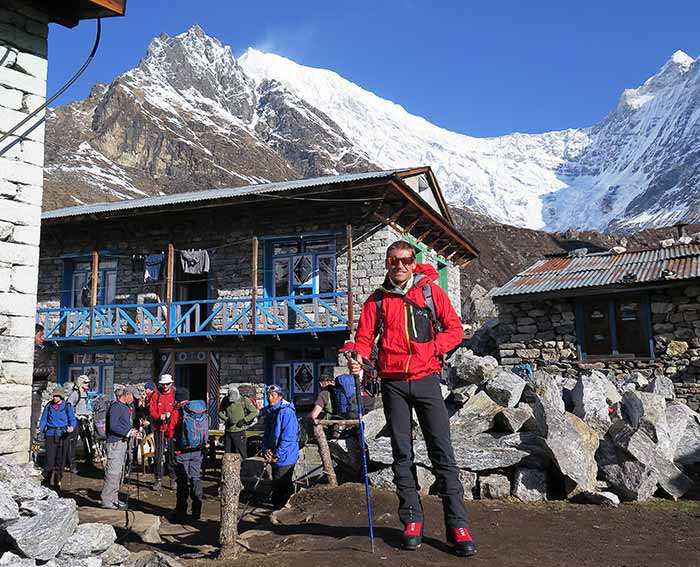 Trekkers are ready to continue their journey in Nepal.
a. Enjoy Mind-blowing Views of 4 Lofty Mountains
Approaching Mt. Everest from its south ridge in Nepal enables trekkers to enjoy a number of the grandest mountains along Himalayas, such as Mt. Everest (8844.43m or 29,009ft), Lhotse (8,516m or 27,940 ft), Makalu(8463m or 27,758ft), Cho-Oyu (8,201m or26,906 ft), and Ama Dablam (6,812m or 22,349 ft), etc.
b. Explore Diverse Flora and Fauna
Due to the extensive and abrupt altitude change, the biodiversity is much richer compared with that on the side of Tibet. Tourists can closely observe the subtle change of greenery and wildlife at varying altitudes.
c. Trek with No Risk
The well-established trekking route involves little risk. Meanwhile the accommodation facilities and porters and yaks are ready available. Trekkers can travel light and have a great view of snow-capped summits as they enjoy a cup of tea or coffee outside the local restaurant.
(Tips: As the trekking would be a huge challenge to tourists' stamina, it's advisable to have physical and mental preparation long before the trek. You may have some intense trainings like walking on the treadmill, swimming, cycling, jogging around hills, etc… to stay fit and get ready for upcoming trek.)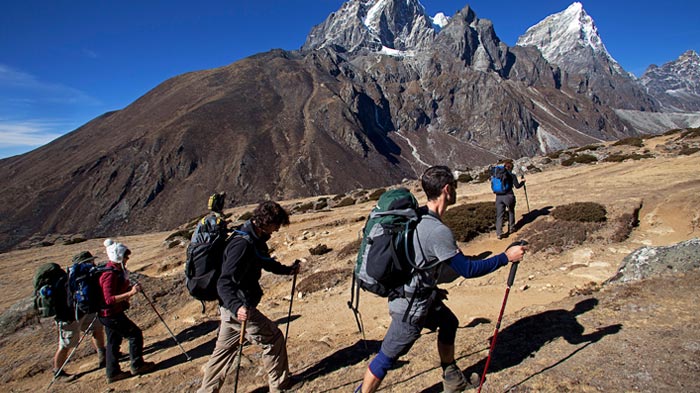 A team of trekkers are attempting to reach Everest Base Camp in Nepal.
For trekkers, the best season to do trekking in Everest Region and Annapurna Region is around from Oct to Nov. It is the time when the weather is not affected by monsoon. With high visibility, you can have a panoramic view of magnificent Mt. Everest and other towering summits.
Suggested 17 Days Itinerary:
Day 01: Arrival in Kathmandu and get transferred to Hotels
Day 02: Full day visit in Kathmandu city and evening free, preparation for trekking.
Day 03: Kathmandu (1310m/4298ft) - Lukla (2840m/9317ft)-Phakding (2640m/8662ft) 04 hrs
Day 04: Phakding - Namche Bazaar (3440m/11285ft) 06:00 hrs
Day 05: Namche Bazaar - rest day for acclimatization
Day 06: Namche Bazaar - Tengboche, (3860m/12662ft) 05:00 hrs
Day 07: Tengboche - Dingboche, (4350m/14270ft) 06:00 hrs
Day 08: Dingboche - Lobuche (4925m/16156ft) 06:00 hrs
Day 09: Acclimatize day In Lobuche(4930m/16172ft)
Day 10: Lobuche - Gorakshep (5170m/16959ft) - Kalapatthar (5545m/18190ft)-Gorakshep 06:00 hrs
Day 11: Gorakshep - Everest base camp (5210m/17090ft) - Gorakshep (5170m/16959ft) 07:00hrs
Day 12: Gorakshep - Pheriche (4280m/14040ft) 06:00 hrs
Day 13: Pheriche - Tengboche (3860m/12662ft) 04:00 hrs
Day 14: Tengboche - Namchee Bazaar (3440m/11285ft) 05:00hrs
Day 15: Namche Bazaar - Lukla (2840m/9317ft) 07:00hrs
Day 16: Lukla – Kathmandu (1310m/4298ft) fly 30 minutes.
Day 17: Departure transfers to airport for your own destination.
Necessary Gears for Trekking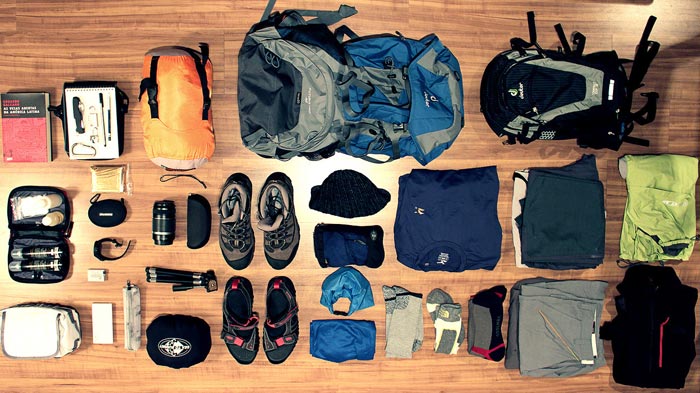 A sample of trekking gears checklist
Probably the most common mistake people make is that they carry too much trekking equipment. Since it is a well-establish trekking route with ample trekking supply, it is highly recommended for tourists to travel light with a minimum gears. The following checklist is suggested only for your reference.
General Checklist
- Light and expedition weight thermal tops
- Fleece Wind-Stopper jacket or pullover
- Waterproof shell jacket (preferably breathable fabric)
- Waterproof shell trousers/pants (preferably breathable fabric)
- Lightweight thermal gloves
- Moisture-wicking Underwear (4) (highly recommended)
Breathable and moisture-wicking underwear would prevent trekkers' temperature(body) loss as a result of heavy perspiration.
- Shorts (2)
- Lightweight cotton long trousers/pants
- Light and expedition weight thermal bottoms
- Sun hat or scarf, sun glasses, sun cream, clapstick (lip balm)
- Sunglasses with UV protection
- Warm fleece hat or light balaclava
- T-shirts (2)
- Thin, lightweight (inner socks) (4)
- Sleeping bag rated to 0 degrees (for 4 seasons)
- Flashlight & batteries
- Small padlock to lock trek bag
- Plastic bags - for keeping items dry inside trek bag
- Daypack (35-40 litres/2500-3000 cubic inches)
- Camping mattress (optional)
- Water bottles (2)
- Small wash towel
- Footwear appropriate to the trip
TREKKING CHECKLIST
In addition to the items listed in our general checklist you will need to take the following on your trekking trip:
- Heavyweight gloves or mittens with a waterproof shell outer
- Down vest and jacket (esp.at high altitude)
- Fleece or wool trousers/pants
- Trekking/Hiking boots with spare laces
- Thick, warm wool hiking socks (4)
- Footwear for around camp, e.g. running shoes and/or sandals
- Gaiters (optional)
- Telescopic trekking/ski poles (recommended)
FIRST AID MEDICINE

- Bandage for sprains
- Moleskin/Second skin - for blisters
- Antiseptic ointment for cuts
- Anti-bacterial throat lozenges (with antiseptic)
- Aspirin/paracetamol - general painkiller
- Oral rehydration salts
- Broad-spectrum antibiotic (norfloxacin or ciprofloxin)
- Anti-diarrhea medication (antibiotic)
- Diarrhea stopper (Imodium)
- Diamox (altitude sickness - can be bought in Kathmandu, highly recommended)
TOILETRIES

- 1 medium sized quick drying towel
- Toothbrush/paste (preferably biodegradable)
- Multipurpose soap (preferably biodegradable)
- Deodorant, Nail clippers (optional)
- Face and body moisturizer
- Feminine hygiene products
- Small mirror
(Tips: You may not be able to have shower every day and do not take the risk of washing your hair or body with snow or stream. Otherwise, catching cold would be extremely dangerous at high altitude.)
Extra:

-camera plus accessories
-binoculars,
-Reading books
-Trail Map/Guide book