Dressing Tips for Everest Base Camp (EBC) from April to Early June
Now, it's the best time to travel to Tibet again. Well, as Tibet is the highest plateau in the whole world, the climate in Tibet must be of quite different with that of other places, let alone Everest Base Camp. Then, how about dressing for Everest Base Camp (EBC) from April to early June?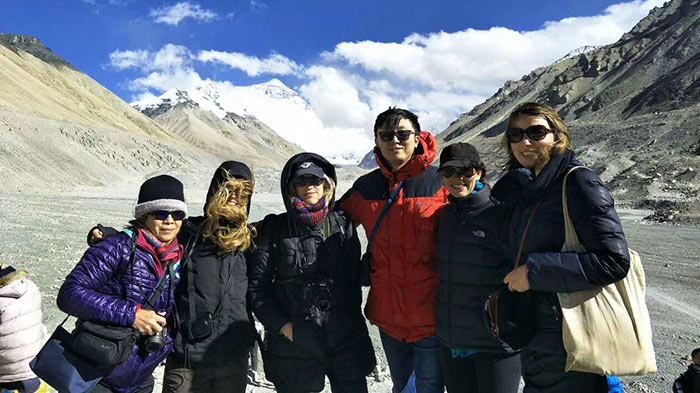 Our clients were trekking EBC in May
Everest Base Camp Temperature and Weather in April, May and Early June
The best time to visit Mount Everest(8848.13 meters above sea level), the highest peak in the world, is from April to early June. But why?
Usually starting from the June to September is the rainy season in Everest area. Affected by the intense southeastern monsoon, tourists often encounter heavy rains, diffuse clouds and harsh snow and ice in this period.
And from October to the coming March is the windy season in Everest Region. Under the influence of the strong northwest cold currents, the temperature at Everest night would drop to -60°C. And the average temperature is around -40°C to -50°C with the maximum wind speed of 90m/s. As we know, in the area below the tropopause, the winds vary with the altitude. You can obviously feel it when trekking towards Mount Everest Advance Base Camp.
While windy season comes to an end and rainy season doesn't set in, April to May must be the best season to visit Mount Everest Base Camp. Fewer snowstorms and rains would occur during this period of time. Under the stable weather and brilliant sunshine, the tourist is likelier to catch a clear panoramic view of Mount Everest. In the daytime, Everest temperature in April and June can be as high as 15°C, but it would decrease to -20°C when the night falls. So please remember to keep yourself warm.
Although temperature at Mount Everest Region may drop below zero even from April to May, it is not as cold as you think and it is manageable. Here we also provide detailed info on Mount Everest Base Camp Weather and Climate for your reference.
Dressing for Everest Base Camp Tour in April, May and Early June
As for the dressing for EBC from April to early June, you'll need a good down jacket and Goretex pants to protect you from cold. You may also need a windbreaker as the wind there is quite strong. Besides, you may take some jeans and enough extra layers in case you'll need them. Last but not least, you will certainly need the warm hat, scarf, and gloves to protect you from the wind. At night, it's also OK for inside the tents are quite warm.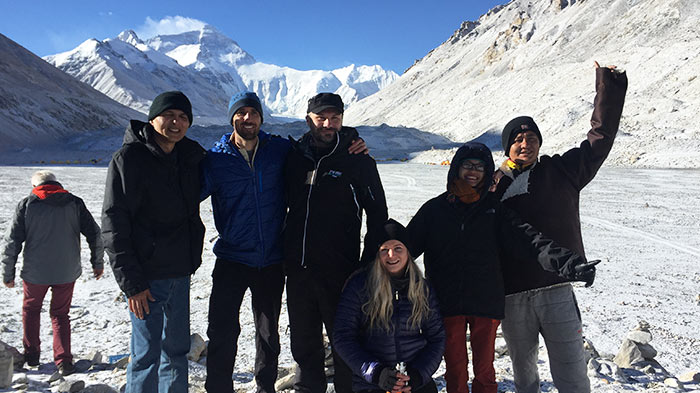 Made it to Everest Base Camp
Gears for Everest Base Camp Trek in April, May and Early June
If you do want to have Everest Base Camp trekking tour, just relax and enjoy your tour there. Don't worry too much. Anyway, there are so many tourists who travel to EBC being safe and sound every year. Here, I would like to introduce to you some essential gears for your trek to EBC:
1. Footwears and socks: waterproof and sturdy hiking shoes, sports sandals, personal slippers, sports socks
2. Backpacks: 45-80L backpack for long-distance travel, 15-30L for short-distance trek, satchel for personal belongings and thermal mug, camera bag
3. Camping: sleeping bags, sleeping bag liner, waterproof wind-resistant tent, moisture-proof pad
4. Lighting: headlights, flashlight, camp lights, waterproof matches
5. Waters: thermal mug, water-purification tablets
6. Communication: smart-phone, interphone, backup battery, survival whistle
7. Hiking equipment: trekking pole, maps, compass, knife, outdoor watch.
Recommended Everest Base Camp Tour Packages