Dressing Tips for Everest Base Camp from April to Early June
From April, Tibet enters the spring season and the plateau becomes much warmer. For tourists who want to visit Everest Base Camp in Tibet, it is the best time to come.
While as Tibet is the highest plateau in the whole world, the climate here is quite different from those of other places, let alone Everest Base Camp. So it is necessary to pay attention to the dressing when visiting Everest Base Camp during the time.
Everest Base Camp Weather from April to Early June
The period from April to Early June, along with the period from September to October, are the best times of a year to visit the Everest Base Camp in Tibet. But why?
Usually starting from late June to August is the rainy season in Mount Everest area. Affected by the the intense southeastern monsoon, tourists often encounter heavy rains, with diffuse clouds covering the summit of the mountain.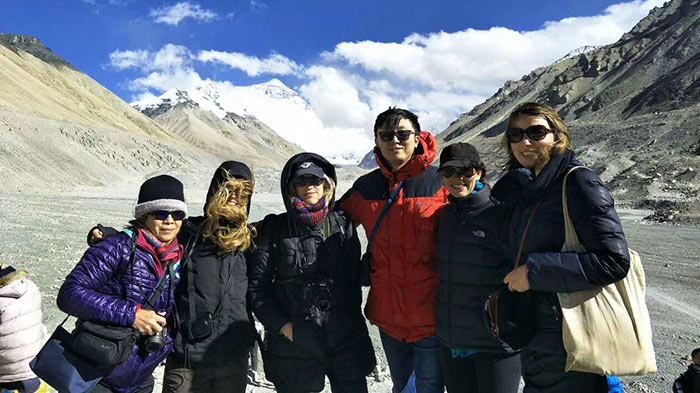 Our Clients paid a visit to EBC in May
And from November to March in the next year is the winter season in Tibet. Under the influence of the strong northwest cold currents, the temperature at Mt. Everest would drop to -15°C at night. And the daytime temperature is around 4°C to 7°C. The wind is strong, and the air is dry. It is a harsh environment at this time for many visitors.
While windy season comes to an end and the rainy season doesn't set in, EBC in April to early June sees fewer snowstorms and rains. Under the stable weather and brilliant sunshine, tourists are more likely to catch a clear panoramic view of Mount Everest.
In the daytime, the temperature at Mt. Everest region can be as high as 15°C, and will drop to below zero at night. So remember to keep warm as well during this time.
Dressing for EBC Tour from April to Early June
As for the dressing for EBC tour from April to early June, you'll need a good down jacket and Goretex pants to protect you from cold. You may also need a windbreaker as the wind there is quite strong.
Besides, you may take some jeans and enough extra layers in case you'll need them. Last but not least, you will certainly need the warm hat, scarf, and gloves to protect you from the wind.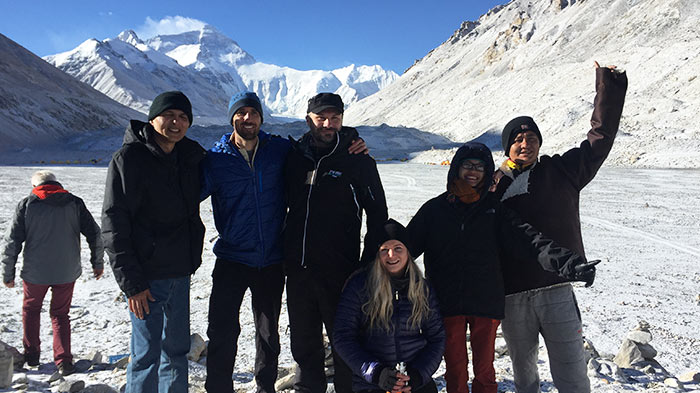 Warm clothes are needed when visiting Tibet EBC in spring
Recommended Clothing for Packing:
• Light and weight thermal tops;
• Fleece wind-stopper jacket or pullover;
• Fleece sweater (preferably breathable fabric);
• Waterproof shell trousers/pants (preferably breathable fabric);
• Lightweight thermal gloves;
• Moisture-wicking underwear (highly recommended) - to prevent travelers' temperature (body) loss as a result of heavy perspiration;
• Shorts - To prevent from catching a cold. Tourists are not advised to have a shower in EBC, so having an extra short or a couple of woolen socks can make you feel more comfortable;
• Lightweight cotton long trousers/pants;
• Light and weight thermal pants;
• Warm fleece hat or light balaclava;
• T-shirts ;
• Thin, lightweight woolen socks.
Gears for EBC Trek from April to Early June
If you plan to take an Everest Base Camp trekking tour, then you need to prepare some essential gears for your trek to EBC:
1. Footwear and socks: waterproof and sturdy hiking shoes, sports sandals, personal slippers, sports socks;
2. Backpacks: backpack of 45-80L for long-distance travel, 15-30L for short-distance trek, satchel for personal belongings and thermal mug, camera bag;
3. Camping: sleeping bags, sleeping bag liner, waterproof wind-resistant tent, moisture-proof pad;
4. Lighting: headlights, flashlight, camp lights, waterproof matches;
5. Waters: thermal mug, water-purification tablets;
6. Communication: smart-phone, interphone, backup battery, survival whistle;
7. Hiking equipment: trekking pole, maps, knife, outdoor watch.
Besides, for the convenience of our clients, we provide the rental services of trekking gear including sleeping bags and trekking poles. You only need to pay a small amount of money for the rental service. We also provide ample oxygen supply, in case you may need them in the course of the trekking on the higher attitude.
Conclusion
In the spring season from April to early June, the weather at Everest Base Camp in Tibetan side is warming up in the daytime, but still ice-cold at night. It is required to prepare warm clothing for your tour to EBC, as well as trekking gears if you are about to hike. For more questions, just contact us for professional advice.
Recommended Everest Base Camp Tour Packages