Lhasa to Kathmandu Cycling Tour: your ultimate guide to cycling across great Himalayas
Cycling from Lhasa to Kathmandu, traveling across the vast expanse of the Tibetan plateau, is a journey of epic proportions, and one that is sought after by many cycling enthusiasts. As one of the toughest cycling challenges in the world, this high-altitude route from Lhasa in Tibet to Kathmandu in Nepal is one that takes you across high mountain passes, through lush river valleys, and across vast expanses of prairies as you ride across the roof of the world. Before you hit the road, check our ultimate guide to Lhasa to Kathmandu cycling tour.
Cycling Routes from Lhasa to Kathmandu
The ride to Kathmandu starts with a trip out of Lhasa, where you will cover around 85 kilometers before stopping for the night, to allow you to get used to the terrain. The next day you will head straight to Lake Yamdrok, at 4,441 meters, a distance of around 55km that takes you over the Kamba La Pass at 4,852m. The next day, you will travel on to Gyantse, covering around 86km, and crossing the Karo La Pass at 5,036m. From Gyantse, you head on to Shigatse (3,836m), covering around 94km along the way before making the 75km journey to the Gyachung Monastery, at 4100m.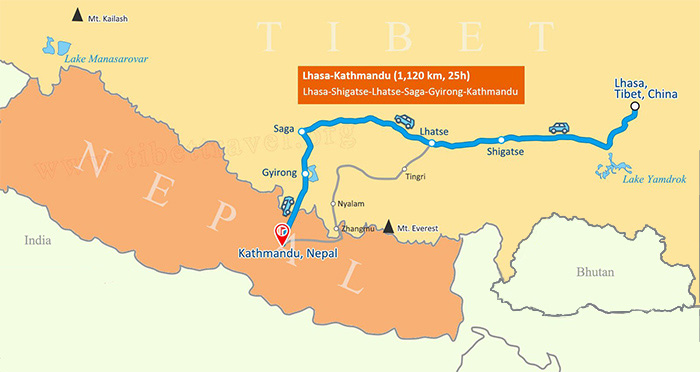 Following the Sino-Nepal friendship Highway for the cycling.
From there, you will head for Lhatse (4,050m), a distance of around 95km, and then on to Shegar (4,050m), which lies 75km further along the road. From Shegar, you travel to the Pang La Pass (5,205m) on the Zhufeng Road to Rongbuk Monastery (4,980m), riding around 67km to the pass, and then another 35km the following day to reach Rongbuk.
After stopping to view the stunning Mount Everest (8,848m), you will then head for the Friendship Highway and Tingri (4,348m), riding around 86 kilometers, followed by a ride of around 77km to the La Lung Pass (5,050m), on the road to Gyirong. You will also cross the high Thang La Pass (5,150m), traveling around 117km in order to reach Gyirong Town, at 2,700 meters, and then on to the famous Gyirong Port, where you will cross into Nepal. From Rasuwa Gadhi, you travel downhill to reach the small village of Dhulikhel (1550m), a distance of around 97km.From Dhulikhel; it is just a short ride of around 35km to reach the Nepali capital of Kathmandu, at 1,400 meters above sea level. - Check the most popular Mt.Everest tours
Best Season for Lhasa to Kathmandu Cycling Tour
Normally, the best time to take a cycling tour of Tibet is in the spring, from April to mid-June, or the autumn from September to October. It is best to avoid the rainy monsoon season, despite there not being that much rain, as it can get slippery on the roads and there is a greater chance of landslides in the mountains. Winter should also be avoided due to the severe weather conditions and the likelihood of snow along major parts of the route. During winter, many parts of western Tibet are inaccessible. Weather in the spring and autumn is clear and bright, and is warm enough to be pleasant without getting too hot or cold. - Further reading about the best time to visit Tibet
How to budget the cost for Lhasa to Kathmandu cycling tour?
Tourists to Tibet must be accompanied by a guide, private vehicle, and driver for their entire trip. As you will also need this for a cycling tour, it does make the touring by bike a little more expensive than a normal tour. Since you will be riding your bikes across the plateau, the vehicle will be used as your support car, and can carry some of your equipment as well as your guide. The guide will also be able to advise you on places to see, explain more about Tibetan culture, and help with any problems you may have. You will also need to carry additional items, such as spare parts for the bikes, food and camping equipment in case you do not make it to the next guesthouse, etc. This can also increase the cost of the cycling tours.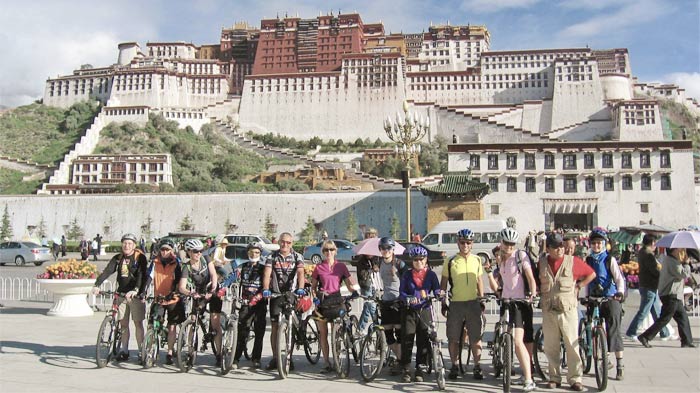 Ready to hit the road from Lhasa to Kathmandu.
One of the main things to think about is your bike. You can transport your own bike to Tibet by either plane or train, or you can buy a new mountain bike in Lhasa, which you would be able to take home, or sell in the Thamel district of Kathmandu. There are several places in Thamel that buy used equipment, from bikes to trekking equipment, although you may not get a great price for it. You can make the cost of the tour a little less expensive by traveling with a group of friends or family, who can share some of the tour costs. - See how to budget your Tibet tour
What to expect for dining and accommodation for Lhasa to Kathmandu cycling tour?
Most of the time, you will find that camping is the only option for somewhere to sleep for the night. There are few guesthouses outside the towns and villages of Tibet, and along the long route, there will be several nights when you will be stopping outside the towns. Where towns are reached, and there is accommodation available, it is most likely to be local basic guesthouses, as only the larger cities have higher-end hotels. However, these are getting much better in Tibet, and many now have running water and internet access.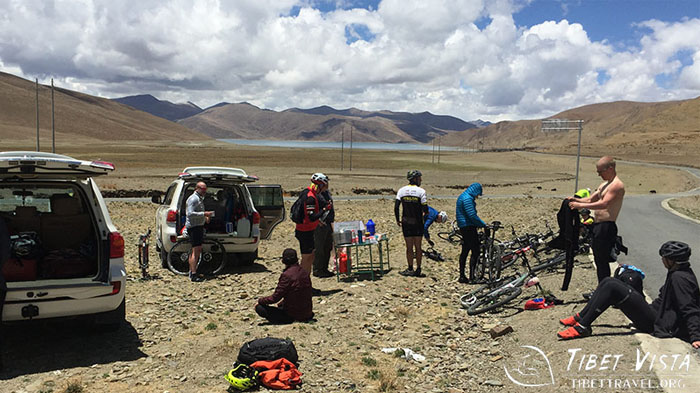 Our clients are preparing the lunch beside the highway.
Similarly, most of your dining is likely to be self-cooked food or cooked by the chef you have in the support team, if you require one. Outside the towns and villages, there are few places to eat, and much of the foods outside the major population centers is local Tibetan cuisine. If this is not to your tastes, then cooking yourself is often the best option.
What to pack for Lhasa to Kathmandu cycling tour?
Packing should be done very carefully in this journey. You do not want to carry anything that you really do not need, but neither do you want to leave something behind that will be useful on the plateau trip. The basic things to pack are:
● Enough woolen clothes for your journey in Tibet.
● Cotton clothes also.
● Waterproof clothes in case of emergency.
● Flannels.
● Woolen and cotton socks, gloves and scarves.
● A helmet is must and along with it the particular type of cycling shoes.
● Medicines of all types.
● Sunglasses.
● Sunscreens and moisturizers.
● Toiletry which should be kept totally personal.
● The other cycling gears.
● Also waterproof tents in case you have to camp for two to three days.
Should I cycle from Lhasa to Kathmandu or the other way around?
Choosing your route by bike across the Tibetan plateau is your own option, and the trip can be done in both directions. However, there are certain considerations that you should take into account when deciding. The first, and main consideration, is the altitude changes. Acclimatizing in Lhasa to take the trip across the plateau to end in Kathmandu is much easier than traveling up from Kathmandu to Gyirong Town and staying there for a couple of days to acclimatize. The increase in altitude from Kathmandu to EBC is much greater over a shorter time as well, which makes acclimatizing harder, and leaves you with a higher chance of suffering from extreme altitude sickness. When traveling from Lhasa to EBC, the increase is more gradual, allowing you to acclimatize more slowly and more effectively.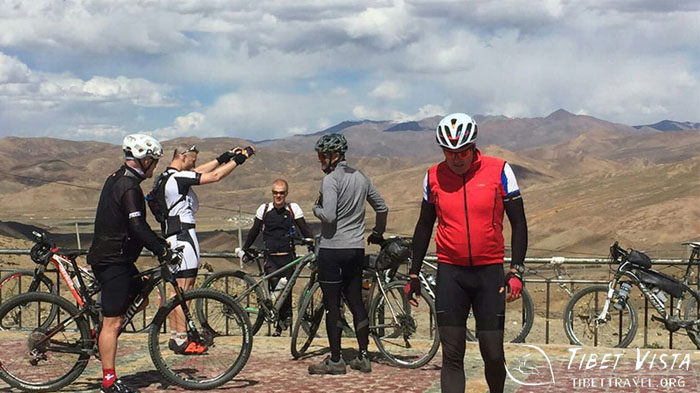 Having a rest at the viewing platform along the way.
It is also more expensive to travel from Kathmandu to Lhasa, as you will need to have additional acclimatization days once you reach the plateau, which is spent in Lhasa sightseeing when traveling from Lhasa to Kathmandu. You will also have the additional expense of transporting your bikes and equipment from Kathmandu to Rasuwa Gadhi, as our support vehicle and staff are not available for this leg of the trip. There is also the entry visa into China to consider, as the entry from Nepal is a lot harder than entry from mainland China. This route can be a lot more expensive, as you need to be in Kathmandu at least five days before your trip in order to process your visa. Ideally, the best option for a cycling tour across the plateau is to start in Lhasa and finish in Kathmandu.
Why "4+2" Cycling is the best option for Lhasa to Kathmandu cycling tour?
Unlike a normal cycling tour, using the 4+2 method involves having a four-wheeled vehicle to transport your heavier equipment to the next rest stop, while you can continue to ride your two-wheeled bike there without the need to carry a heavy equipment with you. Most cyclists on normal tours tend to carry all of their equipment themselves, as this saves on cost. However, when riding across the plateau, which is hard enough at higher altitudes with less oxygen, you will also be taking on some of the highest passes in the world, so lugging your own gear up a mountain on a bike is not going to be a pleasant experience.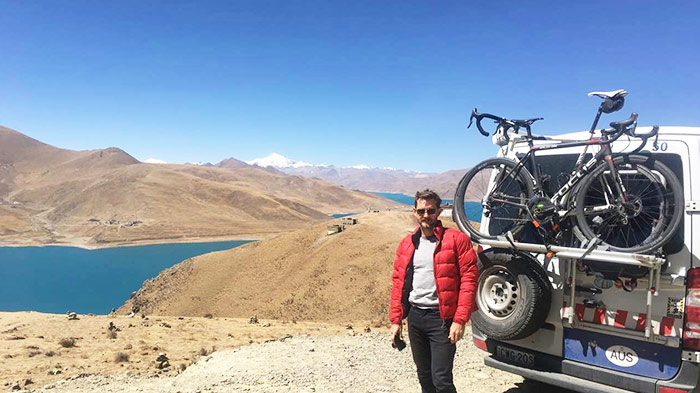 4+2 traveling mode gives our cyclists the best tour experience.
The 4+2 method of riding is common in Tibet, and gives you a van to carry your gear, including spare parts; and a guide, driver, and other staff you require for the trip, such as a chef for cooking your meals ready for the end of your riding day. This makes your trip easier and much more enjoyable, not to mention safer, as you will not have extra weight on your bike when racing down the steep mountainsides of the Himalayas.
Never Underestimate the Issue of Altitude Sickness during the Cycling
Altitude sickness is a serious fact of traveling to extremely high altitudes, and while most people suffer relatively minor symptoms of altitude sickness, in some cases it can be severe. Acclimatizing properly to the higher altitudes of the plateau is important, as failing to do so can be serious, and can drastically affect your trip and your health. Acclimatization should be done slowly, over a couple of days, to allow the body time to get used to the reduced oxygen content and the harsh conditions.
It is also important to prepare well for such an adventure, as the route across the plateau is arduous and can cause an excessive amount of strain on the system and the body. Training should be done before attempting this trip, and you should be both physically and mentally ready for a hard and strenuous ride.
To avoid getting serious altitude sickness, it is important to avoid strenuous exercise when acclimatizing in Lhasa, as well as abstaining from alcohol and cigarettes. While riding, it is important not to ascend too high too quickly, as this can increase the risk of severe altitude sickness. As a general rule for high altitude travel, you should ascend no more than 300-400 meters in one day, and should always sleep at a lower elevation than you have reached throughout the day. This way, you can help to avoid any serious effects of altitude sickness.
Travel Permit Needed for Lhasa to Kathmandu Cycling Tour
There are certain permits that you will need in order to enter Tibet and travel across the plateau. These are necessary, and will all be obtained through us for the travel in Tibet. For Nepal, you can make those arrangements yourself or we will help you get them. Tibet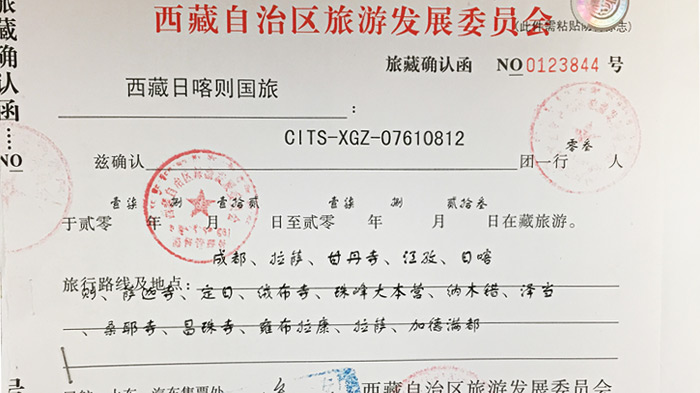 Tibet Travel Permit is an indispensable travel document for Tibet entry.
Firstly, you will need to have the Tibet Travel Permit, which allows you to enter Tibet and travel in the opened areas around Lhasa. This is applied for by us once you have booked your tour, and requires a color scanned copy of your passport. We will forward the permit to your hotel in China before you leave for Tibet. This permit will allow you to board the plane or train to Tibet, and will be required at certain times when traveling in the region, such as at checkpoints and hotels.
Next is the Alien's Travel Permit. This is needed to enter certain parts of Tibet that are considered as "unopened", such as Shigatse, Sakya, Mt. Everest, and Rongbuk Monastery, among others. Many of these places are on the route you will pass through to get to the Nepal border, so the pass must be kept on you at all times and presented when required. The permit is applied for once you have entered Tibet, as it requires your original passport for the application. Your guide will arrange it in Lhasa before you hit the road.
The Restricted Areas Permit is only needed for those people visiting the military sensitive areas of Ngari region, Mt. Kailash and Lake Manasarovar, Tsaparang, and Ali Prefecture. If your tour does not take you to these regions, then this will not be required.
The Tibet Frontier Pass is needed for people who travel in Tibet close to the Nepal border, and in the adjoining areas. The Tibet Border Pass, also known as the Frontier Pass, is issued by the Tibet Armed Police Border Corps in Lhasa to your tour guide. Nepal
Getting into Nepal from Tibet only requires a Nepal Entry Visa, which can be applied for through the immigration officials at the border checkpoint at Rasuwagadhi/Gyirong Port, and can be done as a visa-on-arrival application. Nepal currently allows tourists to apply for 30-day tourist visas on arrival at any of its land borders as well as at the Tribhuvan International Airport in Kathmandu. Applications only require your passport and two passport-sized photos, and cost around US$ 30.
Conclusion
Taking a cycling tour across the Tibetan plateau is the journey of a lifetime, and an awesome and epic adventure that should not be missed. A good level of physical and mental fitness is necessary for such an epic ordeal, as the route across the plateau is arduous at best. That said, this spectacular tour is one that can be done, and has been done by many people over the years, and is the ideal way to get a better view and experience of the Tibetan plateau, culture, and people.
Cycling Journey from Lhasa to Kathmandu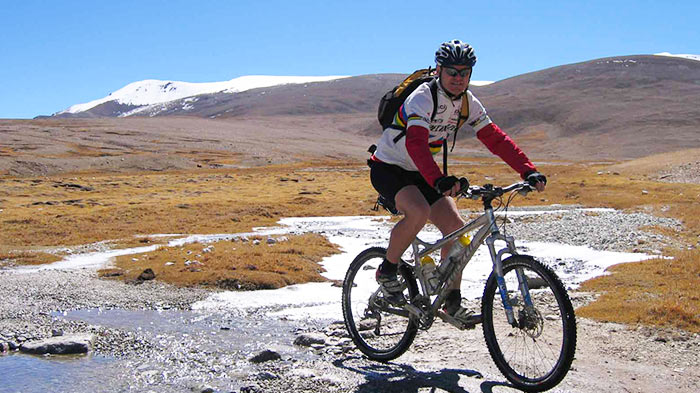 Enjoying biking tour in perfect and clean weather.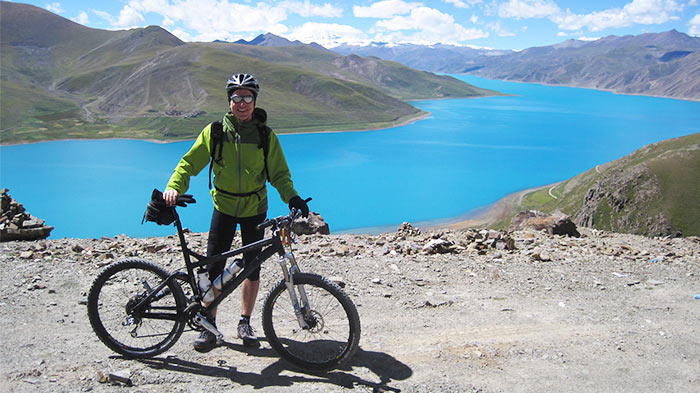 Yamdrok Tso Lake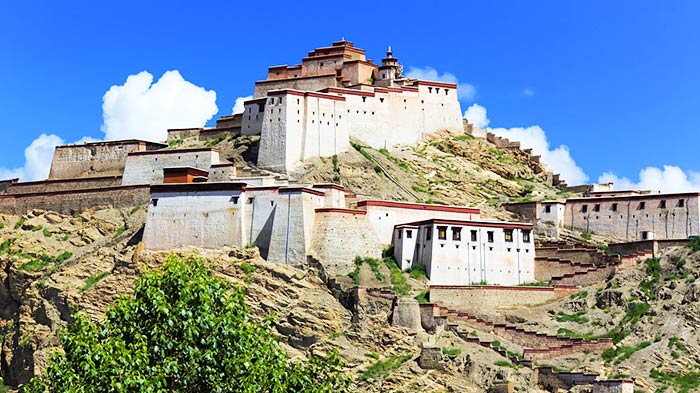 Gyantse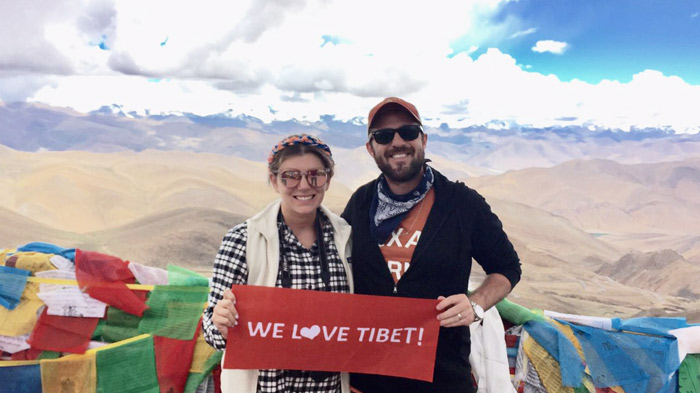 Gawula Pass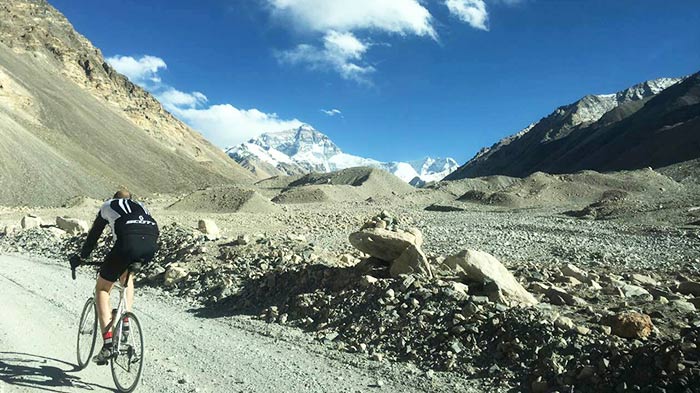 Cycling towards Everest Base Camp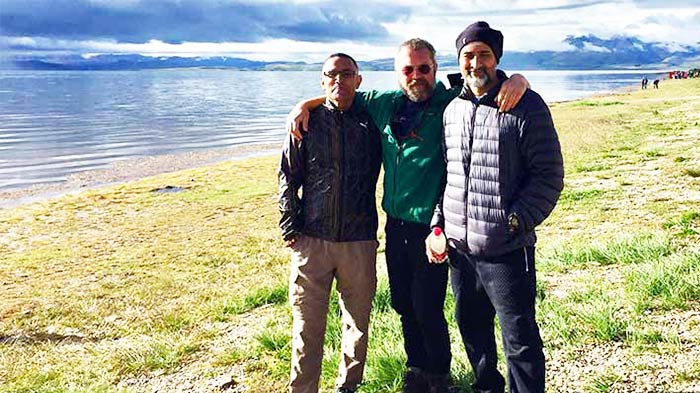 Lake Peikutso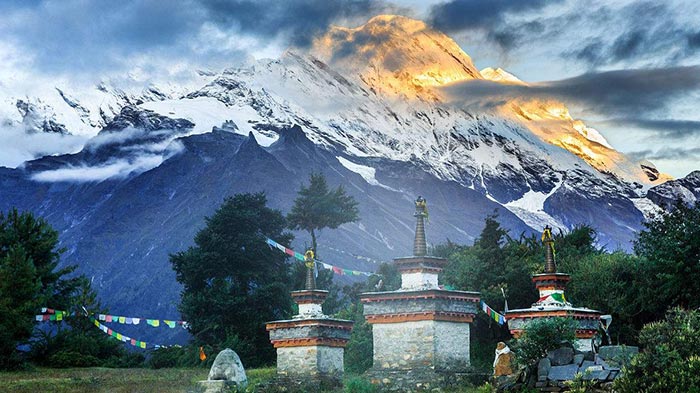 Gyirong