Cost of Food in Tibet: How Much Does it Cost for Dinning in Tibet
The food in Tibet is more expensive than those of many other places in China, since most of the greens here are transported into the plateau from the mainland. Read this article to learn about how much it cost to eat and drink in Tibet, so as to better plan your travel budget.
Cost of Three Meals in Tibet
In addition to the traditional Tibetan food, there is Chinese, Nepalese, and western food available in Tibet. Different types of food are priced differently. The average cost of food in Tibet is usually around 15 - 25 USD per day, including all meals.
Generally, it costs you about 15 USD for all meals per day in Lhasa if you do not go to luxury restaurants. Yet, it may cost you 20 USD per day on meals once you travel outside of Lhasa as the price is higher in those remote areas.
Breakfast in Tibet
A traditional Tibetan breakfast is often done in a local sweet tea house, and normally includes butter tea, sweet tea, tsampa, Tibetan noodles, and other Tibetan food. A bowl of Tibetan noodles usually costs 6 Yuan.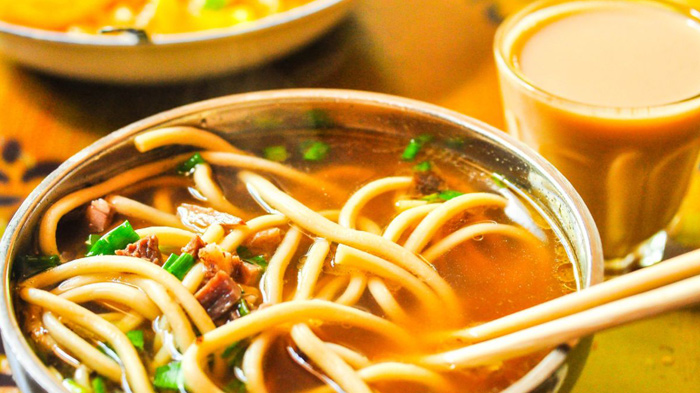 A traditional breakfast in Tibet
If you prefer Chinese food for breakfast, you can also eat steamed buns, congee, soy milk, dough stick, eggs etc. Or you can find western breakfast of bread and milk, coffee, etc, in major cities of Tibet, like Lhasa and Shigatse.
A breakfast in Lhasa will be more varied, and usually costs about 15-20 Yuan (2 - 3 USD) per person. While in other remote areas, breakfast will be simpler, and the cost will be higher at the same time.
Lunch and Dinner in Tibet
Usually, you should budget around 10 to 20 USD for lunch and dinner. If you try the local food, you will spend less. And if you choose some western food, you will spend more.
For Tibetan food, a lot of nice and comfortable restaurants can be found in Lhasa's old district. Most of them are located near the Jokhang Temple and Barkhor Street. Some of them even serve western food, Nepali, and Indian food. Examples are Snowland Restaurant and Lhasa Kitchen. Each meal can be as cheap as 6 USD per person.
Although Tibetan restaurants are more traditional and full of history, to many western travelers the Chinese food might seem more diverse and more appealing than the greasy boiled yak meat typically served in Tibetan ones.
Most Chinese restaurants serve Sichuan's spicy cuisine. In some small Chinese restaurants, the meals are much cheaper. While if you try hotpot, barbecue, or other fine dishes, it will cost about 80 to 150 Yuan per person.
For western food, like pizza, steak, and pasta, the price of each meal is around 10 to 20 USD. And there are also some fast food restaurants where you can eat burgers and chips, like McDonald's and KFC. The cost is usually 5 to 10 USD per person.
Cost of Drinks in Tibet
There are tea houses everywhere in Tibet, and drinking sweet tea has become a daily routine for Tibetan people. Compared to butter tea, sweet tea is also more popular among foreign tourists. And a cup of Tibetan sweet tea costs 2 to 5 Yuan.
Many cafes are also open in Lhasa and Shigatse, to meet the needs of the young generations of Tibetans and western tourists. Some of the popular coffee cafes in Lhasa are Summit Cafe, The Sense Coffee, etc. And the average consumption in a cafe here is about 50 to 80 Yuan per person.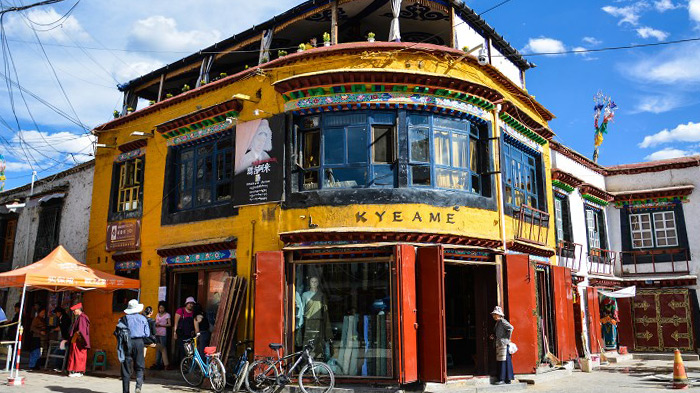 Makye Ame in Lhasa
Tourists can also go to bars or pubs for nightlife in Lhasa. The top bars to enjoy a drink includes the Low House Music Bar, where a locally made Barley Beer costs 35 Yuan, and an average white beer costs 40 Yuan. Also, the famous Makye Ame is attractive among tourists, and the average expense is 100 - 200 Yuan.
Cost of Snacks and Other Food in Tibet
For tourists who are going to visit some remote areas of Tibet, or do a mountain trek to Everest Base Camp or Mount Kailash, you are recommended to bring some snacks of high protein and calories, such as chocolate, beef jerky, nutlet, and instant coffee.
Most of the snacks and beverages sold in the supermarkets of Lhasa are priced similarly to those in the mainland. While the fresh fruits and vegetables here will be much more expensive.
How to Cut Down the Cost of Food in Tibet?
If you join a group tour in Tibet, you can cut down your travel cost including the expense of food and dining. For example, many of our tours offer breakfasts, which can save you a sum of money on expenses. Also, if you dine with other members of the group, you can spend less money, compared to eating alone.
Besides, when you go out for lunch or dinner, you can ask your tour guide to recommend some cost-effective restaurants. As local Tibetans, your tour guides usually know well which restaurants or eateries serve more tasty food and are also much cheaper.
Also, it is suggested to bring some instant food or self-heating meals, when you travel to some remote places where there are few restaurants or shops.
Conclusion
Food and dining expense is a major part of one's Tibet tour cost. Except for three meals, you may also need to spend money on drinks, snacks, etc. It is suggested to join a Tibet group tour to save your cost on not only food but also accommodation and more. If you still have any questions about Tibet travel, please feel free to contact us for inquiries.
Most Popular Tibet Tour Packages