Tibet Travel Advice on Clothes to Pack in Different Seasons
Tibet enjoys complex terrain and climate, so it is important to prepare suitable clothes before travelling to Tibet. Our page of Tibet travel advice on clothes in different seasons will tell you what kind of clothes you should take in spring, summer, autumn and winter, as well as other additional items that are needed for your personal comfort and protection in the high-altitude environment on the roof of the world.
Unique Alpine Climate and Weather in Tibet
The climate patterns in Tibet are unique for a region that is affected by the tropical monsoons from both the northeast and southwest. Unlike many destinations in China that have dry and wet seasons, Tibet has four seasons, as well as a monsoon climate. During the dry season, which covers autumn, winter and spring, there is very little rain, and the region does not suffer the extreme hot temperatures from February to April that many other monsoon countries do. This is mainly due to the extreme altitude of the plateau, which keeps the temperature down even when the dry season should be at its hottest.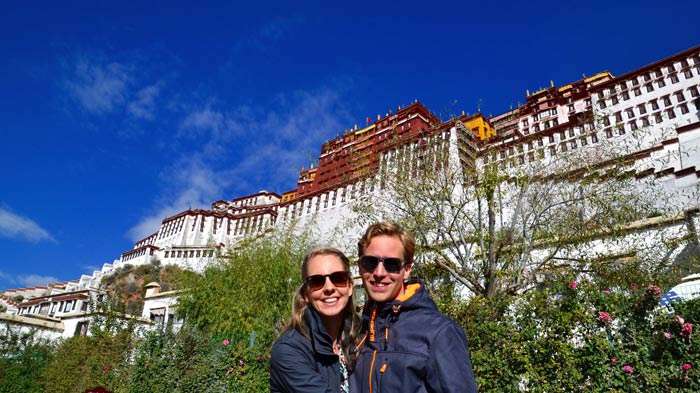 The unique alpine climate makes Tibet picturesque
Similarly, the wet season, which occurs during the Tibetan summer, is not all that wet, and when it does rain, it is normally limited to afternoon or evening times. The rains do not happen every day either, even in the lower altitude parts of the region. Rains only come a few days a week during the monsoon, and it is also the hottest time of the year, with the highest oxygen levels. The typical four-season summer does not exist here.
Spring and fall are very much like other four-season destinations, with the budding of the blossoms and the new growth in spring and the falling leaves in autumn. However, unlike most four-season destinations, there is almost no rain in spring and autumn, leaving the skies clear and the weather pleasantly mild. Winter is the only season that is comparable to other places, and it is a very alpine-like climate in the region from December to March. Snows occur where it is coldest, and on the high mountain peaks, and thick clothing is essential. The only difference is the sun. With the thinner altitude, even the winter sun can leave you sunburned because of the higher UV radiation from the sun.
Seasonal Clothes to Wear for Tibet Tour
Clothes for Tibet Tour in Spring (Mar. Apr. May)
Spring is much warmer. And because of good weather, April and May are one of the best time to visit Tibet. Lhasa with the some highlights of Potala Palace and Barkhor Street is the most attractive city for tourists all around the world. It is also an ideal time to visit Mount Everest because this time the peak of Mount Everest is visible and clear. And trekking in Mount Kailash is also a good choice. Here, you can wear sportswear, thin sweater, and jacket. But at night, you should wear warmer clothes such as down jacket and cotton padded clothes.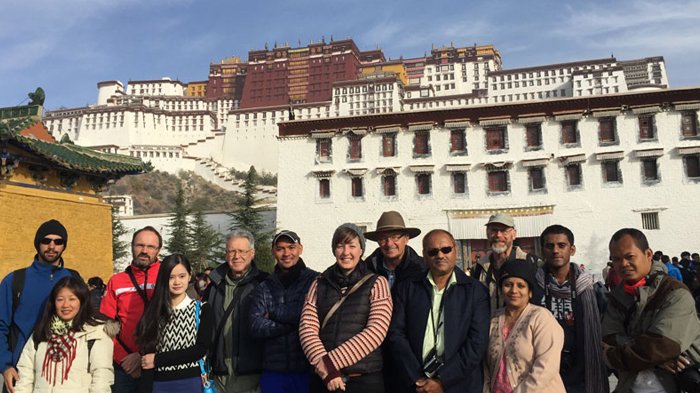 Potala Palace in spring is full of vitality.
Clothes for Tibet Tour in Summer (Jun. Jul. Aug.)
Summer is the best time to visit all areas of Tibet in a year as the weather is warmest in the year throughout Tibetan plateau and many grand traditional Tibetan festivals are held during this season. But do not expect Tibet is a place where T-shirt and short-pants are suitable for Tibet tour in summer all the time. Do pay attention to the mountain areas of Tibet, the great temperature difference between day and night and the strong sunlight on the high plateau. Long-sleeved shirt and long pants are recommended to avoid being hurt by the strong sunshine. Warm clothes should be prepared for travelling to mountain areas and preventing cold at night.
See What to Wear When Visiting Tibet in Summer Time
Clothes for Tibet Tour in Autumn (Sept. Oct. Nov.)
Autumn is still a wonderful time to visit Tibet for it is not too hot or too cold in this season. Tibet will present you an eyeful of different colors in autumn. Though it is quite cool, even warm in Lhasa, down jacket is also needed if you will travel to a higher place of Tibet, like Namtso Lake and Mt. Everest. If you just stay in Lhasa or Nyingchi, comfortable sportswear or casual sweater should be perfect at daytime. At night, a thick coat will make you comfortable.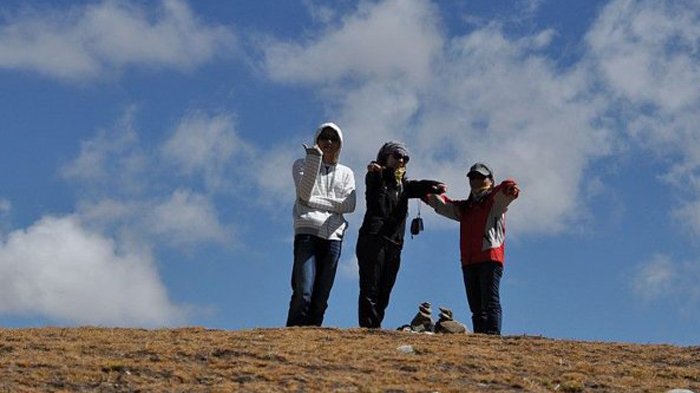 Autumn is also the good time to trek in Tibet.
Clothes for Tibet Tour in Winter (Dec. Jan. Feb.)
Winter is the low season of Tibet tourism season and Tibet see fewer tourists. If you do not like travel with crowd or want a cut down the cost on Tibet tour, winter actually is the best time for you to travel to Tibet. Mt. Everest is one of the most popular sites in Tibet to tourists. During winter, although it is cold, you can appreciate the clear scenery of the peak of Mt. Everest. So you will not miss the highlights of Tibet, but see a different Tibet if you make a tour to Tibet in winter. However, good preparation on clothes for Tibet tour in winter is a key element of enjoying a wonderful Tibet winter tour. Thick sweater, down jacket, warm shoes are necessary for Tibet winter tour.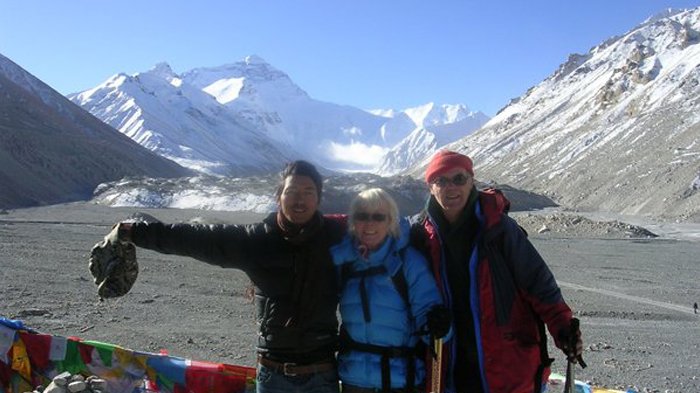 The scenenry of the peak of Mt. Everest is clear in winter.
General Clothes to Wear for Tibet Visit
Clothing in Tibet for tourists depends on what time of year you will be visiting. However, in general, warm clothes are the best option practically all year round. Spring and autumn can be quite mild during the day, allowing for thinner sweaters or even t-shirts on warmer days, although shorts are never a good idea in Tibet. Pants do not have to be especially thick and warm, just a cover for the legs, and a light hat to protect from the sun is useful. Woolen sweaters, long pants, a fleece jacket, a light waterproof jacket in case it rains, Several t-shirts and long-sleeved tops, and for colder weather thermal underwear are essential items for traveling in Tibet. Socks should be warm enough for the climate of the day, so while normal socks can be good on warm days, thicker socks are needed when it is colder. And good, strong shoes or boots are needed even for those not trekking, as the ground even in the monasteries can be uneven and rocky.
Clothes and Footwear for Tibet Trekking in Tibet
At almost any time of the year, warm clothes are a necessity for Tibet trekking. While it might get quite hot in summer, the nighttime temperatures can still drop to almost freezing, so some warm clothes would be required. For trekking when it is warm, light clothes are sufficient, with a windproof jacket. For colder days, warmer clothes and a fleece jacket is needed. it is also a good idea, no matter what the weather, to have a couple of extra layers in your pack, so you can add or remove layers depending on the weather. It is easier to stay warm in the cold with many thinner layers as opposed to a few thick layers. You should also buy some good hiking boots, as normal boots and shoes are not sufficient for trekking. Make sure, if you are buying new boots, that you wear them a lot before you leave to break them in, as blisters while trekking can be painful and irritating.
Clothes and Gears for Mountaineering in Tibet
Mountaineering in Tibet means that you are often at altitudes that normal tourists will not go to, and it is often colder the higher you get. As well as many layers of clothes, you should also include such items as : heavy down jacket; thermal underwear; down vest; woolen trekking socks; mountaineering boots with ice grips; wind and rain proof jacket and pants; warm head covering, preferably with a face and neck cover as well.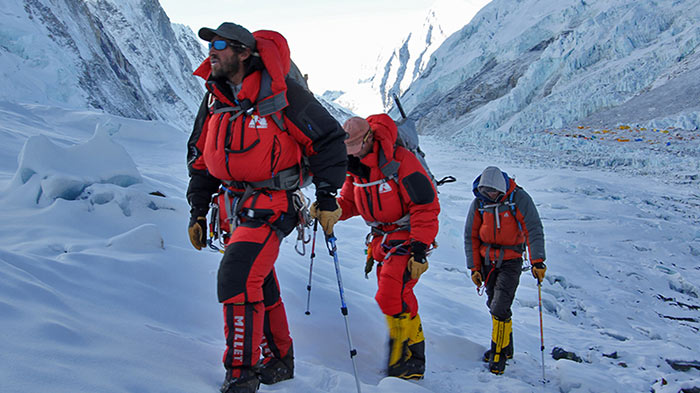 It is quite important to prepare well when you mountaineering
Other equipment you may find you need when mountaineering are goggles or sunglasses, a good compass, hiking poles and/or an ice ax, a flashlight or headlamp, and thick, thermal gloves. An arctic sleeping bag is best if you will be camping during the climb, to keep out the intense cold at night in the higher altitudes, and some altitude sickness medicine if it has been recommended by your doctor. You should also include any specialist gear that may be needed for certain ascents that are harder than normal, such as crampons, spinners, ropes, harnesses, etc.
Other Stuff You Need to Bring with You
It is recommended that you bring certain items with you, for safety's sake. A first aid kit, water purification tablets and sun lotion are recommended. You would also need to have a water bottle, toilet paper, a suitable backpack, hat, dust mask and sunglasses. The first aid kit should contain basic first aid needs, such as plasters, bandages, tape, gauze, scissors, etc, and a few minor medications for colds, flu, headaches, muscle pain, and eye drops. For the skin, moisturizer and lip balm is needed, as the wind at higher altitudes can be strong and can chafe the skin and lips. Additionally, take some chocolate, biscuits, dried fruit, or nuts as high energy replacing snacks for when you get tired.