Most Classic Tibet Cycling Tour Routes
For cycling enthusiasts Tibet always has so much to offer due to its favorable geographic conditions, its vast territory and varied topography. Most of the roads across the Tibetan Plateau have improved greatly over recent years and the popular cycling routes are now paved roads fairly fit for cycling. As one of challenging cycling destinations, you will surely have a nice cycling experience on most sections of the routes. Certainly, there are some cycling routes most favored by cyclists, such as Lhasa to Ganden Monastery cycling Tour, Lhasa to Namtso Lake Bike Tour and Central Tibet Bike Tour.These cycling routes are located at relatively lower altitudes with small difficulties, giving cyclists chances for bodily exercise and watching some local cultures and religious works, thus making the cycling so popular and interesting.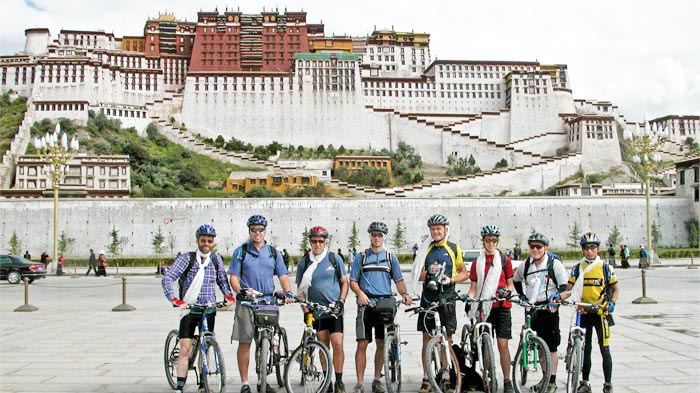 Lhasa to Ganden Monastery cycling Tour
This is a very popular cycling route because of its short and reasonable distance (53km) and beautiful landscapes along the route. The route starts from Lhasa and will be mainly on the 318 National Road. The ride route begins upstream along the Lhasa River, and you will pass some farmlands and small villages along the route. During the route you could see sheepherders' tents green grassland, groups of sheep and yaks, small village huts and nomadic tents by the road.

Lhasa to Namtso Lake Bike Tour
This popular cycling journey is from Lhasa to Lake Namtso. It doesn't demand too many efforts, but will offer you wonderful scenery. The general cycling itinerary mainly goes like this: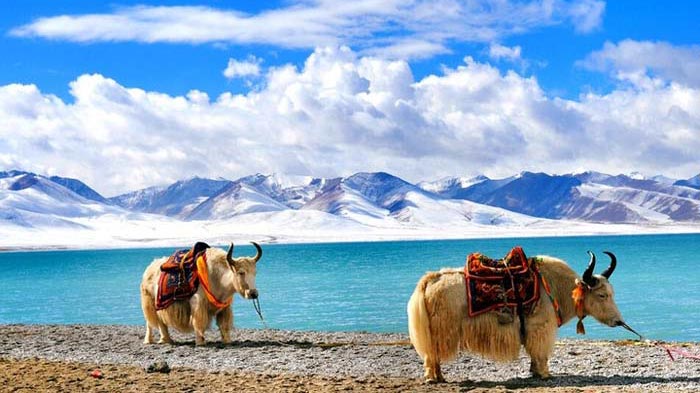 From Lhasa to Damxung
The distance would be about 155km; you will cycle to Damxung along Qinghai-Tibet highway. The road condition is pretty good and smooth.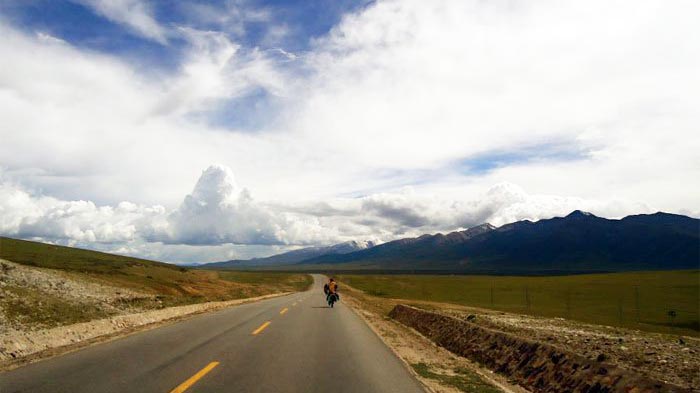 From Damxung to Namtso
After yesterday's section of route, you could start the second day cycling to Lake Namtso, and the distance would be 75km, during this day's cycling, Nyenchen Thanglha mountain ranges will be within your view all the way. The most difficult ride during this day is to climb Mt. Nagenla Pass at 5190m high, and you could ask for 4WD help provided by our travel agency Tibet Vista that could carry you and your bike to get over the mountain pass.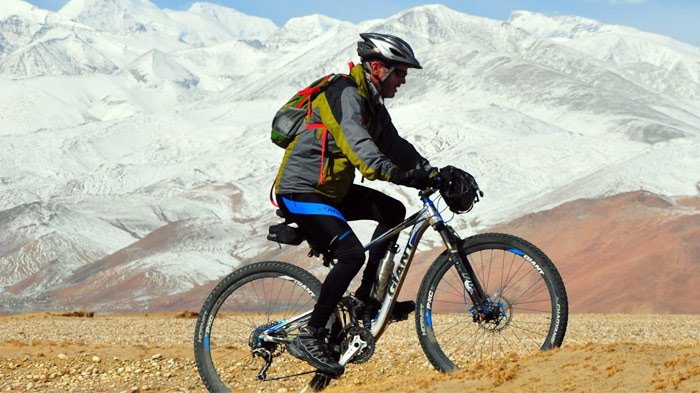 From Namtso to Yangpachen
The final day of this cycling tour would be from Lake Namtso to Yangpachen with a distance of 123km. While enjoying the clear morning at the lake shore, you could cycle along the lake shore to Tashi Dor Island to explore the meditation caves. Then you could ride to Yangpachen to enjoy the hot spring. The road condition is the same as the day before.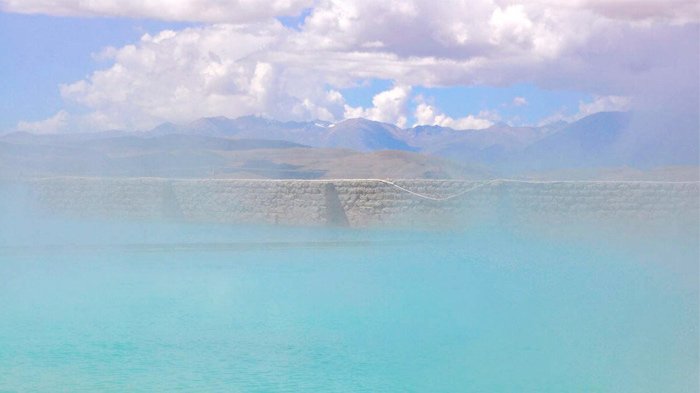 Central Tibet Bike Tour
The central Tibet bike tour last roughly 11 days, and the tour covers major Lhasa cultural sites and scenic spots with excellent cycling condition and good accommodation as well as amazing sceneries along the route, all of which makes the bicycle tour a pleasant journey. But please pay attention that the mileages are not totally finished by bicycle. Many of the route sections are done by business vehicles carrying you and your bicycle gears, for the whole distances could never be done solely by bicycle. You will just choose some best sections for cycle tour. The itinerary mainly goes this: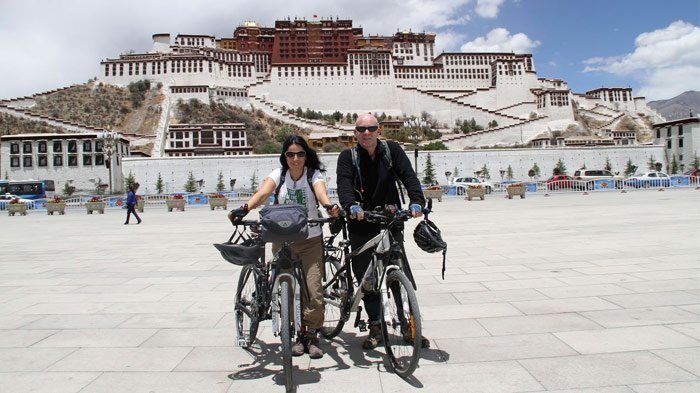 Day 1:Bike to Ganden Monastery (53km)
During the first day you will ride from Lhasa about 53 kilometers eastwards to visit the Ganden Monastery, which ranks the first among the six largest monasteries of Gelugpa. If you are not tired, you could circuit the monastery then.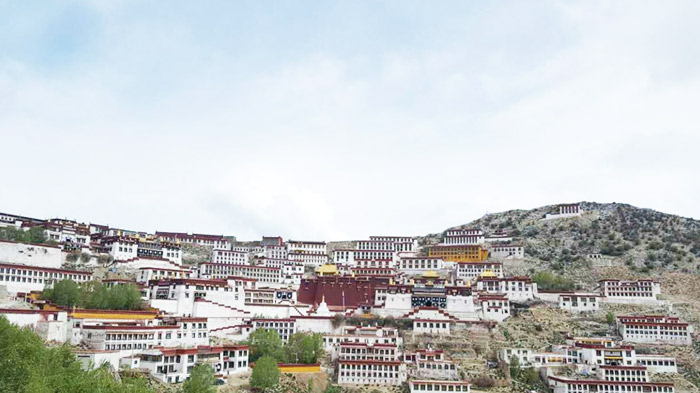 Day 2: Ride from Ganden monastery back to Lhasa

This day you will cycle back to Lhasa. You could have a good rest in the rest time of the day, preparing the next destination-Namtso Lake.
Day 3-5: Bike from Lhasa to Namtso (240km)
During these three days you will cycle from Lhasa northwards to Lake Namtso, Nyenchen Thanglha Range will be within your view shortly after you leave Lhasa.
If you have your cycle tour in summer, say from May to August, you will see sheepherders and their family moving to grassland and setting up their tents. You could also see green grasslands, groups of sheep and yaks, nomadic tents along the road. Lake Namtso is one of three holy lakes of Tibet and also the highest salt lake in the world.
Day 6: Bike from Namtso to Yangpachen (123km)
This day you will bike from Lake Namtso to Yangpachen, you will get over the Lagangla pass and stay overnight at Yangbachen. Yangbachen is renowned for its geothermal power and there is a hot spring nearby where tourists could have hot bath and refresh themselves.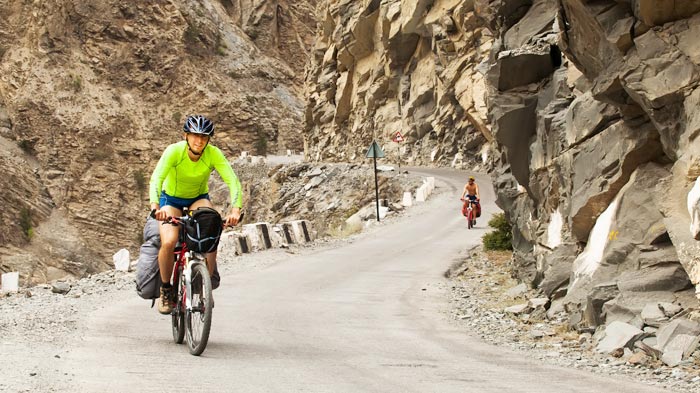 Day 7: Bike from Yangpachen to Lhasa(75km)

Today you will ride back to Lhasa from Yangpachen through the same route. The road condition is the same as the day before.
Day 8: Bike from Lhasa to Samye monastery (200km)

Samye monastery is located around 200km away from Lhasa. It is one of the most popular Holy places. Here you could watch one of the most interesting religious practices of Tibetan Buddhism namely, the debating of Buddhist scripture, which make Samye monastery so famous.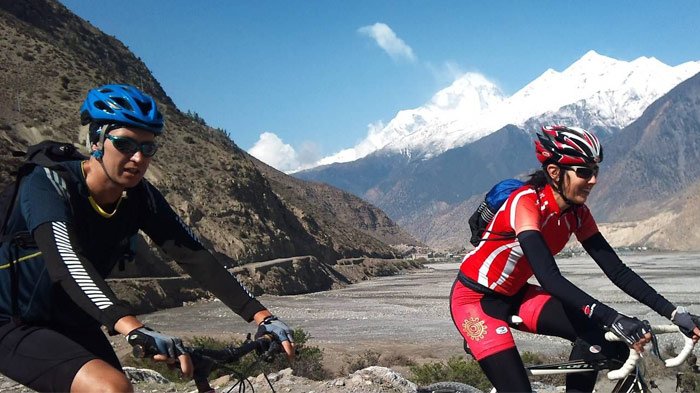 Day 9: Bike to Tsedang, Visit Trundruk and Yumbulagang(191km)
Today you will bike to Tsetang along the Yarlung Zangbo River, then you could visit Trundruk Monastery and Yumbulagang Palace. Trundruk is one of the earliest Buddhist monasteries in Tibetan history. Yumbulagang was built for the first Tibetan King, Nyatri Tsanpo in the 2nd Century BC and became the Tibetan Kings' palace since then.
Day 10-11: Bike to Lhasa from Tsedang

In the following two days, you will bike back to Lhasa from Tsedang. The road condition is quite good. After arriving in Lhasa, take a good rest at your hotel.
What's the best time to cycle in Tibet
The best time for a cycle tour in Tibet would be from May to October. The rainy season is July and August, but the rains always fall at night, and it does not affect much for a cycle tour on a paved road. Most time during this period cyclists can enjoy blue sky and clear weather. The mountains are at their greenest and wildflowers strewn among the alpine meadows during this time. The time may vary for different people and purposes. Most cycling enthusiasts would choose to cycle in Tibet as a way to exercise their body strength and willpower.
Be discrete when having a cycle tour in Tibet
To have a cycle tour would cost more energy compared with trekking. So you must well preserve your energy. We suggest that you shall not have a bicycle tour immediately after you arrive at Tibet. Do it after your acclimatization after two or three days in Lhasa, or else you may encounter the altitude sickness.
Pay attention to your safety

Slow down your speed when descent, for you may encounter a brake failure. There are too many cases where cyclists met accidents when descending too quickly downhill and collided to hillside. You shall never ignore the possible dangers that may arise if you just seek pleasure when descending hills at a high speed.
How to load gears on bicycle
Be on a cycle tour, there must be some gears to load. Here we suggest that you do not put majority of your gear weight in the back panniers. The bicycle works best if you distribute 70% your weight in the front panniers.
Cycle Equipments
1.A mountain bike and spare parts and maintenance tools, including two inner tubes, one outer tube, a chain puncher, an inflator, a socket head wrench, two brake cables, four brake rubbers, a chain corrector, pinchers, glue, etc.
2.Helmets prevent serious injury during a cycle tour. It is not a decoration but the last protection to your head during an accident. You must be very careful during your choice of the hemet.
3. A knapsack, bicycle saddlebag.
4. Compass, elevation watch, torch, ten spare batteries.
5. A long string of firecrackers. Cut the firecrackers into two to four shorter strings and put one at hand so that you can use it to scare away wild animals attacking you. In addition, you need a box of match, instead of lighter. A lighter might not work at a high altitude due to lack of Oxygen. In fact, firecrackers are the best weapon to cope with attacking from wild animals. A gun or knife in hand might be helpless, at night in particular.
6. 500ml of alcohol used for sterilization in case of being injured.
7. 500ml gasoline in case you are attacked by wild animals at night; you can light the gasoline to scare them away.
8. A long stick used for self-defense. It is more useful than a knife.
9. High altitude tent, warm sleeping bag, self-inflating mattress, moisture-proof pad.
10. Padded jackets, down clothes, water-proof coat, pants and shoes, hat, sunglasses, lipstick.
11. Alcohol stove or gas stove and bottled alcohol or gas for cooking food or boiling water. If you drink cold water and eat cold food all the way, I am afraid it will influence your health.
12. Two ropes, a pair of scissors and a knife.
Medicine

1.Bring some medicine for altitude sickness in case such as Rhodiola rosea
2.Anti-Trauma: Safflower Oil, Band-aid, Mercurochrome, Gauze, Adhesive Plaster, Bandage, Alcohol.
3.Anti-mouth and throat disease: Caoshanhu Buccal Tablets, Mirabilitum Praeparatum Buccal Tablets.
4.Anti-heat and inflammation: Radix Isatidis Infusion.
5.Anti-pneumonia: Toupaoanbian Capsule, Ofloxacin.
6.Anti-anoxia: Glucose.
7.Anti-inflammatory: Spiramycin.
8.Anti-gastrointestinal disease: Domperidone, Norfloxacin, Ageratum-liquid.
9.Anti-cold: Vitamin C Yinqiao tablets used for handle pneumonia. In Tibet, a cold easily translates into emphysema and a cough into pulmonary disease.
Food
In remote areas of Tibet, it is difficult to find a store or restaurant. So you need to prepare some food for your cycling trip in Tibet. Instant food is the best, like instant noodles, ham sausage, steamed bread, pickles, chocolate, drinks, alcohol for warming your stomach after eating cold food and drinking water.

Clothes

The temperatures change greatly in different areas of Tibet and between day and night. In Lhasa, the temperature in July arrives at 30 Celsius degrees at daytime, but falls to -10 Celsius degrees at night. While the temperature at mountain areas is much lower than that in Lhasa. Sometimes it will snow or sleet at night, so you'd better take some down garments (those with hats will better), woolen sweaters, warm gloves, warm and wind-proof shoes and socks. Wear several layers of clothing that can be easily added or removed. Even in summer, a down coat is necessary for those who are traveling beyond Lhasa and Shigatse into more remote areas such as Everest Base Camp.

Other things
Skin care products such as sunblock and lipstick, sunglasses, all necessary toilet items including small packages of tissues and either a battery operated shaver or razor, spare batteries, and so on.