Are Children Safe to Travel to Tibet?
Are children safe to travel to Tibet? There is no easy answer. In fact, all of us, young or old, will respond to altitude change and have some symptoms of altitude sickness in one way or another. Given the small age of children and their unique phase of physical growth, a few suggestions do merit parents' attention.

Our customer Mr.James Great and his 7-year daughter were standing at 5400m in front of Himalaya.
The Challenge of Traveling with Toddlers
Although the risk of developing acute mountain sickness (AMS), which can cause headache, nausea, lightheadedness or weakness, is probably the same for children and adults, according to Dr. Miriam Laufer, a pediatrician specializing in infectious diseases and travel medicine at the University of Maryland School of Medicine, "the challenge of traveling with toddlers is that they will not be able to communicate if they are having symptoms."
As a result, it is likely that the discomfort caused by altitude sickness might be mistakenly taken as jet lag, unfamiliar food or another illness. If your toddler can't communicate such warning signs, you won't know to take action. Accordingly, the timely treatment may be delayed.
Advice for Tourists Travelling with Small Children
a.Though there is apparently no minimum age restriction on taking children into Tibet, according to Dr. Laufer, "My advice is not to take the train to Lhasa with the 3-year-old "and" A safer age to allow children to visit and stay at high altitude is 7 or 8."
b.Before travelling to Tibet, do have a medical checkup for you children. And buy necessary medicine for altitude sickness at the consultancy of the doctor.
c.Small children tend to fidget around when they get bored. Do not allow kids to run or jump violently because it only increases the burden for their body. Do not have shower for your children in the first few days after your arrival in Tibet so as not to catch cold.
d.Bring some lovely toys or snacks for children, when they get bored during the long drive, these stuff can effectively calm them down.
e.As the typical strong radiation in Tibet is harmful to children's delicate skin, do apply sun cream to children and never let them dress short shirt or pants.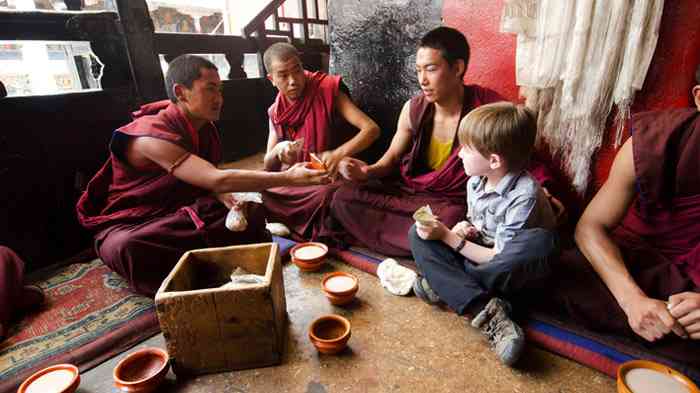 An adorable kid is touring Tashilhunpo Monastery with his family.
f.Travelling in crowed places such as Barkhor Street or other monasteries, keep an eye on your children, do not get lost.
g.Never take children for Tibet tour that involves too many days, trekking and adventure or in places like Ngari ( with an average altitude of 4500m). Their fragile body is simply not prepared for such strenuous travel.
h.Pay special attention to dramatic temperature change in Tibet. Keep your children warm and comfortable.
i.The clothes should be loose and easy to move. Sport shoes are preferred to leather shoes.
j.When children see colorful prayer flags, do remind them not to play with it or jump over it. Never let them destroy the Marnyi Stones or yell inside the monastery.