Lhasa Cheap Hotel: Budget Accommodation Options to Cut down Your Lhasa Tour Cost
Accommodation and transportation make up a large part of a trip to Tibet. Thanks to the development of Tibet tourism, there are hundreds of hotels at all levels from international luxury 5-star hotels to budget youth hostels for your option.
How to cut down the cost of your Tibet tour by choosing a reasonable place to stay in? What is the best accommodation option for a budget tour in Lhasa?
Once you meet these questions when arranging your trip to Lhasa, here is the right place for you to check the comprehensive guide on the budget and the most money-effective accommodation options in Lhasa.
How much does it cost to stay in a budget hotel in Lhasa
For foreign tourists in Lhasa, the cheapest accommodation option is guesthouses, hostels, and economic hostels that have the license to accommodate international tour
In general, the cost of budget hostels and guesthouses is from 10 USD per night, while the cost of economic hotels (2-star or 3-star) is from 30 USD per night.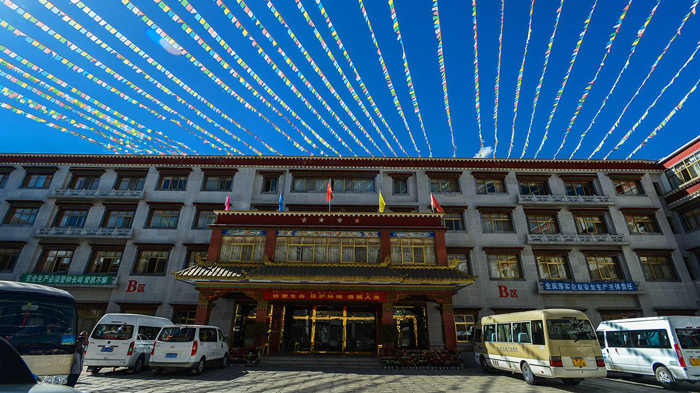 Tibet has many budget hotels can meet your needs.
Since the overall accommodation in Tibet is a bit worse than in mainland China, the conditions of those budget hotels in Tibet are very basic. The privately-owned hostels and guesthouses in Tibet are quite poor, which is not recommended to group travelers. If you want a group tour in Tibet with friends or family members, it is suggested to choose economic hotels, which is good value for money and has a cleaner and more comfortable environment.
In the summer holiday, when it is the peak season of Tibet Tourism, the price could be higher and rooms may be sold out quickly. It is highly recommended to book your hotel in Lhasa as early as possible if you travel to Tibet in July, August, and early October.
How can I stay in Lhasa cheap?
Reducing the cost of accommodation in Tibet doesn't necessarily mean choosing hotels with poorer accommodation conditions.
In winter, the price of Tibet hotels is always lower than that in peak season. You can get a great discount by traveling to Tibet in winter.
Also, the temperature of Lhasa in winter is not as lower as you thought. The average temperature of Lhasa in winter is around 8°C with the max temperature over 12°C in the day time.
Sometimes, an early reservation can only get an early-bird discount. If you book a Tibet group tour with us 3 months in advance, you can get 5% off for the total price.
What are some of the best economic hotels for stays in Lhasa
You can easily find hundreds of hotels and hostels in Lhasa on the internet. But which is the best one for you to choose from?
Based on the reviews of our guests and feedback from our local guides, we would like to recommend to you the following economic hotels in Lhasa that offer good value for money.
1. New Mandala Hotel (3-Star)
It is one of the economic hotels in Lhasa, located right next to Jokhang Temple. This hotel offers suite rooms, standard rooms, single rooms, and triple rooms, totaled 79 guest rooms, mainly with classical Tibetan decoration style, clean, comfortable, and well-appointed.
The staff there is well trained and does everything possible to make you feel at home and make your stay pleasant and comfortable. The cost of this hotel is RMB150 to RMB260.
2. Lhasa Kailash Hotel (3-Star)
Lhasa Kailash Hotel is a Tibetan-style hotel located in the busiest and most traditional road in Lhasa, 200 meters away from Jokhang Temple, and 800 meters away from Potala Palace.
There are more than 60 rooms in the hotel. The hotel is still equipped with a 19-seat coach for the service of the guests who stay in the hotel. The cost of this hotel is from RMB110 to RMB200.
3. Phuntsok Kasang International Youth Hostel (2-Star)
Located in the center of downtown Lhasa, Phuntsok Kasang International Youth Hostel is in the middle of the Potala Palace, Jokhang Temple, and Ramoche Temple. It's within 10 minutes' walk to the three main spots. Lhasa's largest supermarket is just opposite the street.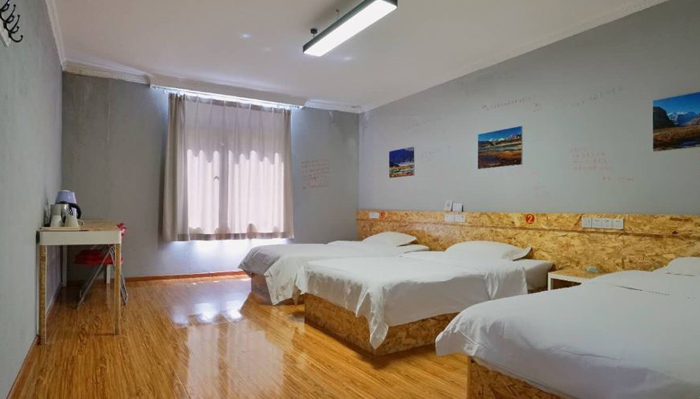 Phuntsok Kasang International Youth Hostel
The hostel is a typical Tibetan courtyard in the downtown area. Located behind the front buildings, the hostel enjoys its convenience but stays quiet and comfortable. The cost of this hotel is RMB80 to RMB260.
4. Yak Hotel (4-Star)
Yak Hotel enjoys a good location in the center of Lhasa and close to the Jokhang, and Ramoche monastery.
There are 62 rooms and 185 beds at various levels in the hotel which started operation in April 1986. Hotel staff can speak Chinese, Tibetan, and English. The cost of this hotel is from RMB220 to RMB280.
5. Gang Gyan Hotel (4-Star)
It is operated by Tibet Gang-Gyan Development Company and enjoys a superior location near the Ramoche Temple, the busy Barkhor Street, and places for tourists to go sightseeing and go shopping.
You can enjoy the full views of the famous Potala Palace when lying in bed. You can also enjoy a music feast performed both by the morning bell rings, evening drums, and the Sanskrit singing at night. The cost of this hotel is RMB150 to RMB340.
Do cheap hotels in Lhasa have a shower?
Economic hotels in Lhasa all have an en-suite washroom with a shower. But most of them don't have a bathtub.
In those budget hostels and guesthouses, there is no private washroom in the dorm. Only public shower rooms and toilets are offered.
Conclusion
If you are looking for a budget Tibet tour, you have a wide range of accommodation options, such as economic hotels, cheap hostels, and budget guesthouses.
Before making the booking, make sure the one you pick up has the license to accommodate international travelers.
As the accommodation in Tibet is poorer than that in mainland China, don't expect too much for the cheap rooms.
We prefer to recommend budget hotels as the best value for money option. You can choose one from our listed hotels as above, or tell us which hotel you preferred to stay in or more requirements and let our local travel expert find the best for you.