Can the Elderly and Kids Travel to Everest Base Camp ?
Can both the elderly and the kids travel to Everest Base Camp (EBC)? Well, the answer depends.Due to the high altitude of Qinghai-Tibet plateau and relatively weak physical condition, the old and the kids are more vulnerable to plateau environment. However, no one can deny the fact that quite a few children and the elderly did make it to Tibet, a handful of them even to Everest Base Camp.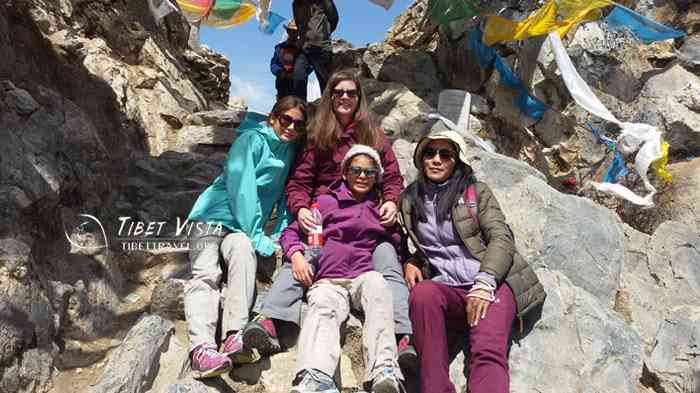 Khamsang, Tibet Vista's celebrated guide, with clients' family during Ganden trek
Tibet Tour for Children
Theoretically, the kids who are below 7 or 8 years' old are not recommended to travel to Tibet. Meanwhile, travelling to regions with extreme altitudes such as Ngari or Everest Base Camp is simply too risky for kids to visit. Lhasa and its surrounding areas are perfectly fine for kids to grab the rough idea of Tibetan culture and history.
One of the biggest problems and challenges for small kids to travel to Tibet is that parents sometimes can't tell if their children suffer from symptoms of altitude sickness or other illnesses. Therefore, parents shall pay special attention to your kids' physical condition and our guide will also follow all clients' health throughout the tour.
Tibet Tour for the Elderly
As for the old, it's also hard to define the age as the boundary of whether being able to traveling to EBC. Things are not always absolute considering the age of traveling to EBC. In history, so far our oldest client who came from US and made it to Everest Base Camp is at the age of 84 with her 60-year-old daughter. Again, consulting with your doctor and staying physically strong and healthy are a must before making the decision to travel to Tibet.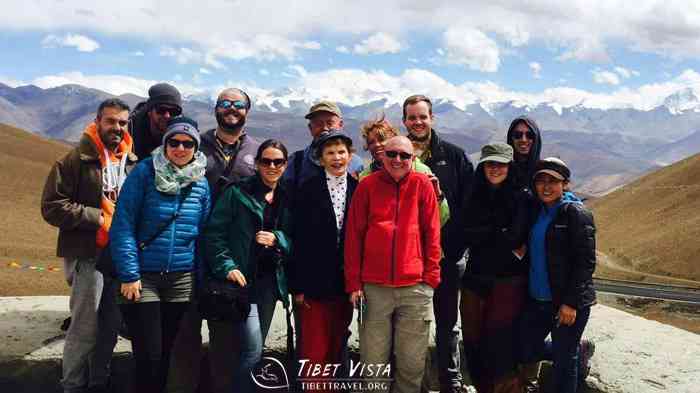 Gentry, Tibet Vista's American client in the middle, travelled to Everest Base Camp at the age of 84 with her 60-year-old daughter.
Preparation and Caution for Tibet Tour
There are a few general tips for your Everest Base Camp tour with the elderly or kids:
1.Have a physical Examination and Ask the Doctor for Advice
According to medical experts, the old with certain diseases (such as hypertension, diabetes, other respiratory disease, etc) are not suggested to travel even to Tibet, let alone EBC.
2.Have a Gradual and Slow Ascent and Have Enough Rest
Having a gradual ascent means you'd better have at least one or two days stay in the same area if you prepare to move to higher regions (let's say 500-1000m higher) on the plateau. Do prepare some food and water along the way. And if they are seriously uncomfortable on the high altitude, descend to lower places and have a good rest.
Tips: The travel route to Everest Base Camp is a well-established one and there is no need to worry about the supply and safety issue.