What is the Best Way to Get to Tibet?
As getting to Tibet has become increasingly easy, so far there are three major ways to Tibet: by train, by air and by road. Some tourists may wonder which one is the best option. Direct flights run from more than two dozen airports across China, as well as from Kathmandu, while trains run from seven gateway cities in China, including Guangzhou, Beijing, Shanghai, Chengdu, Chongqing, Lanzhou, and Xining.
The Qinghai Tibet Railway, which was completed and opened in 2006, is the main railway to Lhasa from mainland China, and the trains from all the seven stations travel through Xining to get onto the railway to Tibet. For road travel, the best route to take of all the roads running onto the plateau is the route from Kathmandu, which crosses the international border between Nepal and China at Gyirong Port in western Tibet.
The best route to take to the plateau depends mainly on where you are departing from, on your schedule of travel in Tibet as well as China or Nepal, and the physical conditions of yourself and the group you are traveling with. Obviously, if you are traveling from China, there is no point taking the road through Gyirong port, and similarly, if you are short on time, flying is the better option rather than taking the trains.
Best Way to Tibet by Air
Flying is often considered to be the best and easiest way to travel, and for many people traveling to Tibet, this is true. The best reason to fly to Tibet is for those that have little time to take an overland trip or a train to Lhasa, as the flights can make it to the Tibetan capital in as little as 90 minutes and up to only six hours. That is a huge difference to the trains, which take anywhere from 22 hours to reach Lhasa.
Direct flights depart from a wide number of airports across China, including Beijing, Shanghai, Chengdu, Chongqing, Xi'an, Xining, Kunming, and many others. With over 24 airports offering direct flights to Lhasa from mainland China, you are definitely spoiled for choice, and can arrange your tour of China and Tibet accordingly.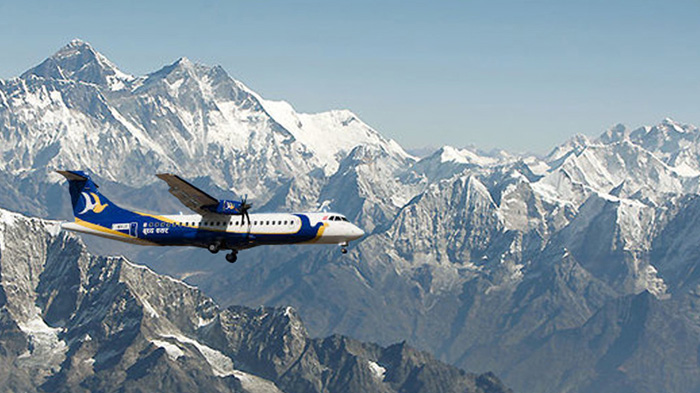 Flight from Nepal Capital to China Tibet with Himalaya Range underneath
There are also direct flights from Kathmandu to Lhasa, the only international flights into the Tibet Autonomous Region. These flights take just 90 minutes to cross the Himalayas and the Tibetan plateau, and are a faster option than traveling overland.
Insider tips:
Flying does have its good and bad points when traveling to Tibet. While it is faster and more convenient, it is also not good for acclimatizing to the higher altitude due to pressurized aircraft and is a more expensive option than traveling by train.
Best Way to Tibet by Train
While flying is fast and convenient, traveling by train is fast becoming the preferred method of travel to Tibet from mainland China, with almost 50 percent of travelers now getting to Lhasa by train. Faster is only better in certain circumstances, such as being limited for time. However, if you are not on a time limit, then taking the train to Tibet is an amazing experience that you should not miss.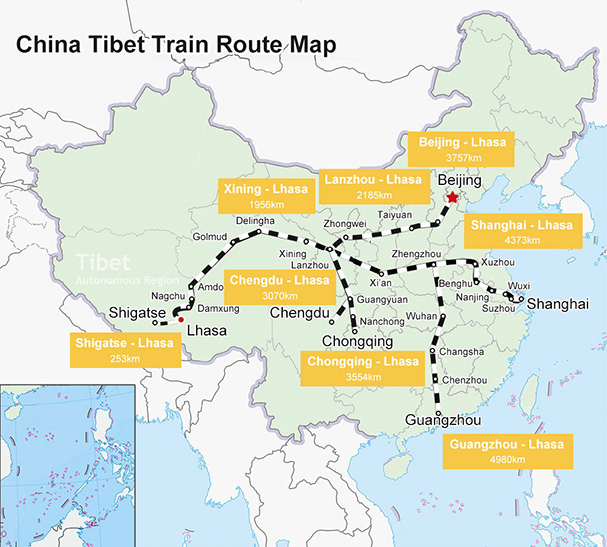 All trains to Tibet
The trains depart from the seven gateway cities in China, and take from 22 hours to as long as 55 hours to reach the Tibetan capital. And while much of the journeys from the east and south of China may travel through Chinese provinces to get to Xining and the start of the Qinghai Tibet Railway, the section from Xining to Lhasa is the most beautiful stretch of railway in the world.
Travelling to Tibet by train promises a wonderful experience as tourists ride on the world's highest railway in terms of altitude. The whole train journey to Tibet is full of unending breathtaking scenery, and the railway goes through the distant lofty snow-capped mountains, and passes over vast prairies, wetlands, and nature reserves. Tourists using the train to Tibet can also enjoy a wide variety of wildlife running across the plains far away from the tracks. The scenery along the Qinghai-Tibet Railway is second to none.
Enjoy a Short Video of Qinghai-Tibet Railway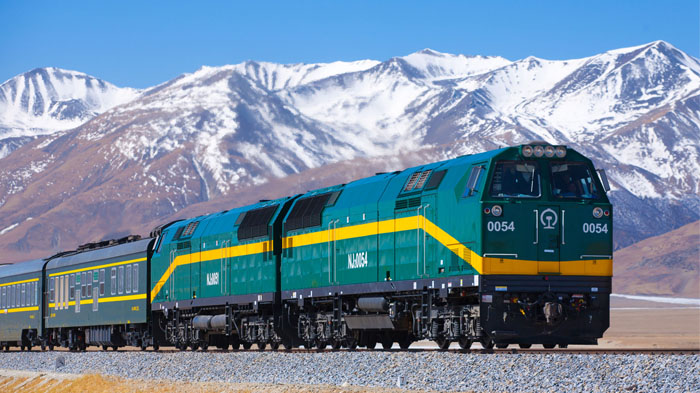 Qinghai-Tibet railway rolling on the Plateau where splendid landscapes can be spotted.
Known as the "Sky Train to Tibet'', the Qinghai-Tibet Railway is the world's highest railroad. Nearly half of the railway lies more than 4,000 meters above sea level. There are 45 stations along the 1,972km-long Qinghai-Tibet Railway from Xining to Lhasa and every station has unique scenery.
However, there is one thing that is no different when traveling by train to traveling by flight. One of the biggest myths about traveling to Tibet by train is that you can acclimatize to the altitude as the train moves along the tracks, increasing in altitude all the time. This is not strictly true. While you are ascending at a slower rate than when flying, the trains are also pumped with oxygen after they pass through Golmud and head up to the plateau. And this ascent is not as slow as some websites would have you believe.
With the added oxygen that is pumped into the train's carriages, as well as the personal oxygen system for those that experience some symptoms of altitude sickness, acclimatizing to the higher plateau altitude while on the train is not going to happen. Acclimatization occurs when you stay in a higher altitude area for a period of at least 24 hours. Since the train does not stop anywhere for 24 hours, acclimatization does not happen.
Best Way to Tibet by Road
For those travelers that have plenty of time to travel and are not worried about the long and arduous driving routes to Tibet, traveling by road is a great way to get to the Tibetan plateau. And there are two major driving road routes to Tibet for travelers, from Kathmandu to Lhasa and from Chengdu to Lhasa.
The road from Kathmandu to Lhasa is a popular route for people traveling to Tibet, taking a reverse tour across the plateau and ending in Lhasa, the Tibetan City of Sunshine. The trip still requires you to be on an organized tour, and we have a wide range of tours that can take you across the border at Gyirong Port in western Tibet. An amazing journey of discovery and adventure, a Kathmandu to Lhasa tour is one of the best ways to drive to Lhasa, though you will not be doing the actual driving.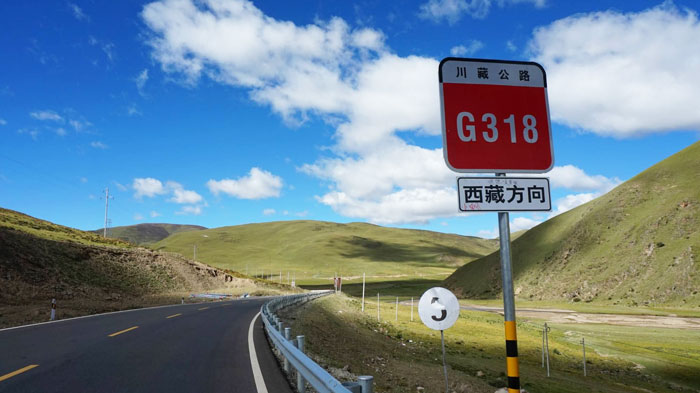 The beautiful scenery along G318 Sichuan Tibet Highway to Lhasa
The other main route to Tibet by road is the famous Sichuan Tibet Highway, which starts in Chengdu, the capital of Sichuan Province. The long road stretches west through the mountains and lower regions of the plateau, including Nyingchi, to reach Lhasa. An intense and arduous trip that can take as long as 12 days, the route takes you through some of western Sichuan's beautiful Tibetan villages and mountains, before heading into Nyingchi, the warmest region of Tibet and along the G318 Sichuan Tibet Highway to Lhasa.
A distance of more than 2,000 kilometers, this is not for the faint-hearted and requires travelers to be on a tour, with guide and driver and all the permits complete before traveling. While independent travel is allowed in Sichuan Province, foreign travelers are not able to drive in China, so a tour must be arranged, and we have the perfect tours for your epic overland adventure.
What documents we need to prepare before we come to Tibet?
For all travelers to Tibet, you will need to have a valid passport, a visa, and several permits. And depending on how you are traveling to Lhasa defines which you need and when. Some permits are only applied for in Lhasa after you arrive, while others are required before you travel.
Whether traveling by air or train from mainland China, you will need to have your passport, a Chinese Entry Visa, and the Tibet Travel Permit. This permit is only applied for by us once you have booked your tour, and uses scanned copies of your passport and visa to make the application. Once approved, the permit is sent to your hotel in China for your trip to Tibet.
For those traveling from Kathmandu, both by air and overland, you will need to have your passport, the Chinese Group Visa, the Tibet Travel Permit, the Alien's Travel Permit, and the Frontier Pass. Instead of applying for the Chinese visa yourself, it is obtained as a Group Visa once you arrive in Kathmandu.
We make the application on your behalf using your original passport and Tibet Travel Permit (which was applied for in advance using a scanned copy of your passport) at the Chinese Embassy in Kathmandu.
For all travelers to Tibet from Nepal, ALL permits are required, even for those traveling by air direct to Lhasa as if they were traveling overland. This means that the Alien's Travel Permit, which is normally applied for in Lhasa when you arrive, is obtained prior to you arriving in Kathmandu. We will also apply for the Frontier Pass, which is required for all tourists traveling in the areas of the Chinese border with India, Nepal, and Bhutan.
Conclusion
With three main options for getting onto the Tibetan plateau, tourists have a wide choice of travel methods, and can enter the region from one of two main directions, from China or from Nepal. Which way you travel is largely up to you, and is often determined by your requirements and budget, as well as where you are departing from to get to Tibet. Whichever way you decide to get to Tibet, you are guaranteed to have the time of your life on this vast and high Tibetan plateau.