Tibet Trekking: Which Trek Is Right for You in Tibet?
Trekking in Tibet is one of the most outstanding experiences on the plateau. Hiking through some of the most amazing landscapes in the world, you can choose from taking the challenging trek around Mount Kailash to something a little gentler, as the mild trek from Shalu to Nartang. There is a trek for everyone in Tibet, but if you are having trouble choosing one for yourself for your first Tibetan trek, our experts can help match your interest with the most suitable trek for you.
Looking for a Short Trek for Family, Go for Shalu to Nartang Trek
Notably one of the easiest treks in Tibet, and one of the few that are suitable for families, the three-day trek from Shalu Monastery to Nartang Monastery is perfect for a first-timer to high-altitude trekking. The gentler days of hiking and the shorter route makes this more family-oriented than other treks, though it does reach altitudes of up to 5,000 meters.
Shalu to Nartang Trek at a Glance
Route: Shalu Monastery - Upper Lungsang - Ngor Monastery - Nartang Monastery
Distance: 45km trekking
Duration: 3 Days
Start: Shalu Monastery (3,980m)
End: Nartang Monastery (4,500m)
Highest Point: Char-la (4,550m)
Physical Level: Easy
Best Time to Trek: Early April to October
Accommodation: Camping
Food: Self-cooked food
Top Highlights for Shalu to Nartang Trek
If it is your first time to tackle a trek in Tibet, or you have a family bond when trekking with your kids, then this is the ideal trek for you. While it may reach high altitudes, the trekking is gentler and easier to manage, with a gradual climb up to the highest points of the hike.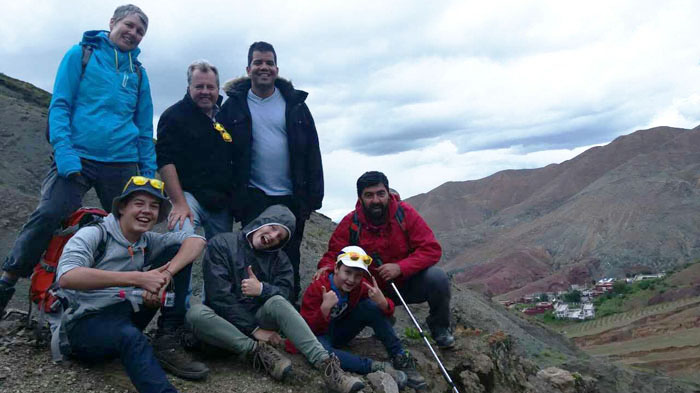 Shalu to Nartang Trek is a short trek and suitable for family trek with kids
The trek, while short, does visit several exciting sites of cultural importance in Tibet, including Upper Lungsang (4,060m), the Ripu Hermitage, the Show-La Pass, Char-la Pass (4,550m), Ngor Village, and the Sanskrit library at Ngor Monastery. Over the course of three days trekking, you will pass through several small Tibetan communities, cross the crests of at least two high passes, and get to tour around three stunning small monasteries in remote locations.
As well as being a great family trek, this unique hike between monasteries is actually a good opportunity for those that are interested in the typical Tibetan Buddhist culture. The only way to visit to the Ngor Monastery, with its unique Sanskrit library and unusual Newari murals from Nepal, this hike can give you a unique insight into the shared history of Tibet and Nepal.
Want Scenic Trek on Ancient Pilgrimage Route, Pick Ganden to Samye Trek
Regarded in hiking circles to be one of the best high-altitude treks in the world, the trek from Ganden Monastery in Lhasa to Samye Monastery in Lhoka is an amazing experience. Following an ancient pilgrimage trail between two of Tibet's most culturally and historically important monasteries, the trek is also one of the most scenic hikes in Tibet.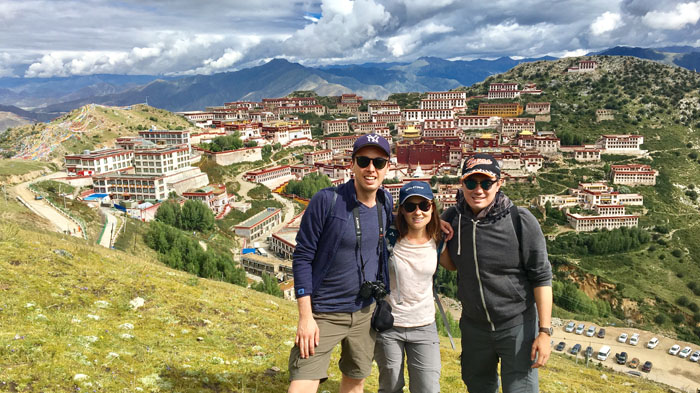 Our clients prepare for trek to Samye Monastery after exploring the holy Ganden Monastery.
Ganden to Samye Trek at a Glance
Route: Ganden Monastery - Yama Do - Tsotuo-chu Valley - Chitu-la Pass - Samye Monastery
Distance: 80km trekking
Duration: 4-5 Days
Start: Ganden Monastery (4,180m)
End: Samye Monastery (3,540m)
Highest Point: Shogu-La Pass (5,250m)
Physical Level: Medium to difficult
Accommodation: Camping or local guesthouses
Food: Self-cooked food
Top Highlights for Ganden to Samye Trek
As if the highlights of visiting Ganden and Samye monasteries are not enough, this amazing trek takes you to sites that you could previously only dream of visiting. The whole trek is an amalgamation of religious and cultural experiences, as well as one of the most stunning treks in Tibet. Taking your from sacred blue lakes and high snowy passes to lush alpine meadows, nomadic herders' camps, and tranquil Tibetan villages, your hike to Samye in the cradle of Tibetan civilization is an amazing adventure of discovery.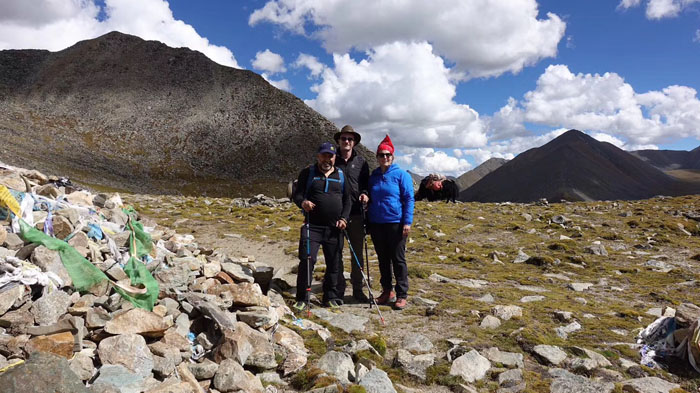 Enjoying the trekking tour from Ganden to Samye with stunning scenery.
The trek crosses several passes along its 46-kilometer route, including the highest pass at Shogu-La (5,250m) and the pass at Chitu-La (5,100m). You will also pass through several small local villages, where time seems to have stood still sometime around a few hundred years ago. The locals in these remote villages still live in the traditional ways of their forefathers. The trek also takes you past the renowned Hepo Ri, one of the most sacred mountains in Tibetan Buddhism, lying in the middle of the entrance to the Samye valley.
Avoid Crowds for Serene Lake and Enchanting Villages, Seek Trek around Lake Yamdrok
For those that want a longer trek with fewer people around, then the amazing eight-day hike around Lake Yamdrok in Shannan Prefecture is the perfect opportunity to get back to nature and do some cultural exploration. A 280km trek that loops around the many arms of the sacred lake, you pass through several small local villages along the relatively level route. While the trek is long, the landscape around the edge of the lake is relatively level, and the trek follows the lakeshore fairly well, with no very steep climbs.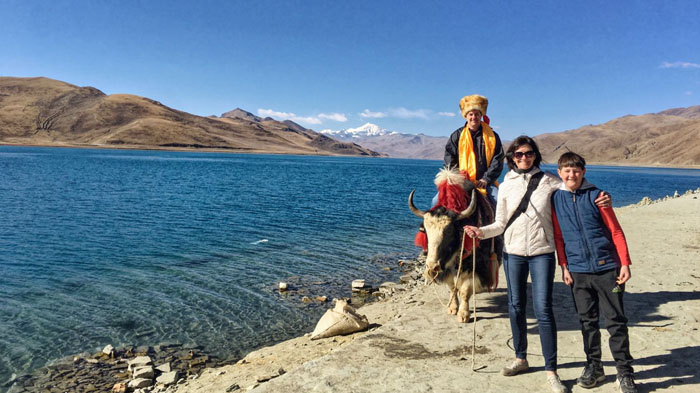 A Tibet family tour takes you to enjoy the amazing view of Yamdrok Lake.
Circular Trek around Lake Yamdrok at a Glance
Route: Dongla Village - Gangba Village - Gamalin Prairie - Nyimalung Village - Duoque Village - Dalong Town - Dongba Village - Guoba Village
Distance: 280km trekking
Duration: 8 Days
Start: Dongla Village (4,400m)
End: Guoba Village (4,550m)
Highest Point: Jiarela Mountain Pass (4,850m)
Physical Level: Easy to moderate
Accommodation: Camping
Food: Self-cooked food / local eateries
Top Highlights for Lake Yamdrok Circular Trek
Aside from the wealth of local villages to explore every day, this amazing trek brings you closer than ever before to the beauty of the sacred lake Yamdrok, the life-blood of Tibet. And you get to visit the tiny Tsayu Temple, which has just four monks in permanent residence, the smallest number in Tibet.
Love Epic Himalayan View, Look No Further than EBC Trek and Gama Valley Trek
If you are looking for somewhere to trek with great views of the mighty Himalayas, then the area around Mount Everest, inside the Chomolungma National Nature Preserve, is the ideal place to go. Here, you have two major treks that are a cut above the rest when it comes to outstanding mountain views, the EBC trek from old Tingri and the Gama Valley Treks.
The Classic Old Tingri to EBC Trek
One of the most popular treks in Tibet, the 70km hike from Old Tingri to the Everest Base Camp is an amazing example of high-altitude trekking in Tibet.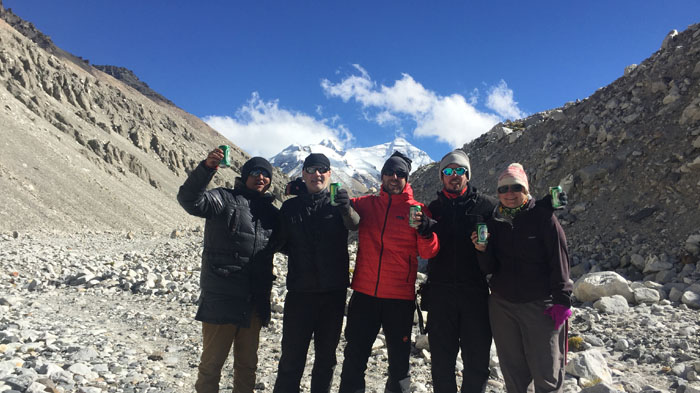 Toast for the breathtaking view of Mount Everest in Tibet.
Old Tingri to EBC Trek at a Glance
Route: Old Tingri - Lungthang - Lamna La - Zommug - Rongbuk/EBC
Distance: 70km trekking
Duration: 5 Days
Start: Old Tingri (4,390m)
End: Everest Base Camp (5,200m)
Highest Point: Pang La Pass (5,350m)
Physical Level: Medium to difficult
Accommodation: Camping
Food: Self-cooked food / local eateries
Top Highlights for Old Tingri to EBC Trek
The trek from Old Tingri to EBC is one of the most popular treks in Tibet, and is an adventure for anyone hiking this epic trail. The major highlight of the whole trek is the view of Mount Everest, getting closer and closer with each step you take towards the massive mountain peak. And the view from the top of the Lamna La Pass, where you actually stop for one night of camping, is an awesome panorama of some of the highest mountain in the world, laid out before you.
Gama Valley Trekking in the Eastern Slope of Mt. Everest
The Gama Valley, known as the Garden of Mount Everest, is a stunning picturesque valley that lies to the east of the massive mountain. Sitting inside the slopes of the highest mountain in the world, the Gama Valley is said to be one of the most beautiful trekking destinations on the planet, and with four treks to choose from inside the valley itself, there is something for everyone.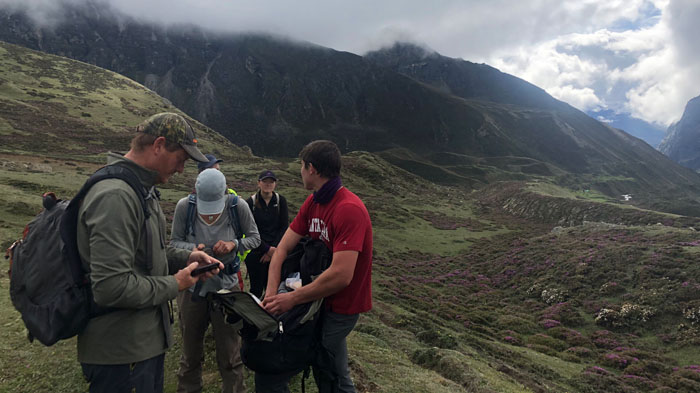 Gama Valley trekking route is one of the most beautiful trekking routes in Tibet.
Gama Valley Trek at a Glance
Route: Chutang Village - Youpa Village - Showo-Tso Pond - Dolshang - Tangsung Platform - Paltang - EBC - Paltang - Tangsung - Ysosho Rim - Lhundupling Village
Distance: 111km trekking
Duration: 9 Days
Start: Chutang Village (3,770m)
End: Lhundupling Village (3,990m)
Highest Point: Nangma-La Pass (5,344m)
Physical Level: Moderate
Accommodation: Camping
Food: Self-cooked food
Top Highlights for Gama Valley Trek
If the views of Mount Everest for the whole trek are not enough, and you are not satisfied with the whole Himalayan panorama, then you can consider some of the other highlights of this stunning Gama Valley trek. From the enchanting Showo-tso pond and the beautiful Orchid Valley (Dolshang) to the lofty Showo La Pass, the splendid Xialong Pasture, the little-known Mount Chomo Lonzo (7,804m), the crystal-clear water of Tsonang-tso, and the amazing sights from the famous Everest Base Camp.
For the Ultimate Divine Experience, Challenge Mt. Kailash Trek
For those that are looking for the ultimate challenging trek in Tibet, then the three-day hike around the Mount Kailash kora route is the best potion in the world. Located in the far west of Tibet's Ngari Prefecture, this sacred mountain trek is the ultimate in spiritual experiences.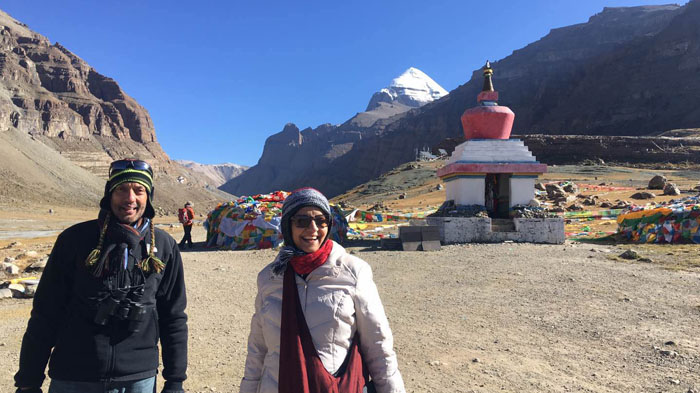 Our clients enjoyed their epic journey to the sacred Mount Kailash in Ngari, Tibet.
Mt. Kailash Trek at a Glance
Route: Darchen Village - Tarboche - Sarshung Village - Drirapuk Monastery - Dolma La Pass - Dzultripuk Monastery - Darchen Village
Distance: 52km trekking
Duration: 3 Days
Start: Darchen (4,675m)
End: Darchen (4,675m)
Highest Point: Dolma La Pass (5,630m)
Physical Level: Medium to Difficult
Accommodation: Camping or local guesthouses
Food: Self-cooked food / Local simple restaurants
Top Highlights for Mt. Kailash Trek
Mount Kailash Kora Trek is the ultimate in high-altitude treks around the world, and is renowned for being the hardest trek in Tibet, despite being one of the shortest. As well as passing the famous flagpole at Tarboche, and the ancient Chuku Monastery with its legends of talking conch shells and teapots, the trek takes you to the true highest monastery in the world at Drirapuk, and gives you the chance to see how pilgrims take on this epic hike at altitudes most people cannot stand. And the views from the high Dolma La Pass are some of the best in Tibet.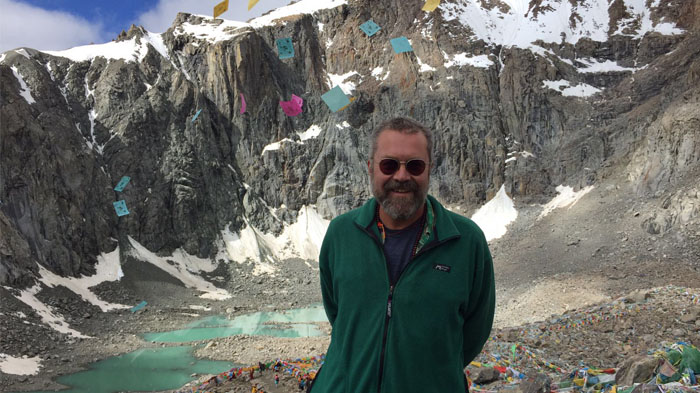 Trek to Dolma La Pass and visit Kadoe Lake
What Trekking Service We Can Offer You
As a prestigious and award-winning local travel agency in Tibet, we promise you expert local trekking leaders and professional teams' support. You may also enjoy our free service for getting Tibet Permit and rent our trekking gears like trekking poles, tents, oxygen supply, cooker, sleeping beds, etc., not to mention the booking of hotels, flights, Tibet trains to Lhasa.
Meanwhile, our travel agency is only a local Tibet tour agency with a designated customer manager who offers heartfelt service whenever you need in Lhasa. Besides, systemic emergency-back-up plans and 24/7 call service can further enhance your travel safety in Tibet. - Please feel free to email us for more details.
What to Pack for Trekking in Tibet?
What to pack for trekking in Tibet largely depends on where you are trekking and at what time of year. If you are planning a trek in the cooler periods, then you should make sure that your list includes warmer clothing. However, for those in warmer times, less warm clothes are required, though you will still need some, even in summer.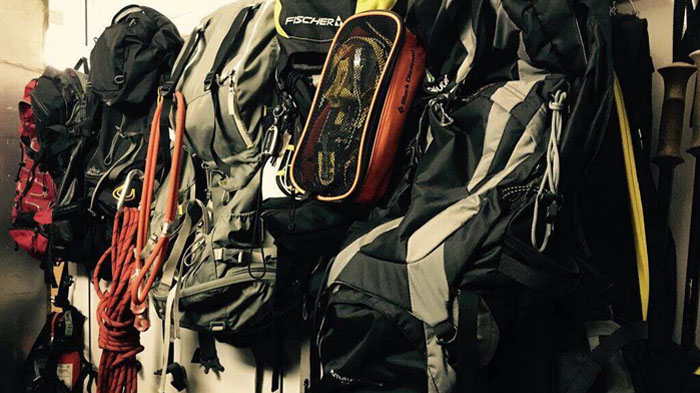 A sample packing list for Tibet trekking tour
Generally, the packing list should include:
Warm sweaters for the colder nights and cold weather.
Warm fleece or quilted jackets.
Layers of t-shirts or hiking shirts to retain body heat.
Trekking pants, preferably water-resistant.
Long underwear to aid in staying warm.
Thick woolen socks to protect feet from cold.
Good sturdy hiking boots, to retain grip and aid ankle support.
Hats: wide-brimmed to keep off the sun and woolen to retain body heat.
Gloves and scarf to keep hands and neck warm.
Not all of the above are required, and you should bring what you need for the time of year.
You should also include:
Medical kit with band-aids and bandages, as well as antiseptic cream, alcohol (isopropyl), and other items of first aid, as necessary.
Prescribed medications that are needed on a daily basis.
Sun block to prevent sunburn.
Moisturizer and lip balm.
Hiking poles, if required. These can help with steep hills and rough terrain.
Other FAQS for Trekking in Tibet
Is There an Age Limit for Trekking in Tibet?
Unless you are either under five years old, or are too infirm to manage the hikes at high altitudes, then there is no restriction for hiking in Tibet. It is important to ensure that you are fit enough to handle the altitude, as this is an important aspect of the trekking here. It is also important to ensure that kids are able to manage the distances of the treks, as some hiking distances in a single day can be long and arduous.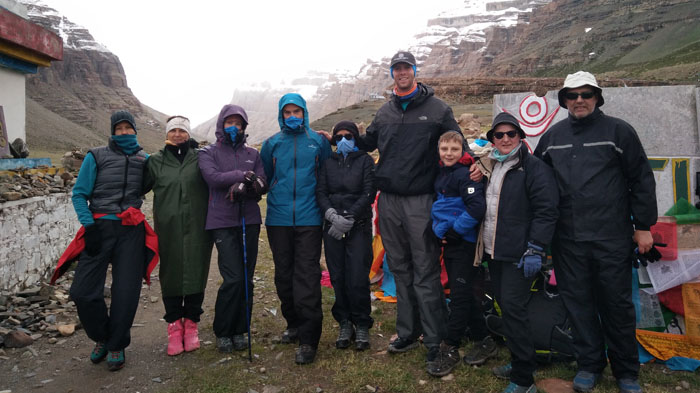 Our age of 11 youngest client whit his family trekking in Mount Kailash
And we have much experience in receiving the elderly and young kids for trekking in Tibet. So far the oldest client (at the age of 82) and the youngest client (at the age of 11) who successfully finished the challenging Mt. Kailash trek are from Germany and Switzerland respectively. - Check the remarkable feats of this 82-year-old.
Best Trekking Seasons in Tibet
Spring, from April to May is one of the best times for hiking in Tibet, as the weather is starting to warm up from the cold of winter and the sun is bright. Dry weather is preferred for hiking in Tibet, as the rains can make trekking difficult. So it is best to steer clear of the summer months in some areas.
Summer is one of the best seasons for you to trekking in Tibet.
Overall, autumn is often rated as the best time to go trekking in Tibet, because of the better weather. From around mid-September until mid-November, the weather is pleasant and comfortable, slowly cooling down from the heat of summer to make things more comfortable when hiking. The colors of the autumn are also a huge draw for hikers that like to see some beauty in the landscapes, and the stark contrast from leafy to bear with the trees is a real attraction for hikers.
Travel Permit for Entry Tibet
In order to enter Tibet for trekking, you first need to obtain the Tibet Travel Permit, the primary permit for entry into and travel around Tibet. The permit is only obtained after you have booked a re-arranged tour with a registered tour operator or travel agency, and takes around 8-9 days to process and it will be later delivered by express to your hotel in mainland China, ready for your Tibet entry. You have to get Chinese Visa first yourself to apply for Tibet Permit.
Conclusion
With so many treks in Tibet to choose from, you may find it hard to decide. However, you can be guaranteed that there is a trek for everyone on the Tibetan plateau, and we can help you discover the ideal trek for you. Just let us know your level of experience and what you require, and we will find the ideal trek on the Roof of the World.