Basic Knowledge for Photography in Tibet
For the photography fans, maybe the real meaning of travel lies in taking good photos. In fact, taking photos has always been an indispensable part of travel not only for photographers but also for common travelers. In this article, I would like to share you some basic knowledge for photography in Tibet, because I believe this knowledge shall be very helpful for you during your Tibet travel and if you happen to want to take some photos.
Due to the high altitude, Tibet has low oxygen content. Then the photography equipment should be as light as possible. At the same time, the ultraviolet rays in Tibet are pretty strong and intensive, so a UV filter in front of your camera lens can help get clearer long-distance images. As for the photography time, you had better choose before 9am and after 5pm. Take a tripod if you can and pay attention to protect your camera from wind or rain.
Photography Equipment Needed
High altitudes put various constraints on photographers and their equipment. The first of these is the physical constraint, as only on foot can one get the best shots. The other is the equipment. Camera and video equipment is heavy, and lugging tons of equipment across the Tibetan landscape is an impossible task. So you are either limited in movement by the weight, or limited inability by the lack of adequate equipment.
There are ways around this, however, and the obvious one is to take fewer bodies and more lenses, so that you can interchange lenses depending on the type of photography you are doing. Films are less useful at higher altitudes than digital cameras. Even if you prefer to use the older 35mm celluloid film, it is more likely to produce lower quality pictures at high altitudes due to the extreme cold. Celluloid film is designed to work best at temperatures between 15 and 35 degrees, and the images tend to blur at near-freezing temperatures.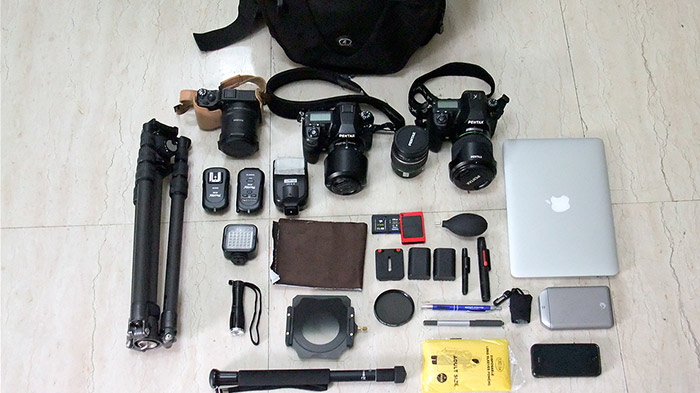 Photography equipment
Digital cameras can also have a few problems, as batteries last for a lot shorter period of time, and the lubricant inside the lenses can freeze if it is old. Remember to change the lube before you go, and keep plenty of spares batteries in your pockets, close to your body heat, to keep them warm.&nbsp. The kind of camera, tripod, and lens you use has a significant impact on your photography and on the images you create. When shooting in mountain scenery the light density can change from minute to minute, and the changing light can cause you to increase your ISO to get faster shutter speeds. A body with good ISO performance is best here, to get the best images possible. Forest landscapes can also be dull and even dark. And in low light conditions, the ISO is also important.
Different landscapes require different lenses, and a good selection would be to carry a range between 150mm and 600mm lenses. Three would be ideal, with a wide-angle lens for those wide Himalayan landscape shots, to get the most expanse of the mountains in your photos. For shooting outside in strong sunlight, use a UV filter to get a blue sky.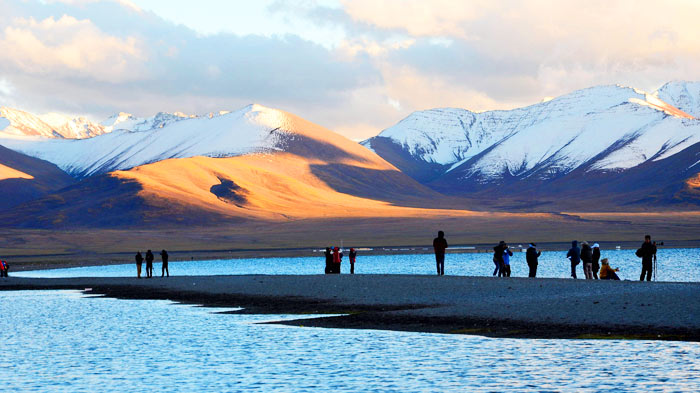 Tibet Landscape
If you are planning on doing portrait photography, then you should first choose sites that have good light intensity, minimal cloud cover, and direct overhead sunlight, as the best time to photograph. Much as low lying sun can be great for dramatic effect in landscape photography, it is damaging to portrait photographs as it often leaves unwanted reflections in the lens of the camera. Filters are not a good idea in portrait photography either, as they tend to blur the image too much. Overhead sunlight is the best option, with a good 1.4/200mm lens for the clearest shots. Use a good DSLR for the photos, so that you can take multiple shots at once on each desired scene, to get the best of all the photos printed. The same applies to wedding photography, although a little dramatic lighting from the side can help a little, just use those filters. The light blurring just adds to the overall effects.
If you want to take photos of local customs, you should check related information in advance making good preparation. The monasteries in Tibet have unique construction styles (One good example is the Palkor Monastery in Gyantse, which is famous for its Palchoi Pagoda, a very unique and delicate construction. Usually you will be arranged to visit the Monastery during your Everest Base Camp Tour by your travel agent.) and the Tibetans are always dressed in colorful clothes on festive occasions. However, photography may not be allowed in some sites. And in some other places, you may be charged to take photos. Remember not to take photos secretly if it is not allowed to, or you may have trouble.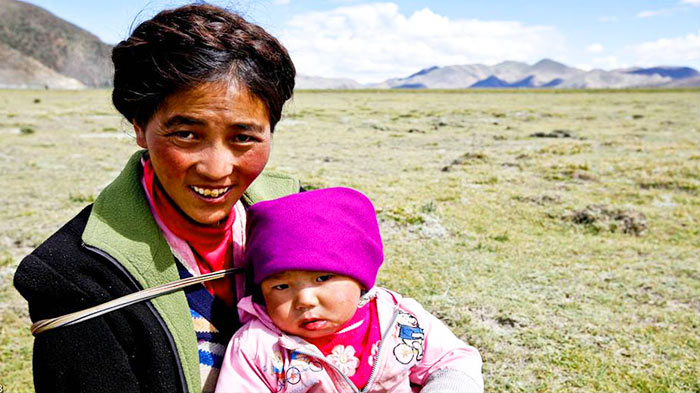 Portrait photography
If you want to take photos of people, you should ask for their permission first, especially, those Tibetan women, because they may not want to be shot. Most of the monasteries are very dark, so you are recommended to take a flashlight with you if you want to take photos inside those monasteries. In winter, you should pay attention to keep warm of your camera and protect it from dust. As for the films, you'd better take enough with you before leaving Lhasa.
Photographing Tibetan Monasteries
Photography in monasteries can be a little tricky, with the different lights and shadows, and the overall dimness of the inside of the temples. Moreover, the use of flash photography is often forbidden in the monasteries, so the chance of using a good flash lighting for the shot is slim to none. As always, in the merely dimly lit areas, you can start with an ISO of around 800, and increase it if the light gets dimmer, until you get a better shot. If you have been allowed to take photos inside the monastery, possibly for a fee, and you already know that you cannot take photos in certain chapels and shrines, then the light is your only enemy. While flash photography is generally frowned upon, the use of a light is not. You can set the light to the tripod, and photograph the interior parts of the temple using a high ISO to dampen the reflective light from the statues and walls.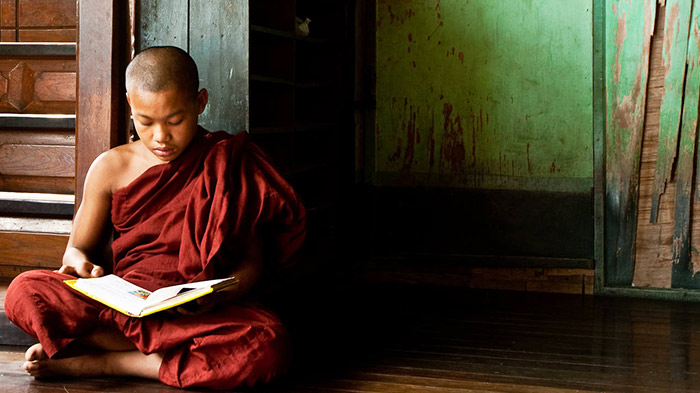 Photographing in Tibetan Monasteries
Wide-angle lenses are great for capturing the interior of temples and monasteries, and for longwall frescoes, bouncing the light from the lamp from behind the camera works best. Direct light onto the fresco will often cause flaring on the shinier parts of the murals. For good effect on statues, angling the light to just one side gives a more surreal effect, and can help turn a dull old statue into something more mystical and unique. For external shots, to get the best images, a wide-angle lens can be used for the larger monasteries that are spread out on ground level along flat ground. For the more compact or taller monasteries with many floors, such as Potala Palace, a little distance and a good 2.0/500mm lens is ideal to get a dramatic shot, even in fading light.
Top 5 Monasteries to Shoot in Lhasa
Jokhang Temple
While it may be the most sacred of temples for Tibetan Buddhists, it is a delight to any budding photographer. With its golden roofs and delightfully beautiful gardens, Jokhang temple is one of the most fabulous of all the monasteries and temples in Tibet when it comes to photography.
Potala Palace
Sitting above Lhasa in the Red Hill, the Potala Palace is a spectacular sight, with its two-tone red and white buildings. The best time to shoot Potala Palace is at sunrise and sunset, and if you rise early, you can get to Chakpori, the nearest hill, from where you can get the best shots of the palace at sunrise. The Potala Square is also a good photography point, and the view of the square with the palace in the background is stunning.
Ganden monastery
Sitting atop Wangbur Mountain, nearby Ganden Monastery is one of the highlights of temple photography in Lhasa. Built in red and white, like so many monasteries in Tibet, it sits like a miniature Potala. Spread out over a wide area, the monastery is best shot from a short distance, in order to get a complete picture of the huge number of buildings and chapels in includes.
Sera Monastery
Sera Monastery in Lhasa is one of the great three monasteries of the Gelugpa sect, and is the one place where you can take photos inside the monastery grounds of the local monks in their courtyard debates. The courtyard is surrounded by high walls and old, towering trees, and the fee for photographs is reasonable. The mountain behind is also well known for the wall with the Sunning Buddha, which can be shot from a distance to get the best image.
Drepung Monastery
On the other side of Lhasa lies Drepung Monastery, a beautiful place set high up and often wreathed in mist and cloud during the rainy season of summer. One of the largest of the Tibetan monasteries, it is the main site of the Shoton Festival near Lhasa, and is a great place to shoot the giant Thangka painting that is unrolled onto the hillside every year, for just one day. The complex is a labyrinth of small alleys between the buildings, and the climb to the monastery is steep and awkward, especially when carrying heavy camera equipment.
Join-in Most Classic Tibet Photography Tour