Can Americans Travel to Tibet? Tips for Americans Visiting Tibet
Lying at the top of the world, on the world's highest plateau, Tibet holds a special interest for Americans, as it is a place that was always known as being hard to get to. With modern transport methods, getting there is easy for any traveler, especially American travelers. They make up the majority of foreign tourists to the region every year. 95 percent of tourists to Tibet come from mainland China.
There are many reasons for Americans to want to visit Tibet, not the least being that it is the home of half of the world's highest mountain and is the side that is easiest to get to. Tibet is a land that has seen a long and varied history, with many ancient monasteries and temples that date back thousands of years. Asia has always been a fascination for many American tourists, and more tourists from the United States visit the Southeast Asia every year than anywhere else.
Top Destinations and Itineraries for American Travelers in Tibet
With most of the international tourists to Tibet coming from the United States, there is a clear trend of what these tourists like to see and visit when traveling to Tibet. The most popular of all is the classic visit to Everest Base Camp (EBC), from where several American climbing expeditions set off for the summit of this huge mountain. Getting to Everest means starting in Lhasa, the regional capital, and traveling overland for more than 800 kilometers to Shigatse Prefecture and Rongbuk Monastery. The standard tour includes visits to Gyantse Kumbum, Pelkor Chode Monastery, Yamdrok lake, and Tashilhunpo Monastery in Shigatse as part of the tour.
One of the most popular activities in the Everest region is the trek from Old Tingri to EBC . Covering a distance of 70 kilometers, this four-day trek is one of the most spectacular treks in Tibet, crossing vast plains and high passes to get to the base camp on foot. A trekking tour is a great way to see more of the Tibetan countryside and gives you the opportunity to interact with the locals on a more intimate level, learning more about the people and the culture.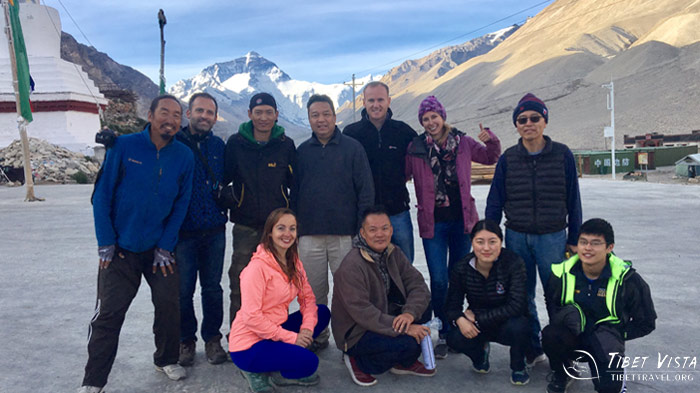 Our American tourists made it to Rongbuk Monastery after the long trek.
Mount Kailash, in the western Ngari Prefecture of Tibet, is considered to be the most sacred mountain in the world, and is revered in four separate religions, Buddhism, Hinduism, Jainism, and Bon, the ancient animistic religion of Tibet. Traveling to Mount Kailash is a massive journey, and the best route to take is one that takes in EBC along the way. Traveling along the Friendship Highway from Lhasa to Shigatse, you get to visit Everest base camp as well as Rongbuk monastery, the highest monastery in the world. From there, you turn northwest to head through Saga to Darchen, a small village that lies at the foot of Mount Kailash.
For those that are feeling particularly adventurous, there is a trek around the mountain that is probably the best trek in Tibet. Covering a distance of 52 kilometers over three days, the trek follows the route of the pilgrim's kora around the mountain in a clockwise direction, according to Buddhist traditions. The trek is an arduous one and not for the novice trekker, reaching elevations of more than 5,000 meters at its highest point.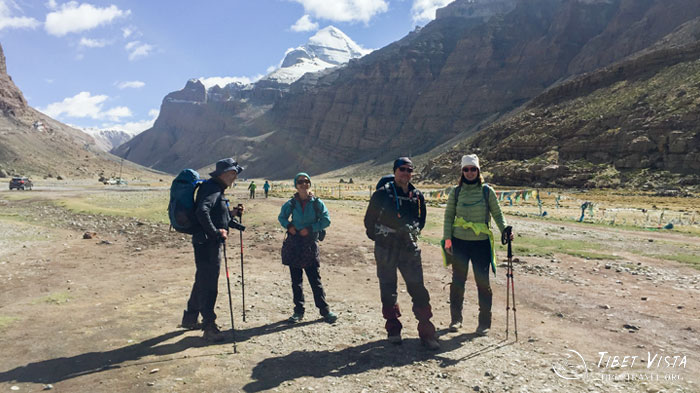 Enjoy the holy Mt. Kailash kora in Ngari
Another classic tour route in Tibet runs from Lhasa, the Tibetan regional capital to the border with Nepal, heading for the Nepali capital of Kathmandu. This overland tour from Lhasa to Kathmandu is a great way to see the stunning sights of the Tibetan plateau and follow it up with a trip to Nepal to see the sights of the Kathmandu Valley and maybe the treks around Everest and Annapurna.
The tours leave Lhasa and take around 7-8 days to reach the border with Nepal, passing through Gyantse and Shigatse along the way. The tours also stop at Mount Everest Base Camp in Shigatse Prefecture to allow you the chance to see this massive peak as well as the Rongbuk Monastery, the world's highest monastery, where you can stay overnight. The crossing into Nepal is made at the Gyirong Port border crossing checkpoint, across the Resuo Bridge to Rasuwagadhi Fort in Nepal. From there, you can catch the local bus to Kathmandu, which takes around 6 hours.
Travel Documents Needed for American travelers.
For tours in Tibet, you will need to have several documents, starting with the Chinese Entry Visa. This can be obtained from the embassy or consulate offices in the United States, by postal application or personal visit, and there are regional consulate offices that cover all of the states.
The Tibet Travel Permit (TTP) is the primary permit for travel to Tibet and is required by all international travelers. It can be obtained by us once you have booked your tour and takes around 15-20 days to process. The permit is delivered to your hotel in China on your arrival and is required to board the flight or train to Lhasa, as well as for travel in Lhasa Prefecture.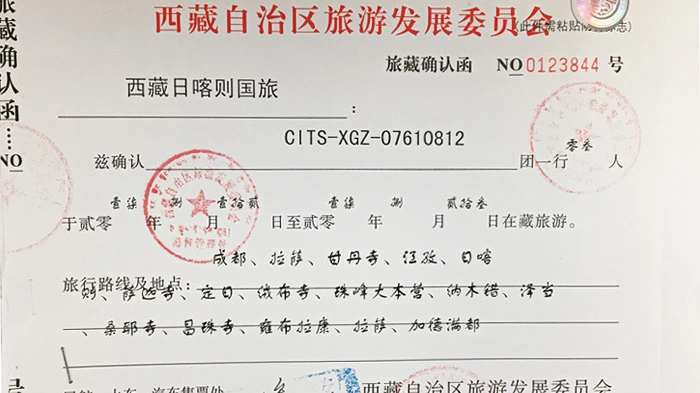 A Sample of Tibet Travel Permit
For travel outside Lhasa, you will need a variety of permits, depending on where you are traveling to. For Shigatse and Mount Everest, you will need the Alien's Travel Permit and the Frontier Pass, which are both obtained by us once you arrive in Lhasa. For travel to Mount Kailash, which is in Ngari Prefecture, you will also need the Restricted Areas Permit, also known as the Military Permit, which is obtained by us on your behalf prior to your trip to Tibet. This can also take up to 20 days to process, so you need to book your tour well in advance of your expected travel date.
How to Book Your Tibet Tour
To book a tour to Tibet, you simply need to contact us to speak to one of our expert tour advisors. They will take you through the process of what needs to be done, and help you decide on an itinerary for your tour, as well as whether you will be traveling on a private or group tour.
Once you have made your decision and confirmed your itinerary, we will send you the booking confirmation and you will need to pay the deposit amount as stated by our advisors. The balance of the payment for the tour is due prior to your travel date, which will be notified to your by your tour advisor. Later, our travel consultants will help you get Tibet Permit and arrange other details.
Best Time to Visit Tibet from USA
Tibet is a region that can be visited all year round, and there really is no "best time" to visit. The best time for you depends on what you want to see, when your schedule allows you to visit, and what weather conditions you would expect while in Tibet.
Majority of travelers to Tibet come in the peak season, from April to may and Sept. to Oct, are the best time for those that love trekking, and the weather at these times of the year is more suited to taking to the trails of the Tibetan plateau.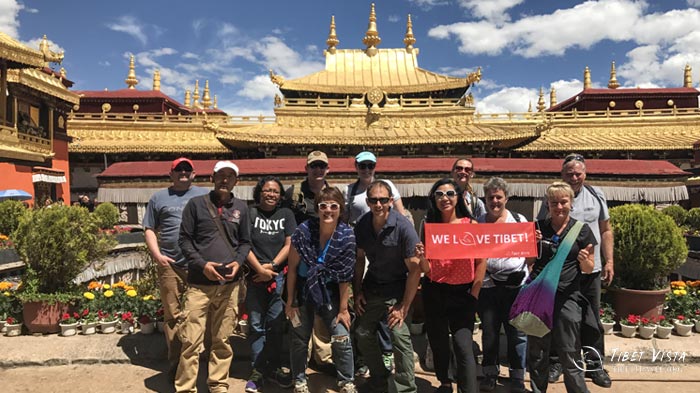 Bask in warm sunlight on the rooftop of Jokhang Temple
The shoulder seasons are from June to early September, which is the summer months in the region. Summer is also the monsoon season in Tibet, through there is actually very little rain in the region thanks to the mountains that cause a drier monsoon climate.
Even the winter can be a good time to visit, especially if you are not fond of crowds of tourists and getting crammed into the attractions. Winter is the low season for tourism, and sees fewer people and more discounts, which makes it better for those on a tight budget. Flights and train tickets to Lhasa from China are also cheaper at this time of year, which can be a bonus for any wise traveler. - Check Popular Tibet Winter Tour Packages
How to Get to Lhasa from USA
There are no direct flights to Lhasa from the United States, though there are several direct flights from different airports in the US to airports in China. Long haul flights run from more than a dozen US airports to places like Shanghai, Beijing, Chengdu, and Guangzhou, to name a few.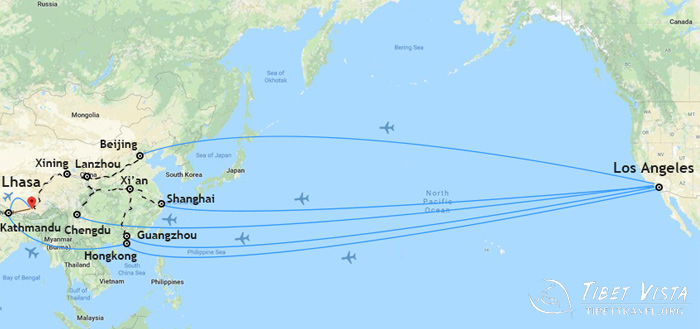 Travel from US to Tibet
Once in China, you have two choices for getting to Lhasa, the Tibetan capital. You can fly into Lhasa from one of the many cities across China that have flights to Tibet or take the train from one of seven gateway cities to Lhasa.
Flights leave from Beijing, Shanghai, Chengdu, Chongqing, and Xi'an to Lhasa on a daily basis, and cost from as little as US$ 280 per person for a one-way economy ticket. The closer airports to Tibet are the cheaper flights, while flights from Beijing and Shanghai can cost more than 500 dollars each way.
There are seven gateway cities to Tibet for train travelers, including Beijing, Shanghai, Guangzhou, Lanzhou, Xining, Chengdu, and Chongqing. The travel time varies depending on the station of departure and takes from 22 to 55 hours to make the trip. Prices for the trains range from 74 dollars to as much as 220 dollars. Here we also provide you the detailed info on how to get to Tibet from America.
Other Dos and Don'ts for American travelers Visiting Tibet
It is important to understand that there are some things in Tibetan culture that are considered to be taboo. When traveling in Tibet, there are a few tips to remember so that you do not offend the Tibetan people.
a. Buddhists are sensitive about the head, so it is important not to touch a person on their heads.
b. Do not take photos of the locals, especially the monks, without their permission, as this is offensive in Tibet.
c. When sitting, tuck your legs behind you and do not stretch them out in front of you as this is considered rude. Also, refrain from pointing the soles of the feet at other people and religious icons or altars.
d. Tea is drunk in Tibet all the time, and if you finish your bowl of tea, your host will feel obliged to refill it. If you have had enough, leave the bowl with tea in it, and politely decline a refill.
e. Some monasteries do not allow photos inside the buildings, Check with your tour guide first before taking photos of the interior of temples and monasteries.