Advice for Shooting Temples and Palaces
The temple initially was built with only 8 halls used for storing sutras of Buddhism. But it has undergone several renovations since then. It consists of a Buddha hall, patio, covered corridors, dormitory and a courtyard. It is constructed in an area of about 25100-metre square. Capturing photos is like an indispensable routine for travel lovers. Tibet with its beautiful scenery and unique culture gives you an opportunity to make a collection of wonderful photographs. Tibet is a place which is worthy of taking photos. But a few of the tourist's sites, tourists may not be permitted to take photos like in monasteries especially. You should never click pictures before taking permission from the locals. In the following list, we are going to mention those fantastic places where you can get wonderful photographs of that place. We will also let you know the best time to click pictures.
Potala Palace
Potala Palace is one of the famous attractions for the travellers of Tibet. It is located at the Red Hills in central Lhasa. It is 3767.19m high at its maximum. The palace is a landmark in Tibet. The white and crimson wall along with golden roof adds up to the glory of Lhasa which is also known as "sun city". The palace has two parts: one is the white palace and other is the Red Palace. Here are a few photography tips you need to keep in mind at the Potala Palace.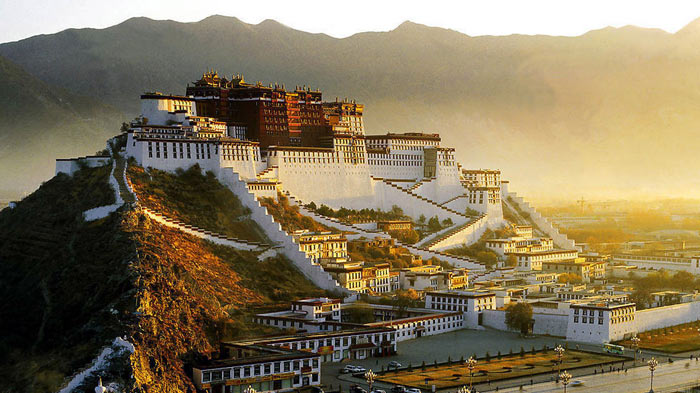 Potala Palace, From May 1 to October 31: 200 CNY, From Nov 1 to April 30: 100 CNY
You should use a telephoto lens that will compress the field depth when you are taking the complete view of the palace. For an exaggerated display, use a fisheye lens. You can take the best pictures of Potala Palace during sunrise as the palace faces south. Making east side angle is the best to shoot during sunrise, while the western angle is best during the afternoon. There is a music fountain event during 8 pm to 9 pm at the Potala Square where you will make the best use of spilled water on the ground as that will give you the reflection of the palace.
Ideal Shooting Location
1. Chakpori hill: having an admission fee of 2CNY, also known as the hill of the King of Medicines. It is known for its ideal location to shoot Potala Palace during Sunset and Sunrise. You can also get a great view of the surrounding areas.
2. Palubuk Monastery: its admission fee is 30CNY. It is a temple located at the walking distance towards the left of the Chakpori Hill. Shakyamuni statues along with his disciples are craved there. Take pictures at the time of sunset from the top of the white tower of the monastery.
3. Potala Square: it is best when you have to take the front photograph of the palace. The music fountain of the night the most eye-catching view of the place.
4. Dragon lake park: this park is located to the north of the palace, where you can take photos of palace's reflection.
Jokhang Temple
Jokhang Temple is the holiest place in Tibet. It has a thickening of butter of yak. Located at the east of Potala Palace, this temple is the most primitive structure of Lhasa. Tibetan history says that Princess Wencheng, the daughter of Emperor Taizong came here to get married to Songtsan Gambo. Equip your camera with a good lens of a large aperture which supports ISO also. Although some of the temples will allow you to use flashlights as well, to give your photos a better effect. A tripod stand is a good option to use for getting clearer pictures.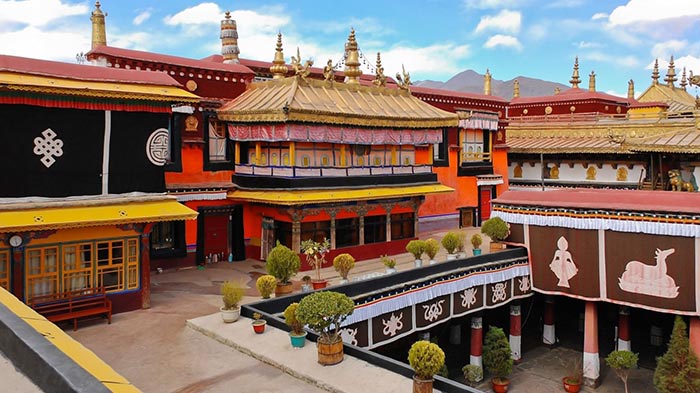 Jokhang Temple, 8:30 - 18:30, 85 CNY
Morning is the time when you can get the best photos of the temple. At the time of sunset which is near to 20:30, the roof of the Temple shines golden red which adds to the holiness and creates an effect of mystery. The prayer festival is also a great chance for you to capture the religious subjects
Ideal Shooting Locations
1. Jokhang Square: it is an important location to get the pictures of the entrance of the Monastery. Shoot there during the afternoon by using front lights. Pilgrims spinning the prayer wheels are the best humanity figure to capture. Use the telephoto lens to get clear and natural pictures
2. Golden roof: it can be taken as a foreground for increasing the depth in shooting the far-off places like the Potala Palace. Shoot here during morning hours by using front lightning.
Drepung Monastery
Drepung Monastery is one of the three monasteries of Gelugpa. Its white appearance looks like rice stacked in the form of a heap and so it got its name as Drepung which means 'collecting rice' in Tibet. The monastery is situated on temples and caves along with two white pagodas. The important buildings like Kamcuns, Four Zhacangs, Coquelin Hall, Ganden Potrang, all are centered over these pagodas.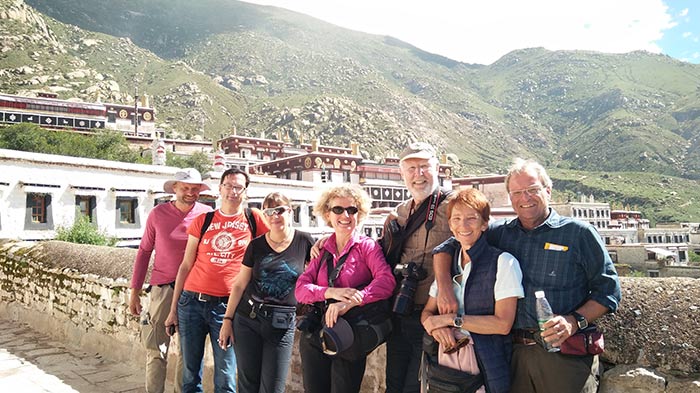 Drepung Monastery, 9:00 - 17:00, 55 CNY
Sera Monastery
It is located at the foothills of Tatupu in the north of Lhasa. It is also counted among the three most important monasteries of Gelugpa.Use a lens with a large aperture so that good photos can be clicked inside the monastery as there is dim light and you won't be allowed to use flashlights there.
Sera Monastery, 8:30 - 16:30, 50 CNY
Shooting Attractions
1. Coqen Hall: it is a four-story building at the northeast of monastery. This hall is used for various rituals of monks. It is supported by 125 pillars, having varying heights and covers an area of 2000m2. There are five chapels that are giving honor to Kwan-Yin, Tsong Khapa, Arhats, and Sakyamuni.
2. Zhacang: Zhacang in Tibetan means the 'Buddhist college'. It is an arena for monks to learn the Buddhist culture and literature.
3. Kamcun: these are dormitories for monks to sleep and dine. It has 33 kampungs and a courtyard at the center. It has separate halls for reading and having tea.
Ganden Monastery
Ganden Monastery is located on Wangbur Mountain, on the southern bank of Lhasa River in Tagtse County, 47 kilometres from Lhasa City. It rests at a height of 3,800 meters (12,467 feet) over the ocean level and is one of the most punctual and biggest Buddhist religious communities in Tibet. It grapples in the highest point of the six renowned sanctuaries of Gelugpa - a branch of Tibetan Buddhism. Consistently, a standout amongst the most observed Buddhist exercises, the Buddha Painting Unfolding Festival, happens here, drawing a great many guests, tourists and followers.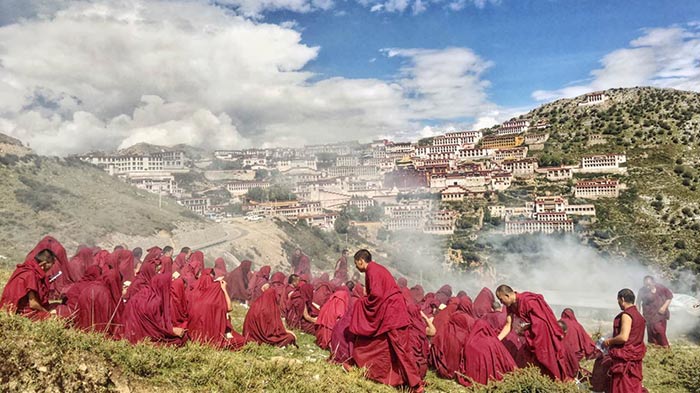 Ganden Monastery, 9:00 - 16:00, 45 CNY
Keep in mind to furnish your camera with an appropriate focal point of an expansive gap which supports ISO also. It is without a doubt genuine that some of the sanctuaries will enable you to utilize spotlights, this is as yet imperative to give your photographs a more noticeable impact. A tripod stand is a decent choice to use for clicking better pictures.
As it is very obvious, morning is the time when you can get the best photographs of the sanctuary. At the season of dusk which is close to 20:30, the top of the Temple seems to sparkle like gold which adds to the sacredness and makes an impact of a puzzler. The supplication celebration is additionally an incredible shot for you to catch the religious subjects and trains in their purest structures.
The best shooting spots for you will be the 95 Holy Stupas. Other than the 95 Holy Stupas, this religious community also constitutes of some uncommon and very much saved social remainders, for example, the protective layer of Qing Dynasty (1644 - 1911). This protective layer is sprinkled with gems and carved in four sorts of characters. There are additionally great woven artworks from Jiangsu Province, the sutra written in gold known as the National Super-Class Cultural Relic. You might need to catch these in your third eye.
Drak Yerpa Monastery
If you have interest in Tibetan Buddhism, Dra Yerpa hermitage, about 16km northeast of Lhasa, is one of the holiest cave retreat for you. Among the many abstainers who have dwelled here are Guru Rinpoche and Atisha, the Bengali Buddhist who spent 12 years proselytizing in Tibet. King Songtsen Gampo also meditated in a cave, after his Tibetan wife established the first of Yerpa's chapels. The peaceful site offers beautiful views and is a great day trip from Lhasa. As it is quite evident, morning is the time when you can get the best photos of the temple. However, you are allowed to shoot photos inside during other opening hours so that should not be that big a problem.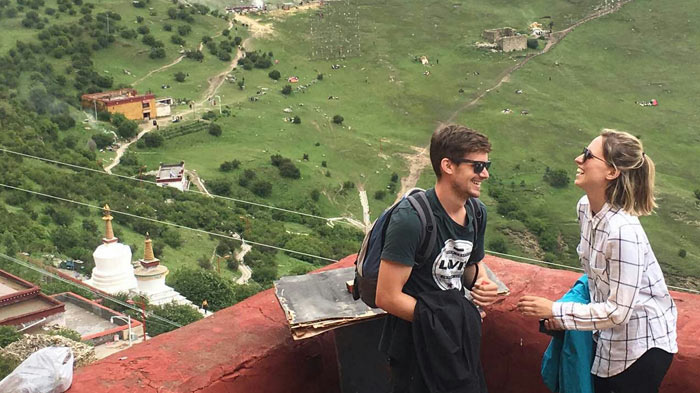 Drak Yerpa Monastery, 9:00 - 17:30, 25 CNY
The best shooting highlights for you will be both inside and outside the monastery. The yellow Jamkhang has an impressive 2-story statue of Jampa flanked by Chana Dorje to the left and Name and Tamdrin to the right. Other statues are of Atisha flanked by the 5th Dalai Lama and Tsongkhapa. The upper cave is the Drubthubpuk, identifiable by its black yak-hair curtain. Continuing east along the ridge a detour leads up to a chorten that offers fine views of the valley. The interior chapel has a central thousand-armed Chenrezig statue known as Chaktong Chentong. Pilgrims circle the central rock pillar repeatedly. The sight is worth capturing in your third eye.
Drigung Til Monastery
Situated near the Tidrum Nunnery is Drigung Til Monastery, a monastery amazingly spliced onto a utter cliff face. Long time ago, it housed over 500 monks. In fact, Drigung Til Monastery is reputed to have the best sky burial ceremony of all. Though being one of the highlights of Drigung Til Monastery, sky burial is strictly forbidden for outsiders to watch. However, don't be disappointed. The incredible view of the valley and surroundings is worth the ticket. The monastery is intriguing due to its location: it offers stupendous views over the entire valley-- you can clamber up to the gold-capped roofs for better vistas. These may be amazing models for your camera. it offers beautiful views over the entire valley, you can capture all these wonderful views.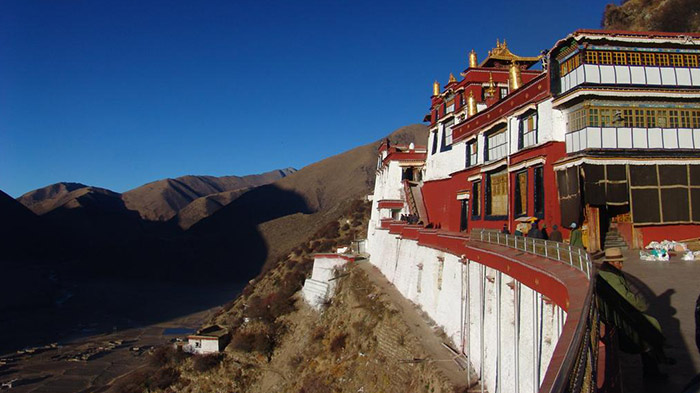 Drigung Til Monastery, 6:00 - 16:00, 45 CNY
Samye Monastery
Samye Monastery is known to be Tibet's 1st monastery and 1st university. It has been deconstructed and rebuilt a number of times. The temple was demolished during civil war in the 11th century, by fire in the 11th and 17th centuries and by earthquake in the 18th century. Currently, only a fraction of its original 108 buildings last or have been reconstructed. Most Samye villagers live outside the walls.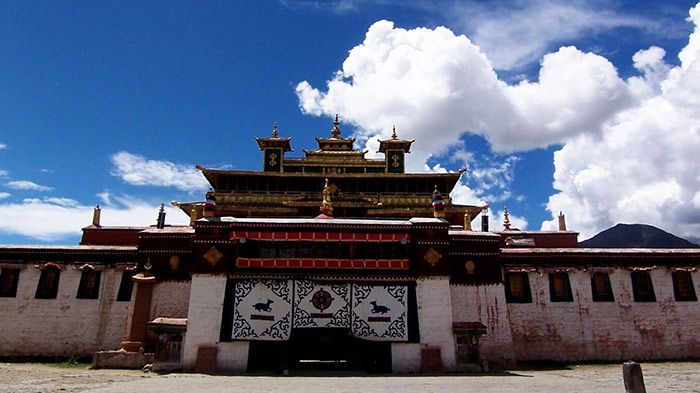 Samye Monastery, 9:00 - 16:00, 45 CNY
One thing you should know- extra fee is charged for clicking photos and making videos here. As for highlights- the 3-storey temple faces eastwards. To the left of the main entry is a 5m-high stone obelisk, which proclaims the Indian school of Buddhism to be the state religion. Inside the main assembly halls are statues of the early kings, and images of Padmasambhava and Atisha. The inner shrine covers a beautiful Sakyamuni image. Upstairs you can access several chapels and might even be allowed to view the former quarters of the Dalai Lama. On the 2nd floor is an open gallery with a long string of frescos, some portraying the history of Tibet. These will serve as wonderful models for your photographs.
Yungbulakang Monastery
The Yungbulakang Monastery is the first palace in Tibet, which later turned into a monastery. The unique construction of the monastery has almost 2 000 years of history and is today considered one of the primogenital buildings in Tibet. This Tibetan memorial is located on the picturesque mountaintop Jormo Zhaxi Ceri, which stands on the east bank of the Yarlung.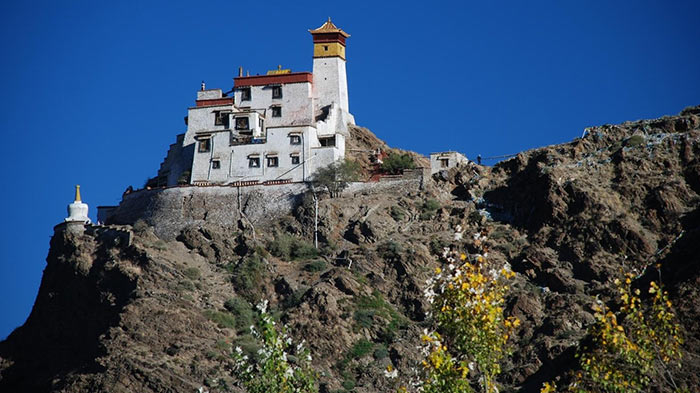 Yungbulakang Monastery, 9:00 - 17:30, 30 CNY
As for your interest your camera, the inside of the Yungbulakang Palace constituents lovely murals that tell the early history of Tibet. The ground floor shows a large statue of Buddha, and the figure of the ruler Nyatri Tsenpo on the left side. In the opposite direction lies the statue of Songtsan Gampo. On all the walls you can see statues of Tibetan rulers, thinkers, ministers, governors, etc.
Gyantse Fortress
Gyantse Dzong or Gyantse Fortress is one of the most awe-inspiring castles in Tibet. It stands high above the Gyantse City on a huge branch of grey-brown rock. In Gyantse Dzong Anti-British Site there is Anti-British battery, Head-Smashed-In Anti-British Warriors Jump, Gyantse government chamber and other attractions for sightseers to visit. You may find these interesting to give room in your camera.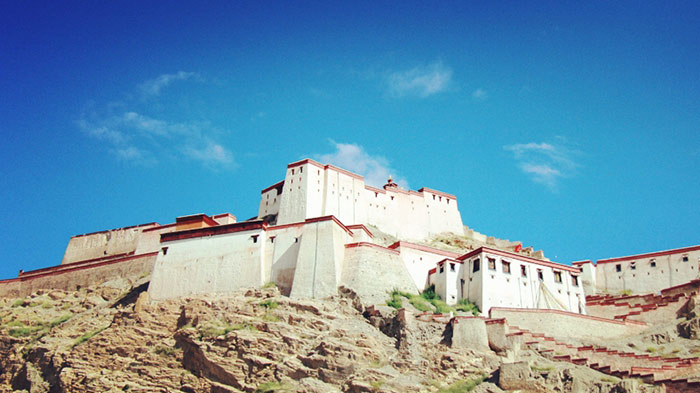 Gyantse Fortress, 9:00 - 18:00 (Closed during winters), 40 CNY
Palcho Monastery
Palcho Monastery sits in Gyantse County. It is one of the most consecrated places in Tibet, and it is also the traditional seat of the Drukpa Kagyu order of Tibetan Buddhism that was started in 1180 by Tsangpa Gyare, the First Gyalwang Drukpa. For highlights, you may want to check out the following. Palcho Monastery is an archetypal Tibetan Buddhism temple architecture with temples in the stupa, stupa in the temple. Its architecture fully represents a typical style of temples from thirteenth century to fifteenth century in Later Tibetan area, so it is presumed as a memorial of architecture period. Myriad Buddha Stupa, also called "Kumbum" is a must-see in Palcho Monastery. By representing of the Buddhist universe, it is portrayed by a circle within a square to enables followers to participate in the Buddhist perception of the universe.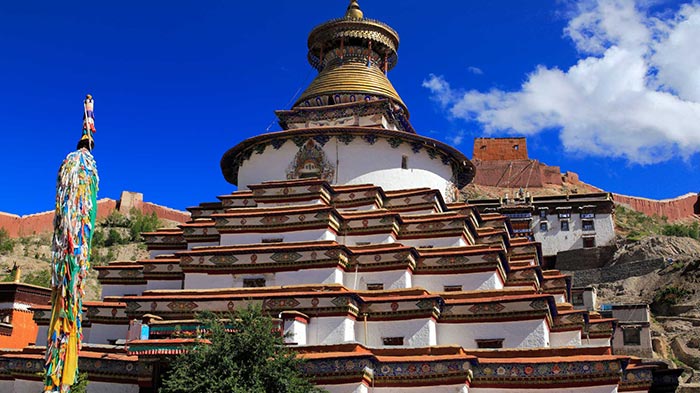 Palcho Monastery, 09:00 - 16:00, 60 CNY, another 10 CNY applied when taking photos on Kumbum
Tashilhunpo Monastery
As a significant national and cultural relic protection site, the Tashilhunpo Monastery is located on the southern slope of the Nyiseri Mountain to the west of Shigatse City. It is largest monastery of the Gelug Sect in Rear Tibet, and the main spot where generations of Panchen Lamas carried out religious and political activities.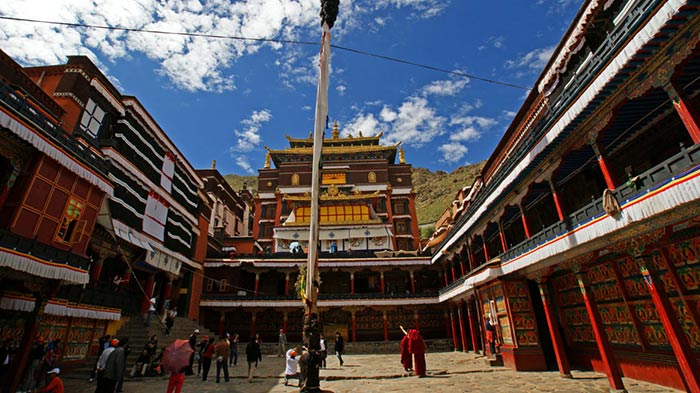 Tashilhunpo Monastery, Summer: 9:00 – 19:00, Winter: 10:00 – 12:00 and 15:00 -18:00, 55 CNY
You can choose to photograph anytime between the opening hours. As for highlights, you might consider the following information important. The monastery houses 4 Zhacangs, 64 Kamcuns and 56 sutra halls. This wonder conquering up to 300,000 square meters is tightly laid out like a hilly city. The monastery not only preserves the world's largest glided Qamba Buddha bronze statue, there are also many precious cultural remnants such as the murals recording people's lives. You may find these interesting for your third eye.
Rongbuk Monastery
The admission ticket to Rongbuk is free of cost. It is located at an altitude of 5100m which helps you to catch spectacular photos of the surroundings. Use a telephoto lens to get the accurate and beautiful images of the monasteries. Morning time proves to be the best for shooting here because of the sparkling sun rays falling on the snow-capped mountains making the atmosphere bright and beautiful.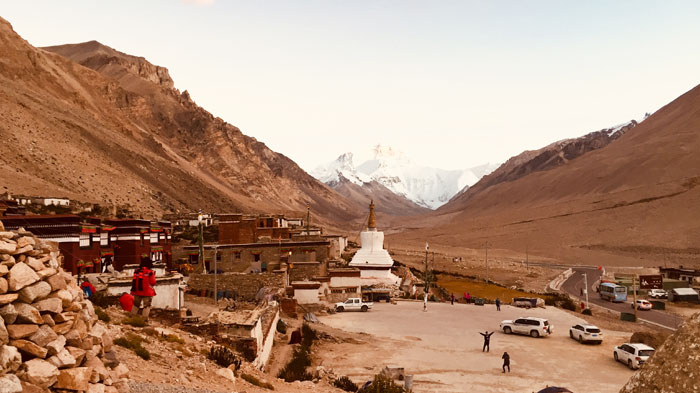 Rongbuk Monastery, All day, 35 CNY
Shooting Highlights
1. Mt. Everest: Mt. Everest appears to be a pyramid from such a great altitude. The sky touching snowy mountains of the surroundings makes it an ideal location to gather most unique photographs of the trip.
2. Tibetan festivals: the festival of Saka Dawa lasts for about 3 days. You should capture the photos of the whole event to get the glimpse of Buddhist culture.
Join-in Most Classic Tibet Photography Small Group Tours
Essential Tips for Photography in Tibet
1. The average altitude of Tibet is over 3000m high, so you must protect the camera and other devices of yours from harsh climate and extremely low temperature. Do take care of some technicalities. Repair outfits, detergent, brush, lens hood, dust cover are some essential things highly recommended for being carried by you.
2. Tibet experience bright sunshine throughout the day so don't leave your camera out in those strong rays of Sun. Make your camera well equipped with UV lens so as to get a better capture of pictures. Be careful with the camera when the weather is windy or dusty.
3. Take batteries, memory cards of large content storage and enough films with you. You will face a problem if you are not having enough batteries as batteries don't work properly there because of the low temperature and low altitudes there.
4. Keep a table tripod if possible.
5. For taking photos in the monasteries, seek permission of the Lamas there first. But you yourself should be well aware of it that taking pictures inside holy places is most probably forbidden or you have to pay the much higher price if you want to do it.
6. Keep a lamp along with you so that you can get a bright light while clicking photos inside the monasteries, as most of the monasteries are dim lit.
7. You should be aware of the fact that monasteries are covered with butter all around. So just be careful while you enter the monastery for photography as it may affect your camera as well.
8. Give respect to the person whom you are inviting to take the shot for you. Be polite to them and don't disturb them if they are busy. You can return their favour by offering tiny presents as a token of thanks. You should avoid asking women to take pictures for you as it may annoy their husbands.
9. You will come across some avaricious guys in Lhasa who will ask you to give money if clicking photos in open areas. Avoid such type of people.
10. Keep the photographic apparatus as light as possible. Because for travelling Tibet, the roof of the world, it is not possible for you to carry bulky goods along with you.
Exciting, isn't it? Tibet is full of many such wonders and if, like me, you cannot wait for many such mysteries to unfold before your eyes, and your camera, plan up your Tibet photography tour now! You will love it here.