Tibet culinary tour fulfills your wishes to expand your gastronomic delights to the lofty Tibet. Led by our local food experts, you will savor the most authentic Tibetan-style cuisines in local eateries favored by locals.
Not only will you hear the fine tradition of Tibetan diet, but also look for exotic local ingredients at the old produce market and later taste the fruit of your labor during an intriguing cooking class and even be invited to local Tibetan villager's house for home-made delicacies, etc.
No matter you are an amateur, avid foodie or veggie, etc., you will fall in love with our expertly-crafted hands-on dining experiences and trot home with a plump tummy, newly-acquired culinary skills, and lasting memories.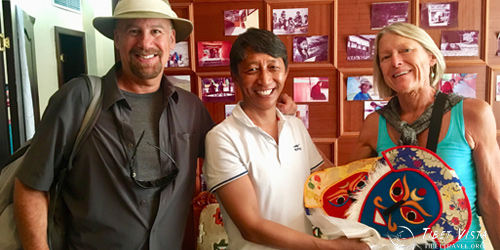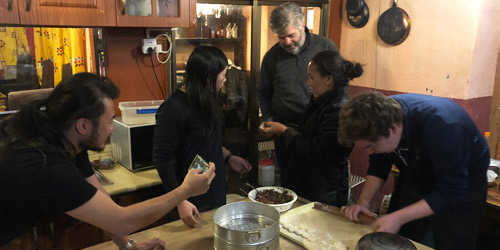 What Makes Us Different?
Prestigious local Tibet travel agency, with headquarters in Lhasa and branches in Kathmandu and Chengdu;
Multi-lingual expert local leaders for food tours; some used to be certified chefs or have run a local restaurant in Lhasa for years;
Evenly balance your culinary discovery with scenic sightseeing, with food safety guarantee;
100% promise for getting Tibet Permit and convenient Tibet train/flight/hotel booking;
Mr. Kunga Dhundup, the designated customer service manager, also the gold winner of Best Tour Guide 2019, gives you instant travel solutions;
Say no to the third-party contractor and flexible and professional team support.
Frequently Asked Questions about Tibet Culinary Tour
1. What are the staples for local Tibetans?
Tsampa, made of roasted barley flour, is the staple of local Tibetans. It's often eaten with butter tea, sugar and dried cheese. However, nowadays local Tibetans still consume a large quantity of wheat for three meals on a daily basis.
Besides, many locals also can't live without dried yak meat and soup noodles, etc. And beverages like butter tea, sweet tea, and Chang (home-made barley wine), Lhasa beer, are also essential to local Tibetans.
2. Since I'm a vegetarian, will there be any problem for enjoying the Tibet food tour?
Well, it is a good question. Tibet, esp. Lhasa, Shigatse, and Nyingchi has plenty of vegan-friendly restaurants available to global travelers. So, there is no need to worry about the limited options for veggies. And our travel consultants can offer many options for you and work with you to customize a culinary tour in Tibet.
However, on contrary to many's understanding that Tibetans don't eat meat, in fact, Tibetans, including monks, do eat meat like yak meat or sheep, pigs, etc. (with the exception of fish for religious taboo.)
The reason for such a special diet has much to do with the way for locals to get protein and nutrients needed for survival on inhospitable Tibetan plateau with thin air and shortage of vegetables, etc.
3. How about the sanitary conditions in Tibet?
It depends on where you dine. For all of our travelers, we promise that the local restaurants we handpicked offer a clean and pleasing dining environment. Besides, there is no health hazard for eating in Tibet. Following the guidance by our local food guru, you will enjoy great food, including Tibetan, Nepali, and Indian and western and Sichuan dishes, Tibet has to offer.
4. What are some of the must-have Tibetan cuisines in Tibet?
In addition to staples like Tsampa, yak meat, don't miss the Tibetan momos either with vegetable or yak meat stuffing. Besides, for breakfast, it's highly recommended to follow our guide to enjoy the sweet tea and Tibetan soup noodles, and Shabalep (chewy fried bread) and Khapsay (Tibetan pastry), and Tibetan yogurt, fried cheese momos, etc.
Surprisingly, there aren't many desserts in Tibet, and most of them like sweet Dresil, made of cashew, rice, raisin and droma, are eaten during religious festivals like Losar, Tibetan New Year.
To meat-eaters, roasted lambs and yak steak, fried rice and chicken lungs, fried cheese momos, yak and radish soup, finger-licking Tibetan pig ribs, etc. are worth trying.
Further Read for More Useful Guide to Tibet Culinary Tour:
Quick Inquiry
We'll get back to you within 24 hours.
If you are planning to enjoy Tibet culinary tour, yet have no ideas of how to sort it out the details, no worries! We are ready to hear your tour plan and offer free professional consultancy and viable solutions. Please feel free to contact us.