Tour Tibet in November and December
------Cheapest Travel Season with Amazing View and Least Crowds
There is no shortage of reasons to fall in love with Tibet in Nov. and Dec. Brilliant weather with crisp air for epic mountain vistas; dirt cheap flight along with much affordable price for 5-star luxury resorts; What's more? You may roam over Buddhist monasteries with the least-crowded days and intense Buddhist vibes. While flocks of migratory birds and snow-slicked landscape add mystic charm to this spiritual realm.
Teaming up with our Tibetan travel gurus, we have hand-picked the best Tibet tours in Nov and Dec to help you plan your Tibet visit. Check the tour options and insider tips below and join us for a mesmerizing journey this winter.
Nov:-13℃ ~ 11℃

Dec:-18℃ ~ 6℃

Nov:-4℃ ~ 12℃

Dec:-8℃ ~ 8℃

Nov:-8℃ ~ 7℃

Dec:-11℃ ~ 6℃

Nov:-13℃ ~ -3℃

Dec:-20℃ ~ -7℃

Nov:-5℃ ~ 11℃

Dec:-20℃ ~ 8℃

Nov:7℃ ~ 22℃

Dec:5℃ ~ 21℃
Tibet Small Group Tours Available in Nov. and Dec. to Join
With fixed tour departure and attentive service, our small group tours offer you a wide array of budget-friendly choices to discover the stunning beauty Tibet has to offer in this winter season. Pick your favorite tour below and get ready to meet like-minded global travelers to discover an amazing Tibet.
Most Popular Private Tibet Tour Itineraries for Traveling in Nov. and Dec.
Though traditionally known as the off-season for Tibet tour, the tour activities and excitement in Nov and Dec in Tibet are never dull. The following private tours allow you to decide when and where to visit a particular attraction. Birding, religious festivities, and photography and cultural exploration, etc, Our Tibet travel guru will give you the maximized flexibility and help you make the most of your journey.
FAQs about Tibet Tour in Nov. and Dec.
Is It too Cold to Visit Tibet in Nov. and Dec.?
Well, with an average temperature at around 8-15℃ in the daytime in Lhasa, it can be said that it's quite mild and pleasant, due to the strong and long hours of powerful sunlight on Tibetan Plateau.
However, the temperature at night quickly drops to minus 10 to 12℃. So, you do need to put on a down jacket, scarf and stay indoors to stay away from the cold. And if you travel to high mountain passes or places with high altitude like Namtso or EBC, do wear your beanie, scarf and windbreaker and thermal underwear to shield you from the bone-chilling wind.
Do I Need to Worry about the Altitude Sickness in Winter Season?
Whenever and wherever you travel to places above 3000m, you can't be too careful with the physical response to altitude ascent. And Tibet is even so. Theoretically, the newly-arrived tourists need more time to acclimatize to the thin air in Lhasa than in summer, because the vegetation might be fewer.
However, there is no need to worry about getting mountain sickness. Always follow your Tibetan guide's advice and have enough rest and acclimatization before venturing out to higher places; avoid abrupt ascent in one day; prepare some medication recommended by the pharmacists or your doctor; avoid catching a cold; there's some useful tips will help you enjoy your stay in Tibet. Besides, our Tibetan guide will closely follow your health and offer the time medical help when needed.
Can I Enjoy the Trek from Old Tingri to EBC in Nov.?
Although EBC can be visited all year round, the trek from Old Tingri to EBC would be considered too risky, given the severe gale and extreme cold in that barren land. If you do want to experience such a trek, come from late April to Oct., the milder weather can be more workable.
Where are the Best Places to Enjoy Wild Birds in Nov. and Dec.?
Interestingly, as the tourist No. drops from Nov. in Tibet, the number of migratory birds like black-necked cranes and ruddy shelduck and bar-headed goose, etc, actually is steadily on the rise till reaching its peak in late Dec..
Some of the best places for birding are Zongjiao Lukang Park in downtown Lhasa, Lhasa River, Linzhou County, esp. famed for black-necked cranes watching and Shongse Nunnery, etc. You may check our birding tours for more details.
What are the Best Festival to Enjoy in Nov. and Dec.?
Buddha's Descent from Heaven Festival (Lhabab Duchen Festival or Buddha Sakyamuni's Descent Day) is one of the four great Tibetan Buddhist festivals commemorating four events in the life of the Buddha. The other three are Losar Festival, Saga Dawa Festival, Chokor Duchen Festival according to Tibetan traditions.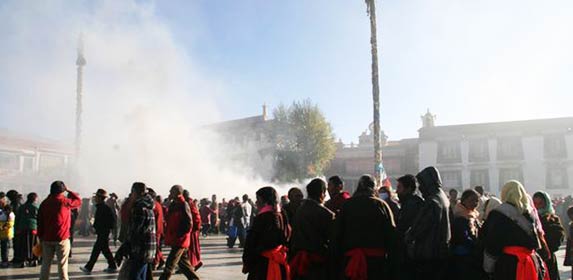 The Lhabad Duchen Festival in Tibet falls on the 22nd day of the ninth month in Tibetan calendar. This Buddhist festival is celebrated to observe the descent of Buddha Sakyamuni from the heaven back to the earth. On that day, there are a large number of pilgrims in Lhasa. Ladders are painted afresh on rocks around many monasteries to symbolize the event.
Tsongkhapa Butter Lamp Festival, also known as Gaden Ngachen Chenmo Festival, is celebrated to commemorate the parinirvana of Tsongkhapa, the founder of Gelug Sect of Tibetan Buddhism. Tsongkhapa Festival falls on the 25th day of the tenth month in Tibetan calendar. On that day, Tibetan monks would light up numerous butter lamps on the altars in and out of temples, and it's common to see lamps illuminating day and night at Tibetan homes.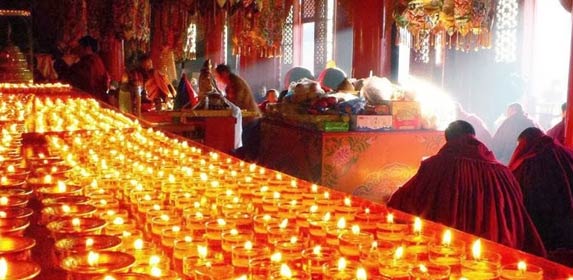 Tsongkhapa was born in a Buddhist family in Huangzhong County, Qinghai Province. At the age of 16, he went to Tibet and learned from the elites of Tibetan Buddhism. Under the tutelage of Sakya, Kagyu Sect and other monks, Tsongkhapa devoted himself to the study and practice of Buddhism for many years. Finally he created Gelug Sect at the beginning of the 15th century and died at Ganden Monastery on Oct. 25th, 1419.
Tibetan Fairy Festival is a traditional Tibetan festival in Tibet believed to be a festival of women, so it is also known as the 'Women's Festival' in modern Tibet. The Fairy Festival in Tibet is celebrated on Oct. 15 in the Tibetan calendar, when various kinds of religious activities are held.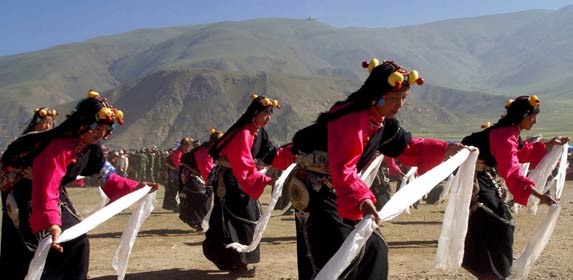 On this day, girls and women are dressed up to make pilgrimages in temples, present Khadas to their respected angels, treat themselves to go shopping, have magnificent food, and particularly, ask for money from men to donate to the fairies. They can ask for money from any man they meet, who has to be very generous with their money on this day so that they can be endorsed with good luck in the coming new year. While in family, parents have to give money to children on this day as gifts to celebrate their plentiful harvest in autumn and the coming of a new year. And Tibetan People gather around at Jokhang Temple and women all dressed up with beautiful traditional clothes singing and dancing.
Quick Inquiry
We'll get back to you within 24 hours.
Tailor-made your Own Tour within
24 hours

.
Simply express your tour needs, we'll customize a trip plan for you. No deposit is required until you are totally satisfied with the trip plan.
Tours departure 365 days a year !
Start Customizing Now!
Get Started -
You're getting closer to your dream Tibet vacation! Fill out this form so our travel designers can start helping you plan a trip.
Privacy Policy: Your information is kept strictly confidential. Tibet Vista will never sell, trade, or give away your contact information to a third party.