Tibet Tour in March
------Nyingchi Peach Blossom Festival
Tourists planning a Tibet tour in March can witness more magnificent snow-capped mountains, Mt. Namjagbarwa at east Tibet and Mt. Everest in particular. When most areas of Tibet are covered by snow,Nyingchi in eastern Tibet welcomes its warm spring in March. Praised as the Switzerland in Tibet, Nyingchi in spring is a fantastic place with beautiful Mt. Namjagbarwa, amazing Yarlung Zangpo Cayon, charming peach blossoms, etc.
Mt. Namjagbarwa always shows its real appearance in this season for rarely being surrounded by clouds and mists, and blooming peach blossoms make Nyingchi a sea of flowers. The beautiful peach blossoms and the snow-capped Namjagbarwa in distance form fascinating scenery in Nyingchi. Looking at a distance, it appears that snowy mountains are embracing huge layers of pink clouds.
As the lowest area of Tibet, Nyingchi is always the first destination of many tourists to Tibet. It is also advisable to spend a certain time in the places with a relatively lower elevation during your Tibet trip.
Except Nyingchi, Lhasa is also a great place recommended as your destination of Tibet tour in March. Enjoying the sunshine at Jokhang Square and observing Tibetan pilgrims doing ritual can be very pleasant. But warm clothes are still necessary.
Mar:-12℃ ~ 7℃

Mar:-1℃ ~ 3℃

Mar:-6℃ ~ 4℃

Mar:-8℃ ~ 5℃

Mar:-1℃ ~ 7℃

Mar:8℃ ~ 24℃
Tibet Small Group Tours Available in March to Join
Most Popular Private Tibet Tour Itineraries for Traveling in March
FAQs about Tibet Tour in March
Will Tibet close for foreigners in March?
In previous years, Tibet would be closed for more than a month from the time just before Losar until the end of March. Tourism for international travelers would only resume at the beginning of April. However, now you can take a tour with us throughout the year, and we are offering tours throughout March, including the period of the Tibetan New Year.
Will Tibet Travel Permit be processed normally?
Yes, the Tibet Travel Permit is processed the same way as usual for our travelers throughout March. Once you have booked your tour, and we have scanned color copies of your passport and visa, we can process your permit application as normal.
How about Tibet weather in March? And what to wear?
The weather in March depends on where you are planning to go to Tibet. Much of the region is still in the grip of winter, with the milder weather coming late in the month. Clear skies prevail throughout the month, and while it may not be too warm in some places, the sun shines brightly. In Lhasa, you can expect temperatures to reach as high as three degrees in the daytime, and around 7 degrees at Lake Namtso and Mount Everest Base Camp. However, bring plenty of warmer clothing, such as sweaters and jackets, as you will still feel the intense cold. Warm hats, gloves, and sunglasses are important additions to your packing list.
Does it snow in Tibet in March?
While some parts of the plateau have already seen the start of spring, there are some areas that still have snow in March. The area around EBC can often still be snow-covered, as can the road to Lake Namtso, which often freezes over in the winter. And in the far remote areas of Ngari, around Mount Kailash, snow is still falling.
What are the best festivals to enjoy in March?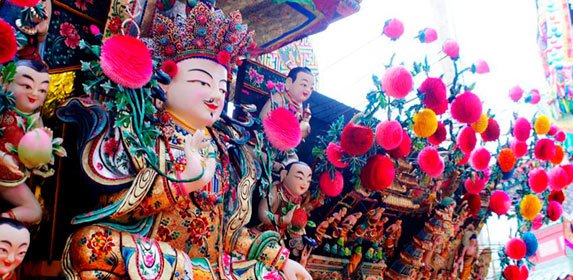 The Butter Lantern Festival falls on the 15th day of the first month in Tibetan calendar. It is the last high tide of celebrations of the Tibetan New Year. During the daytime, people go to pray in temples and monasteries while at night there is a lantern show. The butter lanterns they made prayer themselves.
Various lanterns with butter sculptures shaped in the image of deities, animals, plants, and human figures are displayed, attracting people from the neighboring areas to appreciate them. Some of the lanterns are as high as two or three-storey buildings. Often, there is puppet show held as well and the event will last for several days.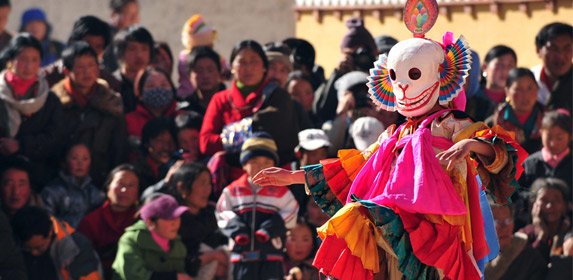 As one of the greatest religious festivals in Tibet, the celebration of the Great Prayer Festival would last from January 1st to 25th according to the Tibetan calendar. Thousands of monks (of the three main monasteries of Drepung, Sera and Ganden) would gather for chanting prayers and performing religious rituals at the Jokhang Temple in Lhasa. The lamas would debate the Buddhism scriptures in the temple, may also raise questions to the elites of Tibetan Buddhism and debate with them.
Followers of the Tibetan Buddhism from every corner of Tibet would collect in Jokhang Temple to worship Sakyamuni since they regard it as the living Buddha. Pilgrims would also offer donations to the lamas. They would crowd at the second floor of Jokhang Temple and throw their Hada to the chanting lamas.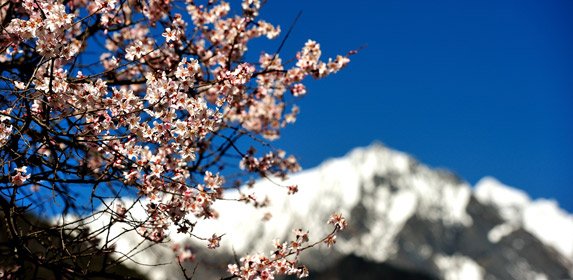 Nyingchi Peach Blossom Festival - Spring is a season of freshness and hope. When spring comes, it means reverberation for Tibet tourism. The spring leaves obvious footprint in Nyingchi since Mid March. With an average altitude of 3,100 meters and surrounded by the snow-capped Himalaya mountain range, the region welcomes spring earlier than the rest of Tibet. Though unexhausted chill might hit Nyingchi in March now and then, Nyingchi has become a sea of peach blossoms.
As the numerous peach trees scattered across the prefecture come into bloom, the local government would be busy preparing for the annual peach blossom tourism festival since Mid March. The beautiful peach blossoms and the snow-capped Namjagbarwa in distance form fascinating scenery in Nyingchi. Looking at a distance, it appears that snowy mountains are embracing huge layers of pink clouds.
With the Milin Airport's operations in 2006, Nyingchi became the second most popular travel destination in Tibet behind Lhasa due to its mild climate and picturesque scenery. Every year between March and April, the prefecture enjoys a tourism boom because of its peach blossoms. When travelling there, you will be amazed by the lofty snow-capped mountain peaks, well-preserved original forests, cypresses that can grow up to thirty meters, and numerous colorful grasses. Travelers can also take part in various activities, such as mountain hiking, rock climbing and white water rafting, and experience the unique local customs of the Menba and Luoba people.
Where shall I go for Nyingchi Peach Blossom Festival 2022?
The stunning Nyingchi Peach Blossom Festival begins in the middle of March, when the peach trees begin to flower, and is the most beautiful festival in Tibet. Seen as the messengers of spring, the delicate peach blossoms cover the entire area of Nyingchi, especially on the banks of the Yarlung Tsangpo River, the Nyang River, in Gala Village, and around Bomi County.
Quick Inquiry
We'll get back to you within 24 hours.
Tailor-made your Own Tour within
24 hours

.
Simply express your tour needs, we'll customize a trip plan for you. No deposit is required until you are totally satisfied with the trip plan.
Tours departure 365 days a year !
Start Customizing Now!
Get Started -
You're getting closer to your dream Tibet vacation! Fill out this form so our travel designers can start helping you plan a trip.
Privacy Policy: Your information is kept strictly confidential. Tibet Vista will never sell, trade, or give away your contact information to a third party.