Tour Tibet in June
------The Month for Saga Dawa Festival
The weather of Tibet is fine and warm in June without large amount of rainfall. The average temperature in June is about 10-25℃. But the temperature would be lower at higher altitude.
Making a Tibet tour in June can enjoy the picturesque natural scenery on Tibet Plateau as well as a big feast of Tibetan culture. Grasslands gradually turn green and herdsmen begin to move to the grasslands to start a new year's work. If driving though the grasslands, you can see flocks of sheep or yaks dotting the green land. June is a wonderful time to visit the Heavenly Lake Namtso and the Nyainqentanglha Range north of Lhasa.
Tibetan people also will celebrate many grand festivals in June. The warm weather also offers a best chance to trek in Tibet. No wonder, the number of tourists to Tibet starts increasing rapidly.
June:4℃ ~ 20℃

June:9℃ ~ 22℃

June:6℃ ~ 26℃

June:6℃ ~ 19℃

June:1℃ ~ 14℃

June:19℃ ~ 28℃
Tibet Small Group Tours Available in June to Join
Most Popular Private Tibet Tour Itineraries for Traveling in June
FAQs about Tibet Tour in June
How about Tibet weather in June? And what to wear?
Tibet in June is the beginning of summer, and in most places, the hottest month of the year. And while you may find some rainfall towards the end of the month, the rainy monsoon season has not yet started. Temperatures can range from as low as 1-4 degrees at night to as high as 20-26 degrees during the day. One of the best times of year to trek, the landscapes is beginning to turn greener from the slightly higher rainfall. While you can spend the day in lighter clothes, it pays to have a couple of sweaters to hand if you are traveling to the cooler areas such as Namtso and Kailash. And remember to bring your sun block and sunglasses.
What are the best festival to enjoy in June?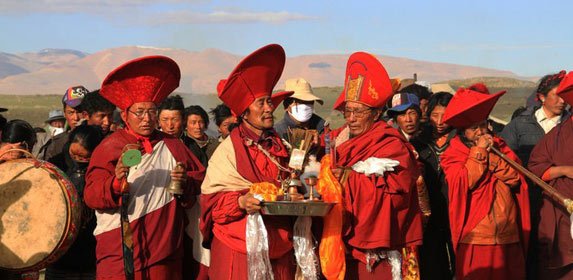 Saga Dawa Festival is one of the most solemn religious festivals, marking the date of Sakyamuni's enlightenment and nirvana. It would be celebrated on April 15th according to Tibetan calendar.
Various religious ceremonies would be held to celebrate the Saga Dawa Festival in Jokhang Temple. In the morning, large number of devout followers of Tibetan Buddhism would make circumambulation around Barkhor Street while turning a Tibetan prayer wheel in their hand and murmuring the Buddhism scriptures repeatedly, or make devout kowtow in Jokhang temple to express their respect to the Buddhas. You could also join them if you make a tour to Tibet during the celebration of the Saga Dawa Festival.
In early morning, large number of devout followers of Tibetan Buddhism would make circumambulation with a Tibetan prayer wheel - one of the most symbolic local handicrafts in Lhasa, in their hand around Barkhor Street. During this festival, local Tibetans would stop hunting and abstain from meat and wine, and also free captive animals and do some kind works. Thus, tourists are highly advised to respect their traditions.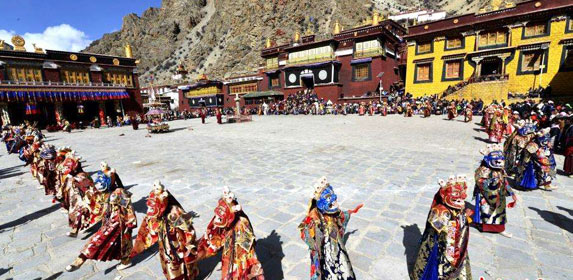 Tsurphu Cham Dance Festival - The cham dance, also spelled tscham or chaam, is a lively masked and costumed dance associated with some sects of Buddhism, and is part of Buddhist festivals. The dance is accompanied by music played by monks using traditional Tibetan instruments. The dances often offer moral instruction relating to compassion for sentient beings and are held to bring merit to all who perceive them. Cham dances are considered a form of meditation, and an offering to the gods. The leader of the cham is typically a musician, keeping time using some percussion instrument like cymbals, the one exception being Dramyin Cham - where time is kept using dramyin.
The Cham festival would be held for two or three days. Processions and the unfurling of a great thangkha are the highlights of this festival.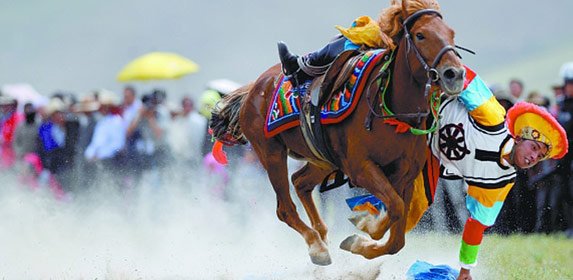 Gyantse Horse Racing Festival is quite popular in Tibet. This annual festival is usually held in June, with the grandest scene and largest scale in local. Gyantse Horse Racing Festival is a great chance for tourists to witness Tibetan people's enthusiasm on Horse race. Contests in early times included horse race, archery, and shooting on gallop followed by a few days' entertainment or picnicking. Nowadays, the activities are enriched by ball games, track and field events, folk songs and dances, barter trade, etc.
During the festival, people carefully dress themselves and their best horse. Thousands of participants come together and show their excellence in horsemanship and archery. Besides, some people grasp this opportunity to exchange goods.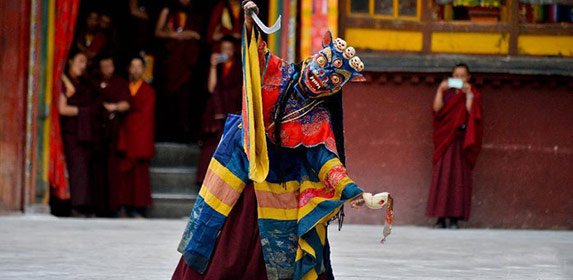 As the most interesting part in Drigung Dharma Assembly, Drigung Cham Dance Festival will last for three days. Cham dance is a religious ritual dance performed by Tibetan Buddhist monks. It can be a solo dance, or played by pair or groups. It's usually Tibetan Lamas who would put on cham masks, dance costumes and wear ribbons and knives. Accompanied with Tibetan Buddhist music, a senior lama leads the honour guard coming out and then the black hat cham dancers, dharma protectors, ghosts follow by.
After circling around the spot, Drigung festival begins. Various cham dances would be shown by sections. Between dance segments, vivid Jataka stories would be also presented. You will know more about Tibetan Buddhism via watching suiciding for a hungry tiger, exchanging flesh for the pigeon's live, etc.
What can I expect for the holiest Kailash Saga Dawa Festival in Tibet?
The most solemn of festivals in Tibet, the Saga Dawa Festival is held to commemorate the birth, enlightenment, and death of Buddha Sakyamuni. Celebrations are held across the plateau, with the most popular and largest being at the Jokhang Temple in Lhasa and at Tarboche, below Mount Kailash in Ngari. Circumambulation of these sacred sites is a ceremonial ritual for Buddhist devotees.
Why June is the best time to visit Namtso Lake?
After the last vestiges of the snows have gone in northern Tibet, Lake Namtso really comes into its own, and this Heavenly Lake shows just why it is considered to be so beautiful. Temperatures can still drop to around 1-2 degrees at night, but the area is devoid of all rainfall, and the beauty of Tibet's largest saltwater lake is clear in the shimmering turquoise waters that reflect the sun's rainbow light.
Quick Inquiry
We'll get back to you within 24 hours.
Tailor-made your Own Tour within
24 hours

.
Simply express your tour needs, we'll customize a trip plan for you. No deposit is required until you are totally satisfied with the trip plan.
Tours departure 365 days a year !
Start Customizing Now!
Get Started -
You're getting closer to your dream Tibet vacation! Fill out this form so our travel designers can start helping you plan a trip.
Privacy Policy: Your information is kept strictly confidential. Tibet Vista will never sell, trade, or give away your contact information to a third party.