Tibet Tour in April and May
------The Best Months for Viewing Mount Everest
As one of the best months to travel in Tibet, April is always considered as the warm-up of Tibet's peak tourism season, while May is the beginning of Tibet's peak tourism season. With most areas of Tibet become warmer, the landscapes of Tibet start to refresh from the long winter. Tourists at home and abroad begin rush to Tibet by air or by train, but the scenic spots would not be so crowded by tourists during this time.
April and May are also regarded as the best time to visit Mt. Everest for mountaineering enthusiasts. Flocks of climbers with different colors gather at the Everest Base Camp, turning the base camp into a small UN. For tourists, it is also a great time to visit Everest as you get a chance to witness several brave climbers as well as enjoy a close view of the real appearance of the world's highest peak. The Mt. Everest is always surrounded by cloud and mist in the other seasons, but not in this season.
It is always sunny on Tibet Plateau during April and May. The temperature of Lhasa during the day is about 20℃ in this season, while be less than 10℃ in the night. So you need to prepare some warm clothes for your Tibet tour in April and May.
Apr:-10℃ ~ 6℃

May:-1℃ ~ 15℃

Apr:1℃ ~ 16℃

May:6℃ ~ 20℃

Apr:-9.1℃ ~ 6℃

May:3℃ ~ 12℃

Apr:-15℃ ~ 1℃

May:1℃ ~ -15℃

Apr:-6℃ ~ 8℃

May:-3℃ ~ 11℃

Apr:12℃ ~ 28℃

May:16℃ ~ 28℃
Tibet Small Group Tours Available in Apr. and May to Join
Most Popular Private Tibet Tour Itineraries for Traveling in Apr. and May
FAQs about Tibet Tour in Apr. and May
Why April and May are the most cost-effective months to visit Tibet?
April and May are the start of tourism in Tibet, though not yet the start of the peak months. While the weather is generally warmer than in the winter, the spring months are still not too busy, with fewer tourists than in the peak period. The warming temperatures make travel more comfortable, though nights can still be cool, so you still need a sleeping bag in the more remote areas. The scenery of the spring months can also be one of the more beautiful in Tibet, with new growth on the trees and bushes, and plenty of spring blossoms blooming across the region.
How about Tibet weather in April and May? And what to wear?
Spring, from April to May, is one of the best times to get both sun and dry weather, without the cold of winter. Sunny skies prevails throughout the spring months, and while it is not overly warm, it can be a very pleasant time to travel. Temperatures are getting better, rising to as high as 16-18 degrees in some areas of the plateau. When it comes to clothes, though, you will still need to have some warmer sweaters and jackets for the cooler evenings and nights. Overall, you can usually manage with lighter clothes and without the thermals, but bring some gloves, and a hat to protect your head from the sun.
Why April and May are the best time to visit Mount Everest?
As the weather improves, the snow around the mountains begins to melt, and by April and May, the area around Everest is perfect for viewing the summit and for taking the trek from Tingri to EBC. Warmer weather makes the trip more pleasant, and you are guaranteed to get the best views of the mountain.
Can I see pinky peach blossoms in early April?
In Nyingchi, the peach blossoms usually start to bloom from around the middle of March, but it does depend largely on the climate. Normally, by the middle of April, the blossoms are covering the countryside across the area of Nyingchi, especially along the banks of the Yarlung Tsangpo River.
Is Lake Namtso still frozen in April?
By April, the ice of winter has usually started its melt on Lake Namtso, and the waters are showing crystal clear once more. There may still be some ice around the edges of the lake and along the shoreline, with a little snow remaining, but overall, the lake has taken on its unfrozen turquoise aspect once again.
What is the best festival to enjoy in Apr. and May?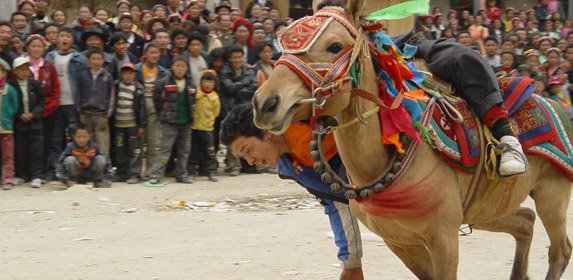 Chawalong Village is located in Chayu County, Nyingchi Prefecture, Tibet. Chawalong has very limited resources, with no access to electricity, phone signals, etc., almost everywhere! Most importantly, there are only 4 roads connecting Chawalong to outside world. However, whichever road you choose, you are going to need to ride horses though some rough sections. Thus, horse is a very important part of Chawalong villagers' life.
Chawalong Horse Festival falls on Feb. 15th in Tibetan calendar. If you want to experience the most local and traditional life of Tibet, watching the horse festival is your second-to-none choice. Because of very bad road conditions,sometimes horse is the best and the only choice. Villagers also take horse as the closest friends and intimate family member. Horse Racing Festival is a way to communicate,to mingle and also a way to show manliness and bravery.
Quick Inquiry
We'll get back to you within 24 hours.
Tailor-made your Own Tour within
24 hours

.
Simply express your tour needs, we'll customize a trip plan for you. No deposit is required until you are totally satisfied with the trip plan.
Tours departure 365 days a year !
Start Customizing Now!
Get Started -
Tibet Tour In April And May
You're getting closer to your dream Tibet vacation! Fill out this form so our travel designers can start helping you plan a trip.
Privacy Policy: Your information is kept strictly confidential. Tibet Vista will never sell, trade, or give away your contact information to a third party.