Tibet Road Map, Road Map of Tibet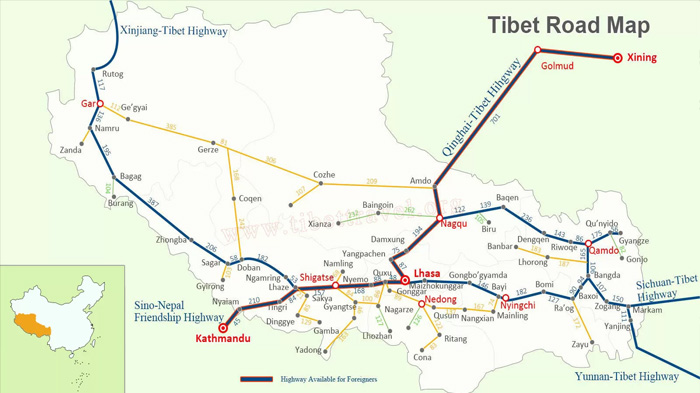 (Simple click to enlarge the map)
Tibet Road Map with Distance
Roads into Tibet from China Mainland and road conditions in Tibet are greatly improved in recent years. In total, there are 5 highways connecting Tibet with other parts of China, they are highlighted in blue in the map:
1. Qinghai-Tibet Highway, connects Xining, Golmud and Lhasa, No. 109 Highway, 1937km, 3-4 days' drive, with average elevation above 4000m. The road is travelling along with Qinghai-Tibet Railway.
2. Yunnan-Tibet Highway, connects Shangrila and Lhasa,No. 214 Highway, 714km, 2 days' drive, with avergae elevation above 4300m, It goes through primeval forest, Jinsha River and high mountains.
3. Xinjiang-Tibet Highway, connects Kashgar and Lhasa, across western Tibet Mt.Kailash and Guge Kingdom. Highway No. G219 Xinjiang to Tibet, is known as the world's highest road, with a total length of 2143 km. the Highway climbs 5 mountains over 5,000 meters, 44 glaciers, travels hundreds of kilometers across the no man's land.
4. Sino-Nepal Friendship Highway with a total length of 860km, connects Lhasa and Kathmandu, go aross the major tourist attractions in Tibet or nearby, like Gyantse, Shigatse, Sakya, Tingri, Mt. Everest Base Camp.
5. Sichuan-Tibet Highway, G318, connects Chengdu and Lhasa, boasted for the most dangerous but the most beautiful road in the world. The road starts from Chengdu, the capital city of Sichuan Province and is divided into north and south lines, both of which are surprisingly beautiful and attract thousands of photographers every year. unfortunately, it is not open for foreign travelers recently.
Although every roads to Tibet are full of challenge and with stunning views, only 3 of them are open to foreigners since 2008. Qinghai-Tibet Highway, Sino-Nepal Friendship Highway and Xinjiang-Tibet Highway, are connected with the major tourist cities in Tibet.