Tibet Political Map
Tibet, measuring approximately 1, 22 million square km, consists of 7 major administrative divisions(prefecture-level), i.e. Lhasa City, Shannan, Shigatse, Nagqu, Ngari, Nyingchi, Chamdo.
Tibet Political Map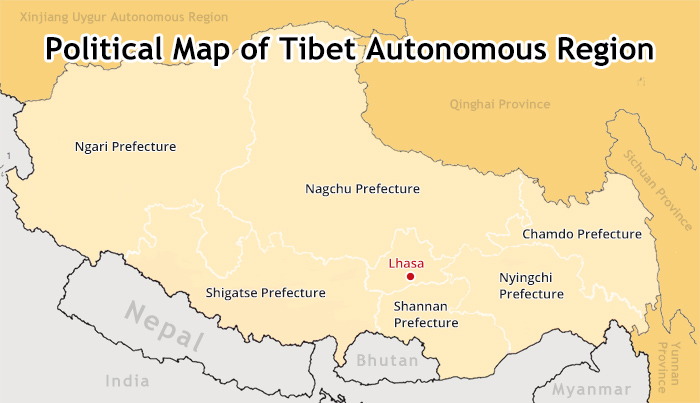 (Simple click to enlarge the map)
Different administrative divisions in Tibet
Lhasa(average attitude of 3650m):
Capital city of Tibet Autonomous Region
With 13 districts(Chengguan District is the main urban area)
Cover 554 square km
Attractions: Potala Palace, Jokhang Temple, Barkhor Street, Sera Monastery, Drepung Monastery, Ganden Monastery, etc.
Shigatse(average attitude of 3836m):
Home to world's summit Mt. Everest, best place to view top 5 mountains in Himalayan Range
With 18 counties
Cover 3,875 square km
Attractions: Everest Base Camp(5200m), Rongbuk Monastery, Tashilhunpo Monastery, Sakya Monastery, Palcho Monastery, etc.
Shannan(average attitude of 3600m):
Birthplace of Tibetan Civilization
With 12 counties
Cover 7,97 square km
Attraction: Samye Monastery, Yamdrok Lake, Yumbulagang Palace, Trundruk Monastery, etc.
Nagqu(average attitude of above 4500m):
Well-known for its lush Changtang grassland, Tibetan yaks, Caterpillar fungus, Nagqu horse-racing festival, etc.
With 10 counties
Cover 450,537 square km
Attraction: Namtso Lake, Changtang grassland, Yangbajain hot spring, Tibetan nomads, etc.
Ngari (average attitude of above 4500m)
Highest regions in entire Tibet; Ultimate pilgrimage route; Ruins of lost Tibetan civilization; wildlife kingdom
With 7 counties
Cover 304 thousand square km
Attraction: Mt. Kailash, Lake Manasarovar, Tholing Monastery, Ruins of the Guge Kingdom,Pangong Tso Lake, Tsada Clay Forest, etc.
Nyingchi (average attitude of 3000m)
Lowest prefecture with densely pristine forest in Tibet
With 7 counties
Cover 116,175 square km
Attraction: Basum Tso Lake, Namjagbarwa Peak, Lulang Forest, Midui Glacier, Huge Cypress Nature Reserve, Cherry Blossom Festival, etc.
Chamdo(average attitude of above 3500m)
Widely-known for its Khampa culture and Ancient Tea-horse Route there
With 11 counties
Cover 110 thousand square km
Attraction: Rawok Lake, Ancient Tea-horse Route, Laigu Glacier, Galden Jampaling Monastery, etc.
Tibet Demographic Map
Traditionally, the extreme altitude and inhospitable natural environment render Tibet as the most sparsely populated regions in mainland China. However, the population in Tibet has grown steadily in recently years. The following map shows the latest statistics (Chinese national census survey in 2000) of demographic change in Tibet.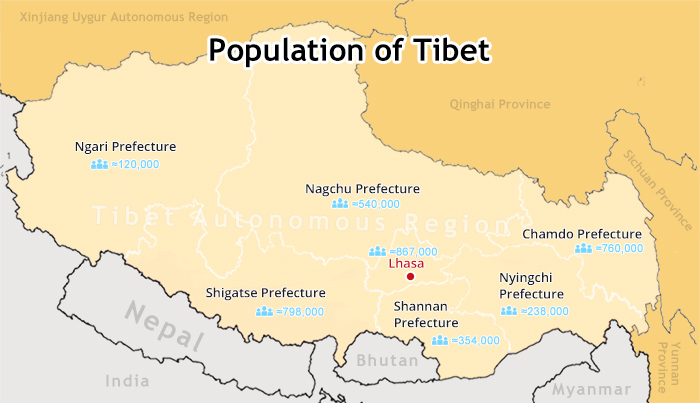 (Simple click to enlarge the map)
Demographic change of Tibet
Administrative Divisions
Lhasa: 559,423
Shigatse: 703,292
Shannan: 328,990
Nagqu: 462,382
Ngari: 95,465
Nyingchi: 195,109
Chamdo: 657,505
Gender (permanent residents) :
Male: 1,542,633; 51.38%
Female: 1,459,533; 48.62%
Age(permanent residents):
0-14: 731,683; 24.37%
15-64: 211, 7576; 70.53%
Above 65: 152,907; 5.09%
Ethnic Group (permanent residents):
Tibetan: 2,716,389
Other ethnic groups: 40,514
Han: 245,263; 8.17%
Education (permanent residents):
Three year college education: 165,332
High school (including vocational school): 131,024
Middle school: 385, 788
Primary school: 1,098,474