Where is Tibet Located on a Map?
Speaking of Tibet tour or location of Tibet, a frequently quoted proverb in China would be "Enjoying the heavenly scenery while travelling in an inhospitable place." Exaggerated as it may sound, the simple description vividly portrays the topographical features of this holy piece of land.
Under the lofty snow-capped mountains, deeply religious Tibetans not only adapt themselves to inhospitable plateau environment, but more importantly develop a distinct culture and coexist harmoniously with both a religious and secular life. To a large extent, it is awe- inspiring alpine scenery, mysterious Tibetan Buddhism and culture that have captivated ceaseless flow of global adventurers, mountaineers, scholars, and other visitors to explore this spiritual realm.
Where is Tibet Located on a Map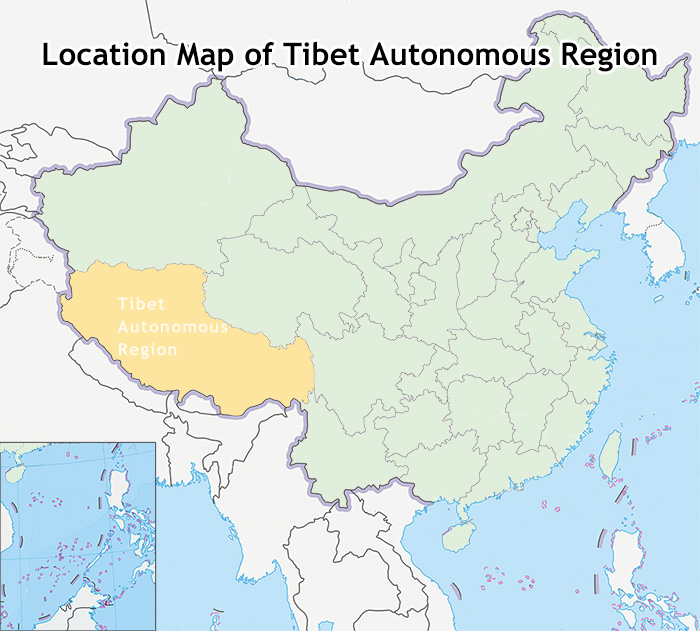 (Simple click to enlarge the map)
Map of Tibet Location in China
Capital City: Lhasa (3658m), with a population of around 560 thousand
6 Prefectures: Shigatse, Ngari, Shannan, Nagqu, Nyingchi, Chamdo (totally with 68 Counties and 692 Townships)
Total Area: 1,228,400 square km, the second largest region in China
Religious Belief: Tibetan Buddhism (practiced by 99% of Tibetans)
Average Altitude: above 4000m,
Highest prefecture is in Ngari (average of above 4500m) ; Lowest prefecture is in Nyingchi (average of 3000m) ; Mt. Everest (8844.43m, world's highest mountain) in Shigatse prefecture
Language: both Tibetan and Mandarin Chinese
Bordering Countries: India, Nepal, Bhutan, Myanmar
Economy: predominantly in agriculture and animal husbandry
Demographics: 90% Tibetans, 8% Han, 2%others
Staple Food: Tsampa (roasted barley flour), butter tea, yak meat, Tibetan momo, etc
Wildlife: wild yak, Tibetan antelope, Tibetan gazelle, black-necked crane, wild ass, wolf, snow leopard, marmot, vulture, etc.
Mineral Deposits: Borax, uranium, iron, chromite,etc.
Map of Tibet Surrounding Areas in China
Domestically, Tibet Autonomous Region neighbors four provinces in mainland China, i.e. Xinjiang Autonomous Region to the north; Qinghai Province to the northeast; Sichuan Province to the east; Yunnan Province to the southeast. Each 4 neighboring provinces have their diverse tourism resources. The classic attractions are listed as follows: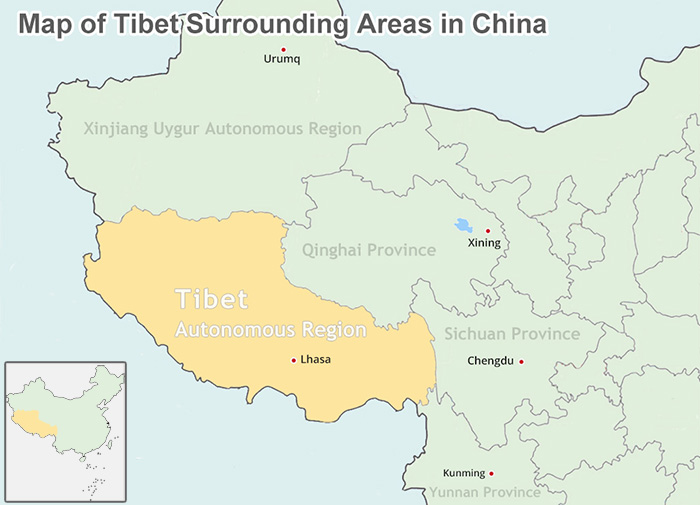 (Simple click to enlarge the map)
Map of Tibet Surrounding Areas in China
Sichuan Province (major overland gateway to Tibet): Giant Panda Breeding Research Base; Jiuzhaigou nature reserve; Mt. Emei; Leshan Giant Buddha; Huanglong, etc.
Yunnan Province:Old town of Lijiang; Lugu Lake; Dian Lake; Jade Dragon Snow Mountain; Shangri-la, etc.
Qinghai Province:Qinghai Lake; Kumbum Monastery; Kunlun Mountain; Qarhan Salt Lake; Golmud Diversifolious Poplar Forest, etc.
Xinjiang Province:Grape Valley; Tianchi ( Heavenly Lake), Karez Well, Tianshan Grand Canyon, Kizil Thousand-Buddha Caves, Grand (Sunday) Bazaar and Sunday Livestock Market, etc.
Check out the classic Chengdu and Lhasa World Culture Heritage Tour
Map of Tibet and Surrounding Countries
Dominating other continents in the world, Tibet is situated on the Qinghai-Tibet plateau (with an average altitude of above 4000m) in China. The unspoiled alpine scenery and pervasive Tibetan Buddhism atmosphere and easy access to its neighboring country Nepal make Tibet rank high of the travel bucket list.
(Simple click to enlarge the map)
Map of Tibet and Surrounding Countries
Neighboring Countries: India, Nepal, Bhutan, Myanmar
Lofty Mountains:
Mt. Everest (8844.43m), K2(8611m), Lhotse(8516m), Makalu(8463m), Shishapangma(8027m), Namcha Barwa(7756m),etc.
Source of Major Rivers in Asia:
Brahmaputra River, Yangtse River, Yellow River (In China) ,Ganges, Indus River, Mekong, Salween (Neighboring Countries)
Cultural Influence: Nepal, India , Bhutan
Neighboring Attractions with Nepal:Durbar Square, Bhaktapur, Boudhanath Stupa, Swayambhunath (culture & architecture) , Everest Base Camp(8848), Annapurna, Pokhara, Langtang National Park (world-class trekking regions) , Chitwan National Park (tropical safari) , Lumbini (birthplace of Buddha Shakyamuni)
Recommended Tibet Nepal Tours :
How to get China Tibet Visa from Nepal
How to travel from Lhasa to Kathmandu
Map of Tibet Location in the World and Asia
Tibet, located in the western part of mainland China, is the world's highest plateau. Its distinct topography and geographical location allow it to share the world's grandest mountaineering and trekking resource with its neighbor Nepal. In addition, the abundant glaciers on the roof the world serve as the "water tank" for 6 Asian countries, an extremely important regulator of climate change.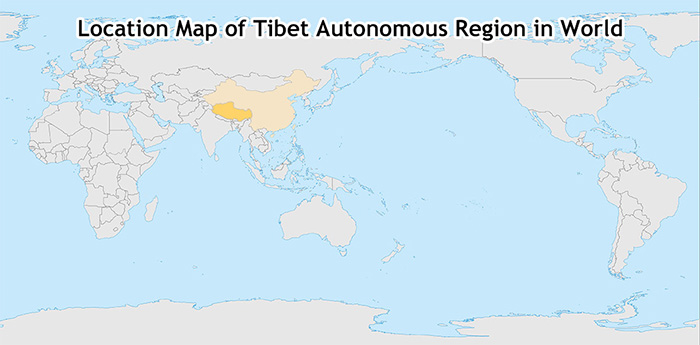 (Simple click to enlarge the map)
Map of Tibet Location in World
Culturally, Tibet's profound culture and history, esp. Tibetan Buddhism, are a priceless heritage to human beings. It is this unique spiritual realm and alpine scenery that keep drawing global tourists.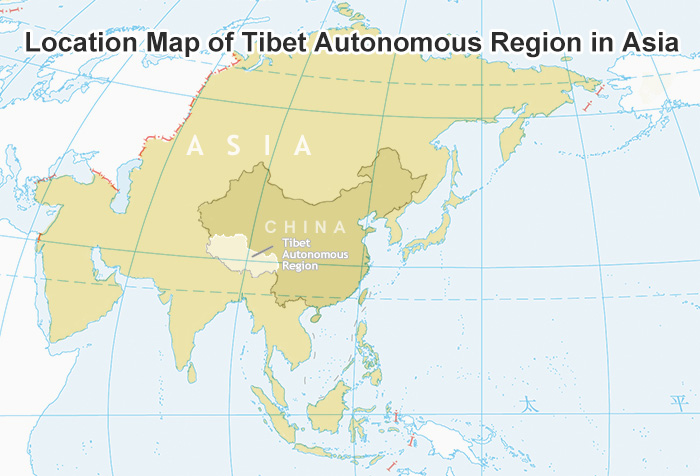 (Simple click to enlarge the map)
Map of Tibet Location in Asia