Tibet History

Since the early seventh century, China had entered a new historical stage. 300 years of chaos came to an end and the powerful Tang Dynasty finally established in Central China. At the same time, the first unified Tibetan dynasty also appeared in Tibet history, namely, Tubo Kingdom.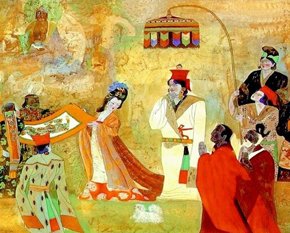 Songtsen Gampo and Princess Wencheng
Tubo Kingdom and then Tang Dynasty were in a good relationship, especially after Songtsen Gampo, the great Tibetan King, married Princess Wencheng. And in 710, another Tang Princess Jincheng was sent to Tibet to marry Tubo king Tridé Tsuktsen. Hence, Tibetans got closer contact with Han People in politics, economy, culture via royal marriage and alliance. Monument of the Tang-Tubo Alliance, also known as Changqing Alliance Tablet, is a good case in point. It still stands in front of Jokhang Temple, symbolizing the peaceful agreement between two dynasties.
By the middle of the ninth century, slave uprisings continuously took place in Tubo Kingdom. In the year of 877, Tubo Kingdom was completely overthrown. Since then, the whole Tibetan areas had been trapped in the phrase of splitting , separating, and scuffling up to 400 years. And just 30 years after the collapse of the Tubo Kingdom, Tang Dynasty also disintegrated and entered into the period of Five Dynasty and Ten Kingdoms. However, it didn't affect the connection between Tibetan and Han people that deeply. In 960, Song Dynasty set up. Bilateral exchanges in economy and culture went further.
In 1260, Kublai Khan conquered the Southern Song Dynasty and established Yuan Dynasty. Phags-pa was honored as the national division and responsible for creating Mongolian (Phags-pa script). Kublai Khan also set up Xuanzheng Institute and asked Phags-pa to be in charge of national Buddhism and Tibetan administrative affairs. From then on, Tibet was officially incorporated into the territory of China's Yuan Dynasty. No doubt that Phags-pa had made great contribution to the country's reunification and across-region cultural exchanges.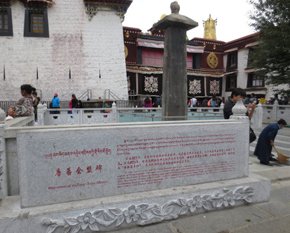 Monument of the Tang-Tubo Alliance
At the late 14th century, Ming government inherited the administrative system from Yuan Dynasty. The relationship between Tibet and central authority had been further consolidated.
Since the seventeenth century, Qing government further strengthened its rule over Tibet. In 1721, Bkav Blon Management System was set up. Qing imperial residents in Tibet occurred in 1727. The Authorized Regulations for the Better Governing of Tibet, issued in the year of 1792, had 29 articles, making specific provision on Tibetan administration, finance, military, foreign affairs and so forth. And according to the 29 articles, the high commissioners should supervise the handling of Tibetan affairs on behalf of the central government, enjoying the equal standing with the Dalai Lama and the Bainqen Erdeni. Those rules and regulations marked that Qing governance on Tibet has become more legalized.
Seeing from the development of Tibetan history, Tibet has been an integrated part of China since Yuan Dynasty. In the past 700 years, it has never been out of the jurisdiction of Chinese sovereignty. Even in the roughest of times, Tibet has not seceded from mainland China and no country in the world would admit that Tibet is an independent state.
Just a Reminder
Joining in a small group tour is the very BEST way for solo travelers or traveling Tibet on a budget!
As the Pioneer of Tibet Tourism for global tourists since 1984, TIBET VISTA has been the FIRST TOUR OPERATOR of running join-in group tour business in local and with ability of organizing over 5000 visitors a year. For Tibet Vista's special contribution to Tibet Tourism especially to Mt. Everest Tour, we were the ONLY company awarded by Tibet Tourism Bureau Shigatse "THE EXCELLENT ORGANIZER OF MT. EVEREST TOUR "in 2015.
View our Tibet Small Group Tour