Guide to Mt. Everest Photography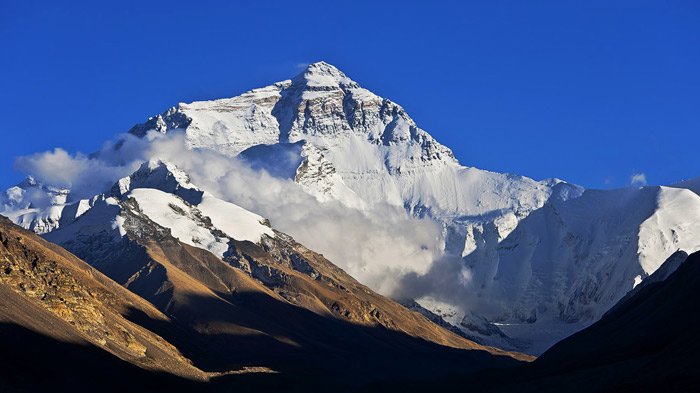 A panorama of Mt. Everest shot in Everest Base Camp
As the highest mountain dominating the world, each year Mt. Everest (8844.43m) keeps attracting ceaseless flows of world-wide tourists to get a closer look at her awe-inspiring beauty in Tibet. Whoever they are, all of them want to go home with the best shot of this sacred mountain. Why Mt. Everest, not somewhere else? In fact, Everest Region houses a great number of lofty mountains, with 4 mountains over 8000m and 38 above 7000m, making it the well-known Third Pole on the planet. Besides, the unique pyramidal summit of Mt. Everest makes it one of the best subjects for visually striking landscape photography.
Best season to shoot Mt. Everest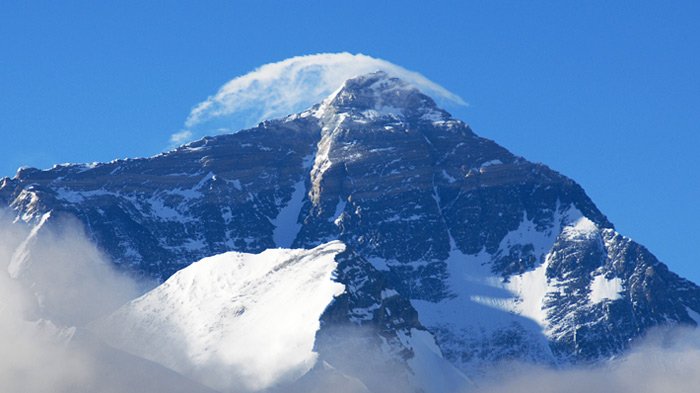 The unique "Flag Clouds" hovering above the top of Mt. Everest
The best season to shoot Mt. Everest overlaps with the mountaineering seasons, which is believed to be from April to May and from September to October. During these two periods of time, the weather in Everest Region is relatively stable with high visibility. Without rain, tourists can better enjoy the panorama of Mt. Everest. Most importantly, the distinctive natural wonders like "Flag Clouds" and "Golden Summit" are more likely to be seen. If you come in rainy seasons like July and August, the sporadic rain and clouds might block your sight.
Best Moment for Photography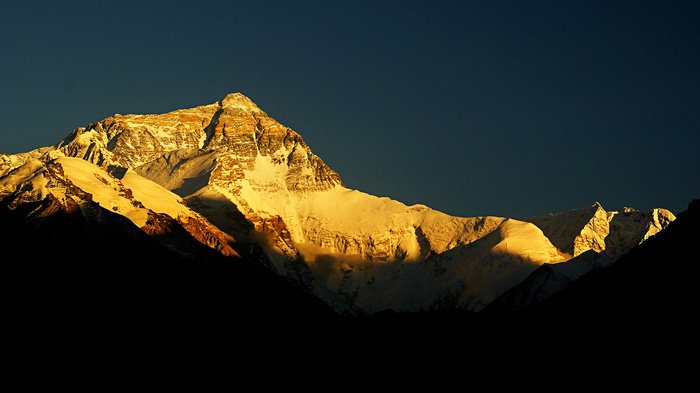 The "Golden Summit"---Mt. Everest at sunrise and sunset
The best moment to shoot is about one hour before and after sunrise and the same applied to the sunset. The glowing sunlight will cast perfect ambient light on the summit of mountain and saturation of light is high.
Best places to shoot Mt. Everest (from far to near Mt. Everest)
a.Mt. Everest Viewing Platform in Tingri county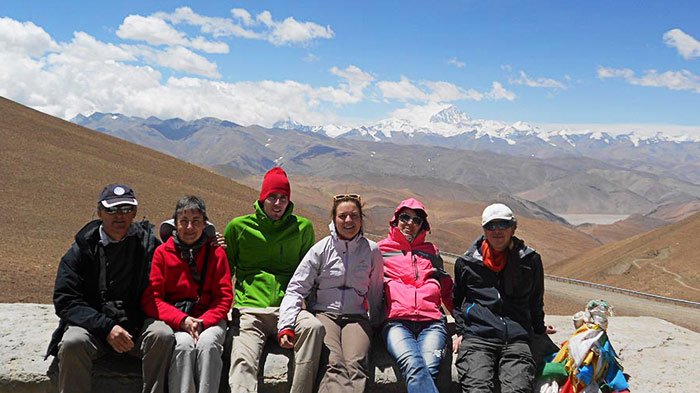 Brilliant viewing platform the watch Mt. Everest afar
The Tour bus and other vehicles can reach this viewing platform easily where tourists can have panoramic view of Mount Everest from afar.
b.Zhegula Mountain Pass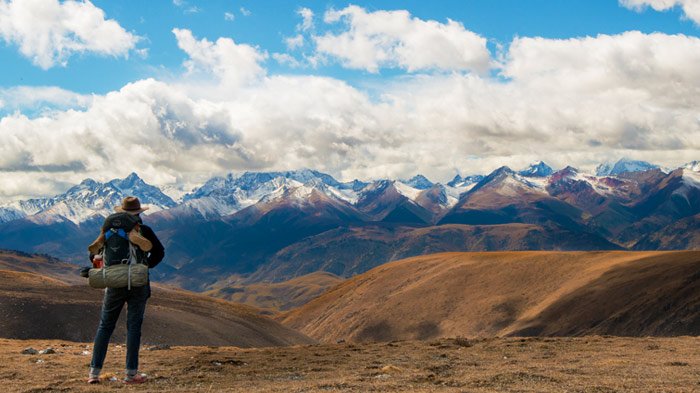 Well-known Zhegula Pass to enjoy Himalayan range
Zhegula mountain Pass is the best place to have a panorama of array of towering mountains like Mt. Makalu (8,485m), Lhotse (8,516m), Mt. Everest (8,844.43m), Cho Oyu (8,201 m). And you may consider shoot ing different mountains and later use Photoshop to put them into a stunning panoramic image.
c.The Sand Dune near Rongbuk Monastery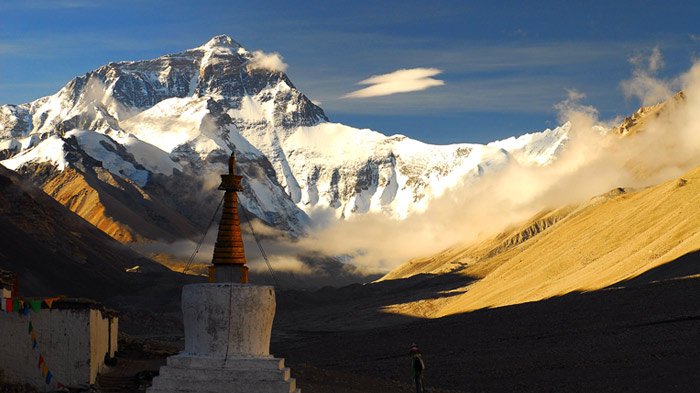 Rongbuk Monastery is also a big hot to take photos of Mt. Everest
Widely known as the best place to shoot Mt. Everest in the distance, the sand dune beside Rongbuk Monastery allows photographers to document the spectacular sunrise of Mt. Everest at the ultimate position. It's advisable to use the iconic white stupa in Rongbuk Monastery as the foreground to add interest and the sense of sacredness to your picture.
d.Everest Base Camp(5200m)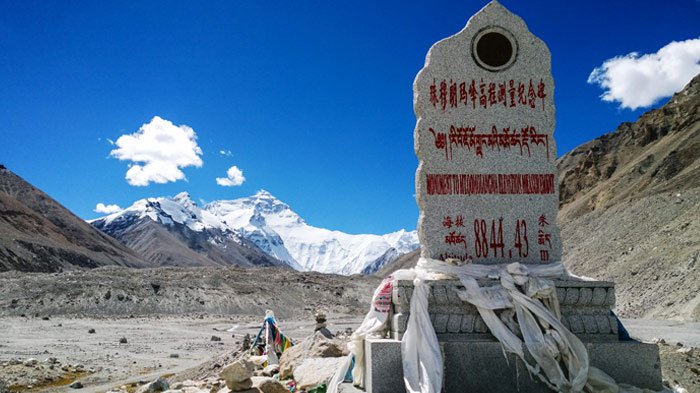 Tourists can use telephoto lens to shoot the close-up of Mt. Everest.
It is about 19km away from Everest Base Camp to Mt. Everest. Gazing above towards this holy mountain in EBC, you can have an intimate experience of how massive and magnificent Mount Everest is. Since you are very close to the mountain, you need to frame wisely. One suggestion is to include colorful camps of EBC, and prayer flags and national flags into your make your image have more depth of field.
Gears for Mt. Everest Photography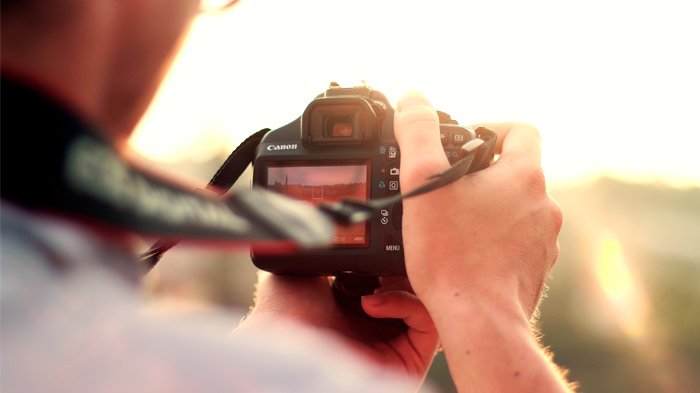 Pick the right gear and never miss the memorable moments
---Digital Camera (full-frame DSLR preferably)
If you prefer high resolution image with superb quality, then a full-frame DSLR is highly recommended. If you want to travel light, a small compact camera or a film camera is also a good option. Given the great ambient light in EBC, using the AV mode (aperture priority) is the most effective way for most photographers to shoot.
--- Recommended Camera Lens
a.24-70mm F2.8
Undoubtedly, this 24-70mm F2.8 is the most versatile lens for you travel to everywhere. It covers the wide angle perspective and mid-distance lens with big aperture and sound image quality.
b.70-200mm F.28
If you enjoy the compression image and want to have more close-up photos of the summit of Mt. Everest, this 70-200mm F.28 should be your priority. The image shot with this telephoto lens is superb sharp with brilliant image quality. Besides, you can use this lens to shoot Tibetan monks from afar without annoying them. The only problem is that it is too heavy for carry.
--- Polarizer Filter (optional)
Mounting a polarizer filter on your lens can effectively darken skies, properly manage reflections and maintain the contrast between highlight and lowlight areas. Besides, it can help you get a crystal clear image with better natural saturation.
---Camera Battery (2-3)
The low temperature is a huge challenge to camera's battery. Normally, battery will be consumed faster than in normal environment. Preparing a couple of backup batteries is very necessary. When not using them, put them in dry plastic bags or in your camera bag.

*Tips:
In the guesthouse in Rongbuk Monastery and tents of EBC, the butter tea, instant noodles and other basic food can be found there. The facilities for accommodation and hygiene are very basic. So please down play your expectation for cozy hotels. You'd better take your individual sleeping bag if you want to stay overnight in EBC. Please check here for detailed preparation for the clothing for EBC tour. For foreign tourists who want to travel to EBC are required to have Alien's Permit.