Facts You Need to Know about Mt. Everest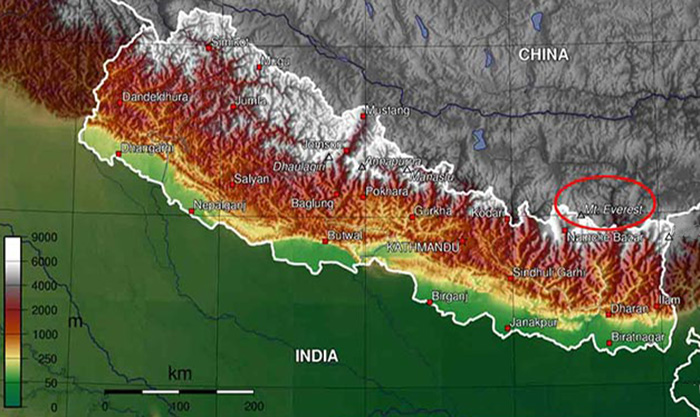 The map shows the location of Mt. Everest
Where is Mount Everest?
Mount Everest, also known as mount Qomolangma in Tibet, China, is situated on Sino-Nepal border with its imposing north ridge in Tingri, Tibet and south ridge in Nepal. Not only is it the main summit of the Great Himalayas, but also overlooks other towering mountains as the highest mountain on our planet.
Why is it called Mt. Everest or Mt. Qomolangma?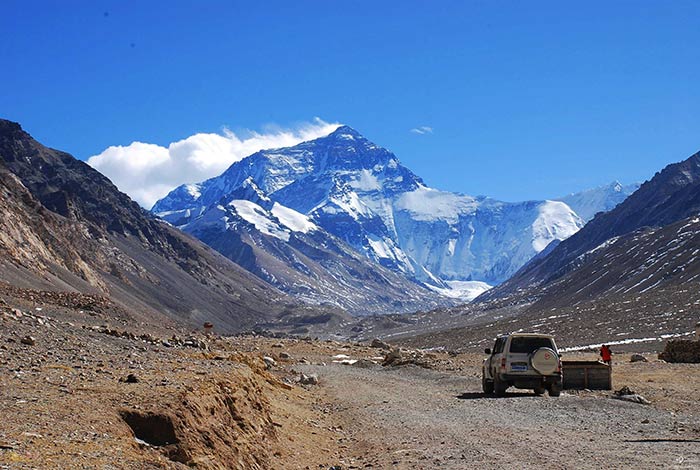 On the way to Everest Base Camp
To westerners or other part of the world, the world's summit is widely referred to as "M.t Everest" for the commemoration of Sir George Everest, the Indian surveyor general, who was believed to be the first man to record the height of Mt. Everest in 1841. In Nepalese, Mt. Everest is called Sagarmatha, meaning " celestial goddess".While in Tibet, Mount Everest is called "Qomolangma", the great mother of earth.
How tall is Mount Everest?
According to the survey by Chinese National Bureau of Surveying and Mapping in 2005, the elevation of Mount Everest is 8844, 43 meters or 29,009 feet above sea level. In this case, Mount Everest enjoys a slight edge over K2 (8,611metres or 28,251 ft.), or also known as Chhogori, which is noted for being the world second highest mountain.
Who is the first man to climb Mount Everest?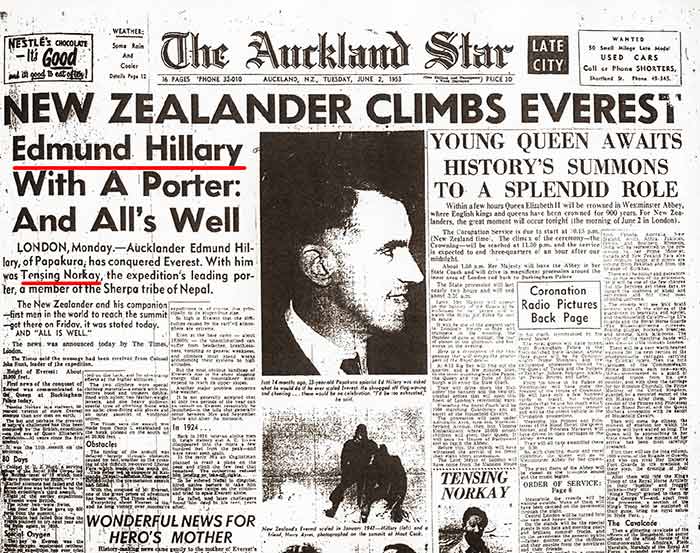 News reports on the heroic deeds of Edmund & Tenzing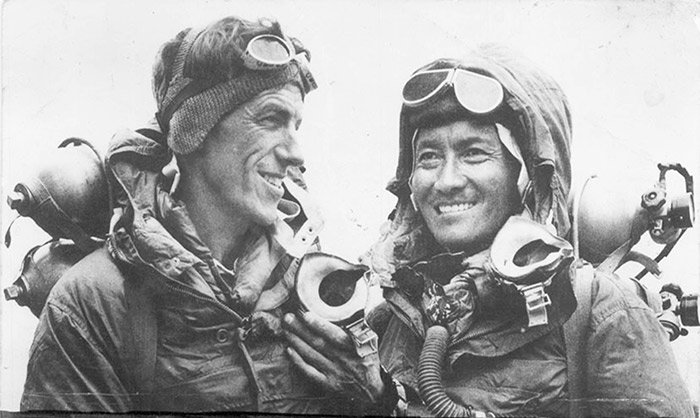 Edmund Hillary and Tenzing Norgay
On 29 May 1953, Edmund Hillary, a New Zealand mountaineer and Nepalese Sherpa mountaineer Tenzing Norgay became the first climbers to reach the summit of Mount Everest. They were part of the ninth British expedition to Everest, led by John Hunt. Hillary was named by Time as one of the 100 most influential people of the 20th century.(from Wikipedia)
How long does it take to climb Mount Everest?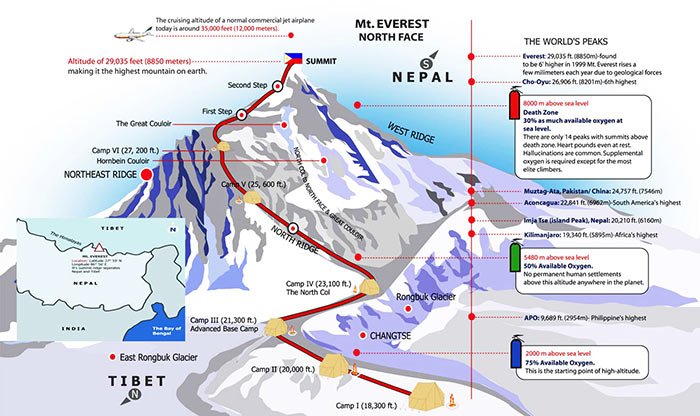 Northeast Ridge Route to the Summit of Mt.Everest
It has been a fine tradition to ascend the summit of Mt. Everest via its northeast ridge. The entire climb normally takes around 2 months. Starting from Everest Base Camp(5200m), we are expected to pass Rongbuk Glacier (5300m-6300m) and Interim Camp(5800m), then reach Advanced Base Camp(6500m). After that, we continue to move to North Col Camp(7028m) or Camp2 and then keep ascending to Camp3 (7790m)and next pass Camp4(8300m) and finally challenge the summit of Mt. Everest(8844.43m).
The following 9-min Vid shows you clearly how you ascend the summit of Mt. Everest through North Ridge.
How much does it cost to climb Everest?
Normally, it would cost you around 30 thousand to 60 thousand US dollars.
How many people have climbed Everest?
According to Ms. Elizabeth Hawley's report on the Himalayan Database that here have been 7,001 summits of Everest through August 2015 on all routes by 4,093 different people. 953 people, mostly Sherpa, have summited multiple times totaling 3,861 times (included in the 7,001 total summits). The Nepal side is more popular with 4,421 summits compared to 2,580 summits from the Tibet side. 193 climbers summited without supplemental oxygen through August 2015, about 2.7% 14 climbers have traversed from one side to the other. About 60% of all expeditions put at least one member on the summit.
Mt. Everest Expedition Challenge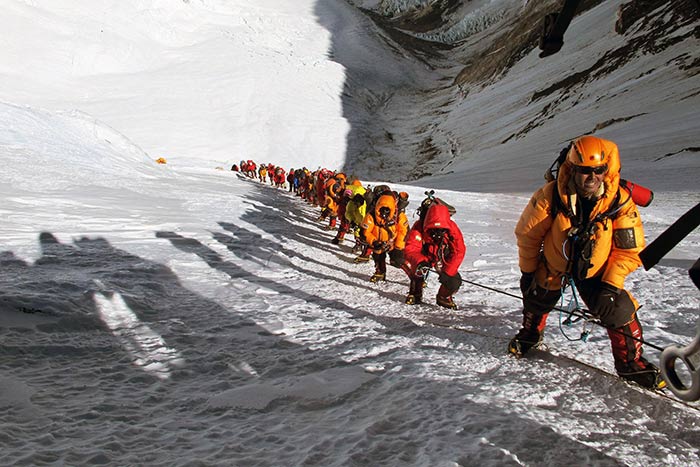 A expedition team are climbing on the rockface of Mt.Everest.
In addition to majestic scenery and undaunted spirit of Everest mountaineers, Mt. Everest mountaineering or expedition involves much risk. Based on the Grand Dame of all Everest statistics, 282 people (169 westerners and 113 Sherpas) have died on Everest from 1924 to August 2015. But the deaths drastically declined from 2000 to 2015 with 5,832 summits and 112 deaths or 1.9%.
Most of the death during Mt. Everest expedition is triggered by deadly avalanche, fall from the cliff or glacier, exposure, altitude sickness, organ failure. One horrifying reminder of the danger of ascending Mt. Everest is the dead bodies sporadically seen on side of mountaineering route.
Everest Base Camp(5200m): A Brilliant Place for Most Tourists to View Mt. Everest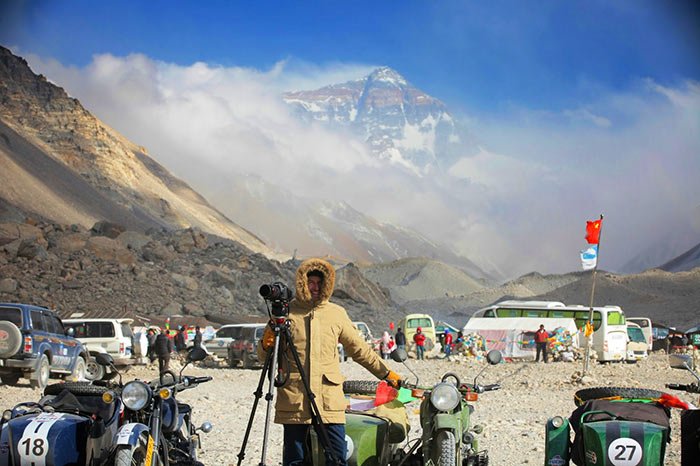 A Tourist made it to EBC via motorcycle tour.
For most of the tourists, the safest and best place to view the grand beauty of Mt. Everest is to tour Everest Base Camp where tents, hostels, and restaurant, post offices, literally everything are available for tourists. EBC is also the starting point for climbing Mt. Everest. Another must-see attraction is Rongbuk Monastery , the highest monastery in the world, which is also the prototype for the science fiction movie "2012".