Bhutan to Tibet Flights: how to fly from Bhutan to Tibet
Traveling to Bhutan and Tibet is one of the most perfectly matched pairings for tours of the mighty Himalayas. Lying side by side on either side of the western Himalayas, Bhutan and Tibet share a border that stretches for around 470 kilometers, snaking its way through the mountains along the northern edge of Bhutan. This natural border between Tibet and Bhutan was once a major trade route between these two locations, and the route of the invading Tibetan armies in the 17th and 18th centuries.
The border between China and Bhutan has long been closed, and there is no direct overland route now from Bhutan to Tibet. Nor is there a direct flight route into Tibet from Bhutan, and the flights from Kathmandu in Nepal remain the only international flights permitted to land at the Lhasa Gonggar International Airport. The best way to get to Tibet from Bhutan is to take a flight from Paro to Kathmandu, and then a connecting flight from there to Lhasa.
Major Airlines Running Flights from Bhutan to Kathmandu
There are only two airlines that offer flights to Kathmandu from Bhutan's only international airport at Paro. Both airlines are Bhutanese, and run all the flights into Bhutan from all nine airports across five different countries in Asia. DrukAir is the main airline, as well as being the national airline for Bhutan, which Bhutan Airlines, the latecomer to the industry in Bhutan, is the first and only private company to run flights to Bhutan. - See Direct Flights to Bhutan: how to get to Bhutan directly from Nepal, India, Bangladesh, Thailand and Singapore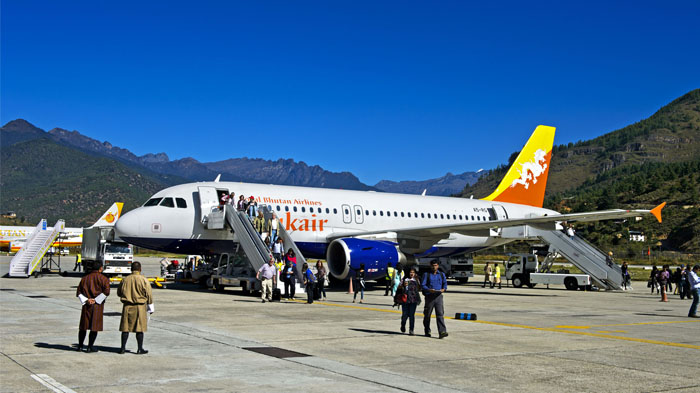 Paro airport is the major international airport connecting Bhutan with the outside world.
Druk Air operates daily flights to Bhutan from Kathmandu. The flights depart twice a day and take around 75 minutes to make the journey to Nepal's Tribhuvan International Airport. Flights with DrukAir cost from US$ 196 per person for an economy fare and around US$ 231 per person business class, and are subject to change in the peak seasons for Bhutanese tourism.
>> Check the moat classic Nepal and Bhutan tours
Bhutan Airlines, the second carrier, only operates flights to Kathmandu from Paro on Tuesday, Thursday, and Saturday, and the flights depart from Bhutan's Paro International Airport at around 10:30am and 11:15am, arriving at Paro at around 12:00pm and 1:15pm respectively. The flights cost from US$ 243 for Economy, US$ 263 for Premium Economy, and US$ 279 for Business class for these 1 hour 15 minute flights.
Major Airlines from Kathmandu to Lhasa
There is only one airport in the world that offers international flights to Tibet, which is the Tribhuvan International Airport in Kathmandu Nepal. Lying around 6 kilometers from the city center of Kathmandu, the airport offers several direct flights to Lhasa Gonggar international Airport daily. The flights are run by Air China, the Chinese flagship airline, Sichuan Airlines, and relative newcomer Tibet Airlines. Flights to Lhasa from Kathmandu take around 90 minutes, and the flights run directly over the summit of Mount Everest on their journey to the Tibetan capital.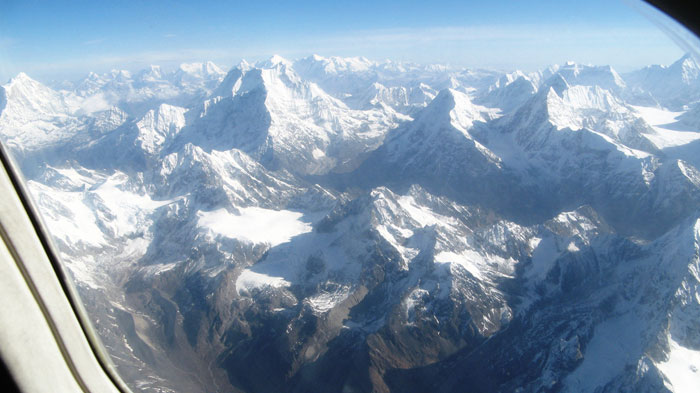 Unbelievable Himalayan view seen from Kathmandu to Lhasa flight.
The flights cover a distance of around 600 kilometers in a direct line to Lhasa, with prices starting at around 238 US dollars per person for an economy flight in the middle of the low season. Peak season flights are often more expensive, and can cost as much as 400 dollars for the same flight in July and August.
Before Taking the Flight: Top Things to Do
Traveling by flight from Nepal to Tibet is not as simple as just booking the flight and sorting out visas and hotels when you get there. There are several things that you need to consider before booking the flight.
Book the Tour in Advance
Travel in Tibet can only be done as part of a pre-booked tour with a registered tour operator. Independent travel has been prohibited in Tibet since 2012, and there are several things to do before traveling to Lhasa. The most important thing to do is to book your tour of the plateau region well in advance of the actual trip. Tours to Tibet can be easily arranged, but the processing of the permits can take a little longer for Tibet, so booking in advance is a necessity.
Finding a reliable travel agency to book with can be confusing, and there are several hundred to choose from when doing an internet search. The best way to decide is to look at the independent travel sites, such as Trip Advisor, who have to write-ups and reviews from real people that have traveled to the different countries around the world, and left real reviews on their opinions of the travel agents. These reviews can give you a good idea of the reliability and service that a tour operator for Tibet can provide, and are a good measure to help you decide who to book with.
Get Tibet Permit and China Group Visa for Tibet Entry from Kathmandu
Before you can travel, you need to have all the relevant permits and visas for Tibet. The first thing you need, before you can even book, is a valid passport with at least 6 months validity remaining at the time of travel. After you have booked your tour, we will make the applications for the various permits that you will need in order to travel from Kathmandu to Lhasa.
The Tibet Travel Permit is the main document you need, and this is only available once you have booked a tour. Using a scanned copy of your passport, we will make the application for the permit with the Tibet Tourism Bureau in Lhasa, on your behalf. Processing can take up to 20 days in the peak season, which is why we recommend that you book the tour as early as possible. Once we receive this, we will also make the applications for the other permits, which can be done at the offices in Lhasa.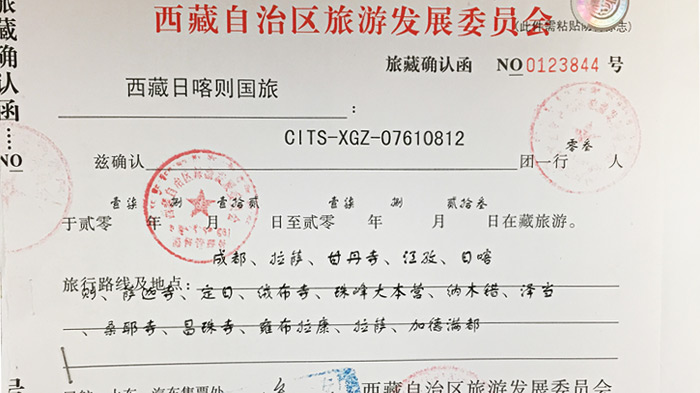 A sample of Tibet Travel Permit
The Alien's Travel Permit is required for all tourists that are traveling in Tibet outside the area of Lhasa, and the Frontier Pass is required for all tourists traveling in the region of the Chinese borders with India, Nepal, and Bhutan in Tibet. Despite you taking a flight to Lhasa direct from Kathmandu, and not setting foot on the ground until you land in the Tibetan capital, these other two documents are still required, as air travel is still considered to be travel in the region under Chinese regulations.
The last thing you need is the visa to enter China. The normal Chinese Entry Visa is only valid for entry into China outside Tibet, and for those traveling to Lhasa from Kathmandu; a Chinese Group Visa is issued by the Chinese Embassy in Kathmandu. However, this cannot be applied for in person, so our agent in Nepal will meet you in Kathmandu when you arrive in order to process the visa on your behalf. You will need to be in Nepal at least five working days before your date of travel, so that our agent can process the visa, which takes three working days (including the day of application and the day of collection).
Once the visa is collected, our agent will provide you with your passport back, and give you the visa document (which is a separate paper and not stamped into your passport), as well as all the other permits you will need. You are then ready to take the flight to Lhasa and begin your tour of the Roof of the World.
Find the Best Season for the Flight
When to travel to Tibet from Kathmandu is an important factor to consider. Do you take your trip in the spring or autumn, when it is cooler and clearer, in the summer during the peak period when it is hottest, or in the winter months when it is colder, cheaper, and less crowded.
The best season to fly to Tibet, in terms of price, is in the winter months, when the flights are at their cheapest. Summer is the peak period in Tibetan tourism, and flights from Kathmandu to Lhasa are often a lot more expensive than at any other time of the year. In the winter months, from December to March, tickets can cost from as little as 200 US dollars per person for an economy one-way flight to Lhasa from Kathmandu. - See Best Travel Time to Tibet: the ultimate guide about when to tour Tibet
While there are also fewer flights running in the winter months, there are also a lot fewer passengers traveling to Lhasa on the flights and getting a ticket in the winter months is rarely a problem. Most flights in the depths of winter are not full.
Conclusion
Flying to Lhasa from Bhutan can be done relatively easily, once you have booked a tour with a registered tour operator for Tibet. Without a booked tour, you will still be able to book the flights, but will not be permitted to collect the tickets or board the flight without the Tibet Travel Permit, which can only be applied for through a tour operator. Flights do run daily from Bhutan to Nepal and Nepal to Lhasa, in Tibet, and can be obtained cheaply during the winter months, as this is the low season for tourism.