Touring Tibet or Nepal? Tibet Tour vs Nepal Tour
Situated on the opposite side of majestic Himalayan Range, Tibet and Nepal share inseparable cultural and historical bond. Largely due to the proximity to each other, touring Nepal after finishing tours in Tibet or vice versa has been an orthodox way to cover the varying culture and diverse scenery on both side of imposing Himalayas. Though sharing many similarities as to culture and customs, touring Nepal and Tibet brings tourists utterly different travel experience for their distinct topography, outdoor activities and religion, etc.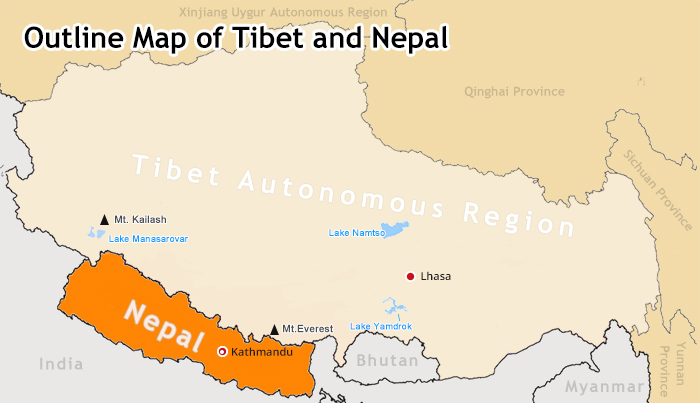 Geographical Location between Nepal and Tibet
Nepal Trekking vs Tibet Trekking
Topography Difference
Arguably, the biggest draw of Nepal to international tourists is its varied and well-developed trekking. Geographically, since Nepal features a narrow strip of territory with 885km in length and 145-241km in width from north to south, this dramatic span of land enables Nepal to have tremendous altitude change, from tropical Terai ( part of Gangetic plain with an elevation of around 59m) to soaring Himalayan mountainous region of 5360m (Everest Base Camp) and beyond. For this Nepal is widely known as the "Kingdom of Trekking" globally.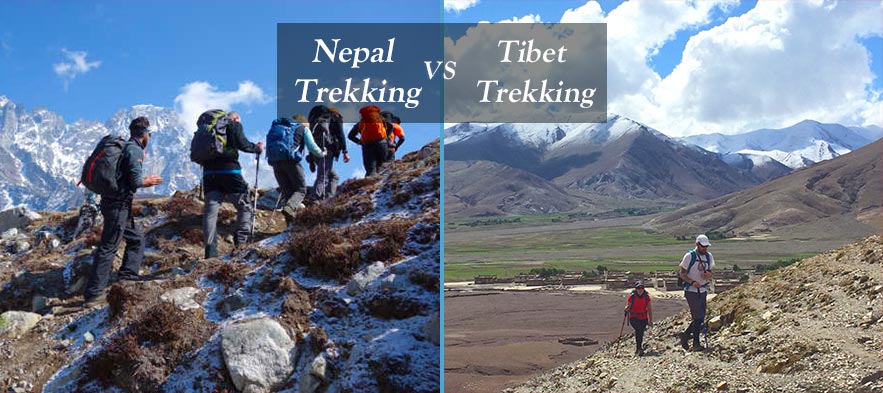 Trek in Nepal and trek in Tibet
Tibet, as opposed to Nepal, is located on Qinghai-Tibetan Plateau with an average altitude of above 4000m in the southwest of China. The massive land of 1.22 million Sq. meters is wedged by awe-inspiring mountains from all directions, such as Himalayas, the Gangtise, Nyenchen Tanglha, Karakoram Range, Tanggula Mountains, and Kunlun Mountains. Owing to the extreme altitude, Tibet is credited with "The Roof of the World".
Trekking Routes and Regions in Nepal
In terms of altitude and terrain, the entire Nepal consists of three parts, i.e. Mountain Region ( in the north, 15%) , Hill and Valley Region (70%) and Terai ( also known as southern plain region, 15%). And the rich trekking resources almost all center in the north of Nepal and the diverse flora and fauna and enchanting mountain scenery make Nepal a heaven for enthusiastic trekkers.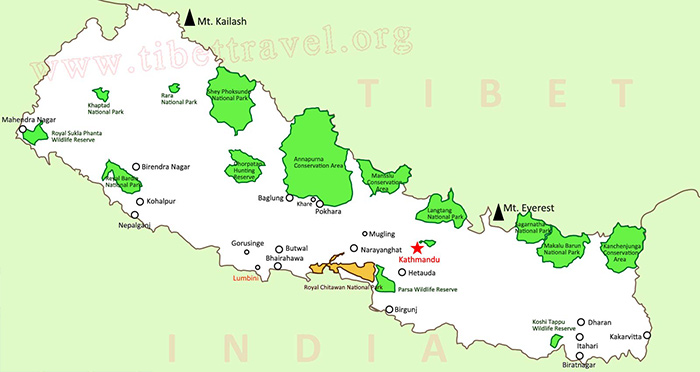 Major trekking regions are mainly scattered in the north of Nepal
Well-known trekking regions in Nepal are Annapurna Region, Everest Region, Mustang Region, Langtang Region, Manaslu Regions and Around Kathamandu Region.
Recommended Trekking Routes in Nepal
a. Poon Hill Trek (easy, 3-4days)
This trekking route is the easiest one and suitable for people of all ages. It' so easy that you can finish Poon Hill circuit and enjoy the mountainous ranges of Annapurna without the help of a porter and even a guide.
b. Annapurna Base Camp Trek ( moderate, 7-10 days)
Annapurna Base Camp Trek is one of the most popular trekking routes in Nepal. Tourists start your trek from somewhere around Pokhara and head towards Annapurna Base Camp. Since the trek involves places above 4000m altitude, you need to hire at least one porter. The highlight will be closely admiring Mt. Annapurna and Machapuchare to the opposite. If you have enough time, most of tourists will trek both to Annapurna Base Camp and Poon Hill.
c. Annapurna Circuit Trek ( strenuous, 15-21 days)
Annapurna Circuit Trek is one of the top 10 world-class trekking routes. Trekkers are expected to circle Annapurna Region in around 20 days. You will be able to explore the entire scenery in Annapurna Region and experience charm of both Hinduism and Tibetan Buddhism.In addition, tourists can have a better understating between altitude change and subsequently unique terrain by moving from tropical rainforest to incredible mountain pass with an altitude of above 5000m.
d. Everest Base Camp Trek ( strenuous, 15-17 days)
EBC Trek in Nepal refers to the most popular trek from Lukla all the way to Everest Base Camp (5364m). Normally, it takes around one week or so to reach the foot of EBC. The popularity of this classic trekking lies in that not only can you closely observe the south part of Mt. Everest, but many entry-level mountaineers can practice climbing in plenty of surrounding mountains with an average elevation of around 6000m.
e. Upper Mustang Trek (moderate, 10-16 days)
Unlike the crowed and popular trekking route, Upper Mustang Trek is definitely an off-the-beaten track, discovered by explorers in recently years. Mustang means fertile plain in Tibetan, and it is located in the upper central area of Nepal, neighboring Tibet, China. This trekking route features ancient Tibetan Buddhism culture and mind-blowing alpine scenery, similar to that of Ngari, Tibet.
f. Langtang Valley Trekking (moderate,7-20 days)
Langtang Valley Trekking is the closest trekking route to capital of Nepal Kathmandu. Tourists can enjoy the grand scenery of Kathmandu valley and tour the different villages in the valley.
Trekking Routes and Regions in Tibet
With an average altitude of above 4000m, trekking in Tibet is more challenging to trekkers for the high altitude. Besides, unlike Nepal where there are definite regions for trekking, Tibet does not have a universally-accepted region for trekking. Most of the classic trekking routes have intimate relationship with religious pilgrimage (also known as kora, religious circling around holy mountains and rivers).
Recommended Trekking Routes in Tibet:
a. Lhasa--Ganden Monastery( Gyama Valley)--Chimpuk--Samye Monatery (easy, 4-5 Days)
Ganden to Samye trekking route starts from Ganden Monastery, one of the top three Gelugpa monasteries in Lhasa. Tourists can enjoy the grand view of Lhasa valley and get to know the history of Tibetan Buddhism, explore meditation retreat of Guru Rinpoche and pass enchanting pastoral scene in Gyama Valley.
b. Mt.Kailash Kora, Ngari (strenuous, 3 Days)
To Nepali and Indian tourists, Mt. Kailash kora is never new. The 3-day ancient pilgrimage route is the utmost trekking route in Ngari, Tibet with divine experience. For Hindus who travel all the way from Nepal and India for Mt. Kailash Kora, they believe that a Hindu shall at least come here once in his lifetime.
Then circle sacred Mt. Kailash and have a holy bath in Lake Manasarovar. In this way, they can wash their sins off. You can enjoy breathtaking scenery of Mt. Kailash and Lake Manasarovar, experience deeply religious atmosphere and prove how strong your body is.
c. Namtso Lake trekking, Damxung (strenuous, 7-10 Days)
Known as the one of the top three sacred lakes in Tibet, Namtso Lake is a must-visit tour destination for world-wide tourists. Meanwhile, for centuries, the heavenly lake has also been a hot pilgrimage destination worshipped by Tibetans. Tourists will get amazed by heavenly scenery of Namtso Lake and enjoy the deep and pervasive Tibetan Buddhist culture there.
d. Trek from Tingri to EBC (strenuous, 10- 12days)
Likewise, there is also an Everest Base Camp (5200m) in Shigatse, Tibet. The trek begins from old Tingri to Lungthan, Rachu Valley, Rongbuk Monastery and EBC. Unlike in Nepal, tourists can not see lush vegetation, and the barren land and floating bid clouds will accompany you in most of time since you will travel between 4400m to 5200m.
The stunning vista of Himalayan Range as you pass Gawu La Pass will blow your mind away. Tourists can also explore the world's highest monastery Rongbuk Monastery. As you reach EBC, you can gaze at the majestic summit of Mt. Everest (8844.43m), which will definitely make your once-in-a-lifetime experience.
e. Gama Valley Trekking, Shigatse( strenuous, 10-15 Days)
The entire trekking route is within Mt. Everest National Nature Reserve. The Gama Valley is loaded with rare plants, wildlife and breathtaking wetlands, waterfalls, lakes, etc. On top of that, the born mountaineers Sherpas also live there and you may find it interesting to chat with them against the backdrop of Mt. Everest, Mt. Lhotse, and Mt. Makalu.
Best Trekking Season in Nepal and Tibet
Oct to Nov is the best time to do trekking in Nepal. You can have higher visibility of snow-capped mountains and effectively avoid rainy season from May to Sep. April to May and Sept. to Nov are the best time for trekking to EBC and elsewhere in Tibet.
Trekking Lodges in Nepal and Tibet
As trekking is the specialty of Nepal tour, its accommodation and other supply service are also well-developed. Many teahouses like small hotels can be found in Everest and Annapurna region, trekkers can have a comfortable stay during the trek. While in Tibet, mostly tourists need to pack their own tents and sleeping bags for trekking. Another option is to sleep in the local guesthouse or find possible accommodation in nearby monastery with poor hygiene.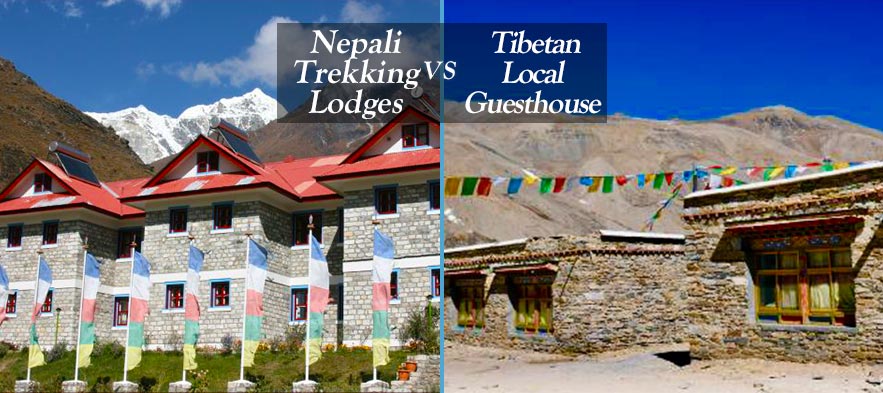 Trekking lodges in Nepal and local guesthouse in Tibet
EBC in Nepal vs EBC in Tibet
As mentioned above, they are two Everest Base Camps on both side of Nepal and Tibet since the world's summit Mt. Everest (8844.43m) is situated across the borders of Nepal and Tibet, China, Therefore, Nepal and China jointly share the part of the sacred mountain.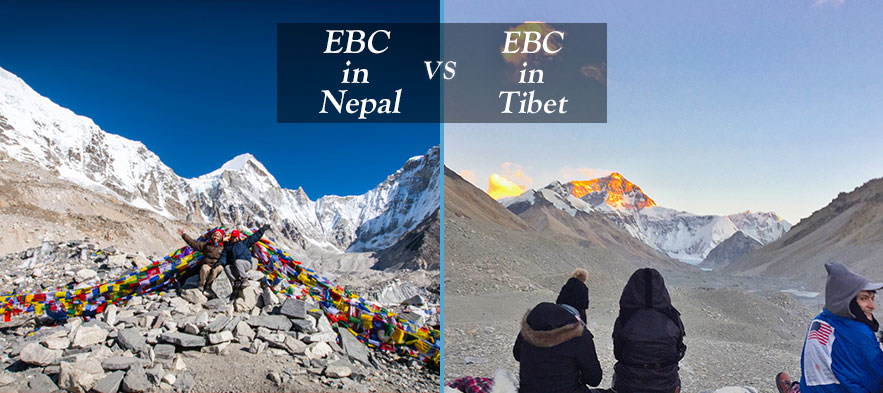 Everest Base Camp in Nepal and Everest Base Camp in Tibet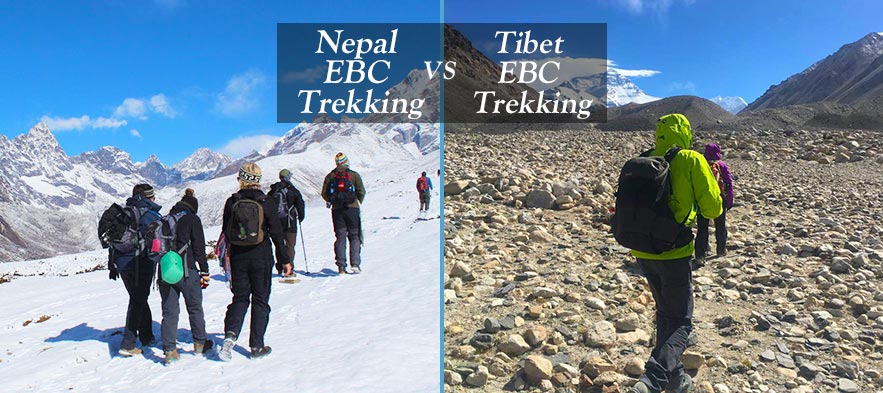 Everest Base Camp trek in Nepal and Everest Base Camp trek in Tibet
Everest Base Camp on Nepal's side (South EBC):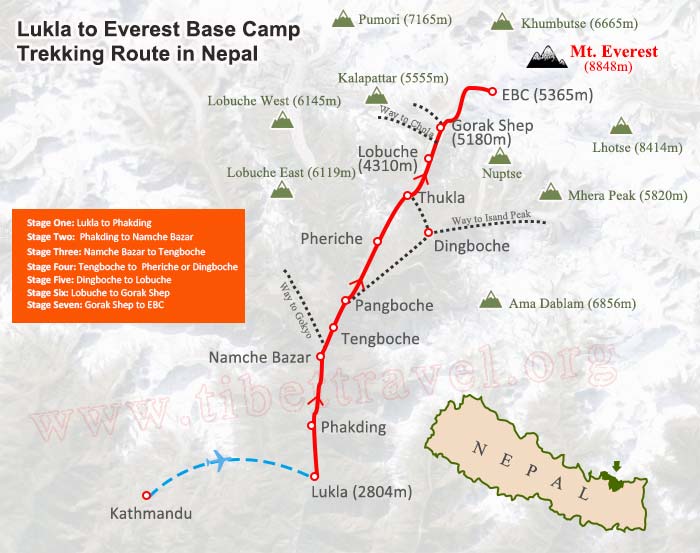 Classic trekking from Lukla all the way to EBC in Nepal
Altitude: 5360m
Location: Sagarmatha National Park, Khumjung, Eastern Region, Nepal
Transportation: trekking (there is no highway leading to Everest Base Camp in Nepal, trekking is the only way in)
Accommodation Facilities: the trekking and mountaineering service in Nepal are so well-developed and systematic that Trekkers even don't need to take camping gears and food. The comfortable lodge and accommodation of all kinds along the trekking route can be easily found.
Best Time to Visit EBC: March to May; Sept. to Nov ( peak season)
Lofty Mountains to Enjoy:
Everest(8844.43m),Lhotse(8516m),Makalu (8463m),Cho Oyo(8201m,),Nuptse (7879m)Khumbila (5761m),Ama Dablam(6856m), etc.
Travel Tips: Visually, since the top of Mt. Everest is blocked by Lhotse and Nuptse, the scenery of Mt. Everest is less awe-inspiring than the panoramic view of Mt. Everest in Tibet.
Normally, tourists fly from Kathmandu to Lukla and trek upwards from Phakding to Namche Bazaar and continue move to Tengboche, Dingboche and Gorakshep till Everest Base Camp. The trekking route, filled with diverse flora and fauna and varied scenery, is one of the most stunning ones in the world.
Everest Base Camp on Tibet' side (North EBC):

Most popular travel route from Lhasa to EBC in Tibet

Altitude: 5200m
Location: Qomolangma National Nature Reserve, Shigatse, Tibet
Transportation: trekking, tour bus or eco-van. (Since the highway from Shigatse will extend all the way to the Rongbuk Monastery. Tourists can choose to use tour us (or eco-van) and trek to Everest Base Camp.)
Accommodation Facilities: There is no grand hotel for tourists, away from Shigatse City. In most cases, the accommodation facilities are very basic. Tourists can stay in guest house in Rongbuk Monastery or sleep in cozy tents, run by local Tibetans at Everest Base Camp.
Best Time to Visit EBC: April to May; Sept. to Nov
Lofty Mountains to Enjoy: On the way to Everest Base Camp, tourist will pas Gawu La Pass where tourists can enjoy the incredible vista of Himalayan Range. Mt. Everest, Lhotse, Makalu, and Cho Oyu and Shishapangma can be seen clearly. Once you arrive at EBC, the entire summit of Mt. Everest is completely exposed to your sight.
Travel Tips: International tourists can follow the classic trek from Tingri to EBC. And they need to have Alien's Permit to travel to EBC. The freezing wind is pretty strong at Everest Base Camp, do bring enough warm clothes and there is no extra water for bath. You may take some altitude sickness medicine with the doctor or pharmacist's advice
Recommended Tibet Everest Base Camp Tour
Nepali Temples vs Tibetan Monasteries
As Hinduism is the major and official religious belief in Nepal, most of the temples you seen in Kathmandu valley mirror the architectural style of Hinduism. The frequently-seen deity or god in Nepali temple are Shiva and Brahmā, etc, whereas the sculptures like Buddha can hardly be seen. Another good case in point is Boudhanath, with Buddha' eye on the top of stupa, which is the typical feature of Nepali temples.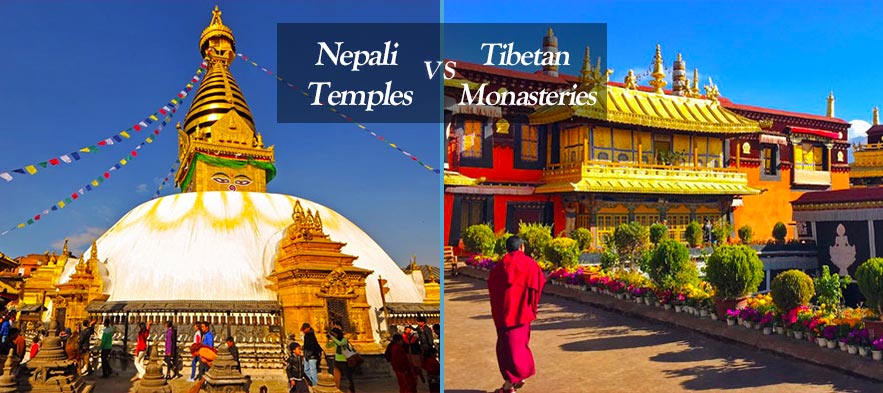 Swayambhunath in Nepal and Jokhang Temple in Tibet
While in Tibet, many of the Tibetan monasteries and buildings are built on high mountains, such as Potala Palace, Yungbulakang Palace, Ganden Monastery, the white, yellow and red colors, etc are often used to decorated the religious sites. Some of the Tibetan Monasteries are built in the form of Mandala, like Samye Monatery, the first Tibetan Monastery in Tibet, in part becuase Tibetan Buddhism is major religious belief worshipped by Tibetans and many of the Tibetan religuous compounds are built to reflect Buddhist philosophy.
Interestingly, the stupas in the north of Nepal are much influenced by Tibetan Buddhism with similar looks in Tibet. Another special place is the Lumbini, the Birthplace of the Lord Buddha. It's the heart of Buddhist pilgrimage in Nepal.
Travel Tips: If you are fascinated with the relationship between Hinduism and Buddhism, the following attractions in Nepal and Tibet are highly recommended:
Nepal: Kathmandu's Durbar Square, Bodhnath Stupa, Swayambhunath (monkey temple), Pashupatinath
Tibet: Potala Palace, Jokhang Temple, Sera Monastery, Samye Monastery, Tashilhunpo Monastery; please check Tibet Cultural Tour for more options.
Nepali Rainforest vs Tibetan Pristine Forest
If you find hard to acclimatize to high altitude trekking in both Nepal and Tibet, surprisingly both two places have something different to offer. In Nepal, Chitwan National Park then would be your best solutions. The park, located in the lowland of the Inner Terai Region, is famous for its 50 species of flora and 700 species of fauna. In addition, you can have elephant safaris through the tropical jungles and watch rare rhino, etc.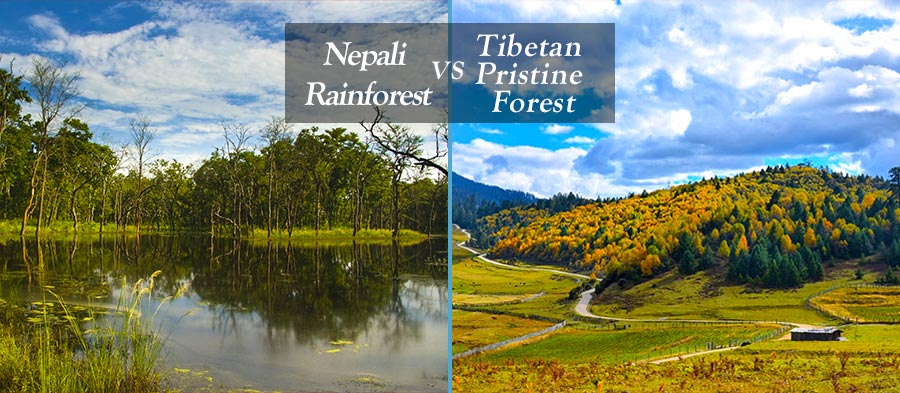 Chitwan National Park in Nepal and Lulang Forest in Nyingchi
While in Tibet, Nyingchi, whose natural beauty is often compared to that of Switzerland, is a great place to visit. Nyingtri is home to huge well-preserved forest with many ancient and rare trees with lowest altitude (around 3100m)in Tibet. You will be able to tour Lunang Forest, Basum-Tso Lake, majestic Mount Namjagbarwa, stunning Cheery Blossoms, etc.
Overall, having a Tibet and Nepal Overland Tour or vice versa is the best option to enjoy both distinct alpine scenery from the both side of Himalayas and unique religion and culture of this two neighboring hot tourists destinations.