Tibet Tour Operator in Kathmandu - Tibet Vista
As the closest neighbor to the Tibet Autonomous Region, Nepal is one of the obvious choices from which to take a trip to Tibet. Besides, known as the only international gateway to Tibet, Nepal has thousands of tour operators that run tours from Kathmandu to Lhasa, offering overland tours across the border at Gyirong Port and flights to Lhasa to start the tour there.
Faced with a variety of Tibet tour operators in Kathmandu, whether you can make the right choice or not will make a huge difference for your Tibet tour from Kathmandu. And our Tibet travel experts would like to enhance your understandings of Kathmandu to Tibet tour and teach you how to choose the reliable Tibet tour operators in Kathmandu.
Kathmandu - The Closest Gateway City to Tibet
With Nepal being the only country with an international flight to Tibet, it has become a major gateway to the region on the roof of the world, and thousands of tourists travel to Tibet through Kathmandu every year, both by flight and overland tour via Gyirong border. One of the more convenient entry points to Tibet, it is a favorable option to China, as there is no requirement to obtain the Chinese Entry Visa before traveling since the Group Tourist Visa is issued instead once you arrive in Kathmandu.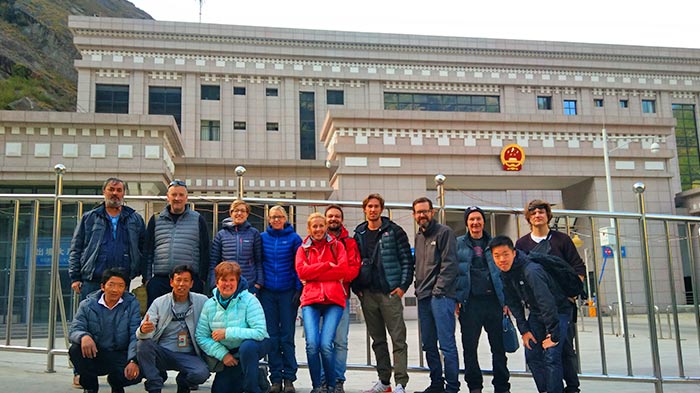 Travel to Tibet from Nepal via Gyirong Port
Nepal is also partially Buddhist, though the majority of people are Hindu. However, many of the people tend to follow elements of Buddhism in their Hindu faith, and the separate religions have incorporated aspects of each other's practices and rituals. This makes for a unique opportunity to look at some of the other aspects of Buddhism in Nepal, before heading to Tibet to learn and experience more about Tibetan Buddhism.
With only 120 kilometers separating Kathmandu from the border crossing to Tibet, at Gyirong Port, traveling to Tibet from the Nepali capital is relatively easy, and quite inexpensive, with public buses costing as little as US$ 35 per person. And we offer convenient transfer service (on 7-seat 4 WD or 25-seat tour bus) taking you directly from Kathmandu to your hotel in Gyirong County.
Current Tibet Tour Operators in Kathmandu
Kathmandu is the home of thousands of tour operators, many of which have sprung up to cover the increase in tourism in Nepal, thanks largely to the massive increase in interest in the spectacular trekking trails that can be found there. High-altitude treks can be done all over the Himalayan region of the country, from the 16-day trek to Annapurna Range to the dozens of Mount Everest Base Camp treks. With such a huge tourist industry now prevalent in the country, Kathmandu has become the capital of tour operators in Asia, and many of the tour operators now also include tours of Tibet and Bhutan in their listed itineraries.
Be Aware of the Trap When Booking Your Tour
However, with such fierce competition among the tour operators, offering the tours to Bhutan Nepal Tibet is often done through a third party, while the company you are booking through is merely the travel agent, which can be a dangerous choice. In order to offer their own tours to Tibet or Bhutan, tour operators must be registered with the respective tourist bureaus in each place, and many travel agents offering tours to Tibet from Nepal are doing so using a third-party connection. Cheap, third-party tour operators are often used to manage the tours to Tibet, instead of the travel agent that you pay the money for the tour, and many of these cheaper tours are disorganized and have poor services. And the third-party is paid less by the travel agent due to their commission, and the tour often does not live up to the expectations of the tourists, ending with bad experiences and a ruined vacation.
One of the ways to avoid this kind of pitfall when booking your tour to Tibet from Kathmandu is to do a little research on the tour operators and find out if they are the ones that are registered with the Tibet Tourism Bureau in Lhasa. Only a registered tour operator can manage tours to the region, and to avoid the hassles and problems that may occur, it is best to avoid travel agents that use third-party tour operators.
Why You Should Choose Tibet Vista for Tibet Tour
There are still many tour operators that run tours from Nepal to Tibet, and that do not use third-party tour operators to actually run the tours. As a well-established Tibet tour operator with over 10 years, we, Tibet Vista, can be one of your most reliable choices for running your Tibet tour from Nepal and there are good reasons.
Tibet Vista Is the Only Local Tibet Travel Agency with Offices in Kathmandu and Chengdu
When you book a tour through our service, not only are you dealing directly with the same people that will organize your tour, but you will also be using the same tour operator that will provide the guide, driver, and private vehicle, etc. for the entire tour. We do not use third-party operators to handle their tours in Tibet, and everything is done "in-house", from the booking and itinerary details to the actual trip itself and the personal support that is provided throughout the tour.
Our Kathmandu office address is: Shiviji Niwash Kusumbiyalachi Marg Thaihiti Kathmandu 44600 Nepal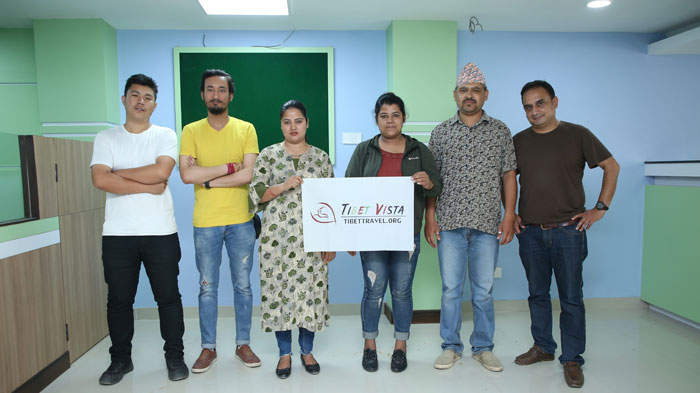 Tibet Vista in Kathmandu
We not only manage every aspect of the tour from the minute you first contact us to the day you leave Tibet but offer a full service to obtain all of the permits and other required documents that you will need to travel from Nepal to Tibet and around the region. This includes the Tibet Travel Permit, the Alien's Travel Permit, and the permits to visit Mount Everest and other places near the Sino-Nepal border.
With offices in Chengdu and Kathmandu, we are able to provide tourist-friendly service to help you obtain your Group Tourist Visa on your behalf, as well as bring you the permits you need to travel into and around Tibet. Once the representative from the Kathmandu office has completed the application and the Group Tourist Visa has been issued by the Embassy of the People's Republic of China in Kathmandu, we will collect it and bring it to you in time for your expected date of travel.
We also manage the booking of your hotels in Tibet at your request, and can even book onward travel from Tibet to mainland China by train for you at the end of your tour of Tibet. Not only that, but Tibet Vista also manage tours within China, and especially within the Tibet Autonomous Prefectures in Yunnan, Qinghai, and Sichuan, so you can experience Tibetan culture without needing the permits for Tibet Autonomous Region itself.
Strong Business Partnership with Other Travel Agencies
We do have strong ties with other travel agencies for other tours, such as trips around Nepal, and partner regularly with travel agents in India, such as Sita Travel for tours to Tibet by Indian nationals. There are also strong links with many reputable Nepali travel agencies to offer tours in Nepal for trekking or safaris, including one of the largest Nepalese tour operators, Friendship Nepal Tours & Travels. With these excellent connections to reputable and reliable travel agencies, we can offer the widest range of organized and group tours to Tibet and Nepal of any tour operator in the region.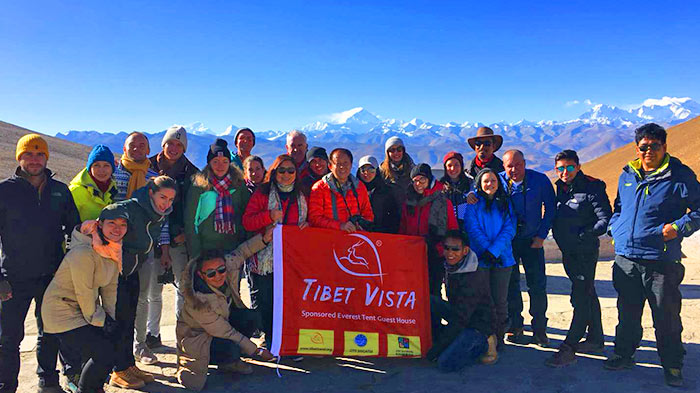 Tibet Vista can offer the widest range of group tours with strong business partnership
Other Options When Choosing Your Tibet Tour Operators in Kathmandu
So how do you go about making sure that you are choosing the best tour operator for your tour of Nepal or Tibet? One way to make sure that you get the best deal is to research the tour operators that you find listed before contacting them to make arrangements. TripAdvisor and Lonely Planet offer reviews of all the tour operators listed with them based on customer reviews. Since these are independent sites, the reviews has given there are unbiased and are from real travelers that have traveled to Tibet or Nepal with the various companies.
A little digging on some of the many internet forums can also give you an idea of how reputable and reliable a tour operator is, based on the comments of people that have used them. A simple search of the tour operator's name in Google will give you plenty of results to choose from.
Alternatively, you can just contact us here at Tibet Vista, and ask us what we can do to make your tour to Tibet the best in the world. Our dedicated trip consultants will help you to make the choices that you want, and even customize your trip to suit your needs and requirements, from your hotel type to where you want to go in Tibet. Not only that, but they will be with you from start to finish, up to and after your tour of Tibet has ended, and are happy to help with anything you require.