How Much Does a Tibet Nepal Tour Cost? Can I Tour Tibet Nepal on a Budget?
The mystic Buddhism and breathtaking diversified landscapes make Nepal, the kingdom of the Himalayas, a popular destination for travelers from over the world, making Nepal known as the heaven for tourists. Neighboring Nepal, Tibet stands aloof on the roof of the world; this forbidden land of the Himalayas also attracts countless global travelers despite the many barriers to get there. Nepal and Tibet, neighbors in more ways than just the border, these two regions in Asia are the home to the mighty Himalayas, and share the tallest mountain in the world, Mt. Everest. Popular destinations for trekkers, adventurers, scholars, and anyone with an interest in life at high altitudes, Nepal and Tibet are places that can be combined into one tour, making it the experience of a lifetime.
EBC trek is popular in both Tibet and Nepal
Many people think that a tour of Nepal and Tibet is one that is going to be very expensive. Tibet can only be visited using an organized tour, either individual or as a group, which makes for an expensive holiday, normally. Combine that with an excursion to Nepal, visiting the multitudinous temples and monasteries, and the long treks around Everest, Makalu, and Annapurna, and you have a tour that is going to cost the earth.
However, that is far from the truth. Nepal is a relatively cheap country to visit, although it does have a huge tourist industry, with all the facilities one would not expect from a third-world country. The hotels in Kathmandu are first class, with all the modern amenities, yet not as expensive as other countries. And the facilities once you get out into the wild hinterlands of the mountains, while still a little basic, are not as poor as one would expect. Even halfway to Mt. Everest, high up in the mountains, you can still usually get pizza, of sorts.
Tibet is another place to visit that has myths and rumors centered on its tours. Many people believe it to be an expensive place to visit, having to pay for a driver, a guide, a private vehicle, etc. Indeed, those things are all necessary when touring in Tibet, but they are not as expensive as one might assume. And there are many ways in which to reduce the cost of the tour so as to meet one's budget.
Price of Travel to Kathmandu and Tibet
Travel to Kathmandu can be done at a fairly reasonable cost. Very few airlines fly into Nepal from outside Asia, Turkey being the major airline with direct flights. However, a little searching on the internet can often come up with a route to Nepal that can be affordable, and even use the world's budget airlines to keep the costs down. For a flight from London to Kathmandu, with connections in BOM Mumbai Airport, India, the average price with a budget airline such as Jet Airways is around $485, for a 16-hour flight.
If you are flying in to China, to take a flight or train to Tibet to travel there first, and then go on to Nepal, than a flight from London to Beijing, Shanghai, or Hangzhou, with a connection in Italy, costs anywhere from around $352 for a 15-hour flight with Alitalia or direct with Air China. With prices this low, the cost of the holiday is already reduced.
The direction of travel between Tibet and Nepal can also have an effect on the cost of the tour. With the opening of the border crossing between Nepal and Tibet at Rasuwagadhi/Gyirong Port, travel has become a lot easier and cheaper, instead of having to take flights between Lhasa and Kathmandu. With it normally being cheaper to fly into China than Nepal, you can get the train to Lhasa from any of seven cities in the country, and prices will not break the bank.
For example, if you fly in to Beijing, at the cost given, you can get the train to Lhasa from Beijing Railway Station, which takes around 40 hours constant travel, and costs as much as US$168 for a first-class soft sleeper cabin berth. For US$108, you can book one of the second-class hard sleeper berths, making the trip cheaper, and the only difference really is the lack of a lockable door. The train will take you to Lhasa, where you can acclimatize properly, and start your tour of Tibet.
For Nepal, many people choose to travel independently, as a group tour can cost more, and is not a requirement as it is in Tibet. Travel around Nepal is cheap and public transport, although not the best in the world is relatively easy to get and use. For anyone who has ever been backpacking anywhere in the world, Nepal would be an easy trip.
>> Know more details about Tibet vs Nepal, Touring Tibet or Nepal?
Group or Individual Tours?
On average, a tour to Tibet, for seven days from Lhasa to Kathmandu, including a visit to Mount Everest, costs around US$950. This kind of tour normally includes; your Tibet Travel Permit and other permits to visit Tibet, entrance fees for the sites listed in the standard itinerary, certain meals that are included, local tour transfers in a comfortable vehicle, a knowledgeable, English-speaking Tibetan guide/driver, comfortable accommodation (except single room supplements), all arrangements, shuttle from the railway station or airport, drinking water for the duration of the tour, and insurance.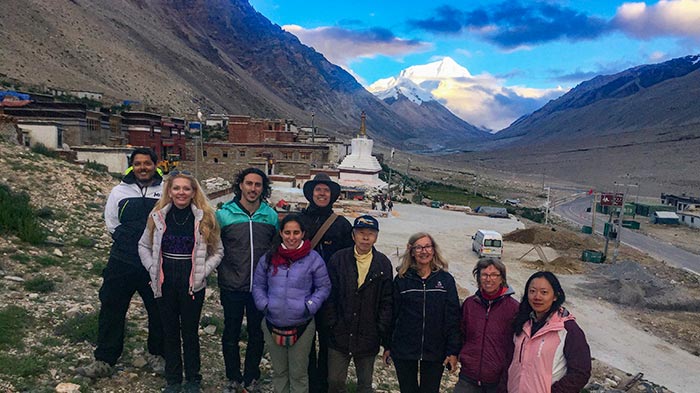 You can join in group tour when visiting Tibet
Whether you take a tour like this as an individual or elect to join a group has a dramatic effect on the cost of your tour. When you join as part of a group of like-minded people who are taking the same route, not only do you get to meet new friends, but you also get to see a reduction in the cost of the tour. The reduction comes as more people are paying for the guide/driver and vehicle, which means the cost is then split between all the members of the party. Therefore, if you are on a budget, it pays to be part of a tour, and the larger the tour party, the cheaper it gets. Some tour operators also offer discounts if you are booking a tour with others as part of a group, or if the tour is booked more than three months in advance.
Another option to reduce your tour cost is to take a tour that includes the train fare from China. Some tour operators do offer this combined package, although the train usually only starts from Xining in these tour packages, and you would need to transfer from your Chinese arrival city by flight or train.
Nepal tours are normally individual, and you can go where you like according to your budget. Kathmandu has some very inexpensive hostels and lodges, where you can stay for less than US$15 per night, and food in Nepal is very cheap. On average, you can find good food for around US$10 per day. There are also many places to visit and look around that have no entrance fee, although even those with a fee are not expensive.
When to Go
For both Nepal and Tibet, when to go is a question of priorities. Both Tibet and Nepal have their peak tourist season between June and October, and the low season is always the winter. Since Tibet is normally closed in February and March, April is the start of tourism in Tibet, and is the first shoulder season. For the cheapest tours, you would need to visit Tibet and Nepal between November and the end of January, when the tours are cheapest, hotels and restaurants have reductions, and there are a lot less people.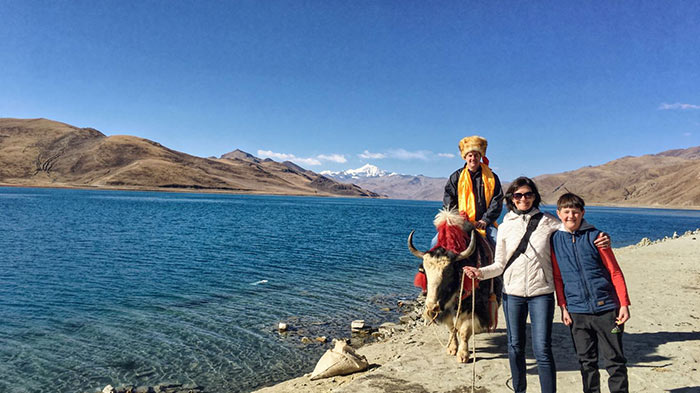 Visiting Tibet and Nepal between November and the end of January is the best choice
If weather is not an issue for you, then traveling in the off-peak months is much cheaper, and can make all the difference to your budget. You may experience a few delays if you are traveling in January, since the mountains often see snow at that time of year, but overall, the snow is rarely much of a hindrance these days. Roads across Tibet are much better now, and the crossing at Gyirong Port rarely gets blocked by snow. In Nepal, once you drop down from the border fort of Rasuwagadhi, snow is never seen, and within an hour of traveling in Nepal, you would be in lush, dense, forests on the way to Kathmandu.
Visas and Permits
Visas and permits are not something that can be obtained for less than the regular price, as embassies rarely give discounts. If you are starting in China, then you first need a Chinese Entry Visa from your local Chinese Embassy. The Tibet Travel permit, which is required to get into Tibet, is obtained by your tour operator, and is included in the cost of your tour, as are the Alien's Travel Permit, which is needed for travel outside the city of Lhasa, and the Military Permit, needed for those visiting military sensitive areas such as Mt. Kailash.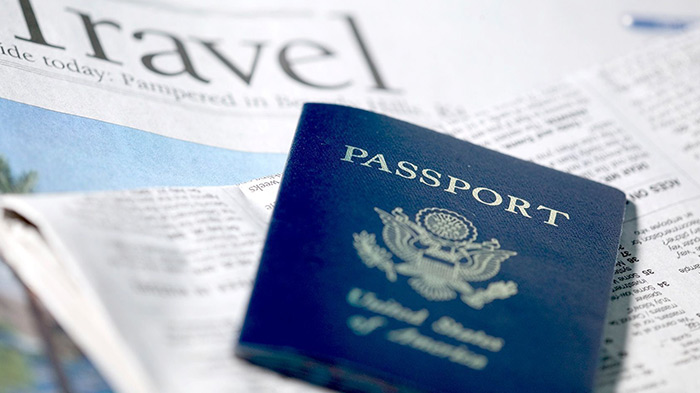 Travel Documents
The same is said when you travel from Nepal to Tibet, and the tour operator includes the permit costs in the tour price. For the visa to enter Tibet from Nepal, known as the Group Tourist Visa, this is also obtained by your tour operator once you are in Nepal, and costs from US$80 to US$140, depending on your nationality.
A visa for China must be obtained prior to leaving your home country, as China does not have a visa-on-arrival service. Visas can be obtained from your local Chinese Embassy, and cost from US$30 to as much as US$140, depending on your nationality. For Nepal, a visa-on-arrival is possible at Tribhuvan International Airport, or at the border crossing at Gyirong Port. The visas are single and multi-entry visas, and can be valid for anything from 15 days to three months. Single entry costs from US$30 for 15 days to US$120 for three months, and for a multi-entry visa you need to add an extra US$20.