How to Plan a Nepal to Tibet Tour
Great News: After years of closing, the Gyirong Border now is reopened to travelers from all over the world. It's time to plan your Nepal to Tibet tour!
A Nepal to Tibet tour is always a popular choice for international travelers entering Tibet, as Nepal is the only country that offers international flights and land journeys to Tibet.
Here, you can follow our travel expert's guide and find out how to plan a Nepal to Tibet tour.
Step 1: Decide when you would like to travel from Nepal to Tibet
When travel from Nepal to Tibet affects much about your Nepal to Tibet tour, like the total cost, the travel experience, etc.
If you are looking for the best travel experience, especially the clear view of Mount Everest, it is suggested to travel from April to early June and September to October, as the spring and autumn in Tibet are the best time for clear skies, medium warm temperatures, and trekking on the plateau.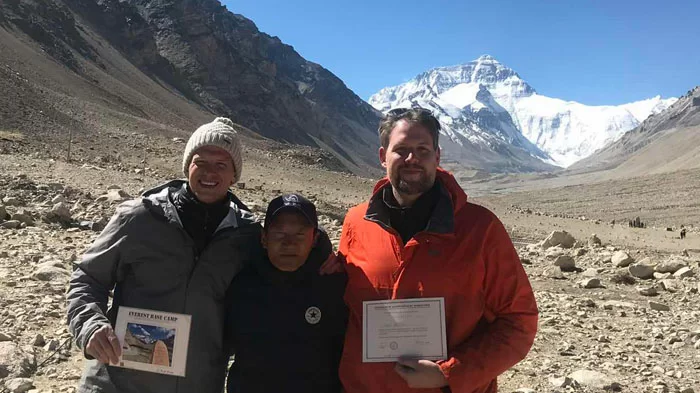 Mid-April to early June and Sept to Oct. are some of the best time for EBC tour in Tibet.
Winter is the best time for a budget Nepal to Tibet tour. Since winter is the low tourist season in Tibet, you can get a great deal on hotels, attraction fees, etc.
Summer is the rainy season in Tibet and the monsoon season in Nepal. It is not recommended to travel from Nepal to Tibet by road during the rainy season, as this is the time of year when mudslides and landslides occur in the port area due to heavy rainfall.
Step 2: Apply for required Travel Documents in advance
Once you decide when to travel, you will need to have several documents and permits in place before you depart.
The first thing you need is the Tibet Travel Permit, which is required for all international tourists to enter Tibet. Once you have booked your Tibet tour with us, just need to provide a scanned copy of your passport, and we will make the application on your behalf. The process normally takes around 15-20 days, you need to leave enough time for the permit application.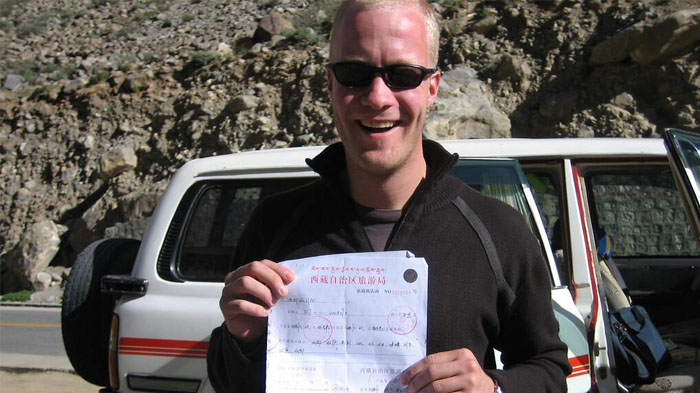 Get Tibet Travel Permit, a must have for Tibet travel
You will also need to have a Chinese Visa to get into Tibet, and instead of the standard Chinese Entry Visa, you will be issued a Chinese Group Visa once you arrive in Nepal. When you arrive in Kathmandu, you are expected to give your original passport to our Nepali staff in our Kathmandu-based office to apply for the visa. The process takes 3 working days. Once it is approved, we will bring it to your hotel ready for your trip to Tibet.
More travel documents are required, like the Alien's Travel Permit and the Frontier Pass to pass through the Everest region and Shigatse in Tibet. But don't worry. Once you book a Nepal to Tibet tour with us, we will apply for all required travel documents on your behalf.
Notice:
1. You need to prepare your valid passport and the completed application form with around 30 dollars for the border crossing.
2.If you already have a Chinese Visa, it is not suggested to enter Tibet from Nepal, because once the new Group Visa is issued, your previous Chinese Visa will be invalidated.
Step 3: Choose the best way to travel from Nepal to Tibet
There are two main routes from Nepal to Tibet. You can take a flight from Nepal to Tibet, which is the fastest route, or you can take the overland route across the Sino-Nepal border, which is the more scenic route.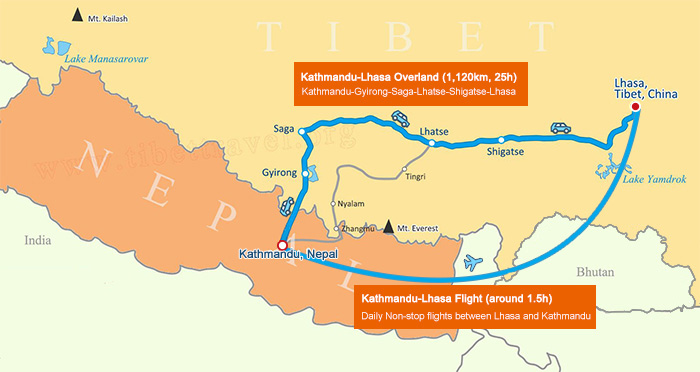 Kathmandu to Lhasa via Gyirong Port Map
Taking a flight from Kathmandu to Lhasa is the best way for those who are short on time. The flight normally takes around 90 minutes to reach the Tibetan capital, and crosses over the summit of Mount Everest on its designated flight path to Lhasa. And the Tribhuvan International Airport in Kathmandu, Nepal, is the only airport in the world that has international flights direct to Lhasa, the Tibetan capital.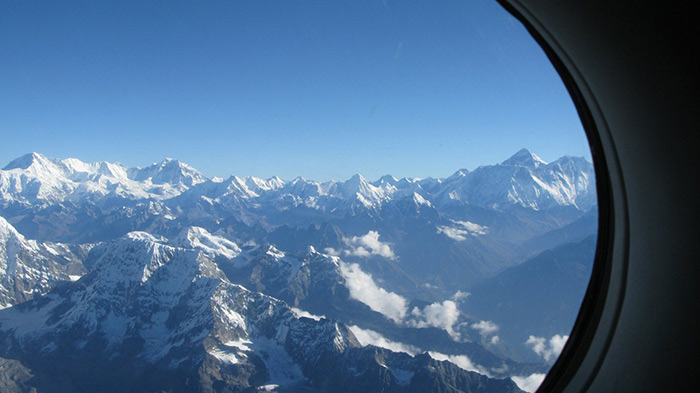 You can see Mount Everest on the flight from Kathmandu to Lhasa
The most popular way to Tibet from Nepal is by road, which takes 7 to 8 days driving from Kathmandu to Lhasa along the G318 Friendship Highway with visiting all highlights along the way. It is
The Nepal to Tibet overland tour takes you from Kathmandu along the main roads to the Langtang National Park and up to Rasuwa Gadhi, before crossing the Resuo Bridge into Tibet at Gyirong Port.
From there, you will travel to Gyirong Town, where you will spend time acclimatizing for a day to the higher altitude. Then you take the Friendship Highway to Lhasa, passing through several towns and cities along the way and visiting several of the local attractions of the plateau.
From Old Tingri, you will take a detour to visit the Everest Base Camp (EBC), before heading for Shigatse, the home of the Tashilhunpo Monastery, the seat of the Panchen Lama. After Shigatse, the route takes you to Gyantse and the Kumbum Stupa, the only one of its kind in Tibet, before passing alongside Lake Yamdrok and on to the Tibetan capital.
Notice:
Since we are the only local Tibet travel agency that has offices in Kathmandu, Lhasa, and Chengdu, you can easily use our service to get a China Group Visa and Tibet Permit to enter Tibet from Kathmandu. Our tourist-friendly jeep service will bring you a convenient and safe transfer across the Sino-Nepal border. We also recommend the best-value hotels to you and help you book it as well as flights, etc. Kindly email your inquiry to us for more details.
Step 4: Budget your Nepal to Tibet travel cost
To save on travel costs for a Nepal to Tibet tour, joining a Kathmandu to Lhasa group tour is the most cost-effective option. You can share the cost of the group members and not need to worry about the transfer arrangement, hotel booking, etc.
As the top local travel agency in Tibet with a branch office in Kathmandu, we arrange the best Nepal to Tibet tour packages with high-standard services at the best local price. No matter whether you are a solo traveler looking for a budget option or want to have a price tour from Nepal to Tibet, we can handle it.
Please feel free to contact us with your itinerary, and our travel experts will offer you a customized quote at the best local price.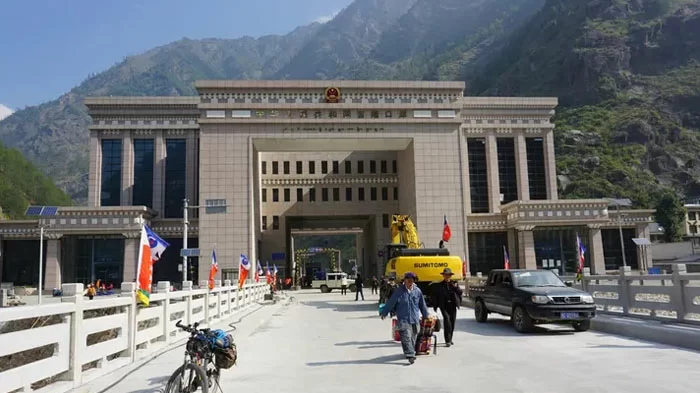 Our Tibet guide takes visitors through the Gyirong Port
Common Mistake in Nepal to Tibet Travel Budget
Cycling from Nepal to Tibet is not a cheap way to travel. Because you need to hire a local travel guide and book travel services during your days in Tibet, the total cost could be much higher than joining an overland group tour.
Step 5: Prepare for altitude Sickness from Nepal to Tibet
The altitude difference between Nepal and Tibet is significant, with Tibet being a high-altitude region with an average elevation of over 4,500 meters. Kathmandu, located in Nepal, is at an altitude of approximately 1,400 meters above sea level, while Lhasa, the capital of TAR, is situated at an altitude of about 3,600 meters above sea level.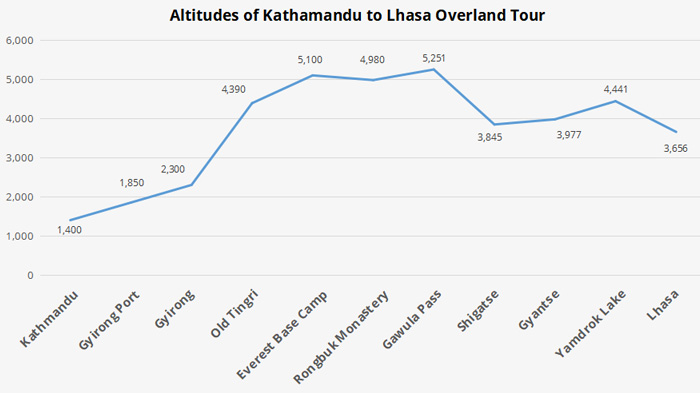 Altitude Changes of the Kathmandu to Lhasa Tour
If you travel from Nepal to Tibet by road, you will experience a dramatic gain in altitude during the first few days. You'll go from 1,000 meters in Kathmandu to 2,700 meters at the Gyirong border, and then to 5,200 meters at Tibet Everest Base Camp in just three days.
You need to notice the altitude changes, but don't be too nervous about that.
As an experienced and professional Tibet tour operator, we offer carefully designed itineraries that are not too intense and provide you with enough time to acclimatize to the altitude.
In addition, all of our tour vehicles are equipped with oxygen tanks . Our local Tibetan guides are professionally trained. If you experience any of the symptoms of altitude sickness, please inform your guide immediately.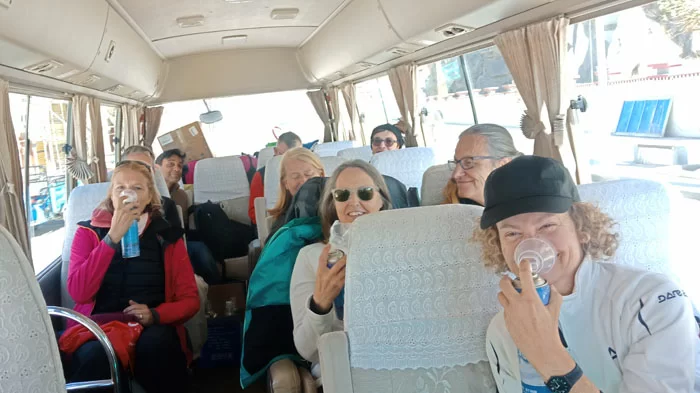 All of our Tibet tour vehicles are equipped with oxygen tanks.
More Tips for Relieving Altitude Sickness in Tibet
1. If you fly from Kathmandu to Lhasa directly, you ou will need to acclimatize in Lhasa upon arrival since the altitude increases by over 3,000 meters from your departure at Kathmandu Airport.
2. It's recommended to avoid drinking coffee, alcohol, cigarettes, and strenuous exercise. You should also remain well hydrated, and eat high-protein foods to aid the body in adjusting to the higher altitude and thinner atmosphere.
Step 6: Enjoy Your lifetime journey from Nepal to Tibet
After you finished the following steps, you can wait for your lifetime journey from Nepal to Tibet.
There is no doubt that the tour from Nepal to Tibet is an epic journey that brings lifetime memories. It is not only a simple road trip from the southern side to the northern side of the Himalayas, but also the best way to explore the unique landscapes, wildlife, religions, and cultures from Nepal to Tibet.
For adventures, you can add more fun to your Nepal to Tibet tour, like trekking to EBC. Or you can travel from Kathmandu to Lhasa along the Friendship Highway by bike or motorcycle (high budget required).
Though there is only one path from Nepal to Tibet, you can have your own way to travel!
No matter which way you choose to go from Nepal to Tibet, we are always here, ready to serve you the best tour experience at a reasonable price.
Most Popular Tibet Tour Packages