Elevation of Lhasa and Kathmandu: Top Things to Know for Your Journey
Situated on the opposite side of the Himalayas, Lhasa and Kathmandu are popular destinations for travelers seeking a blend of adventure and peace. Owing to its proximity, these two regions are often visited one after the other. However, since the elevation of these two cities is quite different, many tourists at times feel concerned about the altitude change. In this article, our expert will discuss the elevation of Lhasa and Kathmandu in detail and offer you insider tips to best plan your tour between Lhasa and Kathmandu. So, read on.
Elevation of Lhasa and Kathmandu and Their Special Geography
Also known as the 'place of Gods', Lhasa has an average elevation of about 3,656m (11,975ft). It is located on the fertile alluvial plain of Lhasa Valley, surrounded by lofty mountains rising up to 5,500m. To the south of Lhasa city lies the famous Lhasa River often called Kyi Chu by locals. It's the Lhasa River, a tributary of Yarlung Tsangpo River that brings precious water resources and vitality to Lhasa City.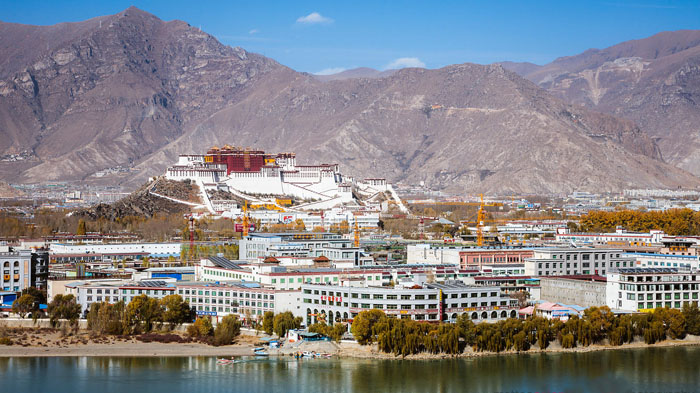 Far view the Potala Palace and Lhasa city
Nowadays, Lhasa, an all-year-round destination for travel, is the major tourist hub for Tibet tour. To the newly-arrived, adapting yourself to the thin air (only 68% percent of oxygen content than that of the sea level) and visiting the landmarks like Potala Palace, Jokhang Temple, etc. would be your first step for Tibet adventure. Besides, due to the special topography and high elevation, the long hours of day time, together with the powerful UV light, crisp and arid air, and drastic temperature change would be your typical day in Lhasa. - Check the popular tours in Lhasa.
On the other hand, the capital city of Nepal, Kathmandu, stands at an elevation of approximately 1,400m (4,600ft) above sea level. Kathmandu is a bustling city, dissected by eight rivers, and the mountains from where these rivers originate are in the elevation range of 1,500 - 3,000m (4,900 - 9,800ft). The best time to visit Kathmandu is from late September to December, owing to various local festivals. However, March and April are also ideal months as the Spring steps in.
| | | | |
| --- | --- | --- | --- |
| Name | Elevation (meter) | Name | Elevation (meter) |
| Lhasa | 3,650 | Yamdrok Lake | 4,441 |
| Nagarzê | 4,452 | Gyantse County | 3,977 |
| Shigatse | 4,000 | Nianchu River | 5,000 |
| Gawula Pass | 5,198 | Everest Base Camp | 5,200 |
| Gyirong Town | 2,700 | Gyirong Border | 1,800 |
| Syabrubesi | 2,380 | Kathmandu | 1,400 |
Should You First Visit Lhasa or Kathmandu, in Terms of Altitude Change?
If you wish to visit both Lhasa and Kathmandu in a single trip, we would recommend that you visit Lhasa first. Once you have adjusted to the altitude in Lhasa (3,600m), it will be much easier to acclimatize to the elevation in Kathmandu (1,400m). You would be traveling from the lofty Tibetan plateau to the Kathmandu valley, making the transition easier. However, if you plan your trip the other way round and visit Kathmandu first, you might need extra days in Lhasa to get used to the altitude change.
If You Plan to Visit Kathmandu First and then Overland to Lhasa, Here is What You Should Do and Know
1. Following a Gradual Ascent Can Save Your Life
It can be a challenge to acclimatize to altitude change. The key to avoiding acute mountain sickness is to have a gradual ascent and give your body enough time to get used to its surroundings. So, if you are traveling overland from Kathmandu to Lhasa, keep extra days in your itinerary. It is also recommended that you break your journey frequently. One possible itinerary is an 8-day tour crossing Syabrubesi, Kyirong, and Tingri, among other places.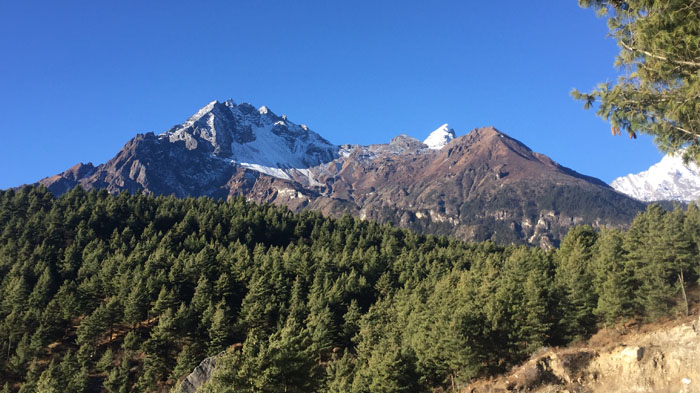 You can view the snow-capped mountains and lush forest along the way from Kathmandu to Gyirong.
The distance between Kathmandu and Syabrubesi is roughly 137km. On your 1st day, you can drive to the Sino-Nepal border area, close to Tibet, and stay overnight at Syabrubesi. The route also covers the sprawling Langtang National Park. On Day 2, cross the border and enter China (approximately 15km journey) and then drive to Kyirong. Situated at an elevation of 2800m, Kyirong is surrounded by lofty snow-capped mountains and dense forests. You might not realize, but in 1 day, you have already made a huge leap in terms of altitude change. Acclimatize to your surroundings and visit nearby tourist places such as the Paba Temple. Rest overnight at Kyirong.
Up your elevation game on Day 3, and head to the Everest Base Camp. Pass through the Peikutso Lake and also visit the Rongbuk Monastery, which is the world's highest monastery. Another ethereal beauty in this region is the Gawu La Pass. Situated at the height of 5198m, the Gawu La Pass offers a scintillating view of the Himalayan Mountain Range. You can spend your night at Tingri, to get used to the altitude.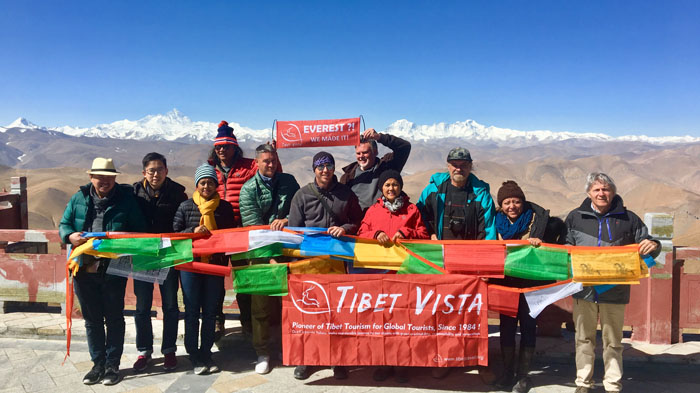 View of the Himalayan Mountain range in Gawula Pass
Next, head to Shigatse, which is about 280km away. It should take you approximately 7 hours to reach Shigatse, and you can indulge in local sightseeing in the afternoon. The seat of Panchen Lama - Tashilunpo Monastery is an important monastery in Tibet and also a popular tourist attraction.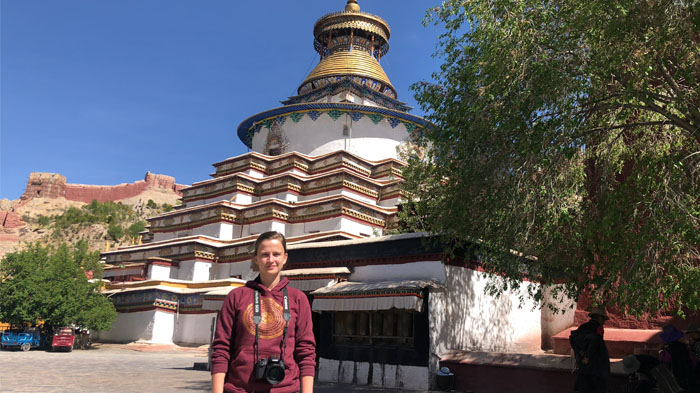 Paying a visit to the ancient Gyantse Kumbum Stupa
On Day 5, travel to Lhasa from Shigatse via Gyantse. On your way, in Gyantse, you can visit the Perklor Monastery, Kumbum Stupa, Manak Dam Lake, Karola Glacier, and Yamdrok Lake. Having religious and cultural significance, these are famous tourist attractions in the region. You can finally spend your night in a hotel in Lhasa and rest to get used to the elevation.
Insider Tips: As the only local Tibet travel agency with offices based in Kathmandu, Lhasa, and Chengdu, we never allow any third-party contractors to run our tours. Our staff in Tibet and Nepal will help you to get Tibet Permit (for free) and China Group Visa for Tibet entry from Kathmandu. Further, if you wish to extend your tour from Lhasa to other inland Chinese cities, like Chengdu, Xi'an, Beijing, Shanghai, we will also offer you assistance with that.
2. Go for Trekking around Kathmandu to Get Physically Prepared
Another way to physically prepare for the change in height is to trek around Kathmandu. For travelers who love trekking and have enough time, a trek from Kathmandu to Nagarkot(2,175m), Namche Bazaar (3,440m), or even Everest Base Camp (5,364m) can serve as a great warmup.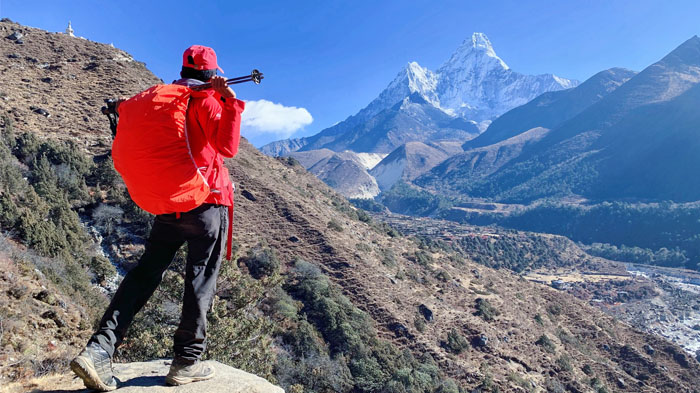 The Everest Base Camp trek is one of the most popular trekking route in Nepal.
Nagarkot is located nearly 32km from the Kathmandu city and has an elevation of 1950m. The trekking trail passes along small villages and farmlands and would serve as a great setup to face the altitude change in the coming days. If you have more days to spend in Nepal, you may opt for the trek either to Namche Bazaar (3,440m) or even Everest Base Camp (5,364m). Not only will you have extra training to your lungs and legs, but also explore the famous Sherpa village in Namche and enjoy changing landscapes and stunning views of Himalayas. - Look for the top treks in Nepal.
3. The High Mountain Passes You Will Pass between Kathmandu and Lhasa
Overlanding from Kathmandu to Lhasa across Himalayas brings you to a number of lofty mountain passes and counties with high altitude. As you pass the high mountain passes, the oxygen content in the air is drastically low, usually only equivalent to 20-30% at sea level and low temperature.
It's recommended that you take enough warm clothes and headwear for the chilly wind. Meanwhile, avoid doing things like moving too quickly or running or jumping that may lead to acute mountain sickness. Always keep a water bottle with you and stay hydrated. The great thing is that you will be rewarded with stunning Himalayan vista while passing the high passes. We divide the classic overland journey into three parts and let's take a look below.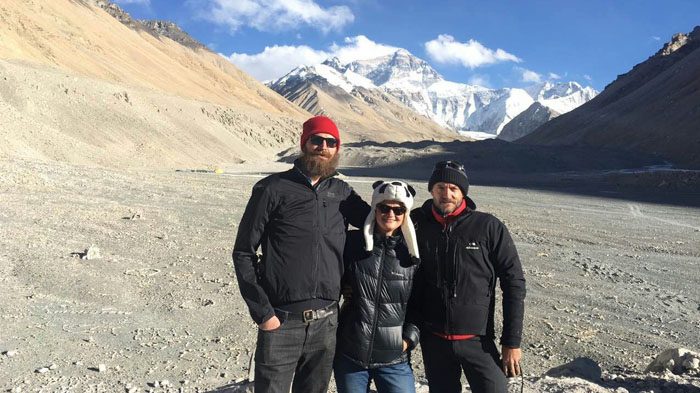 Well,we finally arrived at the famous Everest Base Camp in Tibet side.
Kathmandu to Tingri(Shelkar) via EBC: Kyirong (4,200m); Gangga (4,340m); EBC (5,200m); Gawu La Pass (5,198m); Gyatso La Pass (5,248m); Tso La Pass (4,500m); Tingri (4,300m)
The first section of the journey takes you to cross Kyirong border from Nepal to Tibet. Normally, 2 days are spent on both sides of the border for travelers to have better acclimatization, given the steep altitude gain. Of course, the itineraries are expertly designed and you will be traveling with a seasoned local guide. So, travel safety is perfectly guaranteed.
Tingri to Shigatse: no high mountain passes
Shigatse to Lhasa: Simila Pass(4,700m); Karola Glaciers Pass (5020m); Gampa La Pass (4,794m)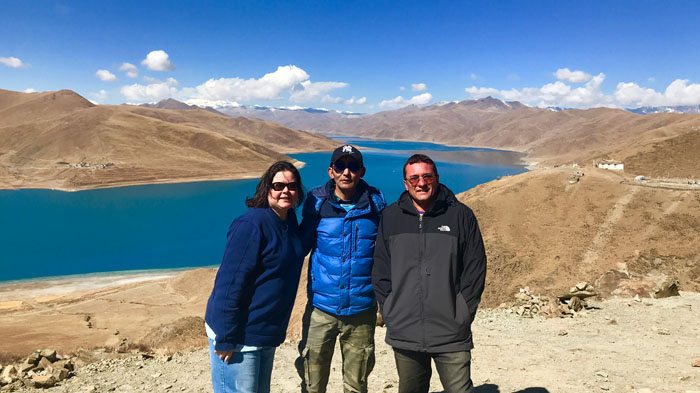 Visiting the turquoise Yamdrok Lake during your Kathmandu Lhasa overland tour
Traveling from Shigatse to Lhasa is the final leg of the Kathmandu to Lhasa overland journey. Although you will pass 3 high mountain passes, your body has already adapted itself to the high altitude before. So, there is nothing to worry about. Just enjoy picturesque views along the way like the turquoise Lake Yamdrok and amazing Karola Glaciers, etc.
Travel by Air from Kathmandu to Lhasa: How to Quickly Adapt to Elevation Change
Due to the quick ascent from Kathmandu valley to the lofty Tibetan Plateau, it is essential to set aside enough time for acclimatization after you arrive in Lhasa. Here is what we recommend:
1. To adapt quickly, stay hydrated, and get enough sleep. Don't exert yourself at any time and avoid physical exercise or strain on your body.
2. Once in Lhasa, don't rush out for sightseeing. Get some rest and give your body the time needed to acclimatize to the high altitude. The worst mistake is that you feel completely immune to altitude sickness for the first couple of hours in Lhasa and then move quickly to visit attractions in downtown Lhasa. In many cases, such travelers will be hit with severe mountain sickness subsequently.
3. Also, make sure to eat a healthy diet and don't indulge in overeating. Consume plenty of vegetables and high-protein foods.
4. Avoid smoking, drinking, and strong coffee as it can leave you with high blood pressure. Take a proper medication (if needed), after consulting a local doctor or pharmacist. - Check for the ultimate guide to avoiding altitude sickness in Tibet.
Insider Tips:
There are non-stop flights (around 1h30min) from the Tribhuvan International Airport to the Lhasa Gonggar Airport run by Sichuan Airlines and Air China. The approximate distance is 609km and costs about 267-514 USD per person for the flight. It's advisable to book your flight tickets 30 to 60 days in advance to get a good deal. Or a convenient way is to book your flight from us.
Other Friendly Tips for Travel Formalities between Lhasa and Kathmandu
Here is a list of other important things you need to be aware of before you undertake a journey from Lhasa to Kathmandu.
1. You are expected to get a Chinese visa on your own first and then email the photo of it, together with the photo of your passport to us to apply for a Tibet Travel Permit before entering Lhasa. Meanwhile, only a local Tibet travel agency like us can help you get the essential travel permits to Tibet since independent travel is not available in Tibet.
2. For other travel permits needed for traveling beyond Lhasa, your local guide will help you properly handle it.
3. Before you cross Kyirong to Nepal, you can apply for the Nepali Visa on Arrival at the border custom. Do prepare some cash and headshot photos.
Meanwhile, if you plan to travel the opposite way, here is a list of documents you need for a journey from Kathmandu to Lhasa.
1. Tibet Travel Permit: If you travel overland from Kathmandu to Lhasa, only email the photo of your passport to us. We promise to help you apply for Tibet Permit. The processing of it takes around 8-9 business days, so it is best to make your bookings early, preferably 20 days in advance.
2. China Group Visa: Apart from the Tibet Permit, China Group Visa is also required. To get this, you have to arrive in Kathmandu earlier before your departure to Tibet. And then give your original passport to our Nepali staff and pay the visa fee. Then we will get it done for you at the Chinese Embassy in Nepal. The processing of it takes at least 3 business days. So do leave enough time for preparing it.
Though having a big gap in terms of elevation, the journey between Lhasa and Kathamndu has never had a pause for centuries. Nowadays, it's very easy to either travel overland or fly from Lhasa to Kathmandu or the other way around. What you need to pay special attention to is having a gradual ascent or enough time for altitude acclimatization. As a long-standing local Tibet travel agency, we offer you one-stop services and multiple tour options for the two-way between Tibet and Nepal. Please feel free to share your wanderlust and hit the road with us for a journey of a lifetime.